For immediate release: August 9, 2023
Rapid City, SD – Today, on the International Day of Indigenous Peoples, NDN Collective released a video uplifting the Indigenous Peoples' Caucus of COP27 to remind the world that addressing climate change effectively and equitably requires centering solutions by Indigenous people across the globe.
At COP27 held in Sharm El Sheikh, Egypt, NDN Collective partnered with the Indigenous Peoples' Caucus to host the Indigenous Peoples' Pavilion – a critical space by and for Indigenous communities from across the world to gather and build power and solidarity through meetings, panels, media interviews, ceremony, and more.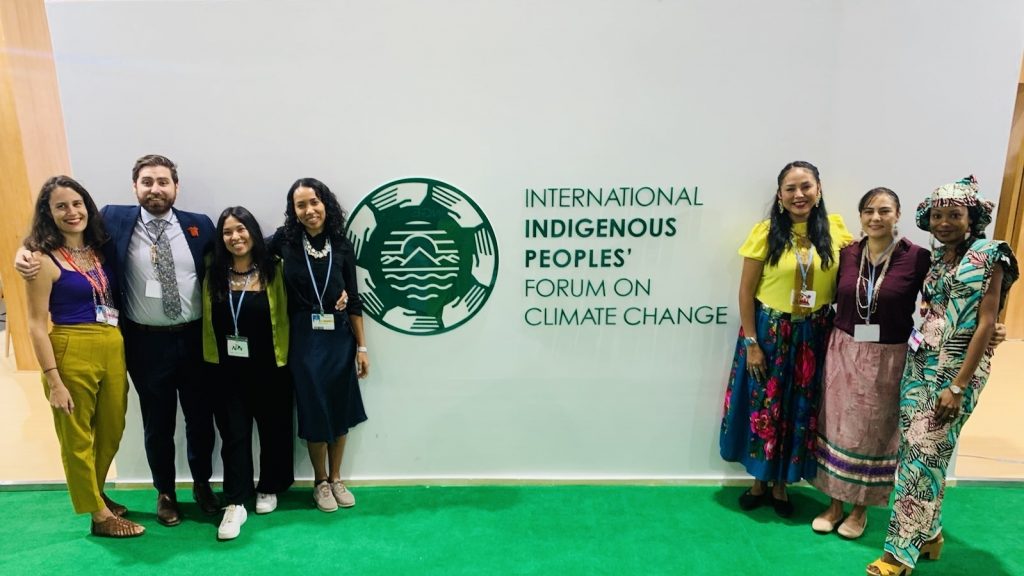 NDN Collective will sponsor the Indigenous Peoples' Pavilion at COP28, being held this year at the Expo City, Dubai. The Pavilion will be a critical space for frontline Indigenous communities to gather, strategize how to make world leaders respect their expertise, and connect with media on the ground.
"For far too long, Indigenous peoples and our human rights have been brushed aside in international spaces. Yet Indigenous Peoples have been rising up throughout the world in defense of Mother Earth. All humanity benefits from our resistance and innovative solutions to fighting climate change, said Nick Tilsen, NDN Collective President & CEO. "It is our honor to sponsor this year's Indigenous Peoples Pavilion. We do this work from a core value of strengthening and investing in global Indigenous solidarity. As we reclaim our lands, we reclaim our power and set a path forward of healing and justice."
"The contribution of Indigenous Peoples within global climate discussions has never been more important. Increasing presence of fires, floods, and extreme weather facing our Lands, Waters, Ice, and Territories shows us that dominant approaches are not working," said Graeme Reed, Strategic Advisor, Assembly of First Nations. "We must center Indigenous Peoples' rights, knowledge systems, and self-determination in order to advance just, equitable, and decolonial solutions for our future little ones. The Indigenous Peoples' Pavilion is an essential step in centering these solutions and uplifting the voice of Indigenous Peoples within the UN Framework Convention on Climate Change."
"The self-determination of Indigenous Peoples is how we get the best outcomes for Mother Earth and all Peoples around the globe. We are honored to carry this knowledge to international spaces, where we fight to protect and uphold our rights, and to demand safeguards for our knowledge systems in negotiation rooms filled with world leaders," Janene Yazzie, Southwest Regional Director, NDN Collective. "There is no better place to support strategies that build collective Indigenous Peoples' power, because we can't afford for governments and private interests to continue pushing false solutions to the climate crisis! We need effective and meaningful solutions from Indigenous Peoples who are the protectors of critical waters, lands, and ecosystems across the globe."
Join NDN Collective today in our commitment to uplift Indigenous Peoples as the leaders on climate. Donate today.
Related Stories:
Press Statement | NDN Collective Statement on COP27 Negotiation Outcomes
Blog | COP27: NDN Collective's Recap of Week One at the United Nations 27th Annual Conference of the Parties (COP) in Sharm El Sheikh, Egypt
Press Release | COP27: Indigenous Peoples' Pavilion Opens
Press Release | COP27: NDN Collective Announces Key Events and Issue Areas
Press Release | COP27: NDN Collective to Partner with Indigenous Peoples' Caucus, Send Delegation to Negotiation
Press Release | COP27: Indigenous Climate Expert Gives Speech at COP27 World Leaders Summit
Press Release | COP27: NDN Collective Meets with White House Climate Advisor
###
NDN Collective is an Indigenous-led organization dedicated to building Indigenous power. Through organizing, activism, philanthropy, grantmaking, capacity-building, and narrative change, we are creating sustainable solutions on Indigenous terms.
To request an interview contact
PRESS@NDNCOLLECTIVE.ORG