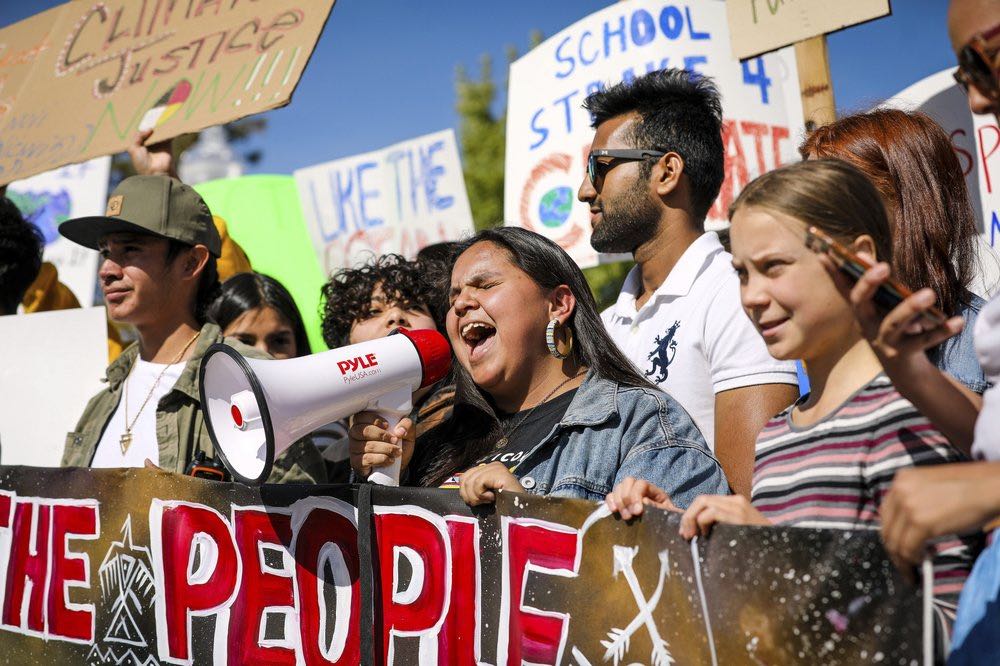 CLIMATE JUSTICE
The countries and industries that are the primary contributors to climate change are the most shielded from climate change impacts. This de-linking of decisions and actions from consequences is behind the out of control expansion of economic and development practices that destroy the sources of life, and must be overturned.
Indigenous peoples, as well as other low income and People of Color frontline communities, have been the first to experience the impacts of climate change. We are also the most affected by the contamination and exploitation of the extractive industries that are at the root of climate change.
Achieving climate justice requires ensuring support, resource rights, and sovereignty for the peoples who are struggling with climate change impacts, and ultimately demands that we address the root causes of climate change. The people who experience the most impact have the most effective solutions to these challenges, as well as the broad vision based in real-life experience that it takes to lead the necessary transformation of our economy from one based on extraction and exploitation to a regenerative, community-led economy.
Our climate justice campaigns support those Indigenous and frontline communities who are leading the way in defending their land, water, and air from contamination, and their people from exploitation and violence. We support policy change, coalition building, and advocacy. And, we support the Indigenous solutions-based work happening across our nations to revitalize our traditional food systems and agroecology, to build new, community led renewable energy systems and initiatives, to develop climate adaptive and zero net energy housing, and to transform the way our transportation and economic systems operate to reflect our values of living with honor and respect for our sources of life.
Racial Equity
As an organization devoted to building Indigenous power, the NDN Collective is deeply aware of the social, political, structural and historical inequities in our world that have created the current realities of Indigenous Peoples throughout the globe. Centuries of settler colonialism have given rise to the current state of Indigenous affairs throughout Turtle Island, where Indigenous people are among the most invisible, the most unrepresented, the most vulnerable and the most disenfranchised in our own lands. We also understand that as colonized people, our experience is not entirely unique, therefore, we stand in solidarity with other groups and ethnicities who have experienced marginalization and dehumanization at the hands of oppressive power structures.
The NDN Collective operates with a racial equity lens, paying disciplined attention to race and ethnicity, while analyzing problems, looking for solutions and defining success equitably according to our unique, lived experiences as Indigenous people. We don't just identify the problems. We actively seek and create solutions with the knowledge that our liberation is bound up in the liberation of our human and non-human relatives throughout Turtle Island and throughout the world.
Today, we organize for change where Indigenous people are visible, where harmful stereotypes are laid to rest, where our voices are heard and empowered, and where local and national policies reflect our natural rights to our territories, to restore our languages, our cultures and traditions, and our human rights to live upon an Earth that is healthy and protected.
Our racial equity campaigns seek to grow and expand accurate Indigenous representation in mass media and public education, to create policy change in local and national governments, and to defend the dignity and human rights of Indigenous people who are underserved in their respective territories while we continue to suffer the residual effects of colonization. Through our organizing, we support coalition building, advocacy, and we call upon our allies to do the deep and transformative work of organizing for racial equity in order to bring health and wellbeing back to Indigenous people and to our lands. Together we can build a future where Indigenous Peoples author our own narratives and shape our futures according to our most cherished values.
Education Equity
Prior to colonization, Indigenous communities viewed children as sacred beings sent from our Creator. Educating children was done with the utmost care and concern for their growing spirits, however, much has changed since the introduction of colonial Western education to Indigenous communities.   Compulsory Indian boarding schools of the late nineteenth century operated with the principle to "Kill the Indian, Save the Man," or, in other words, to forcefully assimilate Indigenous children into mainstream American life, ultimately causing grave spiritual and emotional damage to Indigenous children, and moreover, resulting in lasting social impacts for Indigenous communities today.
Western educational systems in Indigenous communities have done more to bolster the transference of Western religion, to acculturate Native youth to foreign normative behavior, and accelerate the loss of language, culture and tradition than support the positive development of Indigenous children. Mainstream education's unhealthy relationship with, and continued invisibility of our Indigenous past, present and future coupled with a rigid belief in standardized testing and focus on quantitative indicators, amount to high levels of disenfranchisement and cultural mismatch for Native youth in today's educational landscape. In short, Indigenous students across the United States continue to be left behind by the current education system.
We know from our own life experiences that education rooted in our cultures, languages and our own histories creates stronger educational outcomes for our children. Given educational instruction that is both culturally relevant and responsive, Indigenous students are able to self-actualize in ways that mainstream education often inhibits.  The NDN Collective believes that for our community's most important resource, for our children to thrive and contribute to a better tomorrow and realize a future of justice and equity for all people and the planet, they must be empowered through an educational system that honors their culture, tradition and language while arming them with the tools necessary to join the movement of reimagining a world that works better for everyone.
Landback
LANDBACK is a movement that has existed for generations with a long legacy of organizing and sacrifice to get Indigenous Lands back into Indigenous hands. Currently, there are LANDBACK battles being fought all across Turtle Island, to the north and the south. 
As NDN Collective, we are stepping into this legacy with the launch of the LANDBACK Campaign as a mechanism to connect, resource, amplify and politicize this movement and the communities that are fighting for LANDBACK. The closure of Mount Rushmore, return of that land and all public lands in the Black Hills, South Dakota is our cornerstone battle, from which we will build out this campaign.
In addition, LANDBACK is more than just a campaign. It is a meta narrative that allows us to deepen our relationships across the field of organizing movements working towards true collective liberation. It is our political, organizing and narrative framework from which we do the work.
We have 4 LANDBACK Campaign demands:
Dismantle white supremacy structures that forcefully removed us from our Lands and continue to keep our Peoples in oppression.
Defund white supremacy: the mechanisms and systems that continue to disconnect us from stewardship of the Land. Police, military industrial complex, prisons, criminal justice system, ICE
Return Indigenous lands to Indigenous hands (return of all public lands)
Consent Free and Prior Informed Consent if you are going to make decisions that impact Indigenous Peoples and the stewardship of our Lands.
Please go to LANDBACK.org for more information.