For the last two weeks, NDN Collective's Climate Justice Team has had a delegation on the ground in Sharm El Sheikh for the pre-meetings and first week of the United Nations 27th Conference of the Parties, or COP27.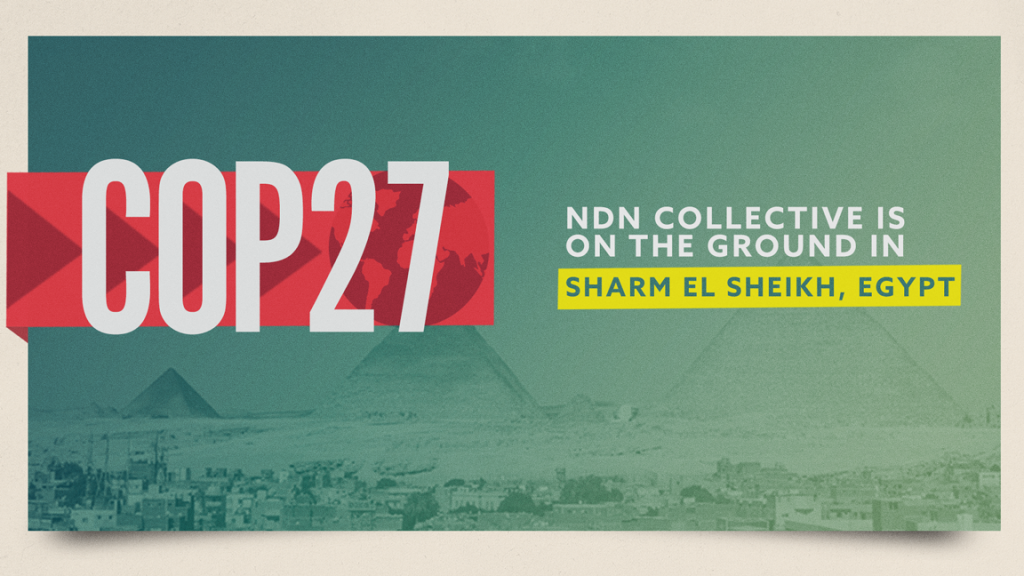 This is NDN Collective's second year participating in a COP – which are fast paced events where Parties – also known as governments – negotiate on all matters of international policy related to climate change. The Climate Justice Team delegation has been participating in the Indigenous Peoples Caucus and the Local Communities Indigenous Peoples Platform, as well as tracking negotiations, meeting with government officials, and more. Here is a round up from their first week on the ground with links to recorded events.
Meetings:
High Level Round Table on Water Security
NDN Collective's Regional Southwest Deep dive Director Janene Yazzie attended a closed-door high-level talk on water security, where she was the only Indigenous person and woman in attendance as part of the Global Leaders Summit which kicked off COP27.
Meeting with White House Climate Policy Office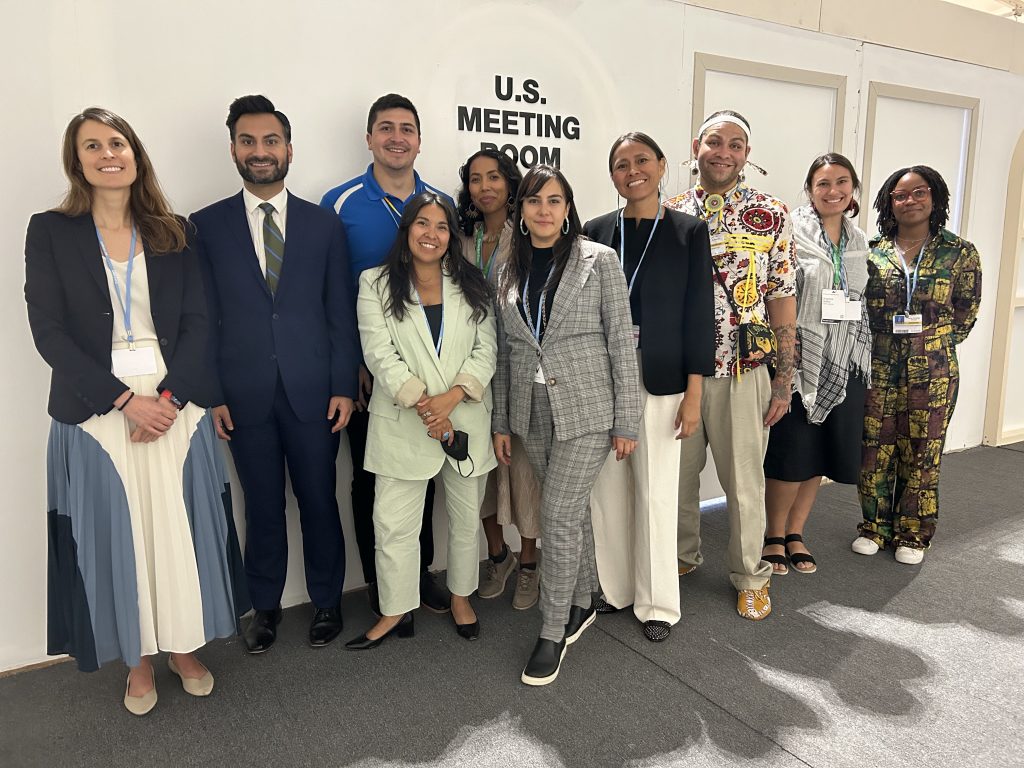 For the second year in a row, NDN Collective's Climate Justice Team coordinated a meeting between the White House Climate Policy Office and Indigenous and Frontline organizers, advocates and researchers. This year they gave testimony on the harm Frontline communities face in the name of the "clean energy revolution" and discussed IRA implementation and permitting reform.
Congress Meets with Environmental Justice Advocates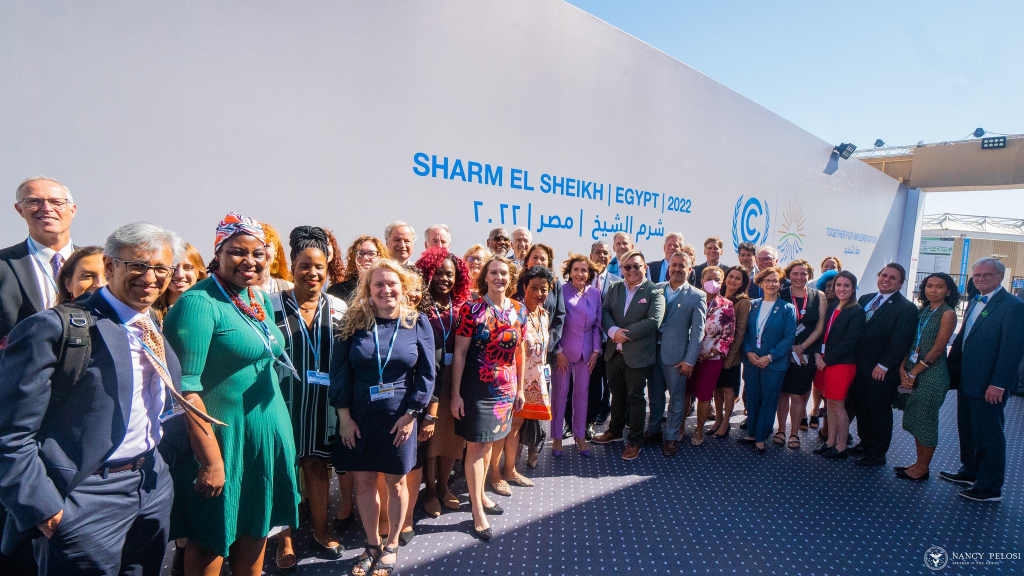 Kailea Frederick, NDN Collective Climate Justice Organizer, attended a meeting between Nancy Pelosi, other members of Congress and Environmental Justice advocates. Congress received statements regarding protecting NEPA, co-designing climate policy with Indigenous communities, and more.
Climate Justice Team Thanks Senator Markey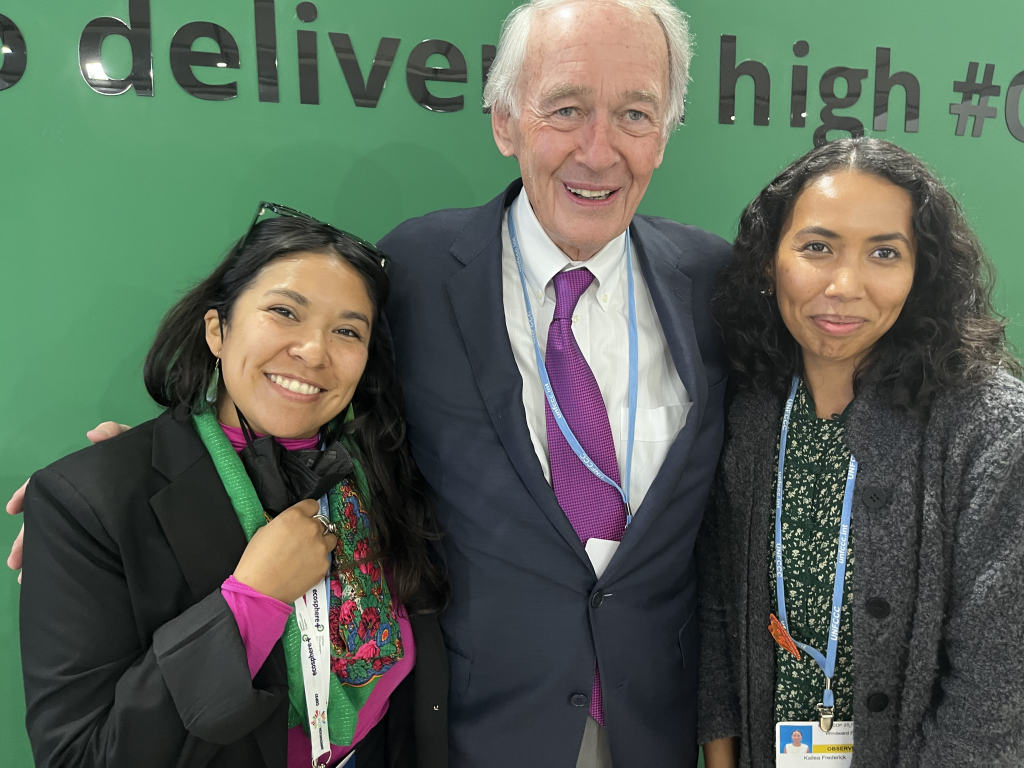 Jade Begay, NDN Collective Climate Justice Campaign Director and Kailea Frederick, NDN Collective Climate Justice Organizer, met with and thanked Senator Markey for his announcement that he supports the Fossil Fuel Non-Proliferation Treaty and gifted him a copy of Required Reading.
COP27 Presidency Meets with Indigenous Peoples' Caucus
Janene Yazzie spoke on behalf of the North American Region to the COP27 Presidency on how Indigenous Peoples in both developed and developing nations are facing challenges and need direct access to climate financing. She also raised the urgent need to distinguish between Local Communities and Indigenous Peoples, because Indigenous Peoples have a recognized body of rights that are important for our self-determination.
Biden Speaks at COP27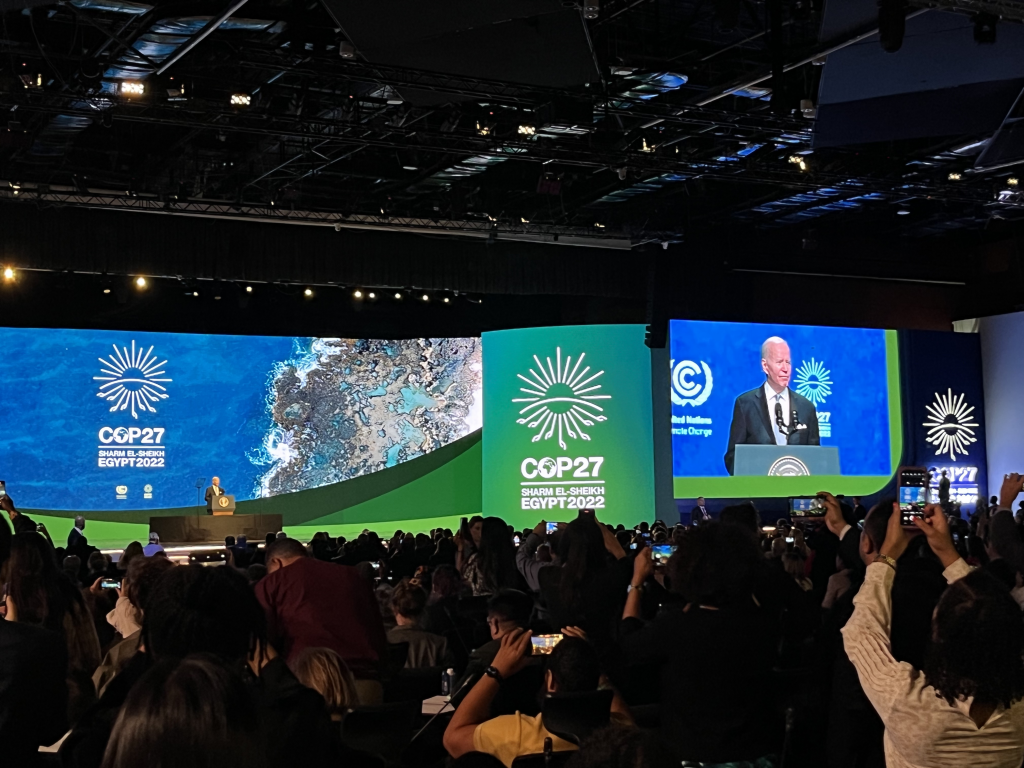 The Climate Justice Team attended President Biden's speech where he announced the U.S. Climate Actions, including the Indigenous Peoples Finance Access Facility.
Meeting with Special Envoy John Kerry and Administer Samatha Powers
Nicole Yanes, NDN Foundation Program Officer, and Jade Begay met with Special Envoy John Kerry and Administer Samatha Powers, where they provided guidance to the Administration on partnership with Indigenous led funds, financial institutions and organizations with existing models and processes for equitable direct access funding. This recommendation was brought forward as a more equitable alternative to the Administration's current plan to partner with Conservation International, an organization with a legacy of problematic relationships and engagement with Indigenous communities.
Events:
Indigenous Peoples' Opening Statement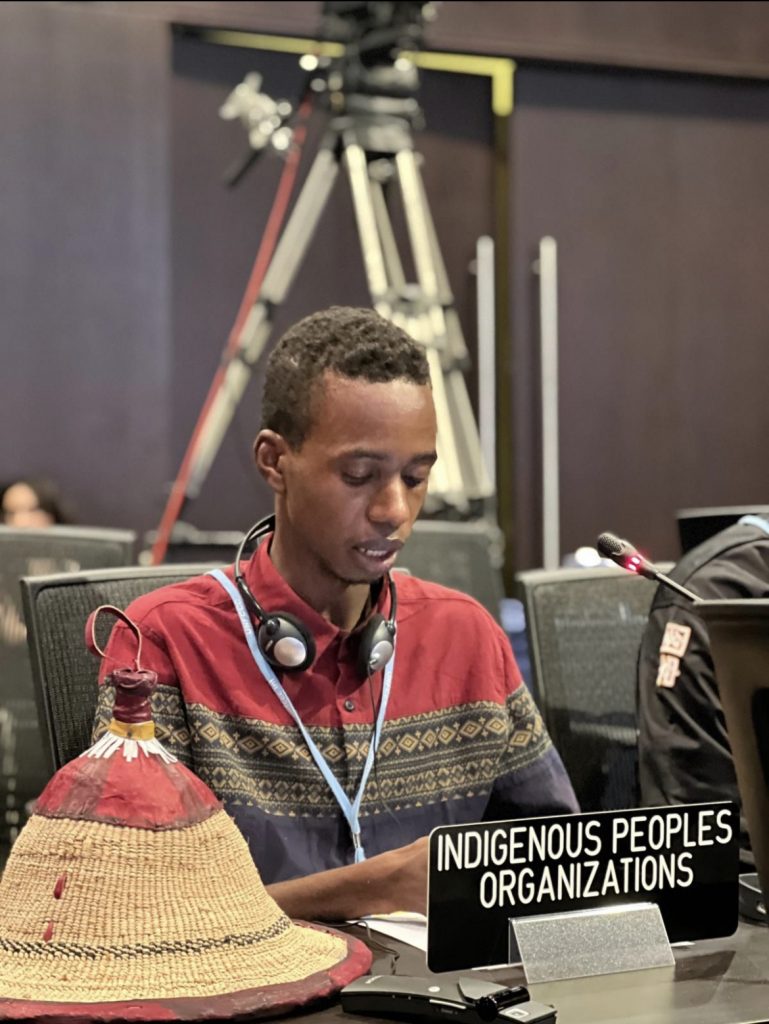 Members from the delegation team helped draft for the Opening Statement to COP27 from the International Indigenous Peoples Forum on Climate Change (IIPFCC), which was read during the opening plenary by Chad youth representative Nourene Ahmat Yaya. This statement demands urgent global action to divest from fossil fuels and urges clear distinction between Indigenous Peoples and Local Communities.
Opening Ceremony for the Indigenous Peoples Pavilion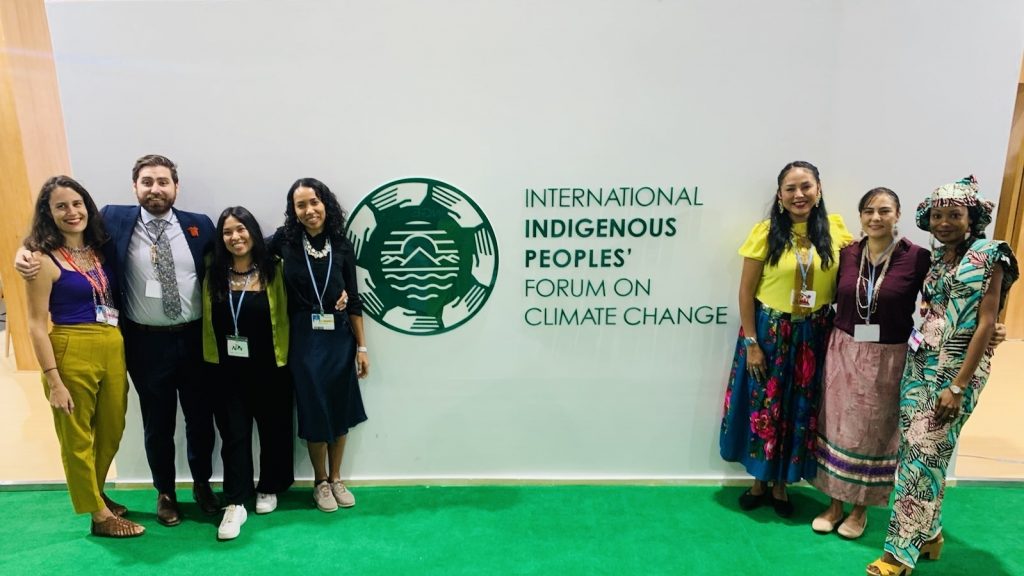 This year, NDN Collective was the fiscal sponsor and fundraiser for the Indigenous Peoples' Pavilion, a critical space for Indigenous Peoples from across the world to advance climate justice, uphold Indigenous rights and self-determination, and showcase Indigenous-led climate solutions. The pavilion opened with a ceremony on Tuesday, November 8 with introductory remarks from the IIPFCC Co-Chairs and the Pavilion organizers, and representatives from all seven UN socio-cultural regions blessed the space with prayers, song and dance.
Janene Yazzie, Regional Southwest Deep Dive Director Gives Speech at COP27 World Leaders Summit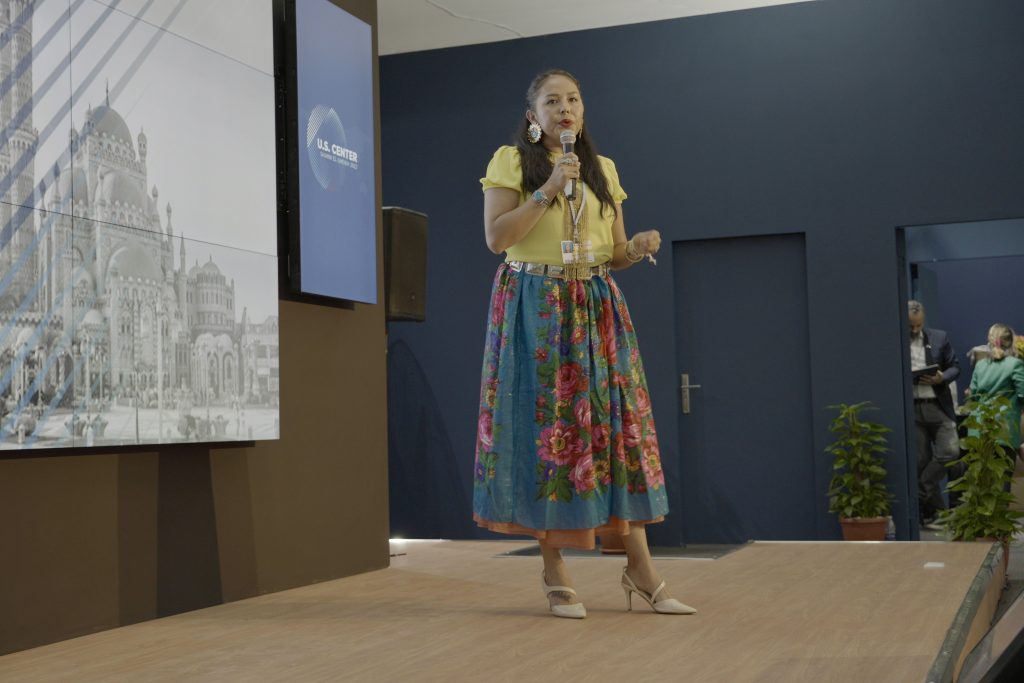 Following speeches from Climate Envoy John Kerry and Michael Bloomberg, NDN Collective's Janene Yazzie provided an opening statement at the COP27 World Leaders Summit on November 8th. Janene outlined why Indigenous peoples need to be centered in these dialogues and said, "When we leave spaces like this, we don't have the luxury to decide whether or not we take action on climate change. We do not have the privilege to address climate change in a silo, because we are living with the cumulative impacts of extractive industries – and that's what gives us the ability to present solutions that truly do work for all peoples and the planet."
Climate Finance Panel featuring NDN Collective and Christensen Fund
NDN Collective's Janene Yazzie, Nicole Yanes and Kailea Frederick, alongside Casey Box from The Christensen Fund, led a panel at the Indigenous Peoples' Pavilion titled, "Climate Finance through an Indigenous Lens: Investing in Indigenous Self-Determination". The panel unpacked the ways that NDN Collective and funders like The Christensen Fund are disrupting philanthropy.
Listen to NDN Collective's Twitterspace debrief discussion on Climate Finance here.
Panel: Unpacking LANDBACK at the Indigenous Peoples' Pavilion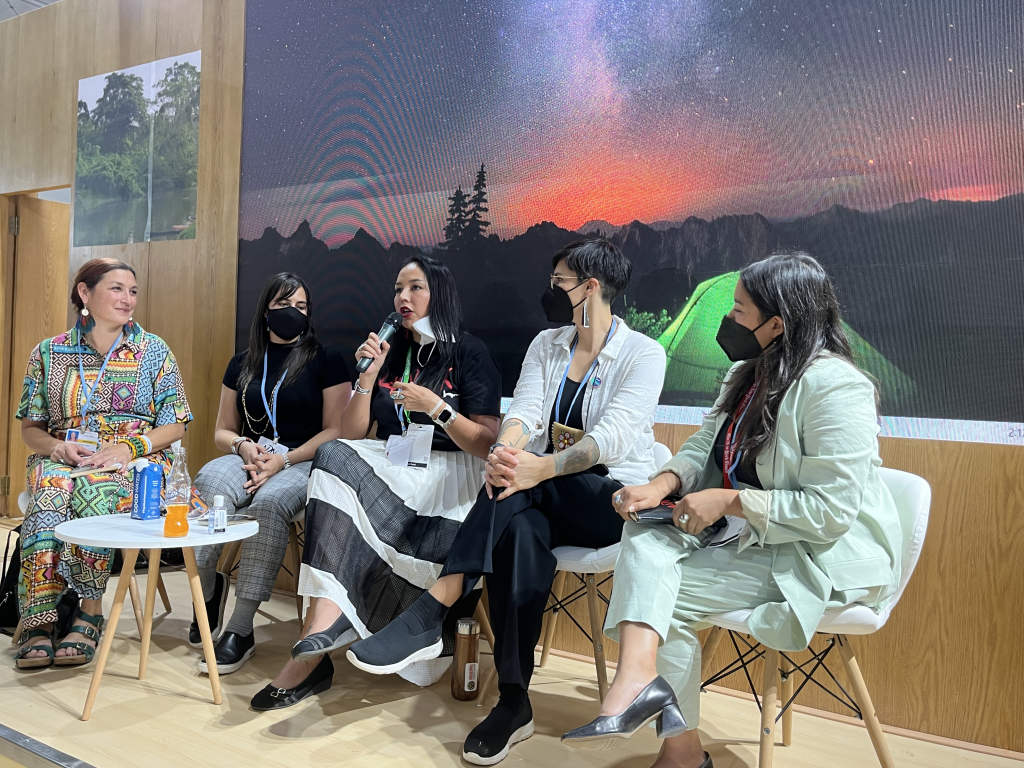 The delegation team hosted Unpacking LANDBACK: Global Models for #LANDBACK and Indigenous Led-Conservation, a panel featuring Leila Salazar Lopez, Executive Director of Amazon Watch; Eriel Deranger, Executive Director of Indigenous Climate Action; and the NDN Collective team. Panelists exchanged stories and lessons from their communities' fights for Land Back.
Panel: Start, Scale, Soar: Climate Innovation Zone, Scaling and Implementing Indigenous Solutions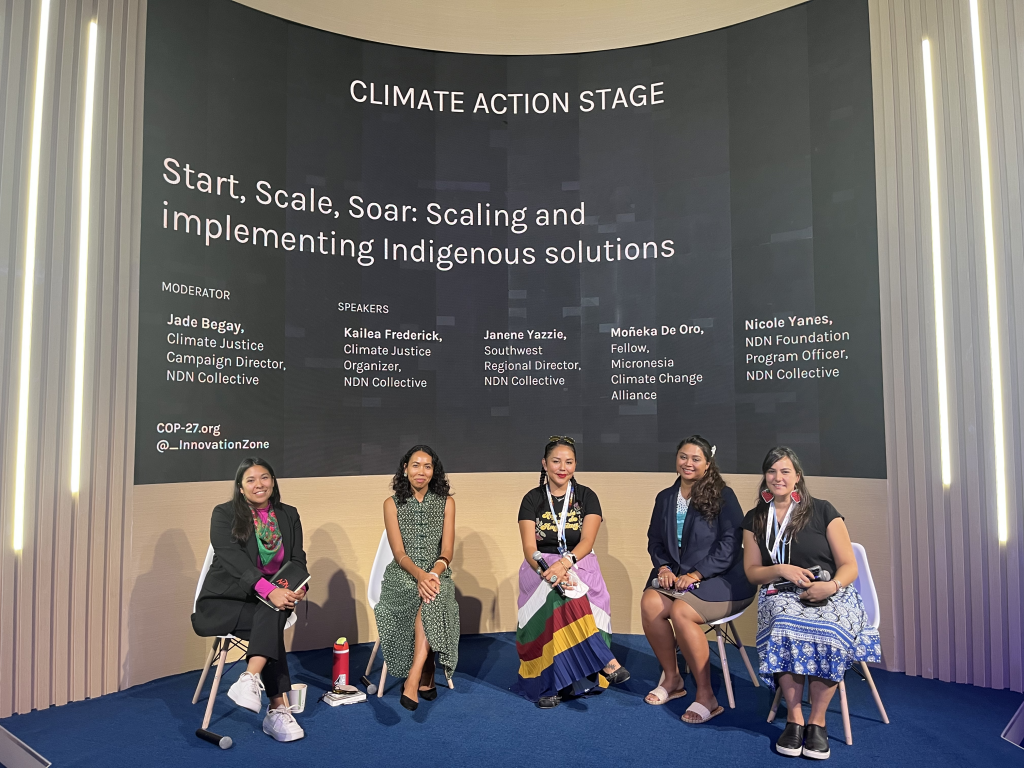 The delegation team spoke alongside Moñeka De Oro from Micronesia Climate Change Alliance on the solutions coming from Indigenous communities, such as zero waste initiatives taking place on Guam. Overall, panelists highlighted the need for direct access funding into Indigenous communities.
Position Paper Launch: Principles on Direct Access to Funding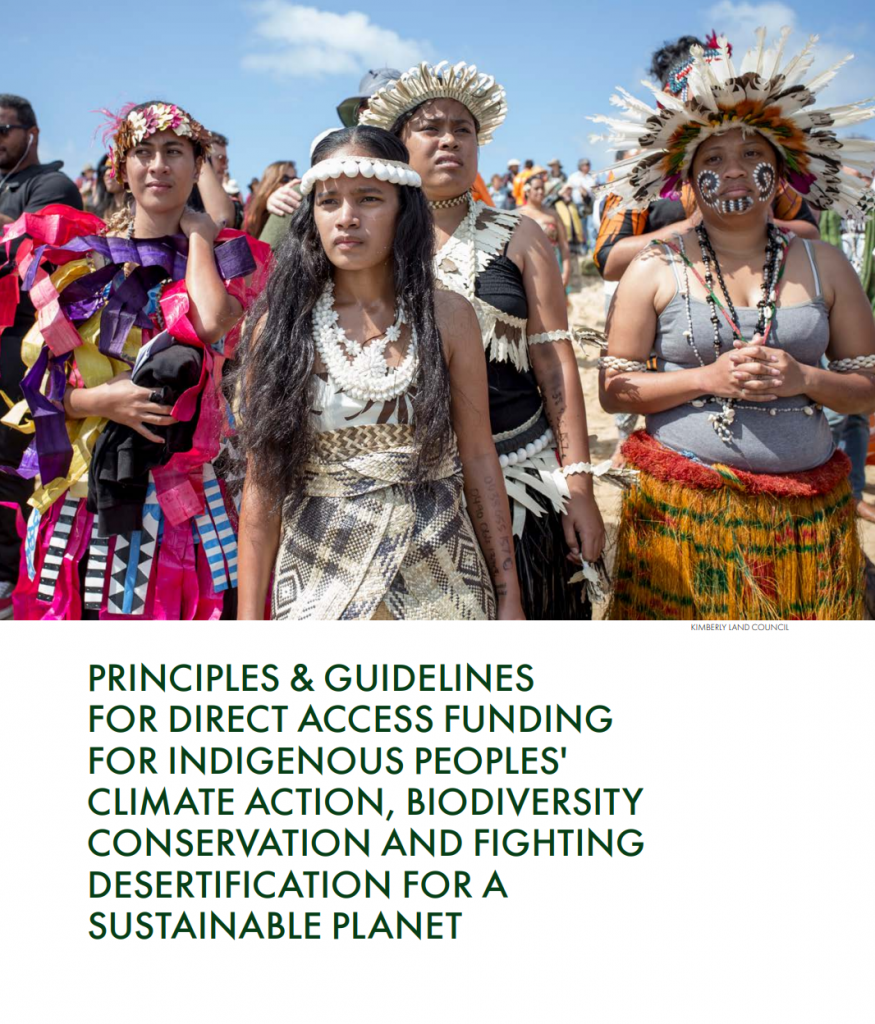 Janene Yazzie participated in a Working Group within the Indigenous Peoples' Caucus to co-author a paper detailing principles that are necessary when providing direct access to funding for Indigenous Peoples. The paper outlines a broader conversation that encompasses all UN funding mechanisms, but also relates to dialogue and negotiations on climate finance.
Indigenous Peoples' Closing Statement from Week 1
To round out the week, members of the delegation team supported the drafting of the Indigenous Peoples's Closing statement for Week 1. The statement was read by Carlee Kawinehta Loft, a Kanien'kehá:ka woman, on behalf of the International Indigenous Peoples Forum on Climate Change Caucus and was submitted to the closing plenary of the joint Subsidiary Bodies of the UN Framework Convention on Climate Change (UNFCCC).
Related Stories:
Blog | COP27: Indigenous Peoples' Pavilion Opens
Blog | COP27: NDN Collective Announces Key Events and Issue Areas
Blog | COP27: NDN Collective to Partner with Indigenous Peoples' Caucus, Send Delegation to Negotiation
Blog | COP27: Indigenous Climate Expert Gives Speech at COP27 World Leaders Summit
Blog | COP27: NDN Collective Meets with White House Climate Advisor