FOR IMMEDIATE RELEASE: NOVEMBER 9, 2022
Sharm El Sheikh, Egypt – Yesterday, November 8th, at COP27's U.S. Center, NDN Collective's Janene Yazzie provided an essential Indigenous lens to opening statements at the COP27 World Leaders Summit that kicked off the global conference.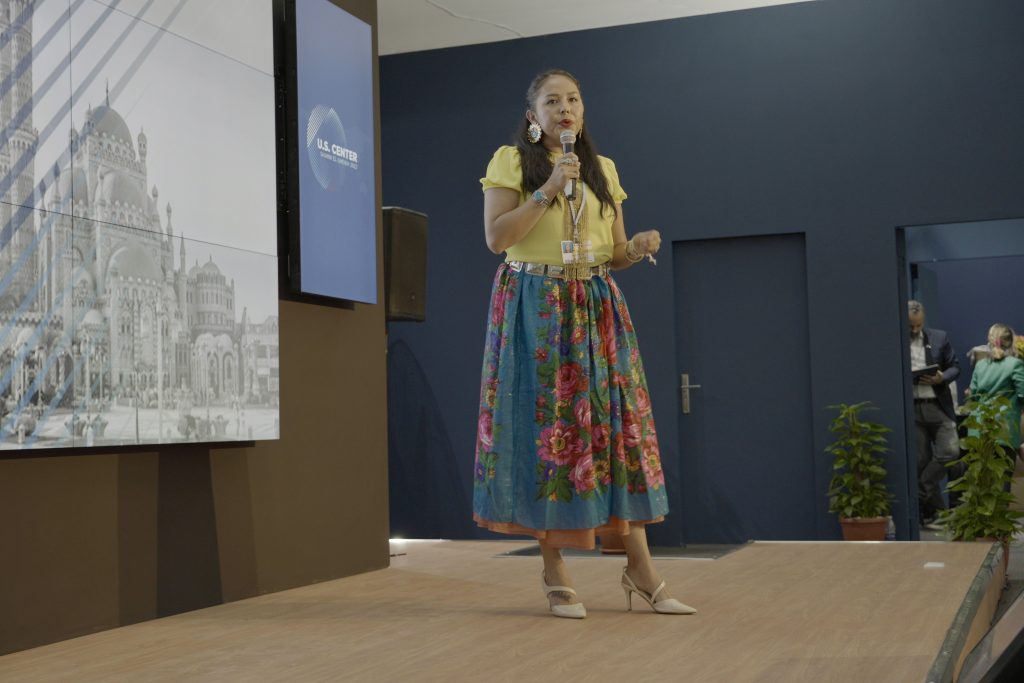 "When we leave spaces like this, we don't have the luxury to decide whether or not we take action on climate change," said Janene Yazzie, Southwest Regional Director at NDN Collective. "We do not have the privilege to address climate change in a silo, because we are living with the cumulative impacts of extractive industries – and that's what gives us the ability to present solutions that truly do work for all peoples and the planet. We cannot sit by and adopt solutions that try to convince us that nuclear power and energy are an acceptable form of energy.
"We have to center rights and community wellbeing if we are really going to develop the holistic solutions and approaches that are necessary to truly enable effective action for a just transition for people and the planet."
Yazzie is from the Diné Nation in the Southwestern United States and has worked at the international level for Indigenous rights for the past decade. She is an expert on climate finance, Indigenous science, youth/future generations, adaptation, water, gender & climate justice, and false solutions.
Stay up to date on all COP27 News by visiting NDN Collective's COP27 Page.
###
NDN Collective is an Indigenous-led organization dedicated to building Indigenous power. Through organizing, activism, philanthropy, grantmaking, capacity-building, and narrative change, we are creating sustainable solutions on Indigenous terms.
To request an interview or connect at COP27 contact:
Related Stories:
Blog | COP27: Indigenous Peoples' Pavilion Opens
Blog | COP27: NDN Collective Announces Key Events and Issue Areas
Blog | COP27: NDN Collective to Partner with Indigenous Peoples' Caucus, Send Delegation to Negotiation