For Immediate Release: November 14, 2022
Sharm El Sheikh, Egypt – On Thursday, November 10th at COP27, NDN Collective hosted a meeting between Ali Zaidi, the White House National Climate Advisor, and frontline Indigenous and Black organizers.
The group discussed the Inflation Reduction Act in depth, outlining the need for infrastructure that ensures Indigenous individuals and communities receive the IRA's benefits in addition to tribal governments. There was enthusiasm from both sides around the White House collaborating directly with NDN Collective – who was successful in disseminating millions of dollars in governmental resources directly to Indigenous people during COVID-19 – to ensure the greatest impact.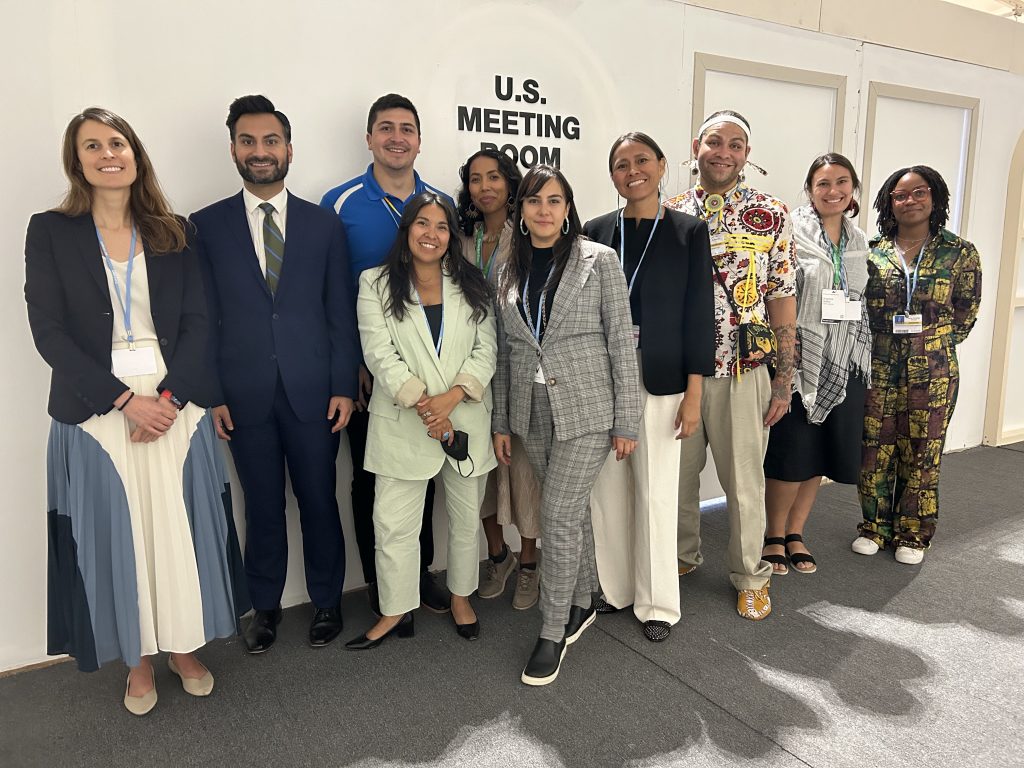 NDN Collective also spoke to the necessity of investing in research and technology that doesn't perpetuate land theft, legacy pollution, and rights violations when it comes to mining for lithium and other minerals; the need to fast-track processes for permitting and deploying clean energy and transmission projects; and again hammered home the demand for no new onshore or offshore oil and gas leases.
Last year, NDN Collective released a memo providing the federal government with critical information on how to move resources directly to frontline communities and individuals throughout Indian Country.
"To effectively address the climate crisis, world leaders must seek out and engage with frontline communities who are already being forced to mitigate drastic changes to their environment and ecosystems," said Jade Begay, climate justice director at NDN Collective. "In order to be effective, these conversations need to be in-depth, specific, and ongoing. We need to work collaboratively and continuously with governments to get to the root of issues folks are experiencing on the ground, and center the solutions we know are best for our communities.
"Frontline communities have been putting our lives on the line to fight the main cause of climate change – greed for profit – for decades. We cannot continue to fight fiercely just to be met with tepid responses from the most powerful people in the world. World leaders must champion Indigenous rights and self determination as critical solutions to climate change, to ensure we all have a livable planet to share."
"The Bipartisan Infrastructure Law and the Inflation Reduction Act are tangible tools we can use to address the climate crisis – but we must be cautious around the technologies and practices that are part of the transition to 'green energy'," said Kailea Frederick, NDN Collective Climate Justice Organizer. "The sequestration, electrification, and carbon storage technologies that the federal government is touting as climate solutions require resource extraction and create pollution – impacts that are in direct contradiction to protecting public lands and upholding the rights of Indigenous communities.
"Additionally, the Biden administration's push to fast-track the process for permitting of clean energy and transmission projects raises alarm bells. We need safeguards and a transparent process to be baked into the permitting process, to ensure Indigenous and frontline communities are not subjected to continued pollution and displacement under the guise of clean energy."
###
NDN Collective is an Indigenous-led organization dedicated to building Indigenous power. Through organizing, activism, philanthropy, grantmaking, capacity-building, and narrative change, we are creating sustainable solutions on Indigenous terms.
To request an interview or connect at COP27 contact:
Related stories:
Blog | COP27: Indigenous Peoples' Pavilion Opens
Blog | COP27: NDN Collective Announces Key Events and Issue Areas
Blog | COP27: NDN Collective to Partner with Indigenous Peoples' Caucus, Send Delegation to Negotiation
Blog | COP27: Indigenous Climate Expert Gives Speech at COP27 World Leaders Summit