There is something powerful about Indigenous art today that boldly takes new forms, yet with the same reverence for culture and community that our people have always had. The Indigenous artists behind that work chart powerful new paths with their creations, inspiring a radically imagined future where all Indigenous people thrive. One of the artists doing that work today is Jackie Fawn– a Yurok, Washoe, and Surigaonon graphic illustrator who infuses creative resistance into her illustrations for the people.
Jackie is also a recipient of NDN Collective's Radical Imagination Grant, which supports 10 Indigenous artists every year as they create and expand on unique expressions of a radically imagined, more just and equitable future through community-based cultural expressions that propose solutions to our most challenging societal problems.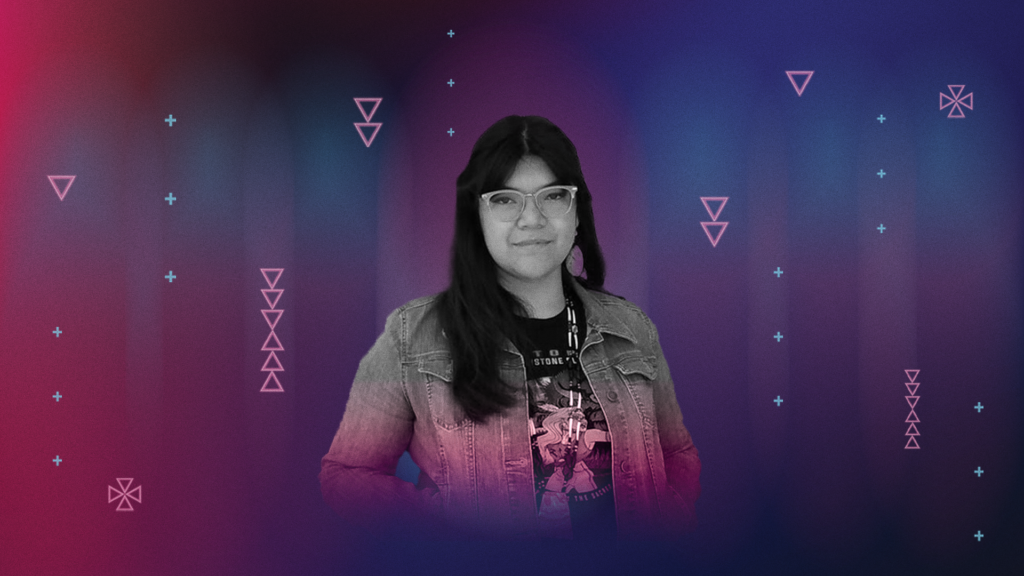 The 2021 Radical Imagination Artist and Storyteller Cohort will join in community for the Radical Imagination Experience – The Art of Creative Resistance and Change," a free, immersive community event that will take place on August 18th in Santa Fe, New Mexico leading up to the SWAIA Indian Market weekend. Jackie is one of two phenomenal graphic illustrators who will be presenting their art at the Radical Imagination Experience event, connecting with attendees through visual art-making activities and engaging in panel discussions alongside other cohort artists.
In anticipation of the event, we sat down and had a conversation with Jackie Fawn. We talked about what inspires her as a graphic illustrator, her favorite cartoon character, how she's gearing up for the event in Santa Fe, and so much more. Here's what Jackie had to say:
---
What do you look for to spark inspiration to do your art, and how has that changed over time?
JACKIE: I've just always loved art, and you know, with rez life, I was trying to figure out what I was going to do. [My twin sister and I], we really fed off of each other, because we both did art. Our parents were so chill, because whatever we had, they would invest in art supplies and we would just go hard. My twin was so inspiring and still is. Now we both do art professionally, although we have different styles. She has her own art studio in Washington and also does her own tattooing.
My inspiration is always going to be tied to the community, salmon, water and really, it's part of my identity, versus what motivates and inspires me.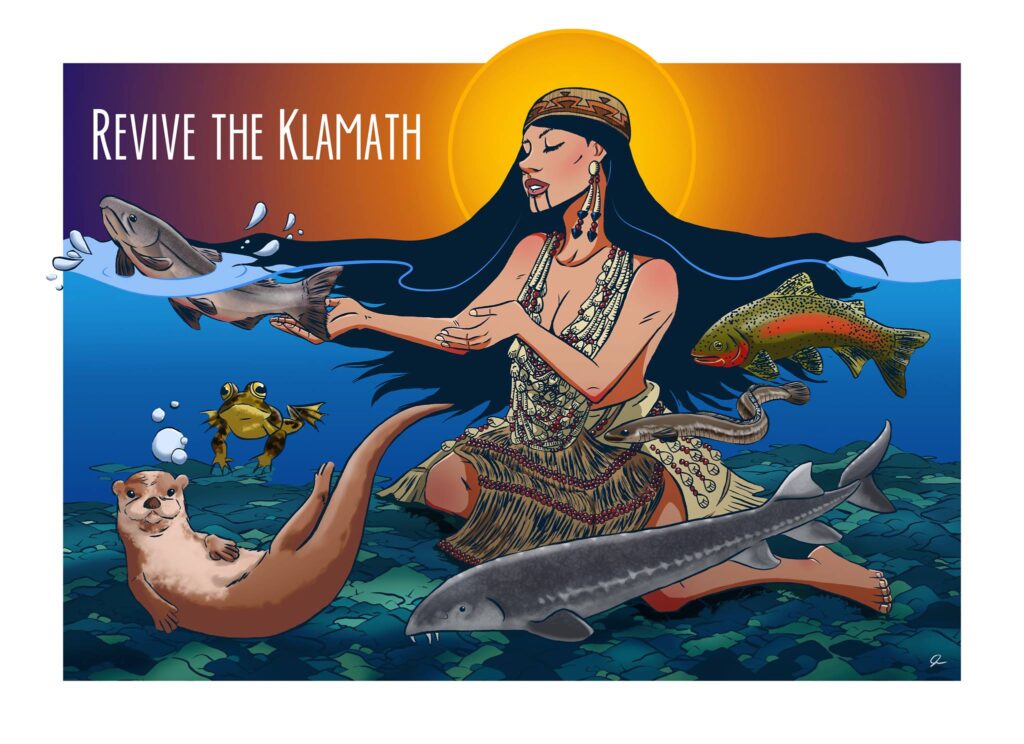 Standing Rock was also a big deal. It really did change my art. I look at my Standing Rock illustration everyday because it's so amazing and brought me so many relatives. The best part was that we were all in the same place for the same reason and were able to share the struggles we have back home. Numerous individuals that work at NDN Collective, I had the opportunity of meeting at Standing Rock. Whenever I walk into my studio I get to look at that piece and am moved every time.
As a kid, who was your favorite cartoon character?
JACKIE: Easily, my homegirl Sailormoon, the OG girl gang with powers from the cosmos! To see this all-girl gang fighting in the name of love? I was in. And then of course, John Redcorn, my first boyfriend – [laughs] — from King of the Hill.
Do you incorporate any elements from either of these characters into the illustrations you do now?
JACKIE: It's definitely the themes from them that I carry. For Sailormoon, the sense of sisterhood was important to me because I'm a twin and I had a lot of sisters growing up.
How are you preparing for the Radical Imagination Experience coming up?
JACKIE: Gosh, it's been such a wild preparation because it falls right on my birthday and it's like Creator put this all in my path at the same time. Santa Fe holds a real soft spot in my heart, and it's inspired so much of my work– the landscape especially. I have a lot of relatives down there that I met in Standing Rock, so when I get a visit I get to see all my warrior family again.
It's been so beautiful to physically hold the coloring book that my partner and I worked on with this grant in the studio space that we opened with the grant. It's come full circle and I feel like so many things have happened leading up to this event to really prepare us.
It's also been interesting trying to get people to attend the event to look at my art because they think I'm just trying to sell something. But honestly, I just want people to come view my art. We've incorporated all the art that we've done up until now into those coloring books. There's three of them, and they all have their own different meanings. I'm really excited to actually do my work in a way that's collaborative and see what people color and design.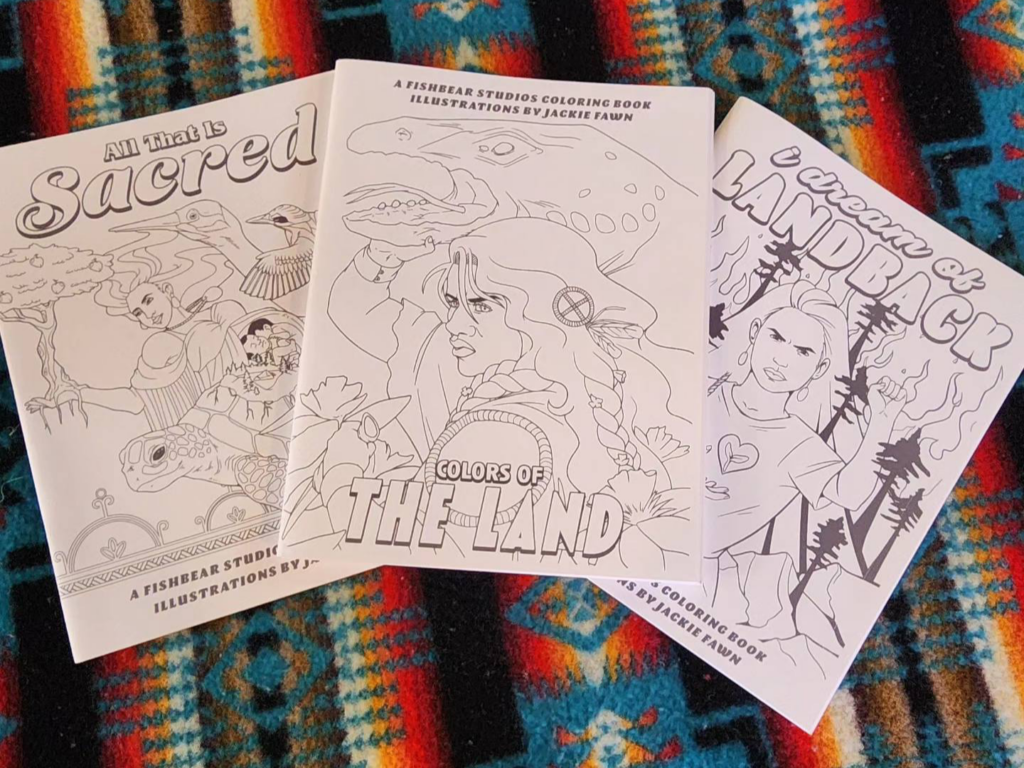 When I was asked what I needed for the event, I shared that I was pretty minimalist. The art market is really being beefed up and it made me nervous. I don't really go out, so I've been pushing myself to go to live events and be social.
The reunion part of that, and preparing for a big event is very different because everything I do is online. So to be in person is such a beautiful experience and I'm not doing it alone. I'm really excited to do this in community and meet the other artists in the Radical Imagination cohort that are on the same path. We finally all get to meet and see what we've been doing.
I've been doing my research on all the artists that are going to be there because there's so many artists that I really look up to that are going to be at all these events happening at the same time and in one place. This is my one chance to go see all these artists at once, in real life. It's like an anime convention, but all Indigenous artists.
What's the most meaningful piece you've created thus far?
JACKIE: I definitely feel like the Standing Rock was my very first meaningful work. It really showed me what you could do with art in terms of creative resistance.
What is your background in art?
JACKIE: I didn't go to school for art. I just learned from the internet. I also got tips and tricks from relatives in the community. For the most part, it was the creative resistance workshops that taught me so much. I really considered things like composition and layout. This showed me how people are going to really be moved by creative resistance.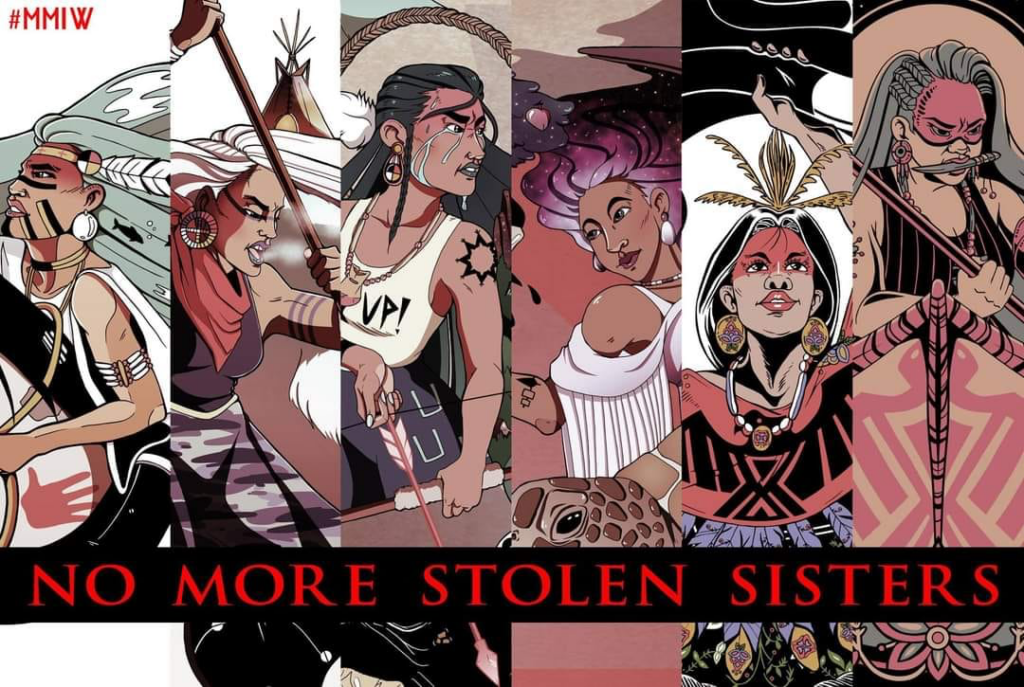 When determining design and layout I also began incorporating effective creative resistance tactics. I wasn't even doing this type of art before, I was doing character designing, really hoping to get into anything. I didn't realize I could do poster illustrations of indigenous warrior women. Because of that illustration, it really helped me launch into all the work that I'm doing now, especially our coloring book series.
What did the Radical Imagination grant allow you to focus on during your cohort term?
JACKIE: The coloring book, Colors of the Land, is from the Radical imagination Grant. But while I was in editing, I was like, "Why should I just do one if I should be able to showcase all of them at the same time?" So the other one is called 'All That is Sacred,' which is actually the first coloring book that me and my partner created while we were in Standing Rock. We were editing it at camp. 
They're composed of all the stories and moments that happened at Standing Rock. All the love birds, singing and drumming together– it opens with that. Also, all the stories that my new friends and family have shared with me from their territories are joined with an illustration of the animals singing for the ancestors. That was our first coloring book. Then I re-edited. I gave everyone makeovers. So we're going to reprint that and bring that back because it was out of print and circulation since then. It's pretty cool to see her come back in a new way.
And then the third one is a collection, because when I was working on the coloring book, I was like, "What does 'Land Back' mean to me?" So the third coloring book is a collection of all my art depicting what Land Back means to me. I like to showcase them all together because, now that I see them all together, they're meant to be a three-piece series.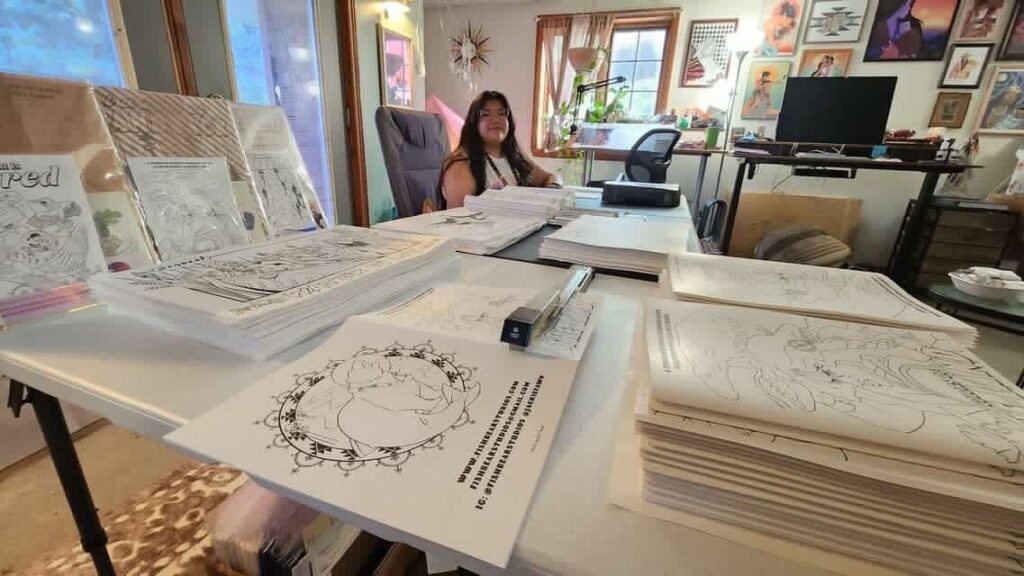 How has the Radical Imagination experience amplified your efforts as an artist?
JACKIE: The grant really helped open the doors to me, shifting my perspective into how my art can go beyond Instagram and more into the realm of collaboration. Also, determining ways to utilize creative resistance ways for education versus action. Now that I'm a mom, education is becoming more important. How do we carry on our cultures and our traditions? How do we connect our communities together, like in Standing Rock. These coloring books have now started to become their own lives.
We've already collaborated with an organization here that is going to produce the coloring books and distribute it to their native youth programs in the state of New York. We're working with six different schools on the West Coast that are going to print and distribute them in their classrooms. I'm really excited to see it in the hands of youth.
This grant also really helped with the aspect of accessibility because with this kind of work, I don't believe it needs to be for mass profit. People are asking, am I going to sell the coloring book? What are you doing with it? Because the grant paid for the time and space to be created, I decided, it's going to be for free for download. People can have access to that and print it because that's the hard part– not everyone has access. So I try to have at least one available option for people. I think it's so beautiful that this grant helped me be able to do that.  
---
We had so much fun having this conversation with Jackie, and look forward to lifting up her art even more at the Radical Imagination experience in Santa Fe in the coming days. We hope you can join us! For relatives joining in-person, Jackie will have some of her work available to share. NDN Collective will also be live streaming the event on our Facebook and YouTube pages.
Jackie will be part of a panel discussion during the Radical Imagination Experience event, alongside fellow 2021 Radical Imagination cohort members on August 18th at 3:15pm MT. Until then, we wish Jackie continued inspiration and prosperity as she continues her art for the People, for the Land, and the movement.
Related Articles
Press Release | NDN Collective to Hold Free Event Focused on Resistance & Art
Blog | Announcing NDN Collective's 2022 Radical Imagination Artist & Storyteller Cohort
Blog | NDN Collective Kicks Off Radical Imagination Virtual Festival, A Multi-Day Event
NDN Live | Radical Imagination Virtual Festival
Blog | NDN Collective Celebrates Indigenous Peoples' Day by Uplifting Indigenous Power Building Through Art, Voter Engagement and LANDBACK
Blog | Announcing NDN Collective's 2021 Radical Imagination Artist & Storyteller Cohort
Blog | NDN Collective Selects Ten Indigenous Radical Imagination Artists From Across Turtle Island