For Immediate Release: November 4, 2022
Rapid City, SD – Today, NDN Collective announced the third Radical Imagination artist cohort who will receive grants intended to support Indigenous artists to imagine, design, and create projects proposing solutions to our most intractable societal problems.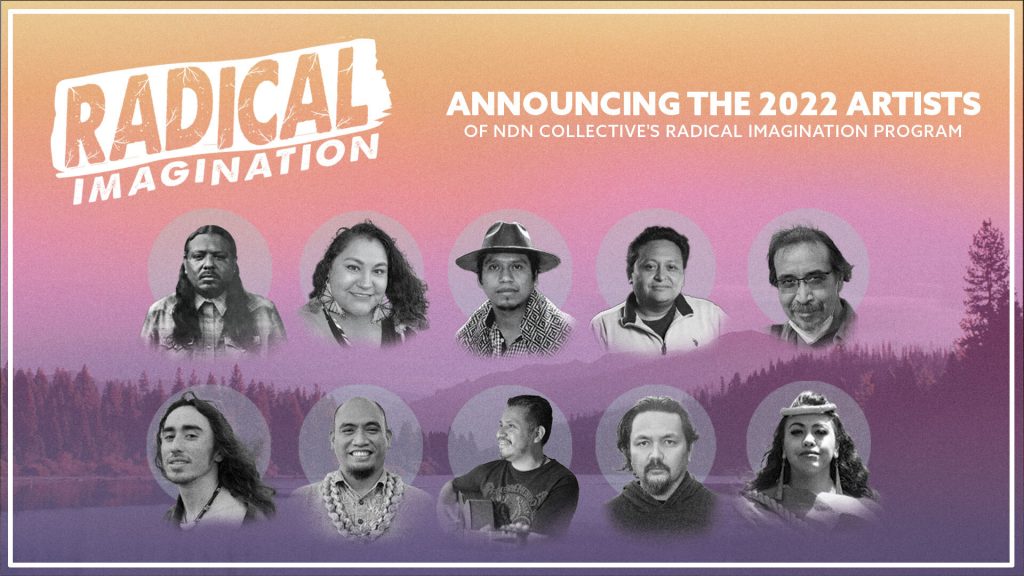 The Radical Imagination grant application was released in March 2022, and was open to artists, culture bearers, and storytellers who are Indigenous to Turtle Island (U.S., Canada, Mexico) and surrounding island nations (Hawai'i, Puerto Rico, American Samoa, Guam, the Northern Mariana Islands, and the U.S. Virgin Islands).
This year's cohort members focus on music, visual art, graphic design, illustration and animation, poetry, fiber art, storytelling, and more.
Members of the 2022 Radical Imagination cohort include:
Daniel Cespedes (She/he/they), Chamoru
Chad Martin (He/him), Kanaka Maoli
Josué Rivas (He/him), Mexican and Otomí
Hubert Martínez Calleja (He/him), Mè'phàà (Tlapaneco)
Larry McNeil (He/him), Tlingit/Nisgáa
Marques Marzan (He/him), Kanaka Hawai'i
Gabriela Spears-Rico (she/her), Pirinda and P'urhepecha
Cesar Hernandez Andres (he/him), Ngigua – Chocholteco
Hāwane Rios (she/her), Kanaka Maoli
Miguel Ventura (he/him), Mérida, Yucatán (México), Maya
"During this time of spiraling climate change and other forms of chaos in the world, the medicine of Indigenous arts is needed more than ever", shared Tina Kuckkahn (Ojibwe), Director of Grantmaking. "The prayers in our songs, stories, dances and visual arts touch hearts and inspire the kind of change that is urgently needed at this time."
"The aspirations of our people, and our movement is amplified and made visible by artists and creatives," said Gaby Strong, NDN Foundation Managing Director. "We have a lot to say and they speak through their expression – which can come in the form of a painting, a song, a poem, or a performance. Whatever form it takes, the imagination of our people is limitless, and it's an honor to resource their prolific radical imagination."
Check out all of NDN Collective's Grant + Fellowship opportunities Here.
###
NDN Collective is an Indigenous-led organization dedicated to building Indigenous power. Through organizing, activism, philanthropy, grantmaking, capacity-building, and narrative change, we are creating sustainable solutions on Indigenous terms.
To Request an Interview Contact
clpetoia@gmail.com
Related Stories
Blog | Announcing NDN Collective's 2021 Radical Imagination Artist & Storyteller Cohort
Blog | NDN Collective Kicks Off Radical Imagination Virtual Festival, A Multi-Day Event
NDN Live | Radical Imagination Virtual Festival
Blog | NDN Collective Celebrates Indigenous Peoples' Day by Uplifting Indigenous Power Building Through Art, Voter Engagement and LANDBACK
Blog | NDN Collective Selects Ten Indigenous Radical Imagination Artists From Across Turtle Island