On Indigenous Peoples' Day, NDN Collective took part in several events to celebrate and uplift the brilliance and resilience of Indigenous Peoples – participating in Indigenous Peoples' Day Phoenix Fest in Arizona, the Grantmakers in the Arts Conference in New York and opening up pre-sale opportunities for the inaugural issue of the LANDBACK Magazine.
Grantmakers in the Arts Conference – New York, New York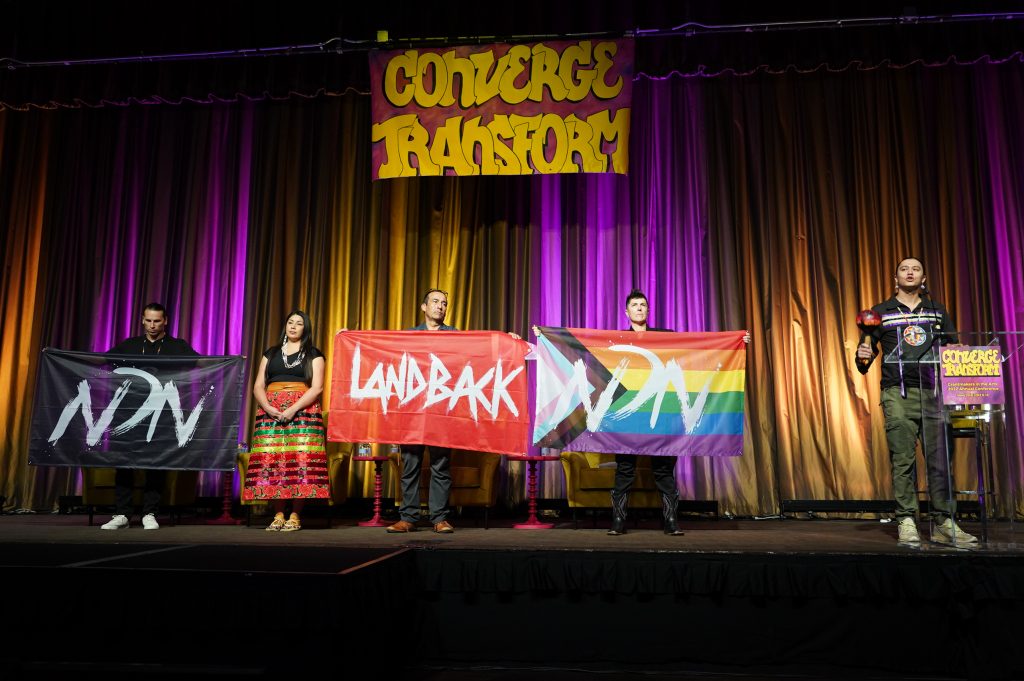 In New York, NDN Collective had the honor of providing the keynote presentation, Lighting the 8th Fire through Indigenous Arts, for the New York Grantmakers in the Arts conference alongside several grantees and fellows from NDN Collective's 2021 Radical Imagination cohort, including Marca Cassity (enrolled citizen of the Osage Nation and folk-rock-electronic artist), Will Wilson (Dine' Photographer and Trans-customary Artist) and Frank Waln (Lakota public speaker, multi-genre music artist and curator).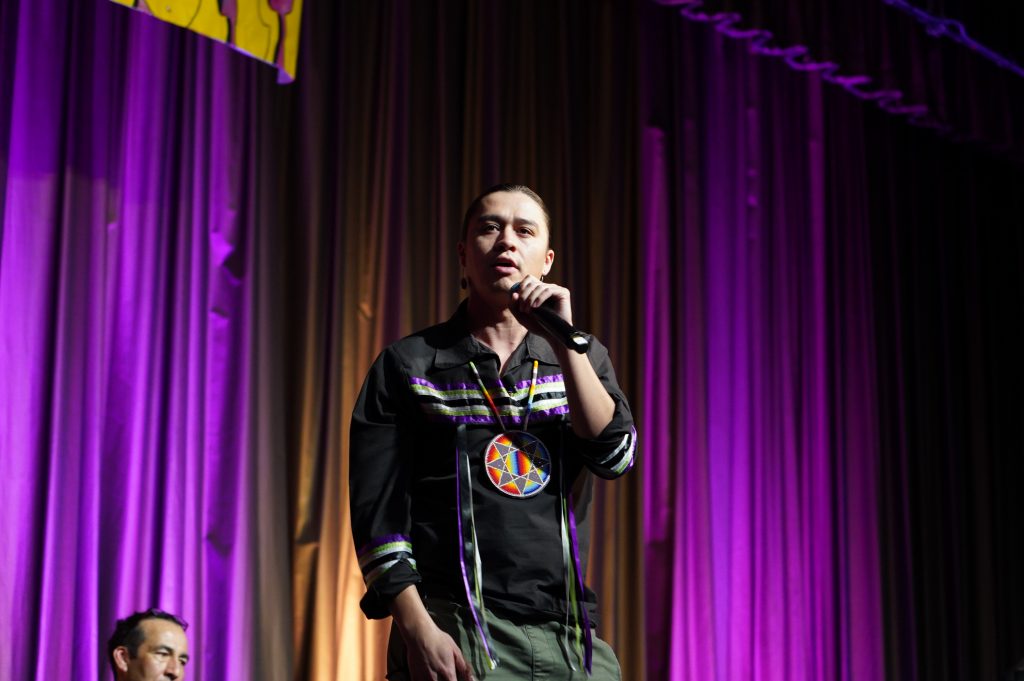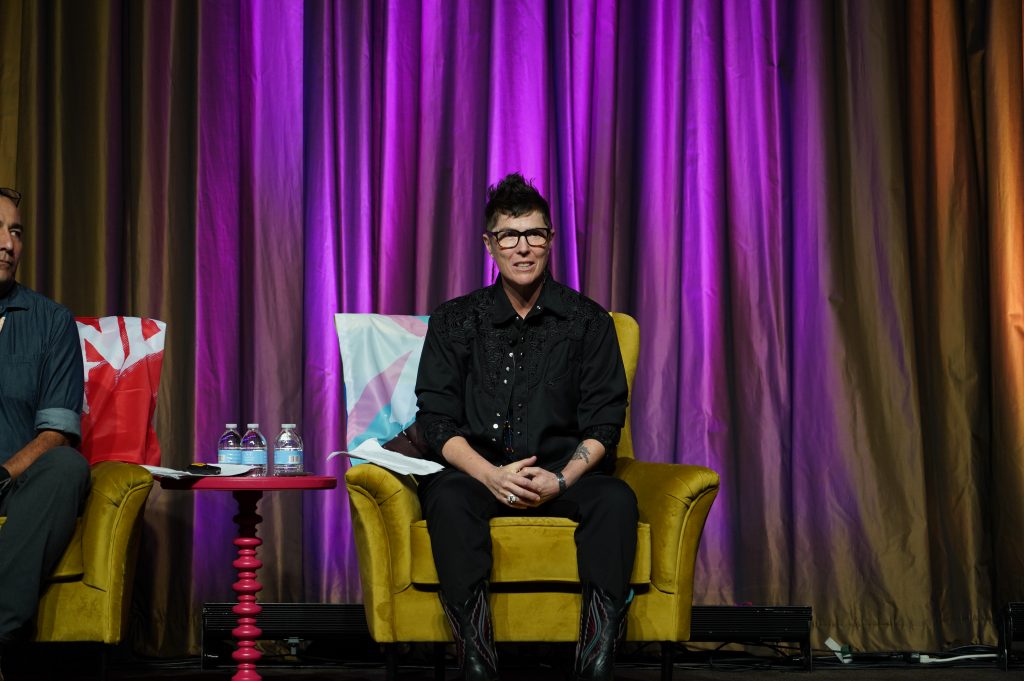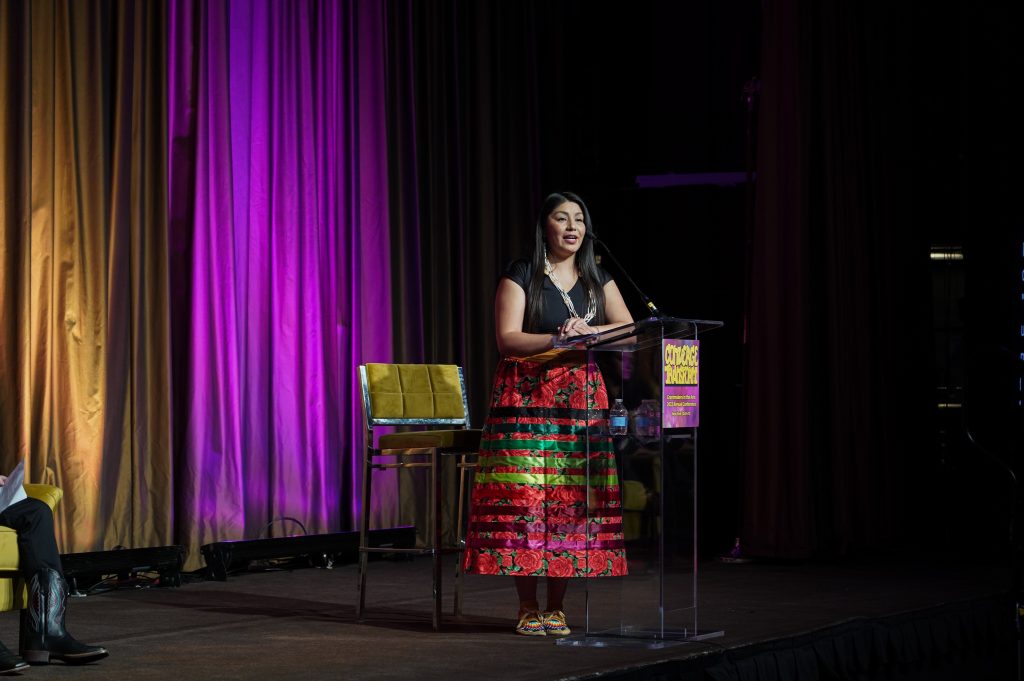 The panel, moderated by Sarah Manning, NDN Collective Director of Communications (citizen of the Shoshone-Paiute Tribes of the Duck Valley Indian Reservation in Idaho and Nevada, and Chippewa-Cree of Rocky Boy), also featured Jordan Brien, NDN Collective Creative Director (Ojibwe/Anishinaabe and an enrolled member of the Turtle Mountain Band of Chippewa Tribe in Belcourt, ND), otherwise known as hip-hop artist Mic Jordan.
Panel participants discussed how their art mediums are ushering us into the future by honoring community, land and culture, and shared performances and presentations unique to their Radical Imagination Grant projects.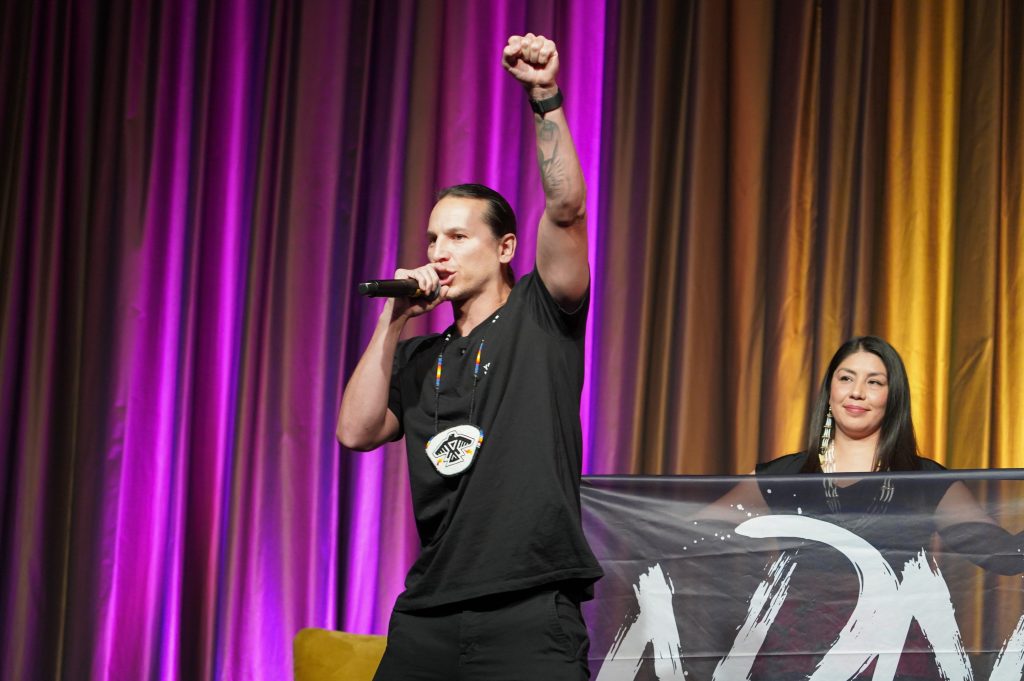 "We came as guests onto the lands of the Lenape, Munsee, Shinnecock, Wappinger & Canarsie Peoples. And while the place now known as the City of New York does not yet officially recognize Indigenous Peoples' Day, and still honors a colonizer with a full blown Columbus Day parade, the Peoples of this land remain steadfast in their resistance and resilience," said Gaby Strong, NDN Foundation Managing Director. "We shared our similar struggles and our collective energy as part of the LandBack movement."
"Our artists and musicians inspired and moved all of us to honor our responsibilities to the land and earth, to shift power and build power for the change that is needed for a just and equitable world," said Strong.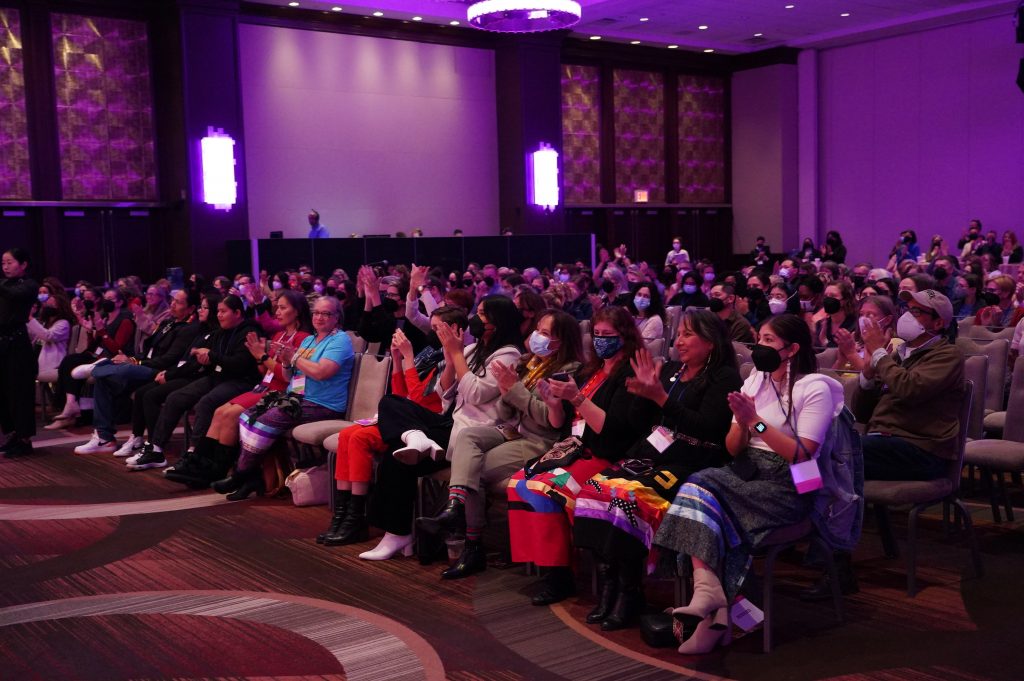 The NDN Collective Foundation team also presented another panel during the conference, "From Land Acknowledgement to LandBack," organized and presented by NDN Collective team members Gaby Strong and Tina Kukkahn (Ojibwe), NDN Collective Director of Grantmaking, alongside other Indigenous people in the grant making sector– Quita Sullivan (Montaukett/Shinnecock), Senior Program Director, Theater, New England Foundation for the Arts, and Lori Pourier (Lakota)President of the First Peoples Fund.

"As an older woman of fifty nine winters I am hopeful for the future because of the fire I see in the hearts and minds of our young people," said Strong. "For Indigenous Peoples' Day, today and everyday, that fire will burn brightly for our People and the Lands that we belong to. I'm so grateful to have been part of this incredibly moving, powerful experience."
---
Indigenous Peoples' Day Phoenix Fest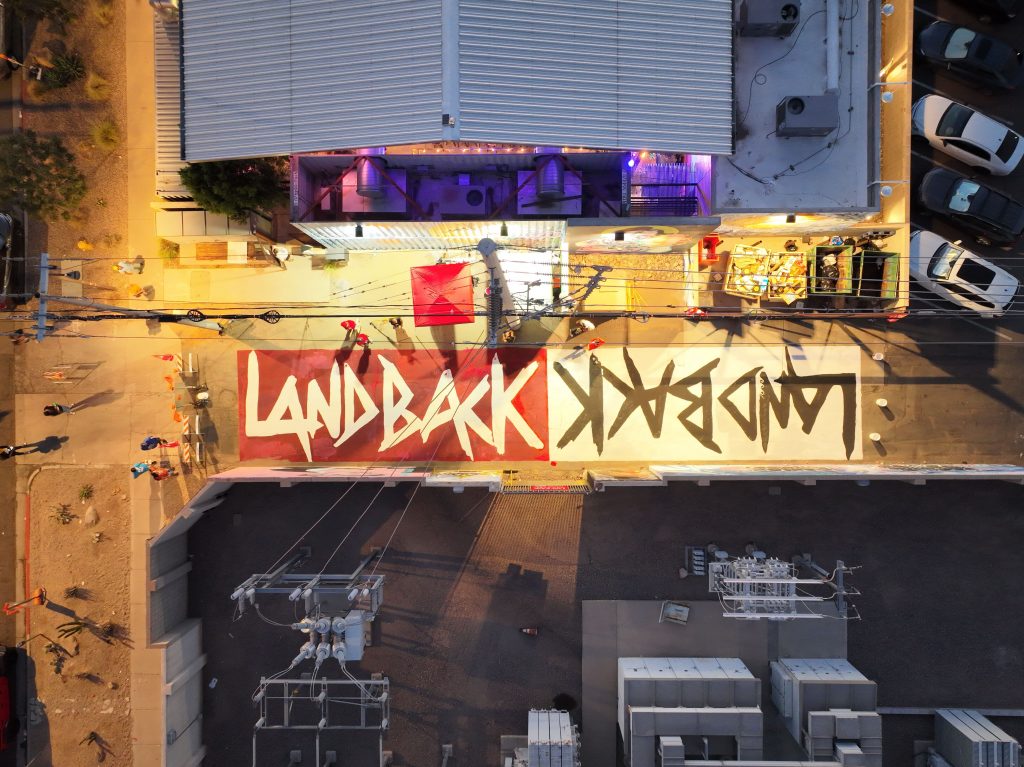 In Phoenix, NDN Collective joined Cahokia, a female-owned Indigenous-led Social Tech + Art Space, and partners, for Indigenous Peoples Phoenix Fest – an immersive event celebrating and uplifting the original peoples of Turtle Island. The event uplifted multiple organizations, vendors, and artists in an Indigenous takeover of the Arts District in Downtown Phoenix, Arizona.
"It was an amazing event that brought so many people out to share in Indigenous culture, fashion, music and community. Many people came out and got registered to vote just before the voter registration deadline in Arizona. We are honored to be able to highlight the importance of voting and using our voices to build Indigenous power and create systemic change," said Alberta Eagle, NDN Collective Director of Operations.
The event featured 10 immersive Indigenous experiences for guests to enjoy including live music, skateboard competitions, flash tattoos, Indigenous film screenings, pop-up market and vendors, a projection show, mural and more.
NDN Collective, as a sponsor, hosted the VIP Premiere Stage at The Churchill, which included exclusive musical performances by Tufawon, Gunner Jules, Mato Wayuhi, A$h Da Hunter and The Tewa as well as a fashion show featuring designers Jeremy Arvisio (The Original Land Lords), Courtney Little Axe (ALTRN8V), Joanne Miles-Long (RRR.Raid), Randy Boogie (Boogie Gallery) and Palani Bearghost (No End of Designs).
In addition to entertainment, voter engagement was a major component of the day, with NDN Collective sharing about Sko Vote Den, NDN's non-partisan, multimedia voter engagement campaign, and partnering with local organizations Phoenix Indian Center, Native Organizers Alliance and Fuerte to provide voter registration and educational activities for attendees.
"If we're fighting for the liberation of our people, then I'm going to use every single tactic available to me in that fight. If I have the ability to cast a vote to influence who I am sitting across the table with, then hell yeah I'm going to use that power, because I'm all about any means necessary – whether it be voting, taking it to the streets, buying land or occupying land," said Nick Tilsen, NDN Collective President and CEO.
Guests also had an opportunity to visit NDN's merch table for swag, snap a picture at the selfie booth and witness a live streetscape art project come to life.
Event Photos Coming Soon!
Learn more about Sko Vote Den at SkoVoteDen.org
Listen to the Sko Vote Den Podcast:
---
LANDBACK Magazine Pre-sales Open
NDN Collective's LANDBACK Campaign officially launched pre-sales of its first and limited edition LANDBACK Magazine, He Sapa: The Heart of Everything That Is – which contains over 100 pages of content from movement elders, youth organizers, the frontlines of LGBTQ2S+ justice, climate justice, and joint-struggle movements against White Supremacy and colonialism.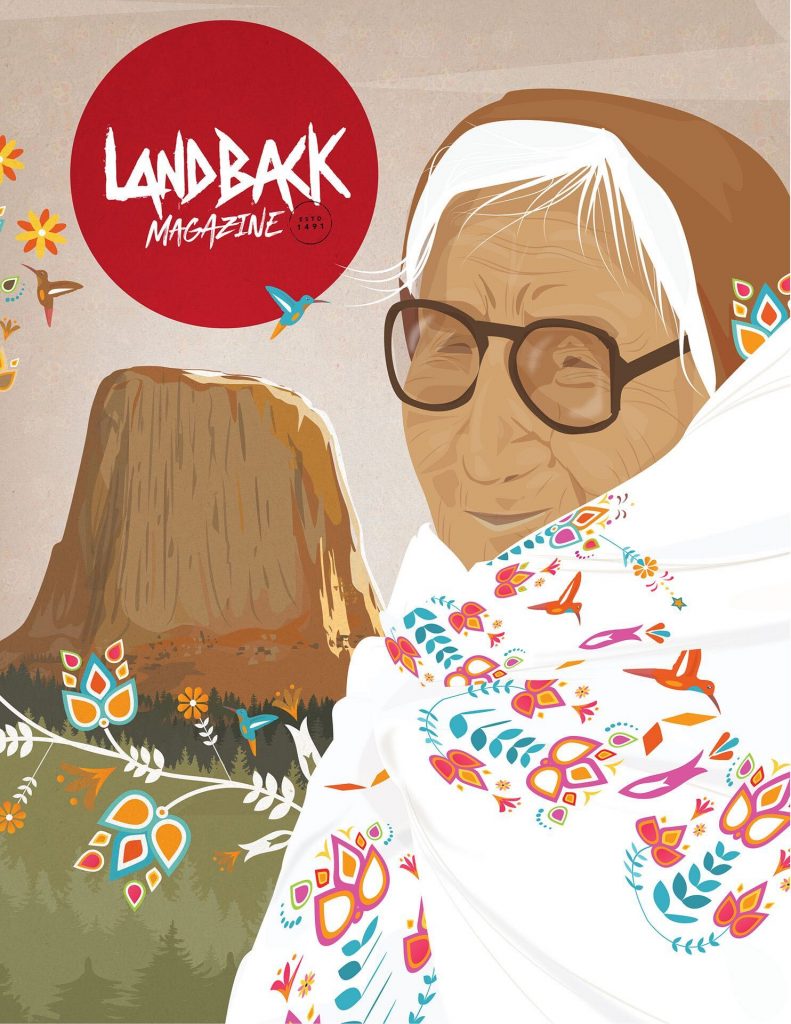 Upon launching the pre-sale opportunity in the NDN Store, sales of the magazine skyrocketed and within 32 hours, sold out. However, additional opportunities to purchase the LANDBACK Magazine will be available for its official launch on October 20th as well as in November, for Native American Heritage Month, at many Indigenous-owned and Movement bookstores in the so-called continental US, so-called Canada, and the Hawaiian Kingdom.
The intentionally Indigenous-powered project was created in partnership with Indígena, Primate, Red Media Press, and Red Planet Books and Comics.
"Ahé'hee to everyone who purchased the pre-sales of the LANDBACK Magazine! We, the LANDBACK team, were blown away and are truly humbled by the amount of support that this magazine has received. This project was definitely something that came from the heart," said Demetrius Johnson, NDN Collective LANDBACK Organizer.
"The dedication and commitment from our team, our design team, and the contributors really made this magazine what it is— a continuation of the stories of resistance to fulfill the promise that the Black Hills will be reclaimed by our Indigenous relatives who call that place home. Although pre-sales have sold out, we will launch the remaining amount to be sold on October 20th, along with livestream interviews with our partners and contributors of the magazine throughout the day. So please keep an eye out for that date," said Johnson.
Learn more about the LANDBACK Campaign at Landback.org.
---
Stay up to date on all of NDN Collective's efforts by signing up for the NDN Collective Newsletter Here.