For Immediate Release: July 28, 2023
Santa Fe, NM – On Friday, August 18, NDN Collective will hold "Radical Imagination Experience – The Art of Creative Resistance and Change," a free, immersive community event that will take place alongside the Southwestern Association of American Indian Art (SWAIA) market.
The event will feature artists and storytellers from NDN Collective's 2021 Radical Imagination Artist and Storytelling Cohort, who will offer performances, engage in dialogue, provide visual art presentations, spoken word, on-site art creation, and more. Attendees will be able to grab NDN Collective swag, utilize on-site photo booths, and enjoy food and drinks.
"Radical Imagination Experience – Art of Creative Resistance and Change" will run from 11:00am to 9:00pm MT at SITE Santa Fe (1606 Paseo De Peralta, Santa Fe, NM 87501).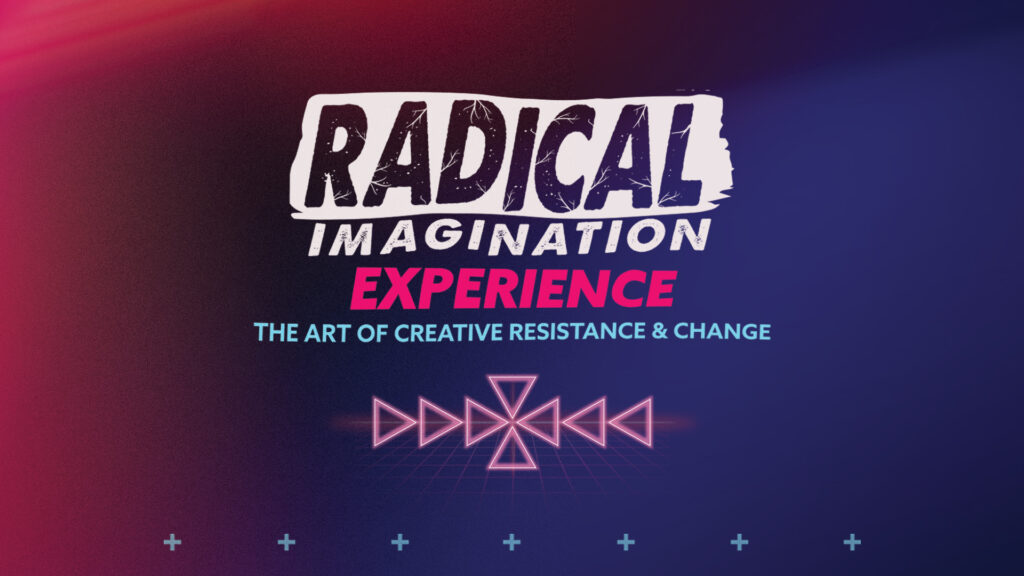 "Having completed their artistic journeys as Radical Imagination artists, these ten creative Natives will be sharing the gifts of their talents and the medicine of their arts with the world — through song, live art creation, and presentation," said Tina Kuckkahn (Lac du Flambeau Ojibwe), NDN Foundation's Associate Director. "We believe in the power of Indigenous artists to envision a new and better world for all living beings, and now we have the honor of witnessing their gifts unfold."
"Being a part of the 2021 Radical Imagination Cohort has further inspired me to continue dreaming up and creating art that fosters connectedness and sheds light on the medicine that exists through the resilience of Indigenous peoples worldwide," said Jackie Fawn (Yurok, Washoe, Surigaonon), graphic illustrator and 2021 Radical Imagination cohort member. "I'm excited to engage with the community through live art, present my work for the first time on a larger scale, and share a few exciting pieces that I've been working on. I hope people feel moved, inspired, and seen through the art, discussions, and community-building that will happen during the event."
"NDN Collective's solid, ongoing expression of belief in its Radical Imagination artists as agents of creative resistance and change has infused and inspired how I create as a queer, Native songwriter and visual artist," said Marx Cassity (Osage), musician and 2021 Radical Imagination cohort member. "I am thrilled to be premiering "How Long", the first single on the 10-song album 2Sacred, which is rooted in Indigiqueer resilience, and calls for the decolonization of sexuality and gender. I made the "How Long" music video in the spirit of ceremonial community healing that I think embodies the Radical Imagination vision, and I can't wait to celebrate in Santa Fe with this amazing group of artists."
"The lives of Matao/CHamoru people are at risk, with increased US military presence on our lands making us a potential target for other militarized superpowers. If our ceremony keepers, culture bearers, and artists were in charge of foreign diplomacy, peace would feel so much more possible today than politicians and war-mongers want us to believe," said Dakota Camacho (Matao/CHamoru), Multi-Disciplinary Artist and 2021 Radical Imagination cohort member. "Performing my work with NDN Collective is an opportunity for my community, my ancestors, my land to lay down these prayers for world peace to restore ináfa'maolek, and to do so the way Matao-CHamoru people always have – in relationship with other Indigenous people through ceremony, song, dance, and celebration of our radical imaginations."
This event will be livestreamed so be sure to follow our Facebook page and subscribe to our Youtube channel to join us during this immersive event!
###
NDN Collective is an Indigenous-led organization dedicated to building Indigenous power. Through organizing, activism, philanthropy, grantmaking, capacity-building, and narrative change, we are creating sustainable solutions on Indigenous terms.
To Request an Interview Contact
press@ndncollective.org
Related Stories
Blog | Announcing NDN Collective's 2022 Radical Imagination Artist & Storyteller Cohort
Blog | NDN Collective Kicks Off Radical Imagination Virtual Festival, A Multi-Day Event
NDN Live | Radical Imagination Virtual Festival
Blog | NDN Collective Celebrates Indigenous Peoples' Day by Uplifting Indigenous Power Building Through Art, Voter Engagement and LANDBACK
Blog | Announcing NDN Collective's 2021 Radical Imagination Artist & Storyteller Cohort
Blog | NDN Collective Selects Ten Indigenous Radical Imagination Artists From Across Turtle Island