For immediate release: July 4, 2023
Rapid City, SD — Today, NDN Action Network mobilized hundreds of Rapid City community members for the March Towards Justice, calling for an overhaul of the policing system that continues skirting accountability and transparency, allowing for the disproportionate targeting and killing of Indigenous people to go unchecked and unaddressed.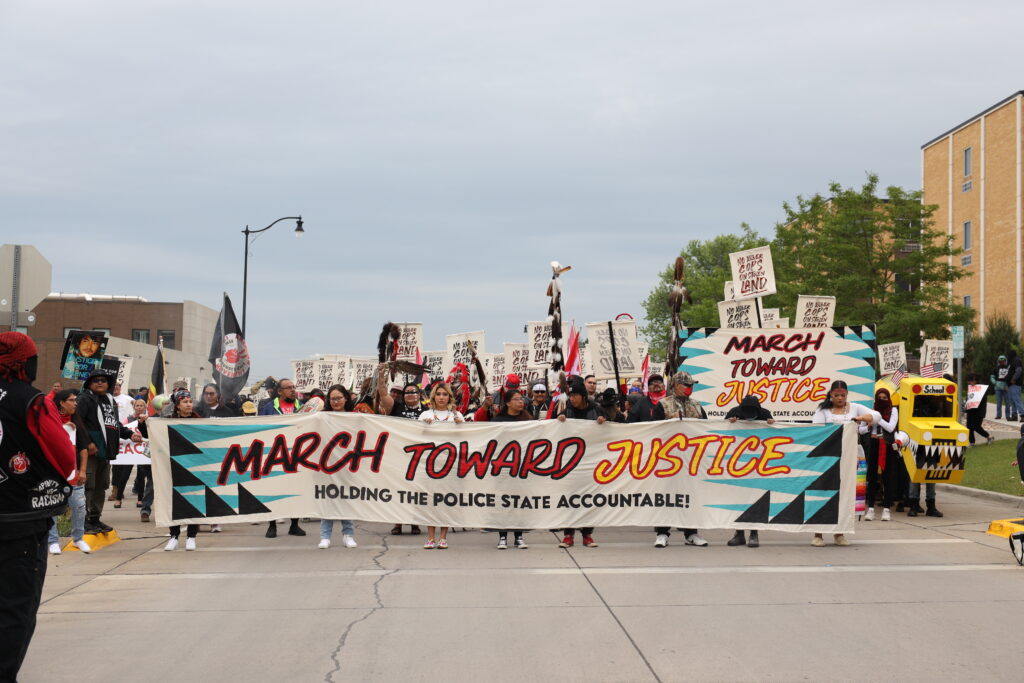 "Today is the continuation of our expression of our love for the people, for our community. We marched to give power to our voices but what we do now, is where the power of our collectiveness is going to become a catalyst for systemic change. We have a plan, we have numbers & we have a prayerful path forward. We encourage our entire community to plug in, to not remain complacent but to put our vision for a just reality into actions. You're reading this, so you heard us, now we're asking our community to continue standing with us," said Sunny Red Bear, NDN Action Network Local Organizer.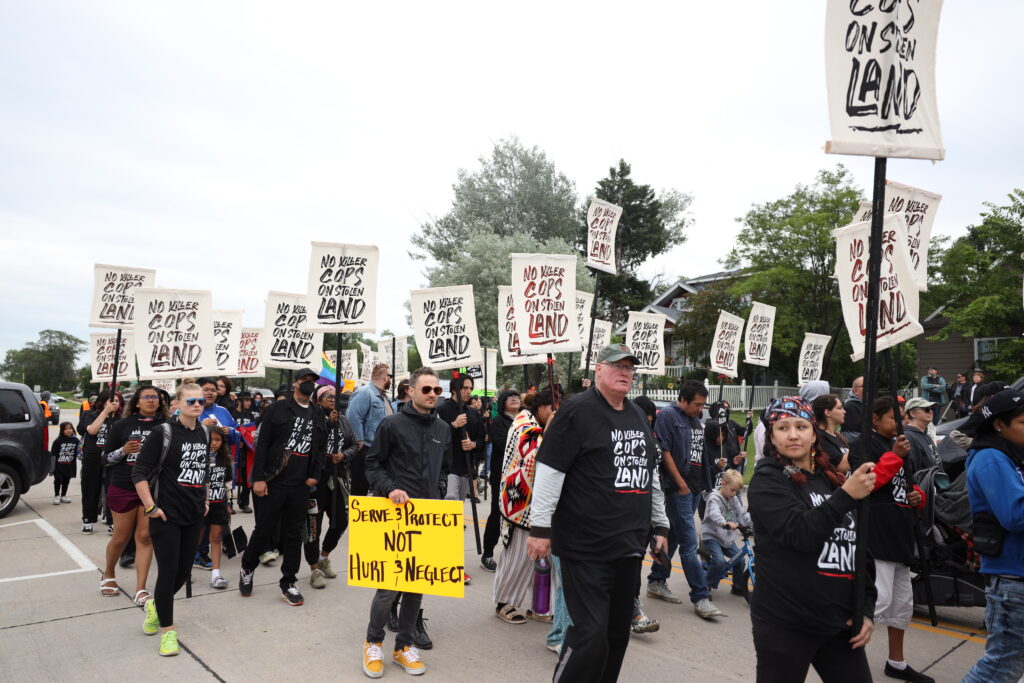 Marchers demanded an immediate, comprehensive third party inquiry into the practices of both the Rapid City Police Department and Pennington County Sheriff's Office; for all school resource officers to be removed from public schools; for all body camera footage be released to the public within seven days of any incident involving police violence; the repeal of SB4; an amendment to Marsy's Law to prevent police officers who shoot or kill civilians from invoking victim's protections; and for resources to be divested from law enforcement agencies to community-controlled education, rehabilitation, and mentorship programs.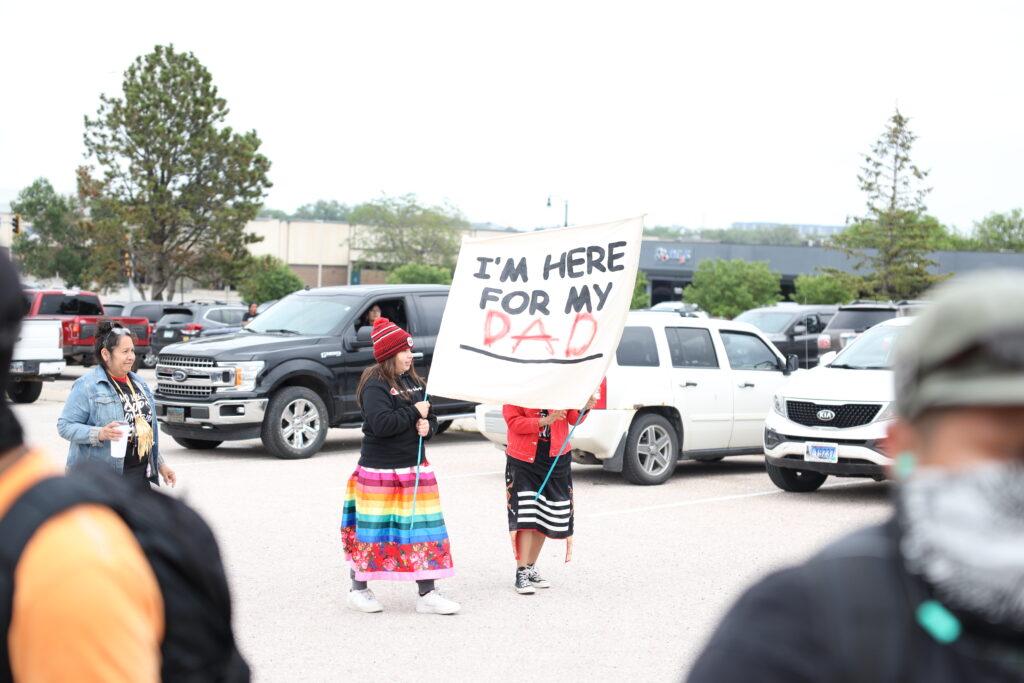 "The march was for the people, the ones we are fighting for, the ones who have experienced injustice by these systems. After this, we will continue fighting for our people and for our rights! We look up to our elders — this march is for them, it's what makes them look forward to what we can do in the future, what more we can provide for ourselves and the ones after us. We're going to do all we can to protect our people and to protect Indigenous culture," said Terren Red Owl, Youth Advocate, Wambli Ska Society.
Dozens of organizations – including churches, small businesses, cooperatives, community groups, and more – signed a letter in support of the March and demands being made by organizers.
An online petition has already gained steam, with over 1,100 individuals so far having signed to "send a powerful message to the Rapid City Police Department, the Pennington Sheriff's Department, and the U.S. Department of Justice — we stand together to declare that we will no longer tolerate killings by the police in our community."​​​​​​​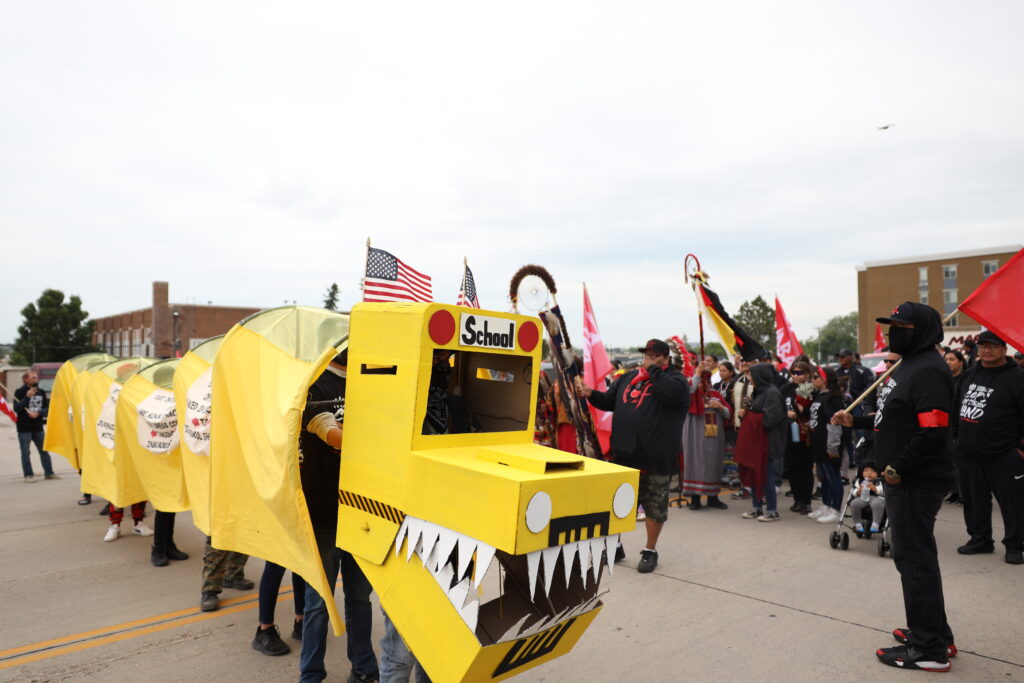 "School resource officers are supposed to foster a safe community — but we're here to tell you, that's not happening. There have been many cases in which SROs have been violent and inflicted harm on Indigenous children. Here in Rapid City, when a student didn't meet dress code, an SRO picked them up and slammed them on their head. We need change because our children are being intimidated and criminalized in a space where safety should be a right. Our wakanyeja are being treated like criminals. It becomes a self-fulfilling prophecy which is a direct link to the school to prison pipeline. 70 percent of juvenile detainees are Indigenous children. We need counselors. We need social workers. Psychologists. The community holds the solutions. We hold solutions. Fund community led solutions," said Anissa Martin, NDN Action Network Local Organizer.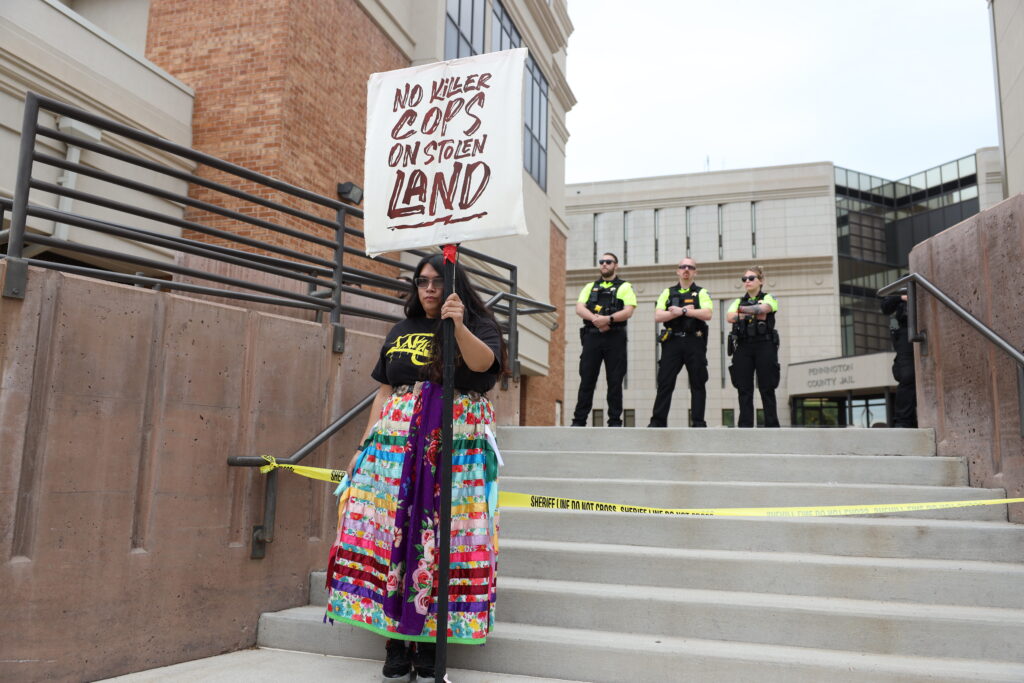 "The March today is a step on our path towards peace and justice. We will continue to unite diverse communities, working together to keep our relatives and community members safe from violence. We look forward to working with the DOJ to advocate for police reform and enhanced police accountability. The old way is not working, we are speaking truth to power to create a positive change for our community," said Robby Burroughs, Managing Director of NDN Action Network.
###
NDN Action Network is a non-partisan entity that advances the rights of Indigenous Peoples & the environment through direct action, policy, & lobbying.
TO REQUEST AN INTERVIEW CONTACT
CABOT PETOIA, CLPETOIA@GMAIL.COM
Couldn't join us in person? Here is how you can still help:
✏️ SIGN-ON LETTER: IN SUPPORT OF THE MARCH TOWARD JUSTICE, HOLDING THE POLICE STATE ACCOUNTABLE
✏️ PETITION: NO KILLER COPS ON STOLEN LAND
📮 DONATE TO THE NDN ACTION NETWORK LEGAL FUND & PROTECT OUR RELATIVES MOBILIZING IN RAPID CITY
📋 BECOME A VOLUNTEER WITH NDN ACTION NETWORK
📱Text "RapidVRacism" To 50302 To Join The Campaign
Related Stories:
Video | NDN Live: Press Conference for the #MarchTowardsJustice #RapidCity #SD
Video | NDN Live: Day 2 of #MarchTowardsJustice Community Art Build #RapidCity #SD
Video | NDN Live: Day 1 of #MarchTowardsJustice Community Art Build #RapidCity #SD
Blog | NDN Action Network to March Toward Justice for So-called Independence Day
Press Statement | NDN Action Network Releases Statement on Planned July 4 March
LANDBACK For the People Podcast | S1 Ep. 2: Fighting Racism in the Hesapa
Blog | NDN Collective Takes One Step Closer to Building Tiny Home Community for Houseless Relatives in Rapid City
Blog | Police Assault Indigenous Youth with Disabilities at Central High School (Trigger Warning: The following statement contains language and video addressing acts of physical assault)
Blog | NDN Collective Responds to DOJ Lawsuit Against Grand Gateway Hotel
Blog | We Deserve Better: Rapid City Police Department's "Wild West" Behavior Towards Indigenous Peoples Must End
Blog | NDN Collective Responds to Brutal K9 Attack on Native Man in Rapid City (Trigger Warning: The following statement contains language and video addressing acts of physical assault)