NDN Action Network collaborates with Indigenous organizations, allies, and local businesses to partake in a non-violent direct action calling out systemic racism, police violence, and high rates of incarceration of Indigenous Peoples in South Dakota.
The March Toward Justice is a collective effort led by the community that will occur on July 4th, or so-called Independence Day, to disrupt business as usual. Over 60+ community organizations and allies will gather at the corner of Kansas City St. and East Blvd in Rapid City, South Dakota at 4:00 pm (MT) to raise awareness of the ongoing police violence targeting the Indigenous community and demand police accountability.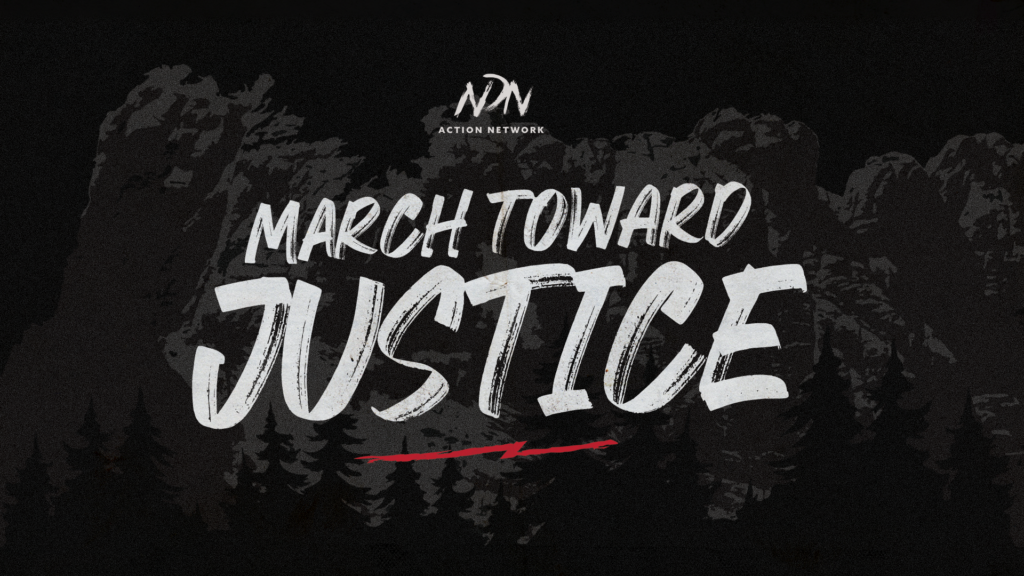 This march aims to send a powerful message to the Rapid City Police Department, Pennington Sheriff's Department, and the U.S. Department of Justice; we stand together to declare that we will no longer tolerate killings by the police in our community. From 2001-2023 there have been 79 police involved shootings statewide, 0 convictions of police officers. 75% of the fatal shooting victims were Indigenous People. Our collective responsibility is to ensure justice, safety, and equal treatment for all residents of Rapid City.
Leading up to the March, a two-day family-friendly community art build will be held at Oaye Luta Okolakiciye to further demonstrate that when we come together, we can achieve and overcome incredible feats. The art build consisted of art tutorials and opportunities for community members of all ages to make banners, screen print signs, and craft puppets.
(Click to Expand Images) NDN Creative Resistance Trainers teaching local Indigenous Artists how to screen print signs and paint banners. Photo by NDN Collective.
The NDN Action Network has garnered substantial support both on a local and national level; over 60+ organizations have inscribed their names on the March Toward Justice Sign-On Letter and 790+ individuals have signed the Petition: No Killer Cops on Stolen Land that both outline the collective demands: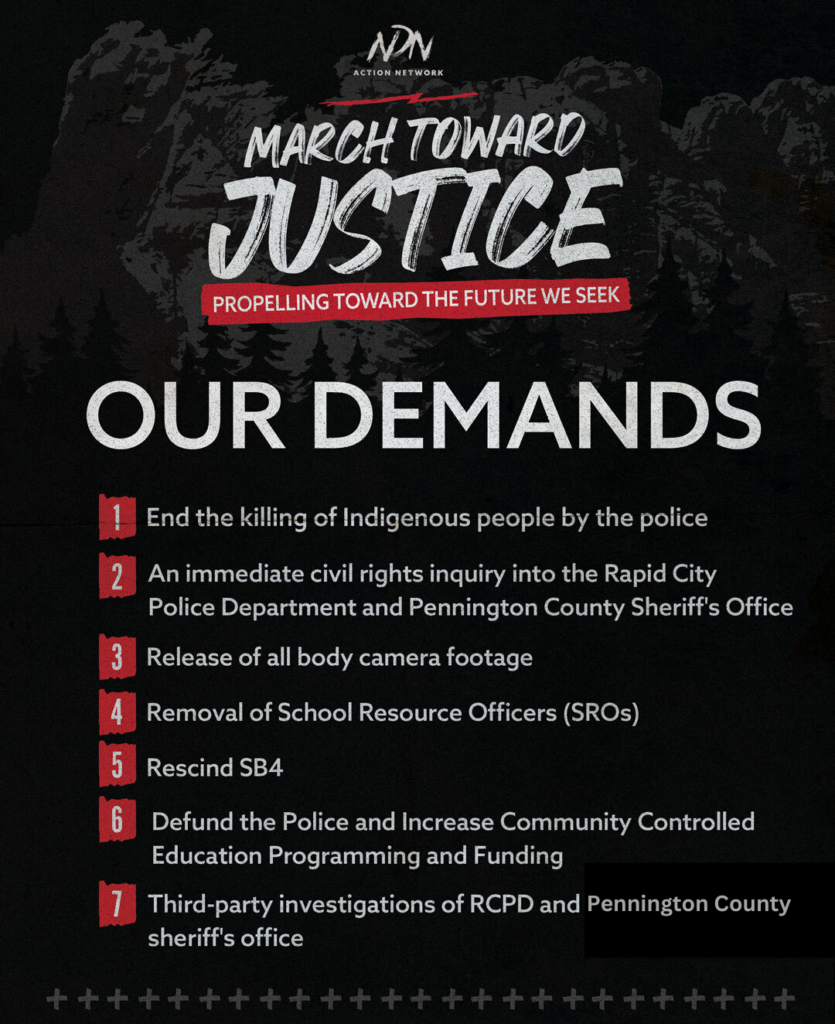 There is at least one Student Resource Officer (SRO) in every Rapid City Area School (RCAS) who are responsible for Law Enforcement, Fostering Positive School Climate, Crime Prevention, Mentor, Role Model, and Education. The 3,000 Indigenous students currently enrolled are the most heavily disciplined as 100% of expulsions are Indigenous-identified youth.
As part of our investigation to understand what happened to our Indigenous relatives, we have filed 208 Freedom of Information Acts (FOIAs) with various South Dakota police departments and agencies including Rapid City Police Department, Pennington County Sheriff's Office, Sioux Falls Police Department, and Minnehaha County Sheriff. The Freedom of Information Act, passed in 1967 allows the public the right to request and access records from any federal agency.
Of the 208 FOIAs filed requesting access to dash and body camera footage related to incidents in which an Indigenous relative was harmed or murdered by an officer-involved shooting; 8 found no related documents, 194 remain unacknowledged, and 6 have been denied. In South Dakota, state laws exempt and protect police departments from public transparency and accountability.
We make up less than 10% of the population in the state of South Dakota but are comprised of 51% of the people incarcerated making South Dakota and the Indigenous population here ground zero for the over-incarceration of Indigenous people in the nation.

Nick Tilsen, Oglala Lakota, President & CEO of NDN Collective
LANDBACK For the People Podcast: Ep. 2 Fighting Racism in the Hesapa
For 3 years, the Rapid City vs. Racism team has worked alongside the community to "address issues of racism, discrimination, and racial inequality by challenging systems that continue to uphold white supremacy and contribute to the oppression of Indigenous people." ​​​​​​​ Among those efforts include cultivating safe spaces for all members of the community to have a voice such as filing a federal civil rights class action lawsuit​​​​​​​ against the Grand Gateway Hotel, launching Camp Mniluzahan, leading Townhalls for youth and their families to share their experiences of racism and discrimination in the Rapid City Area Schools, hosting community dinners, and more!
"There are a lot of people here in Rapid City that want to take a stand against racism and we wanted to create an opportunity for everyone in our community to do that," said Sunny Red Bear, NDN Collective Local Organizer. "We cannot fight racism alone, as Indigenous People, and as the ones who are experiencing it, we need everyone to be a part of the solution. That is why we broadened the campaign and called it Rapid City vs. Racism because it is going to take all of us. It is going to take the whole community to end racism and discrimination."
To learn more about the Rapid City vs. Racism campaign happening in the He Sapa, watch the full LANDBACK For the People Podcast below:
We, a diverse coalition of organizations in Rapid City, are proud to announce a collaborative effort to address the issue of police brutality through a peaceful and family-friendly march. This event aims to unite our community in demanding change and justice for all while emphasizing the importance of inclusivity and fostering a safe environment for families to participate in exercising their constitutional rights. We welcome all members of our community to join us. Let's show out in numbers!
Can't join us in person? Here is how you can help:
✏️ Sign-on Letter: in Support of the March Toward Justice, Holding the Police State Accountable
✏️ Petition: No Killer Cops on Stolen Land
📮 Donate to the NDN Action Network Legal Fund & Protect our Relatives Mobilizing in Rapid City
📋 Become a Volunteer with NDN Action Network
📱Text "RapidVRacism" to 50302 to Join the Campaign
Related Stories
Press Statement | NDN Action Network Releases Statement on Planned July 4 March
LANDBACK For the People Podcast | S1 Ep. 2: Fighting Racism in the Hesapa
Blog | NDN Collective Takes One Step Closer to Building Tiny Home Community for Houseless Relatives in Rapid City
Blog | Police Assault Indigenous Youth with Disabilities at Central High School (Trigger Warning: The following statement contains language and video addressing acts of physical assault)
Blog | NDN Collective Responds to DOJ Lawsuit Against Grand Gateway Hotel
Blog | We Deserve Better: Rapid City Police Department's "Wild West" Behavior Towards Indigenous Peoples Must End
Blog | NDN Collective Responds to Brutal K9 Attack on Native Man in Rapid City (Trigger Warning: The following statement contains language and video addressing acts of physical assault)