For Immediate Release: October 19, 2022

Rapid City, SD – Today, in response to breaking news that the Department of Justice (DOJ) filed a lawsuit against the owners and operators of the Grand Gateway Hotel and the Cheers Sports Lounge and Casino – after conducting a months long investigation sparked by NDN Collective's organizing, protesting, marching, and filing of a separate lawsuit – NDN Collective released the following statements:
"A precious life was lost at the Grand Gateway Hotel. We continue to honor the memory of Blaine Pourier and pray for his family as we continue this fight," said Sunny Red Bear, racial equity director at NDN Collective. "The Uhres must be held accountable, reminded that they are on Lakota land, and understand that the tragedy of death cannot be met with racist outbursts.
"After several months of mobilizing and organizing against racism here in our homelands of MniLuzahan (AKA Rapid City), we are seeing the outcome of a federal investigation we've been pushing for. It's important to remember this is not just about the Grand Gateway Hotel – it's the tip of the iceberg when it comes to discrimination and racism here. We are fighting for a world where Indigenous people are treated with dignity – from our houseless relatives, to our children in schools, to Indigenous patrons of businesses."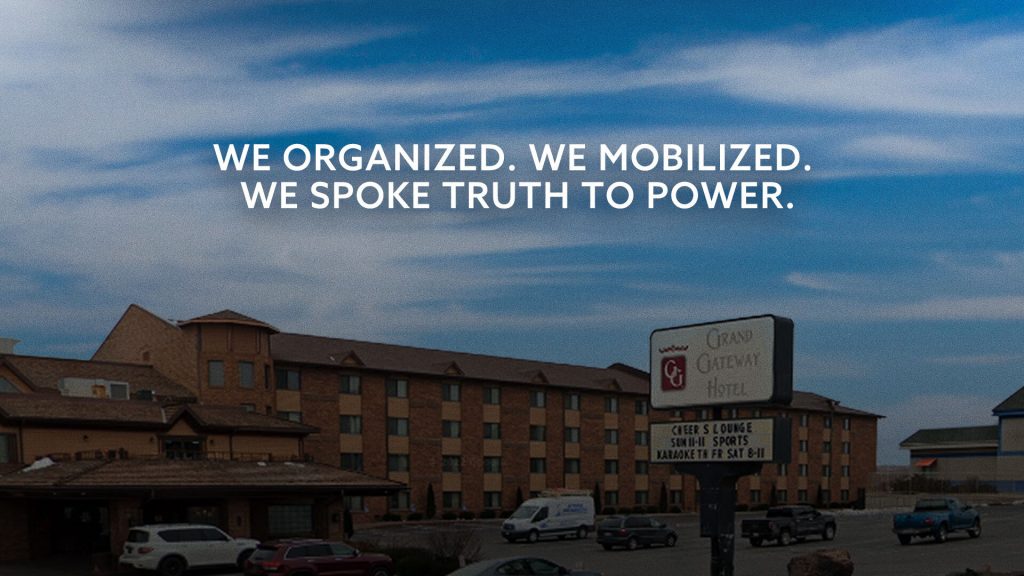 "Today is proof that when we organize and raise our voices in the streets, we can force those running the legal system to be accountable to the people," said Nick Tilsen, president and CEO of NDN Collective. "Our hope is that the DOJ and courts will shut down the Grand Gateway Hotel and Cheers for the owners' violation of the civil and inherent rights of Native peoples.
"While it's heartening to see the DOJ take action, the scope of their lawsuit pertains to one specific instance. Indigenous people know that racism is everywhere – police departments, city councils, jails, schools, and businesses. As we continue working to undo white supremacy and systemic racism, we will carry today's precedent with us as proof that accountability is both necessary and possible."
In March, NDN Collective filed a federal civil rights class action lawsuit against the Grand Gateway Hotel for refusing service to Natives in Rapid City, including members of NDN Collective's team. The court has not moved forward on NDN Collective's lawsuit yet, as the DOJ was conducting their own investigation.
NDN Collective led boycotts of properties owned by Connie Uhre for three months, mobilizing other local groups and community members to publicly condemn the racist actions of the Uhres and redirect patrons to businesses owned by or supportive of Indigenous people.
The group also called on Mayor Allender and city council of Rapid City to commit to the local enforcement of the federal civil rights law under Title 42 of the U.S. Code, Chapter 21, Subchapter II, under the Public Accommodations clause.
###
NDN Collective is an Indigenous-led organization dedicated to building Indigenous power. Through organizing, activism, philanthropy, grantmaking, capacity-building, and narrative change, we are creating sustainable solutions on Indigenous terms.
To Request An Interview Contact
Related Stories:
NDN Blog | Audio & Video: Grand Gateway Hotel Refuses Service to Native Americans After Owner States Intent to Ban All Natives, NDN Collective Files Civil Rights Lawsuit
NDN Live | NDN Collective March + Rally in Response to Racist Rapid City Hotel Owner
NDN Blog | Tribal Leaders of the Oceti Sakowin Deliver Notice of Trespass and Eviction Notice to Grand Gateway Hotel
NDN Live | Tribal Leaders of the Oceti Sakowin march on Grand Gateway Hotel, Rapid City, SD
NDN Blog | Take Action! Join the Boycott Against Racist Businesses in Rapid City
NDN Live | Good NDN | Bad NDN: Holding Racism Accountable on Indigenous Terms