On Wednesday, May 17th, NDN Collective announced the 2023/24 NDN Changemaker Fellow Cohort, consisting of 21 Indigenous leaders from throughout Turtle Island and beyond who are radically transforming Indigenous communities by defending Indigenous lands, waters, and rights; developing solutions for the future that regenerate the health of the Earth and our communities; and revitalizing our languages, governance practices, ceremonies, and ways of life.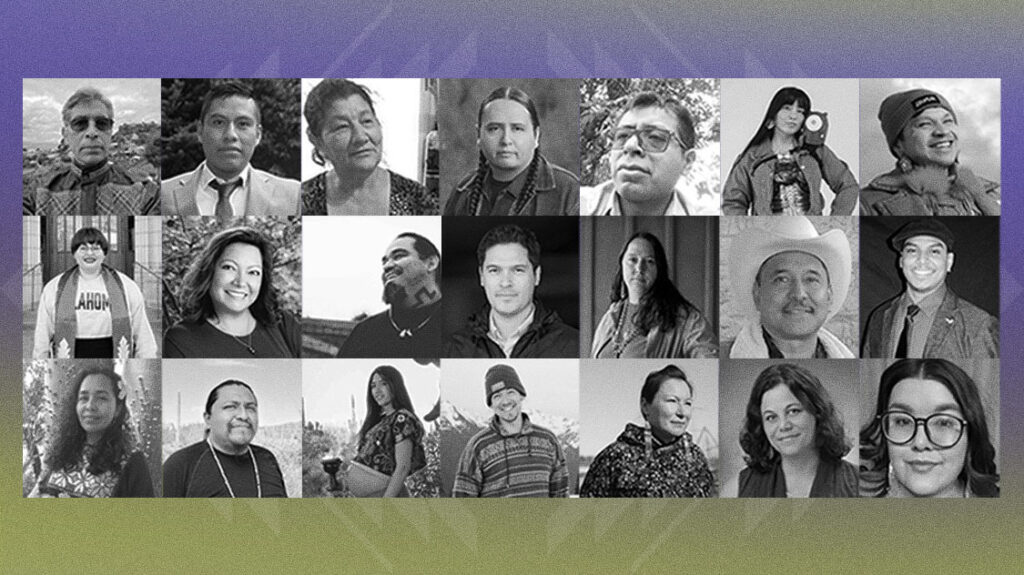 Today, we invite you to learn more about these phenomenal visionaries, who continue to enact revolutionary change and build Indigenous power.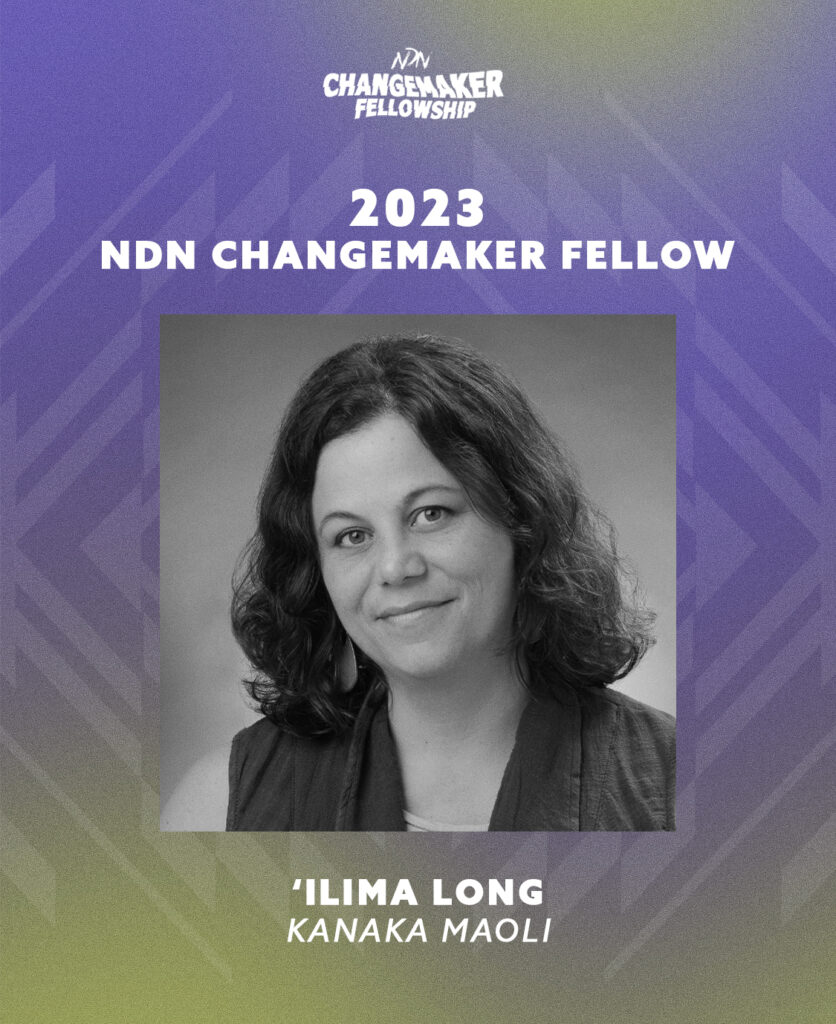 'Ilima Long
'Ilima Long is Kanaka Maoli. She is a mother and full time organizer for the Hawai'i public schools teachers union as well as president of Hui Aloha 'Āina o Honolulu, a 130 year old grassroots formation against US imperialism in Hawai'i. She has served as an organizer and on the frontlines of various Hawaiian national issues, most extensively, the protection of Mauna Kea. She is currently working on her PhD in political science from the University of Hawai'i at Mānoa where her research aims to recover Kanaka Maoli labor history to inform current indigenous nationalist strategies. In Hui Aloha 'Āina, her focus is on building political education for community, and building organization for Hawaiian independence.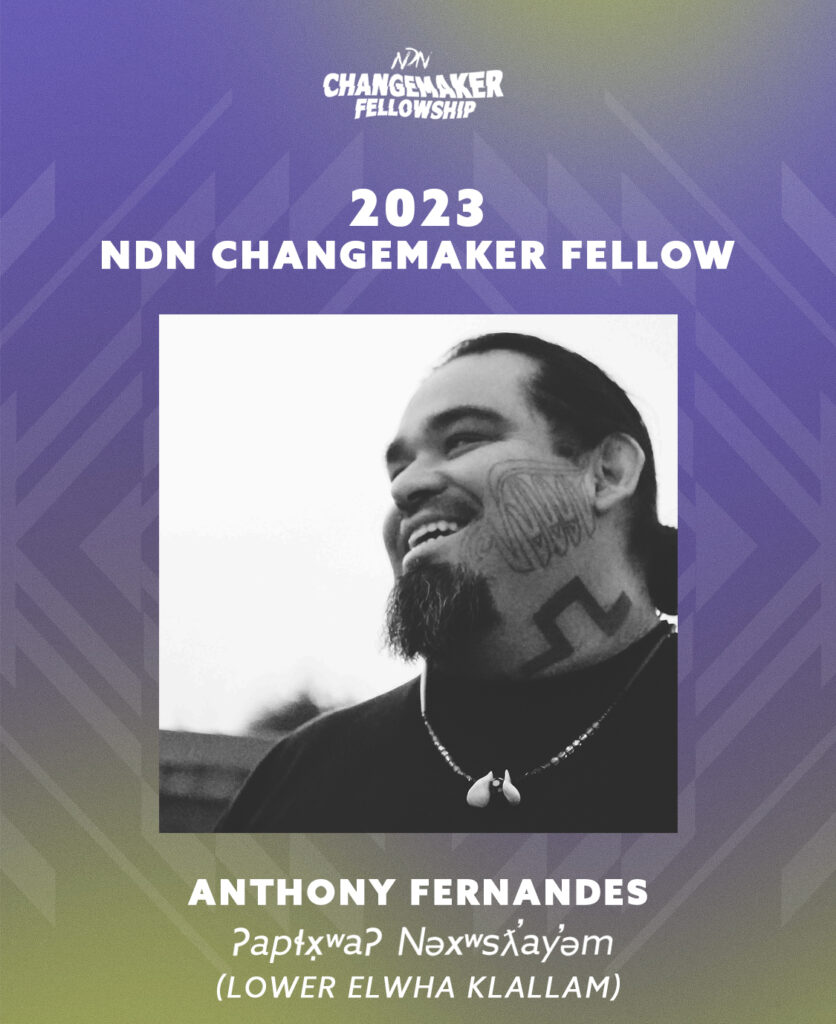 Anthony Fernandes
Anthony Fernandes is from the ʔéʔɬx̣ʷaʔ Nəxʷsƛ̕ay̕əm (Lower Elwha Klallam) from the house of k̕ʷaʔšə́nəm. He carries on a family history of resistance, liberation, and the decolonization of Indigenous peoples, lands, and waters. Anthony's works utilize music, media, and arts to create critical thought and discussion regarding colonization and decolonization. He has helped develop curriculum and teach courses rooted in Indigenous resistance, liberation, decolonization, and justice.
Anthony is a co-founder of Indigenous Life Schools through Cedars RISE (Revitalizing Indigenous Systems of Empowerment), which focuses on the revitalization of Indigenous cultures and lifeways by removing children from western educational systems and rooting their learning on land based Indigenous practices and ideologies. Recently, Anthony has begun to work with the Black Panther Party Cubs in reinvigorating the Rainbow Coalition and the vision of allyship in Black and Indigenous Resistance and Liberation.
He has a Master of Arts in Indigenous Governance from the University of Victoria, British Columbia and Anthony works throughout the occupied United States and Canada with Indigenous Youth in gang and substance abuse prevention and empowerment through cultural revitalization.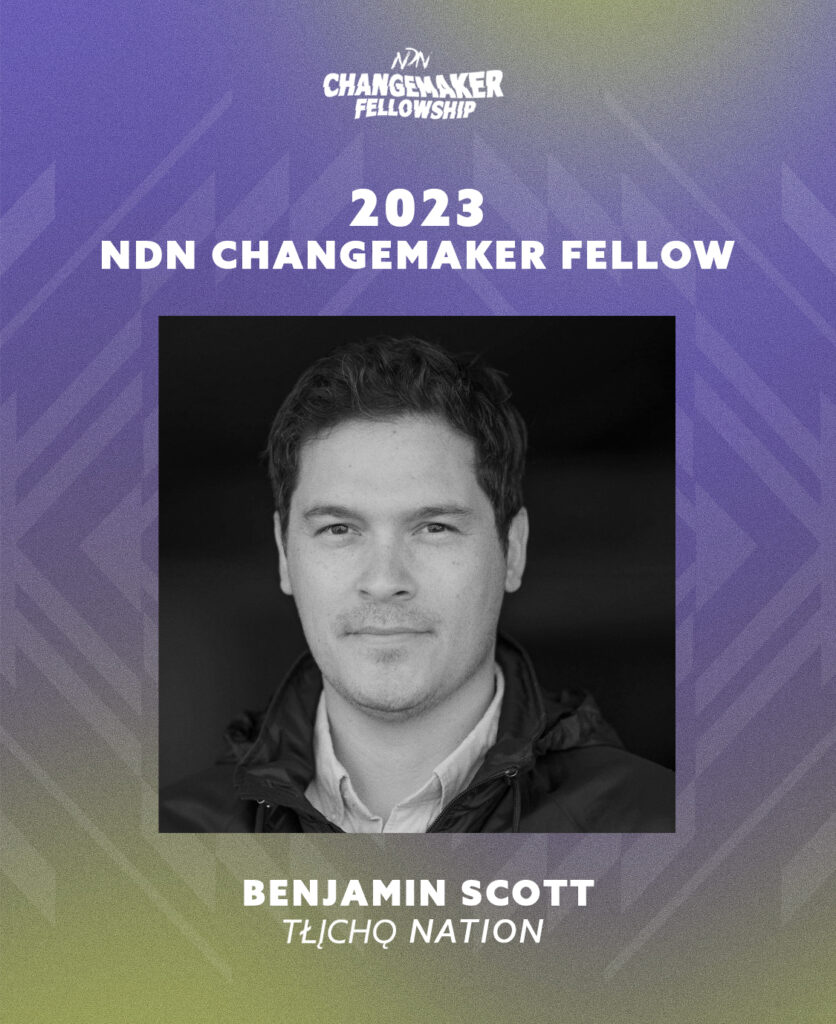 Benjamin Scott
Benjamin Scott is a member of the Tłı̨chǫ Nation and a true Northerner at heart. He is the Founding Project Director / Co-Lead of EntrepreNorth and has a passion for supporting organizations to redefine business practice through an Indigenous worldview, while sharing business knowledge and tools to help build entrepreneurial leadership and capacity within communities.
He is the creator of The Multi-Directional Business Compass, which offers an Indigenous-centered perspective for thinking about business, community, and economic impact in a more circular and holistic way. The Compass framework now serves as the foundation of EntrepreNorth's programming to empower Indigenous entrepreneurs to build sustainable business and livelihoods across Northern Canada.
Benjamin also offers strategic business services through Feed the Fire Business Consulting to support Indigenous focused organizations on pathways to economic self-determination, resurgence and resilience. He holds an MBA in Indigenous Business and Leadership from SFU, a BA in Urban Studies from U of C, a Leadership Certificate from U of A, and is an Action Canada Fellow Alumni.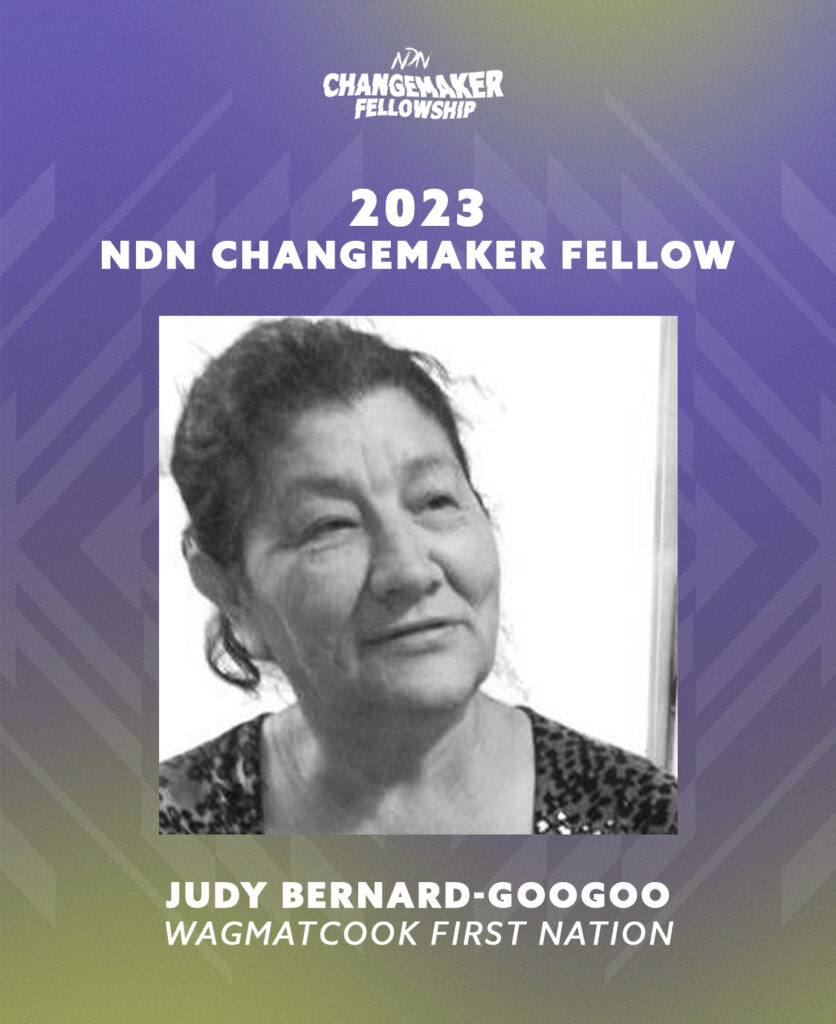 Judy Bernard-Googoo
Judy Bernard-Googoo is the youngest of a family of 11 from Wagmatcook First Nation, mother of 6 and Grandmother of 5. Now an elder, she works with her husband Joe to teach land-based knowledge to young people, infused with the Mikmaq language, including medicines, foods, hide tanning, moccasin making, birch biting and other traditional arts. Judy has also created large-scale community gardens to revitalize traditional agriculture and support the health of the community and is working on an ancestral village reproduction to teach history.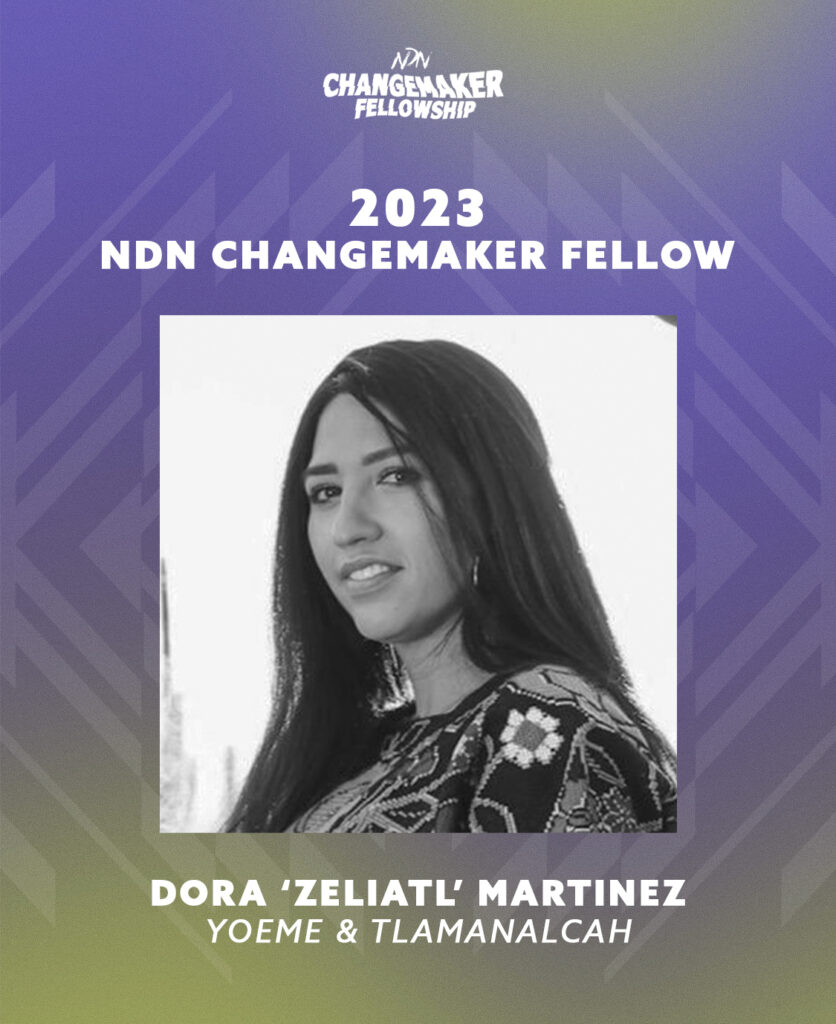 Dora 'Zeliatl' Martinez
Dora Martinez is an Indigenous birthkeeper and community (re)organizer based in Tohono O'odham and Yaqui territory. She is the mother of 6 children, including one earthside, Cehualli– all of which have guided her practice. These days Dora spends her time focused on making space for folks looking to birth or release their pregnancy in ceremony and outside of the clinical setting.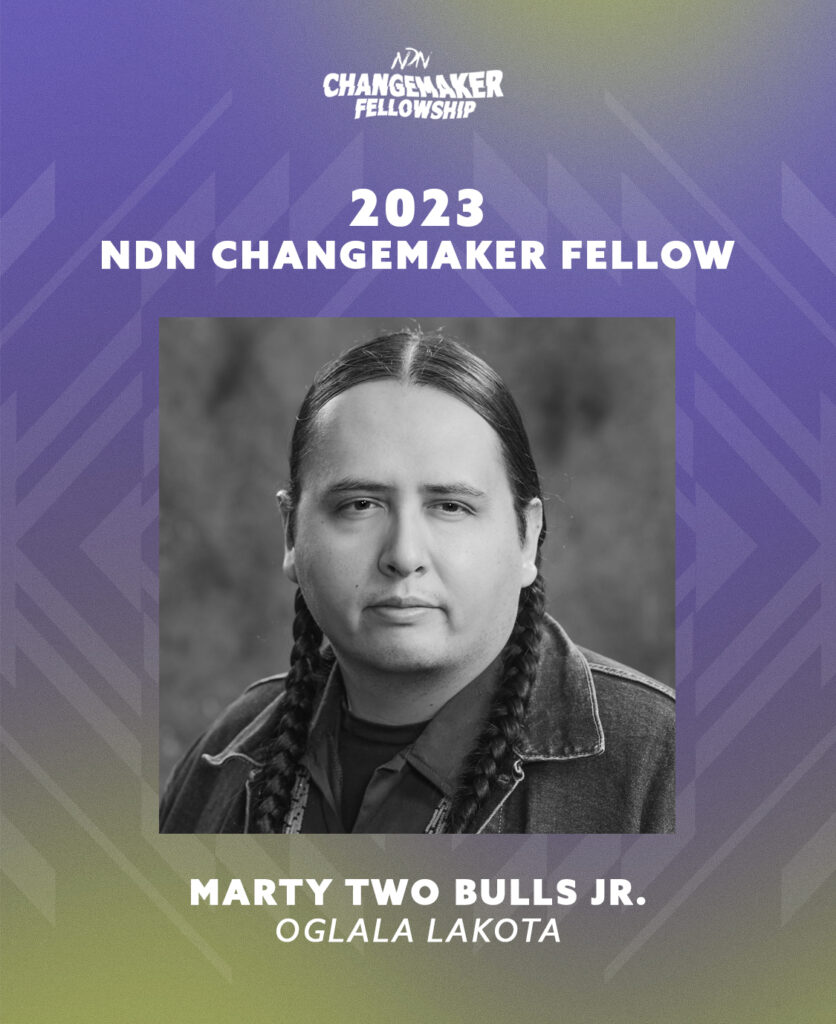 Marty Two Bulls Jr.
Marty Two Bulls Jr. is an enrolled member of the Oglala Sioux Tribe and was raised in the high plains of South Dakota. He is an artist and educator based in Rapid City, SD and comes from a family of diverse artists. His father, Marty Two Bulls Sr., is an accomplished artist and was Two Bulls' first art instructor. Two Bulls grew up in his father's studio where he learned the fundamentals of sculpture, illustration, graphic design and most importantly how to make a living as a creative person. He eventually went on to study printmaking and ceramics at The Institute of American Indian Arts in Santa Fe, NM, where he earned a Bachelor's in Fine Arts in 2011.
After graduation, Two Bulls spent several years in Santa Fe developing his art practice and working in contemporary art galleries where he worked with a plethora of contemporary artists from around the world. In 2017 he was offered a full-time faculty position with Oglala Lakota College (OLC) to teach art, jumping at the opportunity to return to his homelands and work with his tribal community.
Since returning home, Two Bulls has created a Graphic Arts program at OLC and continues to work as a positive force for the arts in his communities both near and far. He has exhibited his artwork in galleries and museums both nationally and internationally, with works in several permanent museum collections.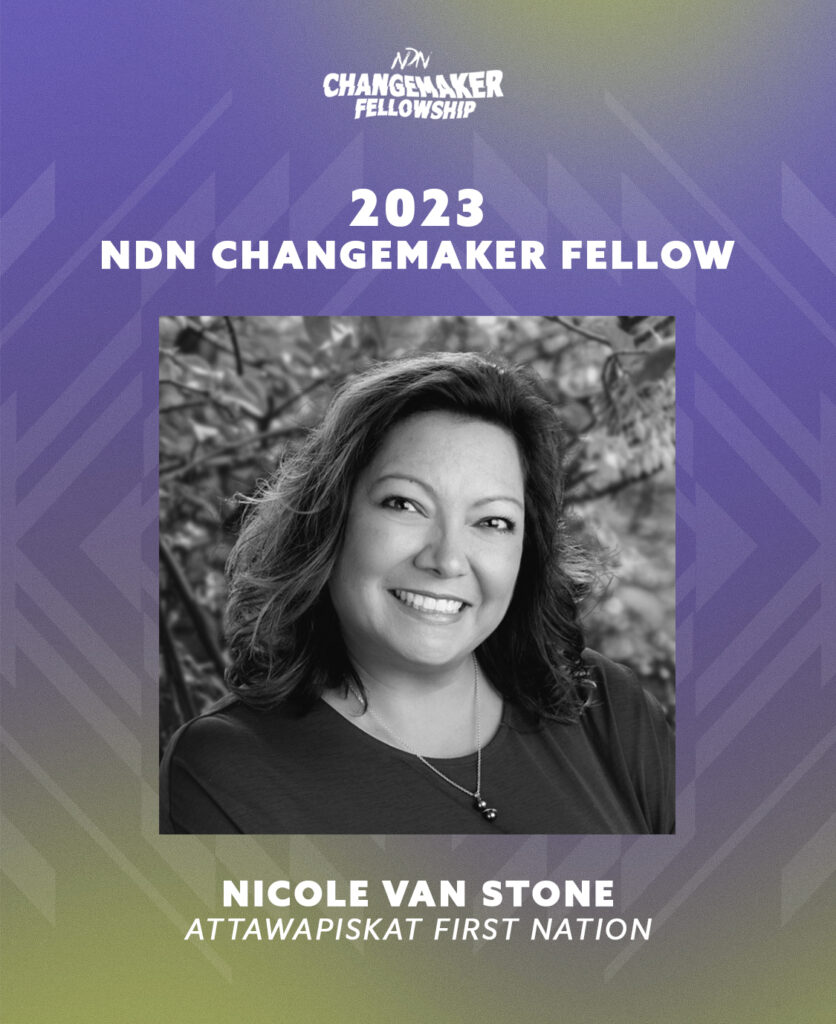 Nicole Van Stone
Nicole Van Stone is from Attawapiskat First Nation and is first degree Midewiwin-Kwe. She is of the Turtle Clan and her spirit name is Warrior Woman with the Grandmothers Behind Her. Her family name is Chookomolin. Nicole is a second-generation residential school survivor. She works to protect the water, land and language as well as bring traditional teachings to community.
Nicole currently lives in Wiikwemkoong Unceded Territory, on Manitoulin Island working to create Osawamick G'Tigaaning, an Immersion Anishinaabemowin Language Ranch. Osawamick G'Tigaaning is a place where people can come and learn Ojibwemowin and reconnect to traditional teachings as well as hear and speak Anishinaabemowin in an immersion setting.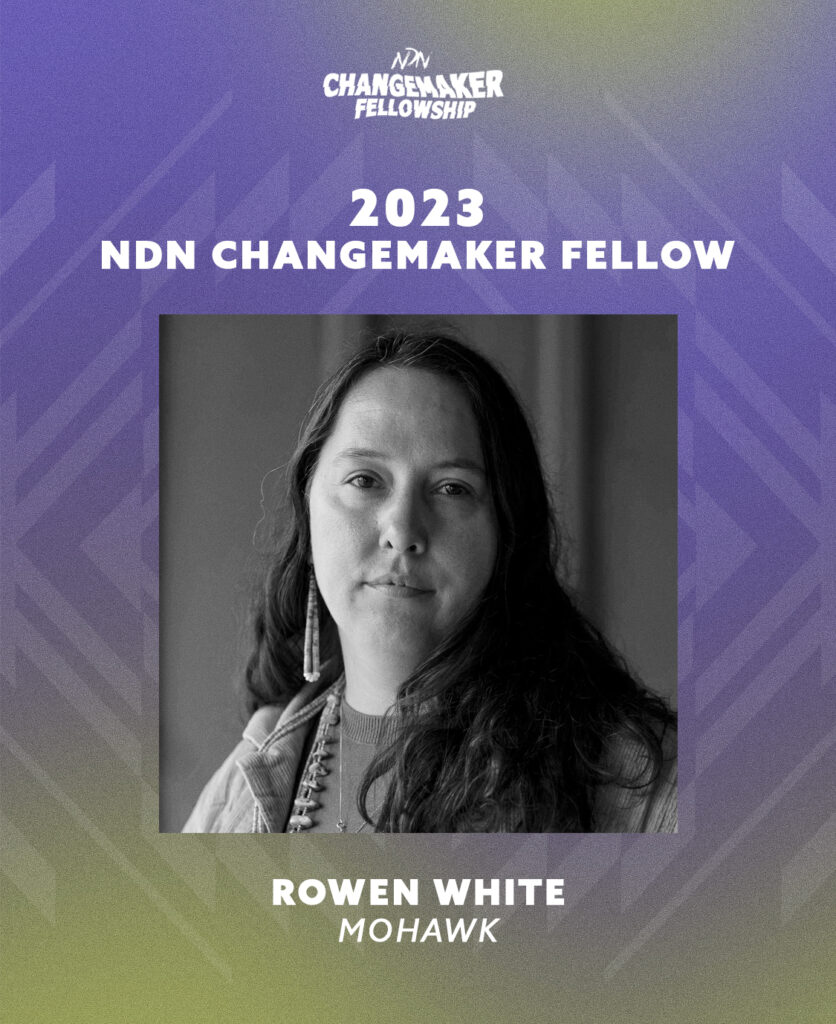 Rowen White
Rowen White is a Seed Keeper/farmer and author from the Mohawk community of Akwesasne and a passionate activist for Indigenous seed and food sovereignty. She is the Creative Director of Sierra Seeds, an innovative Indigenous seed bank and land-based educational organization located in North San Juan, CA. Rowen is the founder of the Indigenous Seedkeepers Network, which is committed to restoring the Indigenous Seed Commons, and currently serves as a Cooperative Seed Hub Coordinator.
Rowen facilitates creative hands-on workshops and strategic conversations in community regarding seed/food security throughout the country within tribal and small farming communities. She weaves stories of seeds, food, culture, and sacred Earth stewardship on her blog, Seed Songs, and other distinguished publications.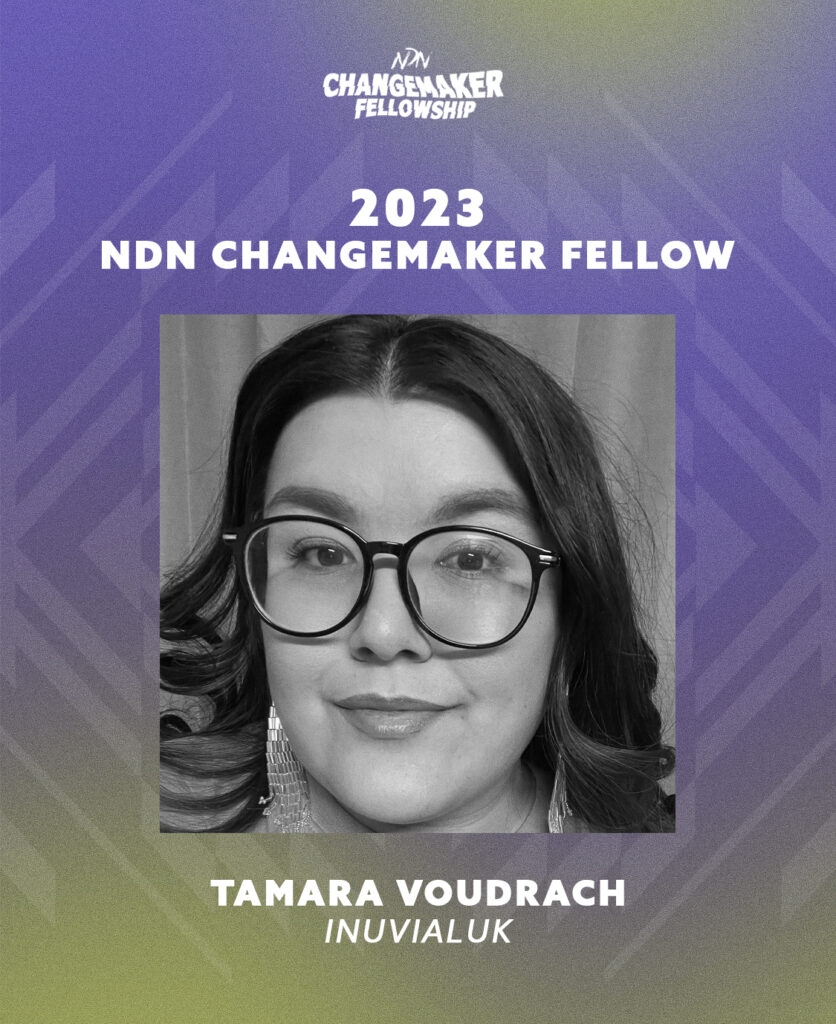 Tamara Voudrach
Tamara Voudrach is an Inuvialuk mother, partner, daughter, and sister living and working in her traditional homelands of the Inuvialuit Settlement Region. She is a multi-disciplinary art and media professional with a background in writing, directing, and producing for film and television , with formal training through the Indigenous Digital Filmmaking program at Capilano University. She now works towards her Bachelor of Commerce through MacEwan University.
Tamara is the Manager for the Inuvialuit Communications Society (ICS), which works to preserve and promote Inuvialuit culture, language, and lived experiences. Outside of her work with the ICS, she is a co-founder for the Arctic Youth Development Agency (AYDA Women), sits on the board for the Northern Games Society , and is member for the Board of Directors for the Aboriginal Peoples Television Network (APTN), representing the Northeast Quadrant. Tamara advocates strongly for the creation of mentorship and training opportunities within the film and media sector, and especially for the creation of programming aimed at youth that connects them with Elders in their communities. She feels it a responsibility to help bridge the gap in her people's ability to access training in the media arts, especially those living in remote areas.
She is a filmmaker in her own right and holds multiple professional credits in the Indigenous Film Industry and is currently in early development for her first feature film. She practices beadwork, watercolor and embroidery taught from a young age locally by sewers in her region. She lives in Inuvik Northwest Territories with her partner Issiac and her young son, Qakuq.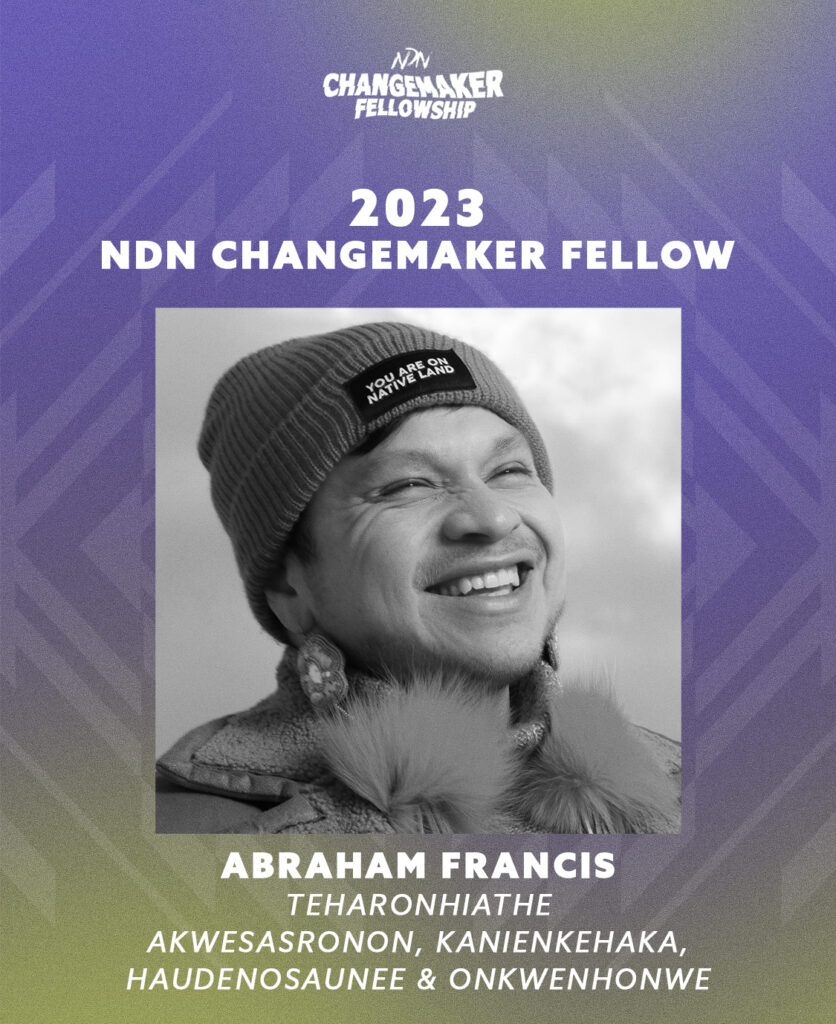 Abraham Francis
Abraham Francis (Teharonhiathe) is Deer Clan, Akwesasronon, Kanienkehaka, Haudenosaunee, and Onkwenhonwe. He received a BSc in Microbiology in 2014 and an MSc in Natural Resources in 2019, from Cornell University. Recently, he became a Ph.D. student at Clarkson University studying Environmental Science and Engineering.
Previously, Abraham was the Environmental Services Manager for the Mohawk Council of Akwesasne. The position allowed him to develop and implement projects inspired and directed by community needs and influenced by his research interests. His research interests are at the intersection of environmental studies, Indigenous methodologies, community engagement, education, health, social services, law, and cultural foundations as a means for empowerment and healing within Indigenous Communities.
Abraham hopes to bring all his research interests and passions together within his dissertation, targeted at creating tools to support other Indigenous Communities to care for their environments from their biocultural contexts. He has cultivated their expertise around their research and grown an extensive network of Indigenous Scholars/Knowledge Sharers, and Allies that carry a variety of expertise. Abraham's expertise and network inspired the founding of the Aronia Collective, which seeks to align Indigenous Communities with experts to meet their unique needs and non-Indigenous organization to engage Indigenous peoples meaningfully.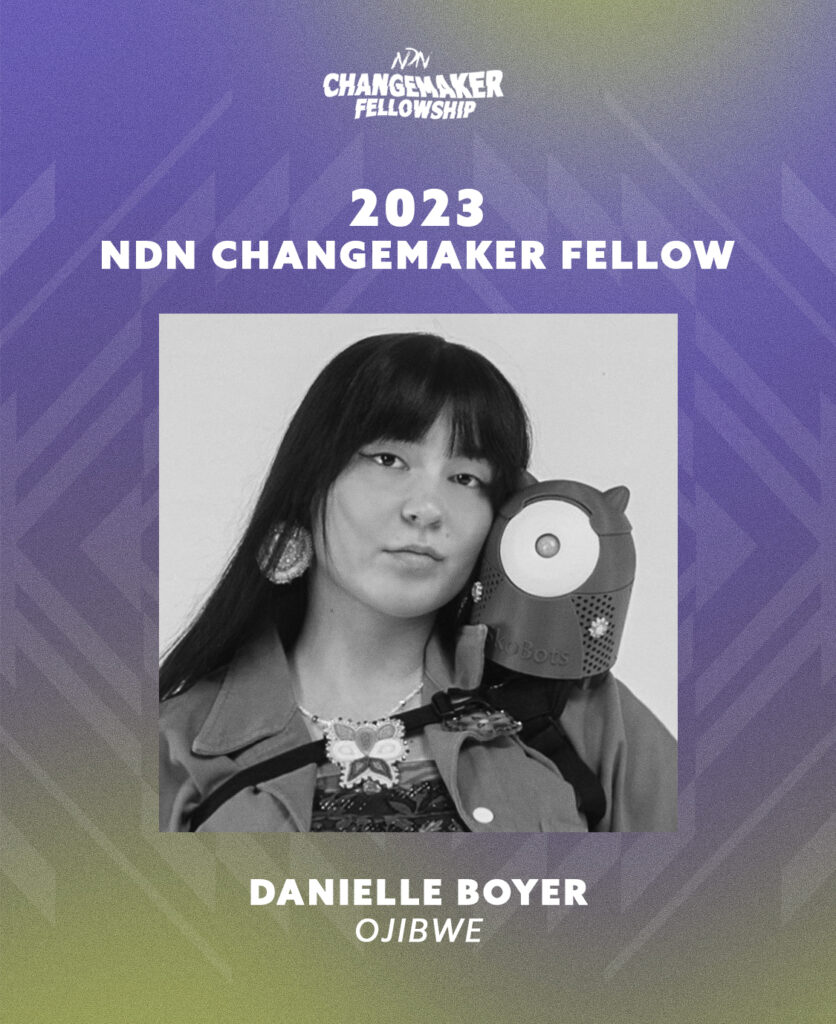 Danielle Boyer
Danielle Boyer is a 22-year-old Indigenous (Ojibwe) robotics inventor and advocate for youth who has been teaching kids since she was ten. Driven by her family's own inability to afford science and technology education, she is passionate about making education accessible and representative of her community so that no child is left behind. Danielle creates equitable and innovative learning solutions for Indigenous youth with robots that she designs, manufactures, and gives away for free.
In 2019, she created The STEAM Connection, a minority and youth-led charity that has reached 600k+ children worldwide with technical education with an emphasis on language revitalization. The STEAM Connection focuses on the future: ushering in a new age of education via personal and wearable robotics, artificial intelligence systems, and augmented reality. Informed by the past and present, The STEAM Connection utilizes traditional knowledge to uplift and protect Indigenous communities.
Danielle has been named one of PEOPLE Magazine's Girls Changing the World, a MIT Solve Indigenous Communities Fellow, a L'oreal Paris Woman of Worth, a Teen Vogue Indigenous Youth Changemaker, a Verizon Forward for Good Winner, and a two-time invitee of the White House. She's currently working on a documentary with MIT Solve and resides in Southern California and Michigan.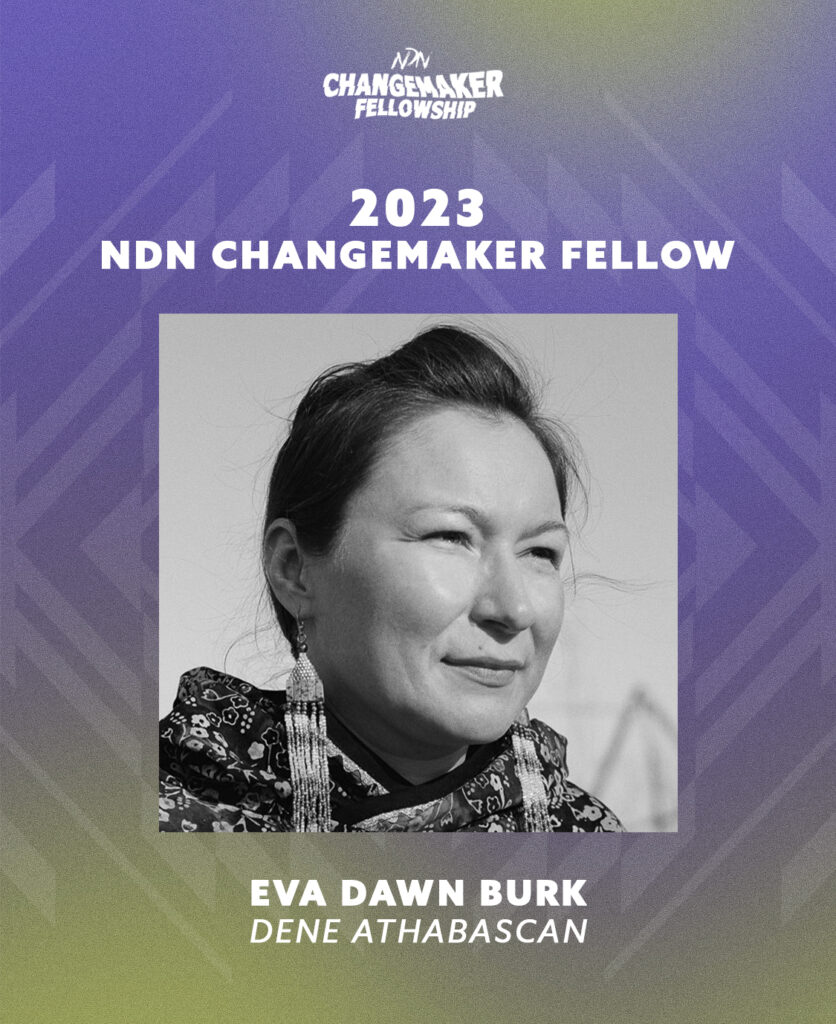 Eva Dawn Burk
Eva Dawn Burk is Dene Athabascan from Nenana and Manley Hot Springs, Alaska. She founded Tlaa Deneldel Community Group to build an Indigenous learning center on lands acquired through the Nenana Land Back campaign. Eva Dawn is passionate about ecological stewardship, food sovereignty, cultural revitalization and community wellness. She teaches people how reconnecting to the lands and waters through traditional practices is medicine.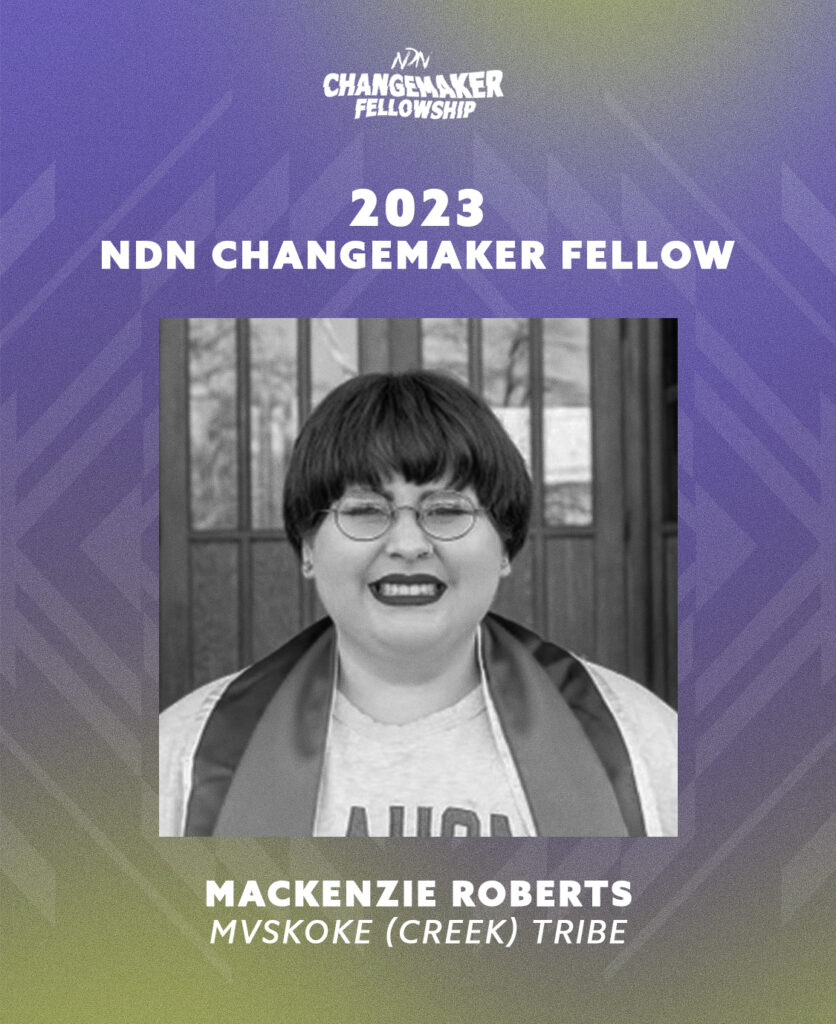 Mackenzie Roberts
Mackenzie Roberts is from the Mvskoke (Creek) Tribe, and originates from Henryetta, Oklahoma. She has a Bachelors in English from the University of Oklahoma and is currently studying at the College of the Muscogee Nation. Her goal is to make revolutionary texts accessible, and use them to build power in her community.
"With this fellowship I would also like to fuel my efforts in restoration of possum grapes (holly) to our local communities, and revitalize the spirit of community in our people. I'm honored to be among the other inspiring members of my cohort and I look forward to supporting them in their future endeavors as well. I'm driven by my love for my people and the hope for a good life for them. I'm proud to be Este Mvskokvlke, and I am privileged to serve my people. Mvto cekicis ce."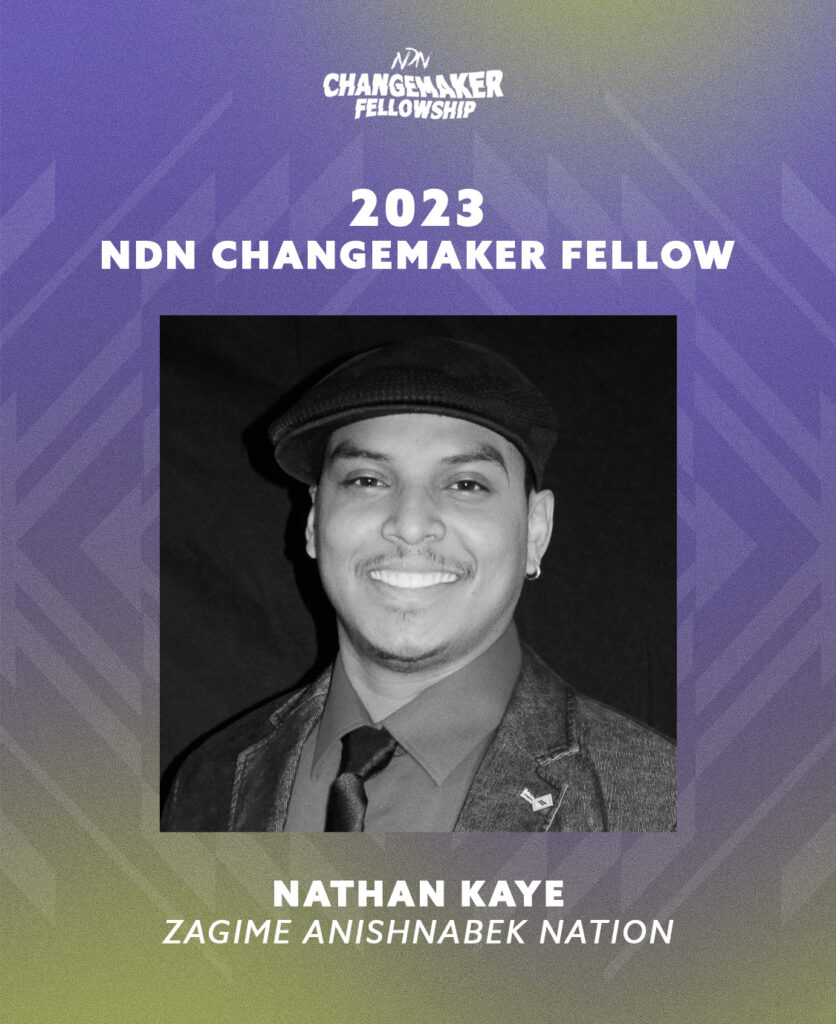 Nathan Kaye
Nathan Kaye is a member of Zagime Anishnabek Nation in Treaty 4 territory Saskatchewan. He champions sustainability and creating space to revitalize Indigenous ways of communal living. Nathan works with Indigenous communities bringing environmental initiatives and projects to those communities while advocating for emerging Indigenous leaders to play a role in being stewards of the land.
He is a father, an Indigenous environmentalist and business owner. Nathan has kept his sons involved in community work by building garden spaces for youth programs where he advocates that Indigenous knowledge is the future to sustainability and that reconnection to land is climate action.
Nathan is the Renewable Energy Coordinator for Zagime and the Operations Lead for SevenGen Energy, a national organization creating space and programs for Indigenous youth to pursue clean energy and sustainability. He also serves as Sustainability Consultant for a Tribal Council – developing a regional emergency response plan for flooding, forest fires, and droughts while addressing housing, food, water and energy security.
He also sits on his community's economic development board and is spearheading the development of a waste heat recovery project that will power a modular data center. He has aspirations to bring sustainability to more Indigenous communities while making space for Indigenous youth to play a role in being stewards of the land.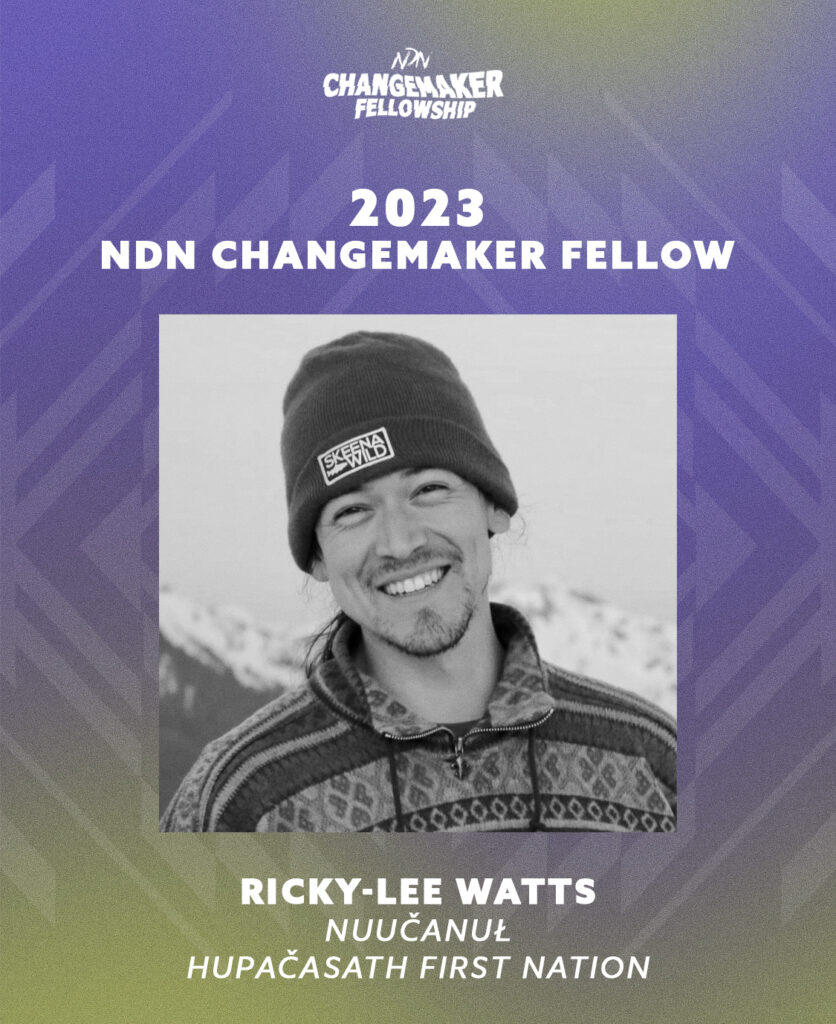 Ricky-Lee Watts
Ricky-Lee Watts (Aamiitlaa) is Nuučanuł from Huupačasath First Nation. He grew up in his home community of tsuu-ma-as, in the Pacific Northwest of Canada, and has since lived and traveled in other communities globally. Named after his late father, he dedicates gratitude to his ancestors for being the human he is today and continues to lead with values of humility, curiosity, and gratitude.
Experienced in working with Indigenous communities, universities, and government, he regularly speaks at conferences and with TakingITGlobal's #ConnectedNorth Program and models with SuperNaturals Modelling, an Indigenous agency. Additionally, he is an Alchemist with Future Ancestors Services, a youth-led social enterprise operating at the intersection of climate and racial justice. Ricky-Lee also recently finished his term as an elected councillor for his nation and recently created and led Generation Power, a national Indigenous youth career and capacity-building program rooted in interconnectedness, advancing sustainability and equity.
He inspires people to connect and embrace their power, finding beauty within themselves, their communities, and the world around them. Stemming from Nuučaan̓uł roots and teachings, his vision inspires values of ʔiisaak and hišukʔiš c̓awaak — respect for all creation having a common origin and that everything is one.
Most of all, Ricky-Lee strives to be the role model he needed when he was younger, inspiring belief in what's possible in life and emboldening ways of being that honors life's interconnectedness.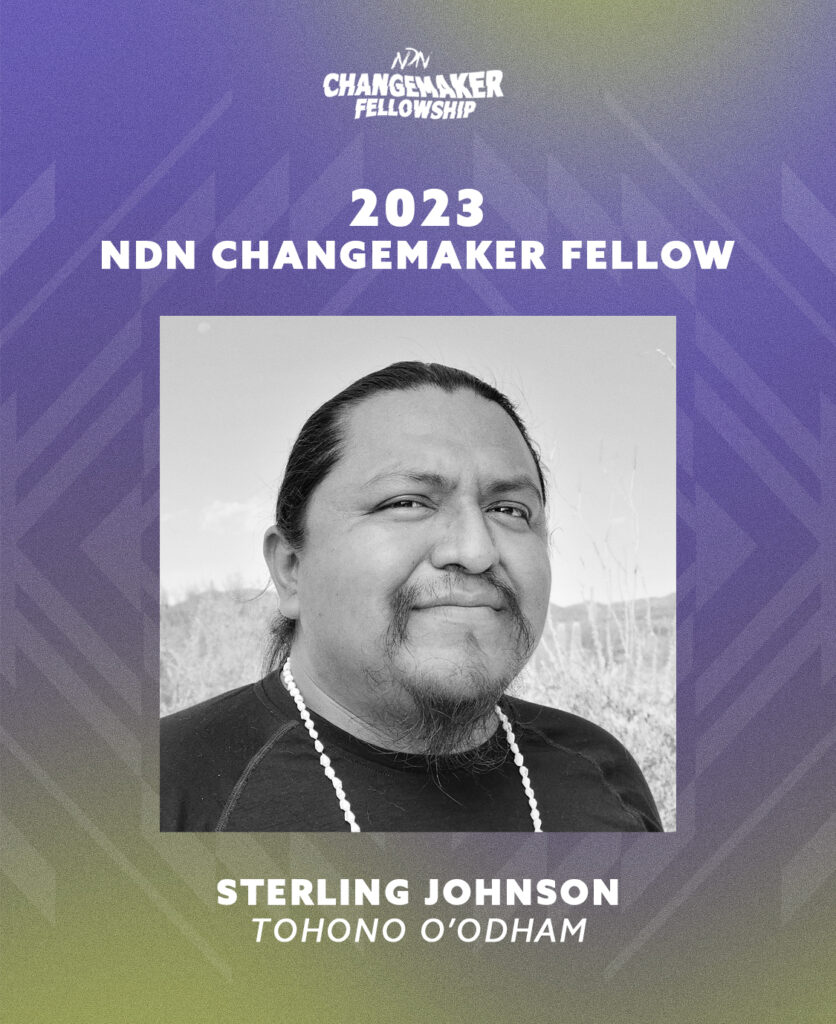 Sterling Johnson
Sterling Johnson is a member of the Tohono O'odham Nation in Arizona. As a farmer and executive co-director of Ajo Center for Sustainable Agriculture, he is reviving Oidagkam Himdag ("farmer's way of life") by mentoring youth and beginning farmers, advocating for seed sovereignty and creating economic opportunities around food.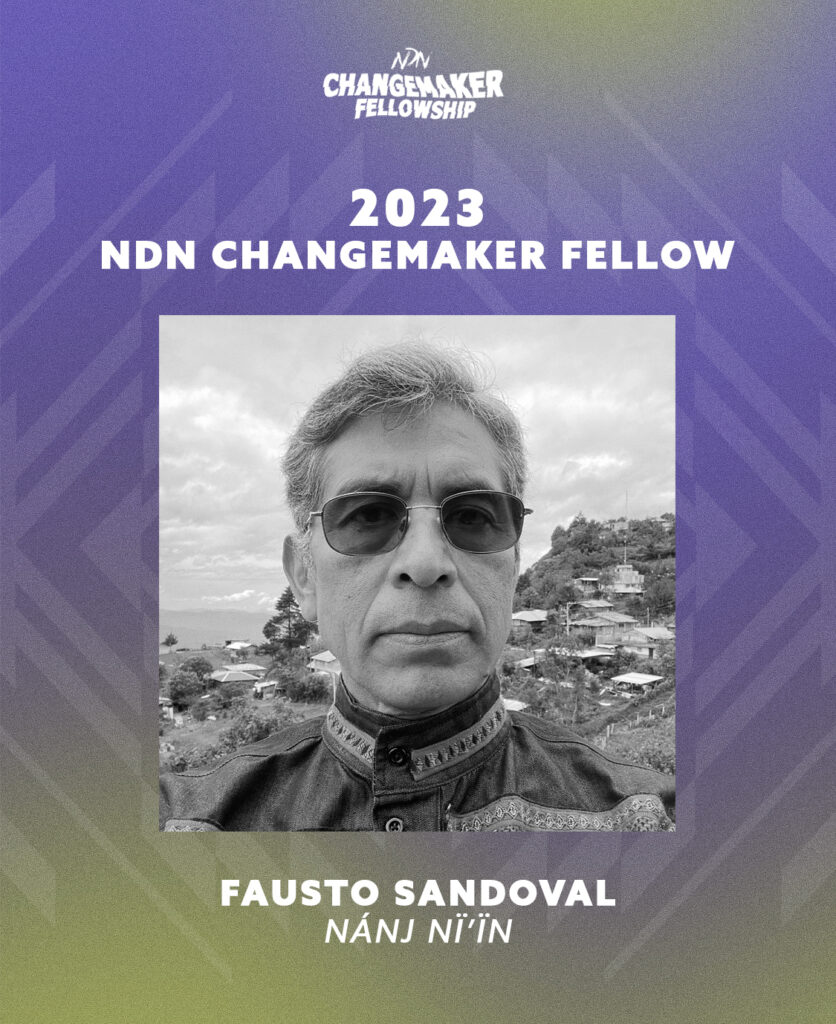 Fausto Sandoval
Fausto Sandoval is from the Nánj Nï'ïn People and was born in 1960 in the Yuma'a community, San Andrés Chicahuaxtla, Oaxaca, Mexico. Fausto has lived in his community for 59 of his 62 years. He has been a teacher in all grades of Indigenous Primary education, a School Supervisor, School Director, Pedagogical Technical Advisor and Union Leader.
From his classroom in a small indigenous school in Oaxaca, Mexico, he developed the self-literacy method, which allows those who are acquiring the written language to do so according to their ways of learning based on their cultural environment and privileging from the first class comprehension of text content. He has fulfilled the positions that the community has entrusted to him.
During the year 2023, he must serve as Municipal Agent at the head of the communal authority, which is the maximum responsibility that the community grants to one of its citizens.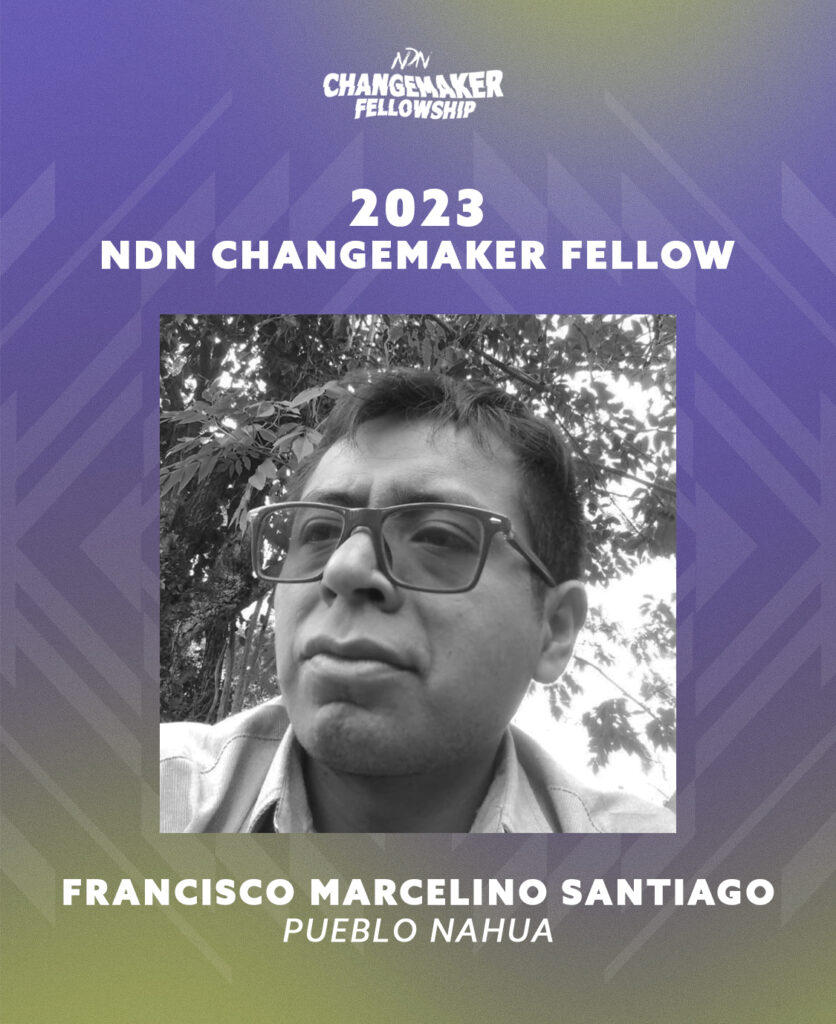 Francisco Marcelino Santiago
Francisco Marcelino Santiago is a member of the Nahua people and speaker of their language. He was born in the municipality of Rafael Delgado, Sierra de Zongolica, Veracruz. Francisco is dedicated to strengthening the Nahuatl language under a worldview and philosophy of culture and is a promoter and defender of indigenous rights and the autonomy of peoples. He is a biochemical engineer and founder of Altepechikawalistli, a space for the recovery of traditional healing, language and the community for Self-Determination.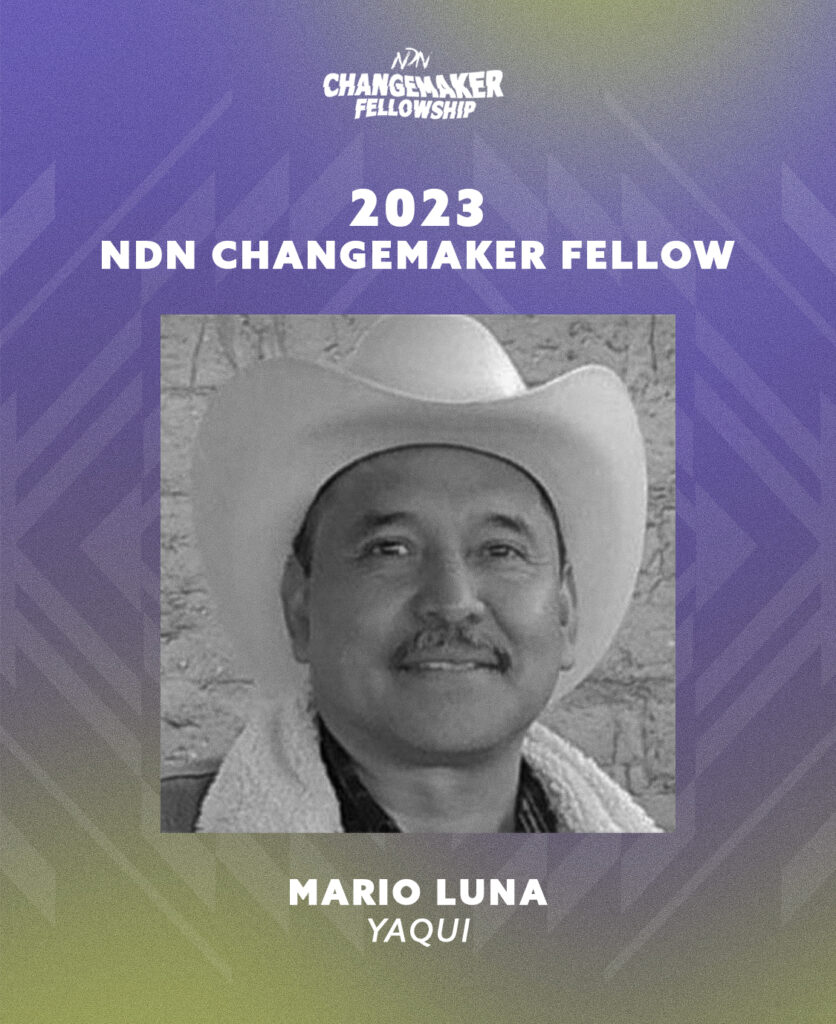 Mario Luna
Mario Luna, an active member of the Yaqui tribe, was born in Vicam Sonora on August 15, 1972. He was a student leader in the Yaqui Tribe, formed the Yaqui educational board and served as traditional secretary. Mario is also a spokesperson in defense of water and political prisoners and founded the Námakasia Radio y Escuela Autónoma SEWA TOMTEME. In addition, he is a translator and interpreter from Yaqui to Spanish and has been a member of the Congreso Nacional Indígena on behalf of his people.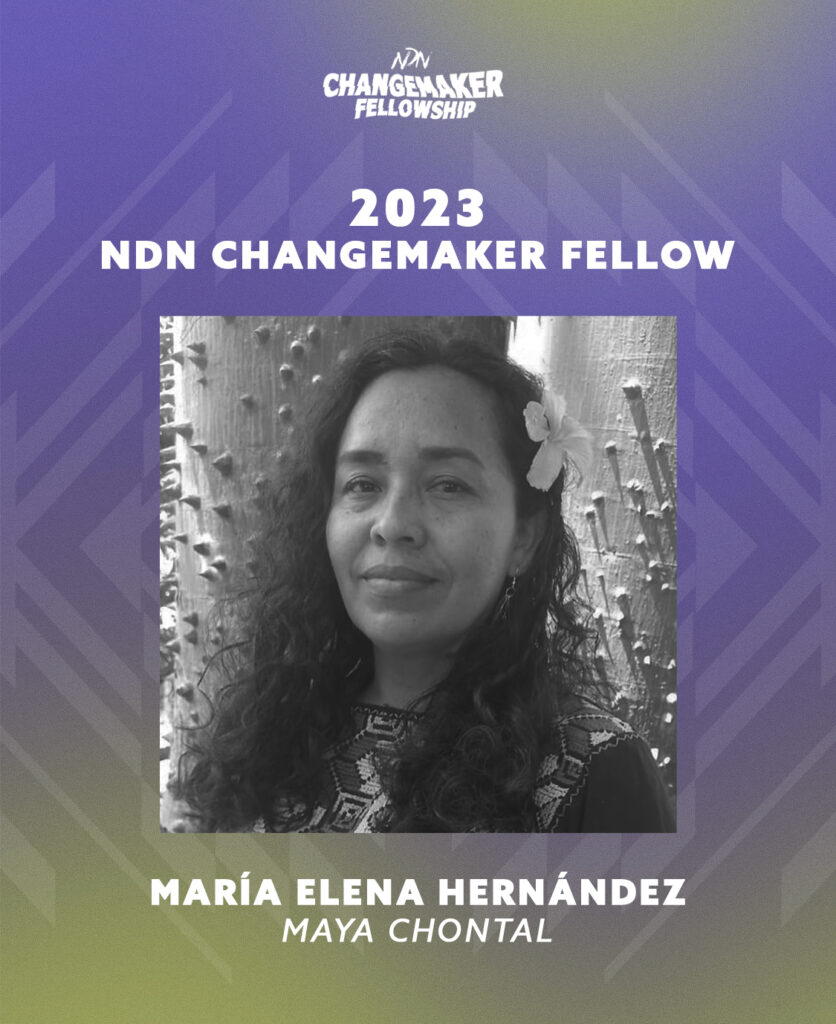 María Elena Hernández
María Elena Hernández is from the Chontal people, and was born and grew up in Ejido Don Samuel, state of Campeche, Mexico. She works in defense of human, environmental and labor rights. She is part of the Collective in Defense of Water, Forest and Life of the Mayan Territory (VíDAS Collective), where people from seven communities participate. María has promoted the creation of collectives in defense of the territory.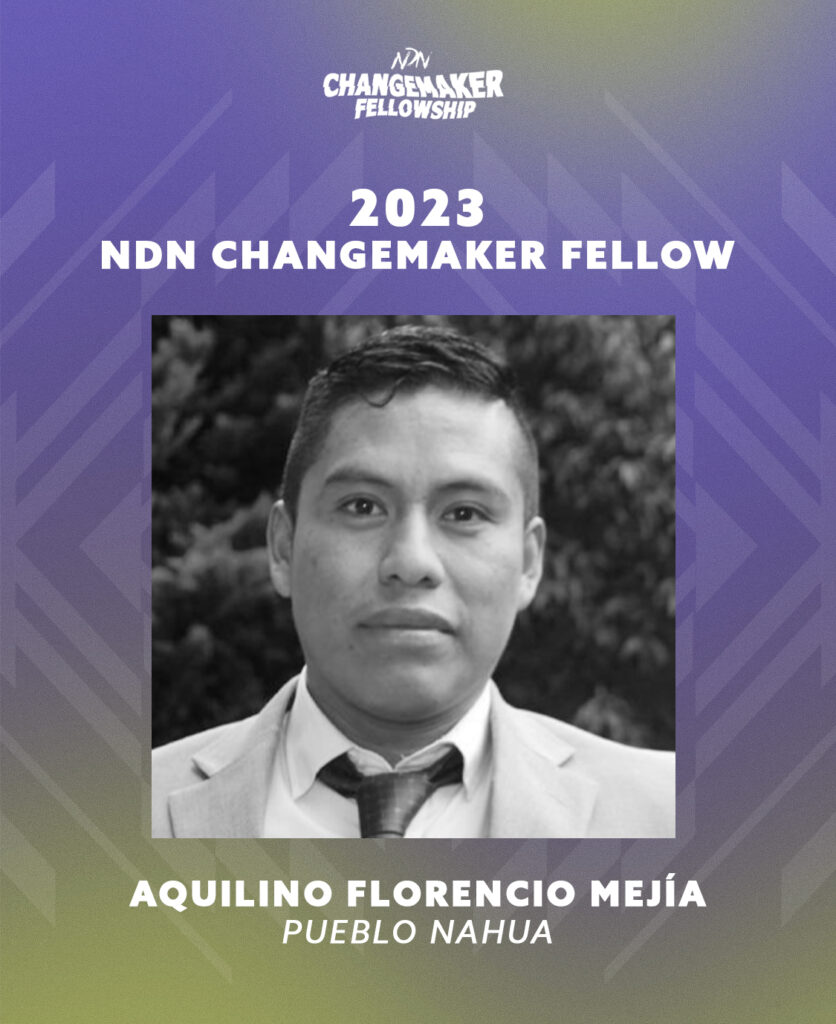 Aquilino Florencio Mejía
Aquilino Florencio Mejía is from the Nahua people and is a fluent speaker of the Nahuatl language. He is currently 30 years old and was born in the community of San Martin Jolalpan, municipality of Cualac in the mountains of Guerrero. Aquilino has two degrees, one in Physical Education from the Normal Rural "Raúl Isidro Burgos" of Ayotzinapa, and another in Psychology from the Universidad Iberoamericana. He is a human rights and Indigenous Peoples rights defender.
Aquilino has been providing healing and psychosocial support to families of victims of forced disappearance and torture. Additionally, his focus entails assisting children in his community with the revitalization and transmission of their language as well as promotion of community physical and emotional well-being.
Congratulations 2023 Changemaker Fellows!
Related Stories
Press Release | NDN Collective Announces 2023/24 Cohort of NDN Changemaker Fellows
Press Release | NDN Collective Announces Open Application Period for NDN Changemaker Fellowship
Blog | Announcing the 2022 Cohort of NDN Changemaker Fellows
Blog | NDN Changemaker Cohort Features 14 Indigenous Leaders from Across Turtle Island, Puerto Rico, and the Pacific Islands
Blog | Meet the 2021 Cohort of NDN Changemaker Fellows
Press Release | Application Now Open for NDN Changemaker Fellowship
Blog | NDN Changemaker Fellowship Now Open for Indigenous Applicants Throughout Turtle Island
Blog | Announcing the Inaugural Cohort of NDN Changemaker Fellows