For immediate release: May 17, 2023
Rapid City, SD – Today, NDN Collective announces the 2023/24 NDN Changemaker Fellow Cohort consisting of 21 Indigenous leaders from throughout Turtle Island and beyond who are radically transforming Indigenous communities by defending Indigenous lands, waters, and rights; developing solutions for the future that regenerate the health of the Earth and our communities; and revitalizing our languages, governance practices, ceremonies, and ways of life. They are organizers, activists, social entrepreneurs and cultural practitioners who are challenging the status quo and building a better future for all people and Mother Earth.
"We are proud of the profound impact that the NDN Changemaker Fellowship has had in the lives of Changemaker Fellows and their respective areas of work in support of community. In addition to their work in community, they are also fostering change internally through their own healing and increased wellbeing. This Fellowship truly supports the flame that continues to burn in defense of Indigenous lands, waters, rights, and ways of living," said Nicole Yanes, Director of Grantmaking for NDN Foundation.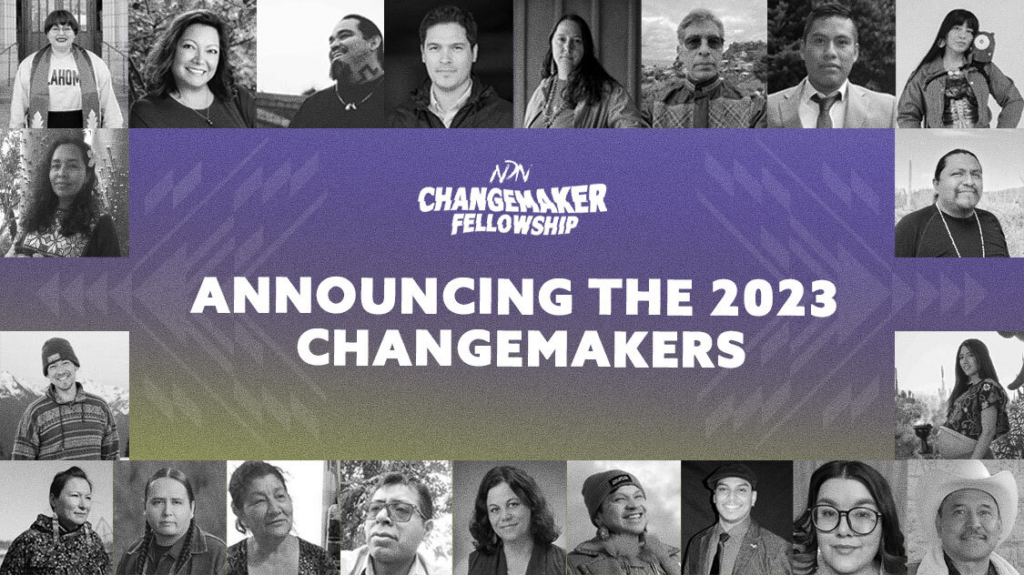 Each fellow was uplifted and selected by grassroots members of their region in a process which involved over 300 applicants from 21 different regions across the colonial nation-states of Canada, Mexico and the U.S. including its surrounding Island nations.
"I am incredibly excited for our Changemaker Fellows this year. We are hosting visionaries from their early twenties into their elder years, each one offering strong work, new perspectives, and pathways towards a future that speaks to the question our founder and CEO Nick Tilsen poses, "What if our best days are ahead of us?" said PennElys Droz, Power Building Coordinator for NDN Foundation.
"All of the Indigenous leaders and changemakers who have participated in the fellowship application process have given us so much hope and inspiration for the future," continued Droz. "Now, we're introducing the 2023/24 NDN Changemakers to you!"
Members of the 2023/24 Changemaker Cohort Include:
'Ilima Long (Kanaka Maoli)
Anthony Fernandes (ʔéʔɬx̣ʷaʔ Nəxʷsƛ̕ay̕əm (Lower Elwha Klallam))
Benjamin Scott (Tłı̨chǫ Nation)
Judy Bernard-Googoo (Wagmatcook First Nation)
Dora 'Zeliatl' Martinez (Yoeme & Tlamanalcah)
Marty Two Bulls Jr. (Oglala Sioux Tribe)
Nicole Van Stone (Attawapiskat First Nation)
Tamara Voudrach (Inuvialuk)
Abraham Francis (Teharonhiathe)(Akwesasronon, Kanienkehaka, Haudenosaunee, and Onkwenhonwe)
Eva Dawn Burk (Dene Athabascan)
Mackenzie Roberts (Mvskoke (Creek) Tribe)
Nathan Kaye (Zagime Anishnabek Nation)
Ricky-Lee Watts (Aamiitlaa) (Nuučanuł from Hupačasath First Nation)
Sterling Johnson (Tohono O'odham Nation)
Eva Burk (Dene Athabascan)
Fausto Sandoval (Nánj Nï'ïn)
Francisco Marcelino Santiago (Pueblo Nahua)
María Elena Hernández (Maya Chontal)
Aquilino Florencio Mejía (Pueblo Nahua)
Stay tuned for a more in-depth introduction of these phenomenal changemakers!
Check out all of NDN Collective's Grant & Fellowship opportunities here.
###
NDN Collective is an Indigenous-led organization dedicated to building Indigenous power. Through organizing, activism, philanthropy, grantmaking, capacity-building, and narrative change, we are creating sustainable solutions on Indigenous terms.
To request an interview contact
press@ndncollective.org
Related stories
Press Release | NDN Collective Announces Open Application Period for NDN Changemaker Fellowship
Blog | Announcing the 2022 Cohort of NDN Changemaker Fellows
Blog | NDN Changemaker Cohort Features 14 Indigenous Leaders from Across Turtle Island, Puerto Rico, and the Pacific Islands
Blog | Meet the 2021 Cohort of NDN Changemaker Fellows
Press Release | Application Now Open for NDN Changemaker Fellowship
Blog | NDN Changemaker Fellowship Now Open for Indigenous Applicants Throughout Turtle Island
Blog | Announcing the Inaugural Cohort of NDN Changemaker Fellows