On Saturday, August 23, hundreds of kids and families could be found at the Wambli Ska Teen Center in Rapid City, SD at the MiniLuzahan Oyate Strong Back-to-School Party. The event, hosted by NDN Collective and several other local organizations, provided backpacks, school supplies, clothing, and much more to students of the Rapid City area and beyond. This year marked the fourth year NDN Collective has given backpacks to students of the Rapid City community. Though this year was a continuation of the giveaway, it brought additional support and excitement for students and families.
The backpack giveaway was co-hosted by a variety of community partners including: the Wambli Ska Teen Center, the Great Plains Tribal Leaders Health Board, Oceti Sakowin Community Academy, Oaye Luta Okolakiciye, the Black Hills Clean Water Alliance, HeSapa Otipi Center for People of the Black Hills, and Winyan Wicayuonihan Oyanke.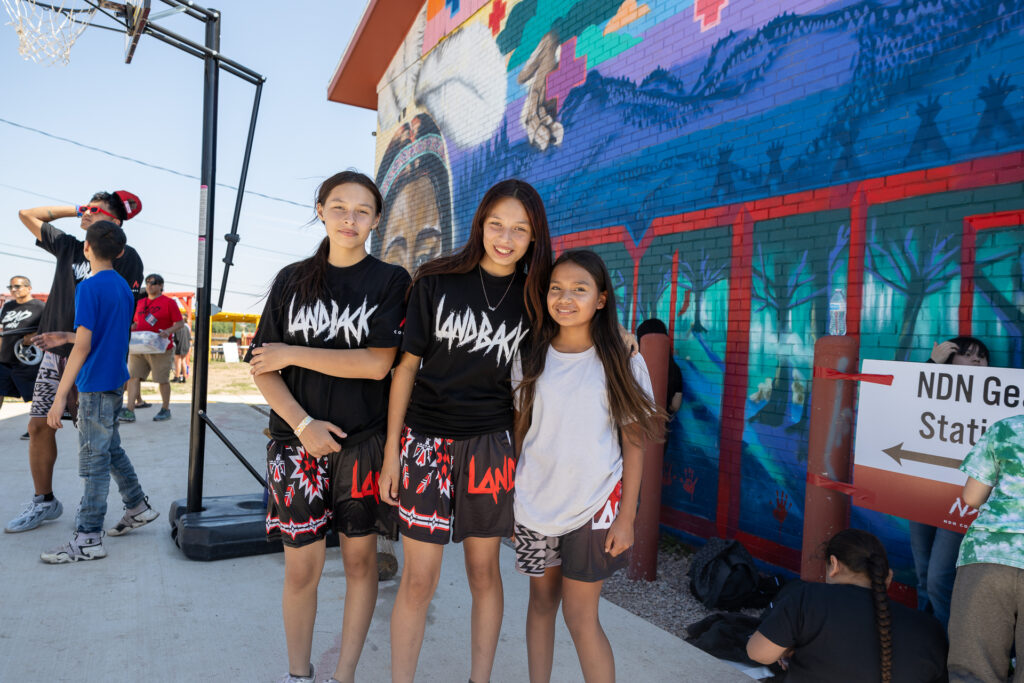 "It wasn't just all on NDN Collective and our staff– it was a community effort. To me it feels good to see the community come together in this way and to see our organizations work together in a collaborative effort. It just shows me how strong the community is when we all stand as one," said Anissa Martin, NDN Collective Local Organizer. "We all have the resources so I think when we come together like this the community feels supported as well."
The collaborative effort of NDN and its partners provided roughly 1,800 backpacks based on grade level to students in the area. Over the course of the day, more than two thousand people attended to receive backpacks and support students. This is the largest attendance NDN Collective has seen for its backpack giveaway since it began in 2020.
In addition to backpacks and school supplies, students were also given NDN Collective swag including LANDBACK hoodies, t-shirts, basketball shorts, headphones, water bottles, and portable chargers.
"This year we decided to switch it up and do hoodies, basketball trunks and t-shirts and also some very specific items that students will need beyond supplies," said Alberta Eagle, NDN Collective's Director of Operations. "We provided something that would be useful to students on a daily basis and our partners brought in backpacks that were full of supplies."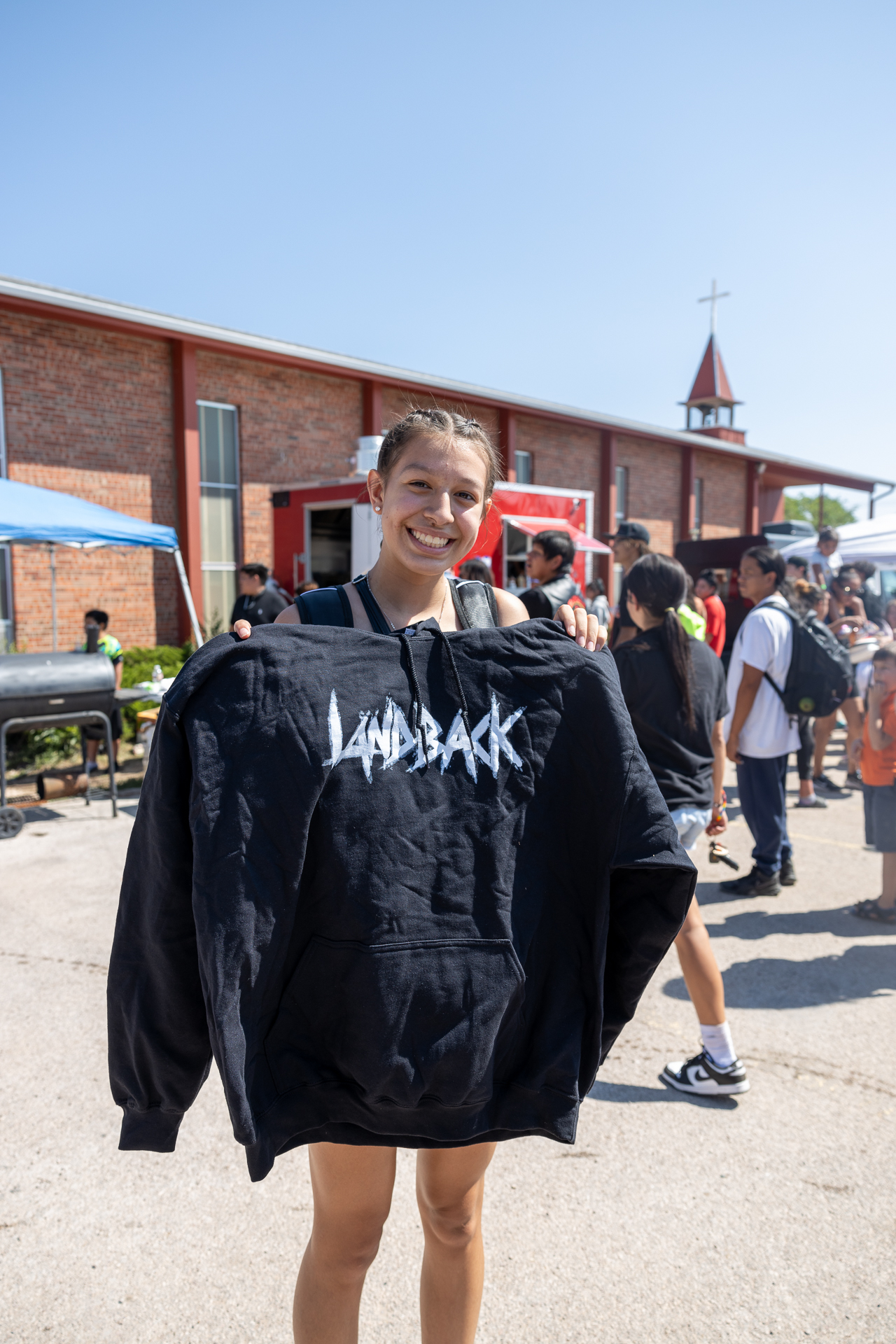 Music by DJ Franky could be heard over the loudspeakers as kids ran between bounce houses, played basketball, stood in line for backpacks and free food provided by local food truck owners including David "Bulldawg" Michaud, professional UFC fighter from Pine Ridge, SD. Throughout the afternoon some of the partners shared about their organizations and why they chose to get involved to support students. Following the giveaway was a 3-on-3 tournament hosted by NDN Collective and its partners. Folks who could not attend the event in person, could watch the Facebook livestream on NDN Collective's Facebook page.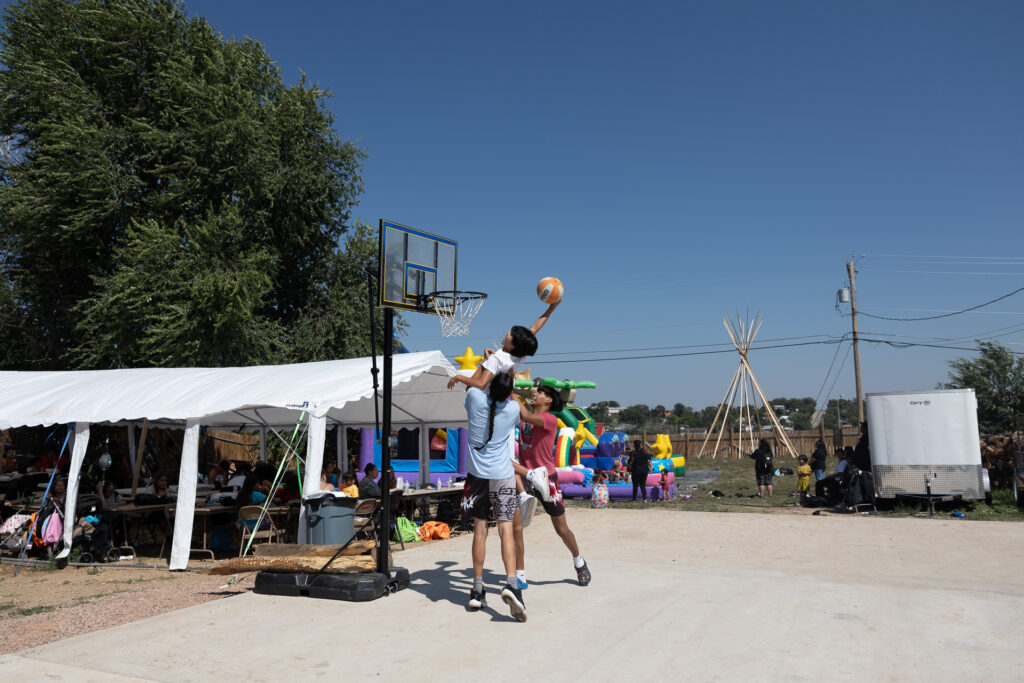 Several local Indigenous and ally organizations had set up informational tables throughout the event, with various goals including sharing about their work, programming and raising awareness around community issues. Working Against Violence, Inc., Moms Demand Action, and Living Hope Academy were among some of the organizations present at the event.
As the afternoon continued, attendees and organizers agreed on one simple thing: there was nothing but good energy all around.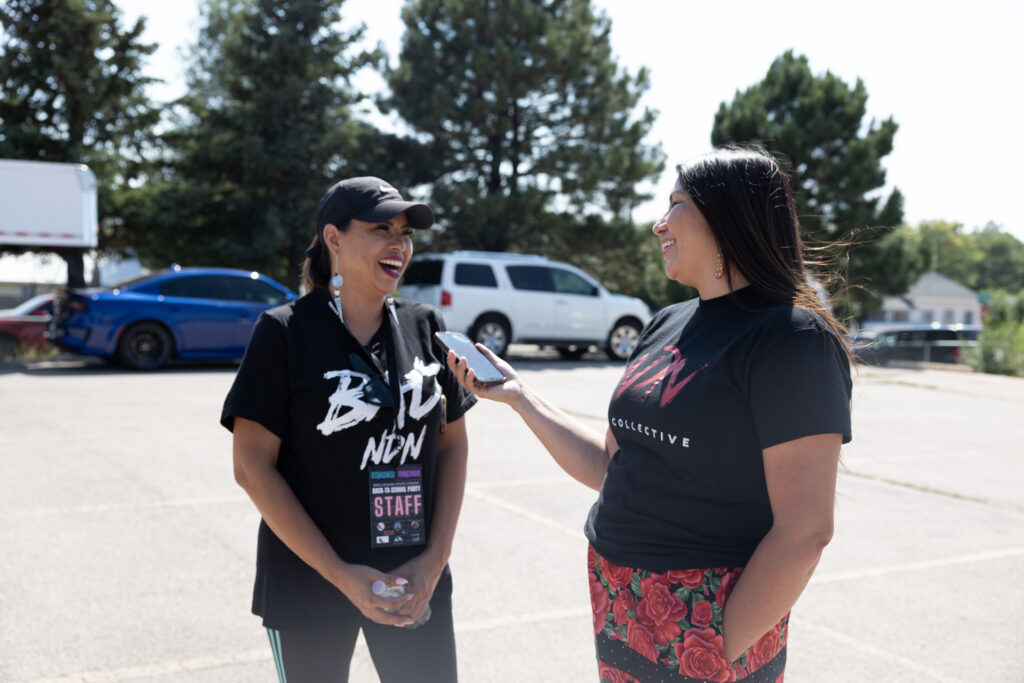 "It has turned into a community event that brings everybody out here, brings everybody together, and you feel the energy, you feel the good vibes. Somebody had mentioned it felt like Sundance," Alberta said. "So that really makes me feel good knowing that there are so many people that want to come out and share space with each other, say hello to their relatives, eat and laugh. I hear the auntie laughter everywhere, so it's really amazing."
The Great Plains Tribal Leaders Health Board partnered with NDN Collective and the other organizations to host the backpack giveaway.
"This is the first time that all us Rapid City orgs came together and said 'Hey, let's do something together, show some unity, show that we're all on the same page and putting the people first'," said Brandon Ecoffey, Communications Director for the Great Plains Tribal Leaders' Health Board. "We created something special with the help of the community."
NDN Collective President/CEO, Nick Tilsen, had been at the event since 8 a.m. preparing for all that was to follow on Saturday. Nick also spoke of the incredible collaboration between organizations that made the event a success. The backpack giveaway gets right at the core of NDN Collective's work and mission which is providing for the people.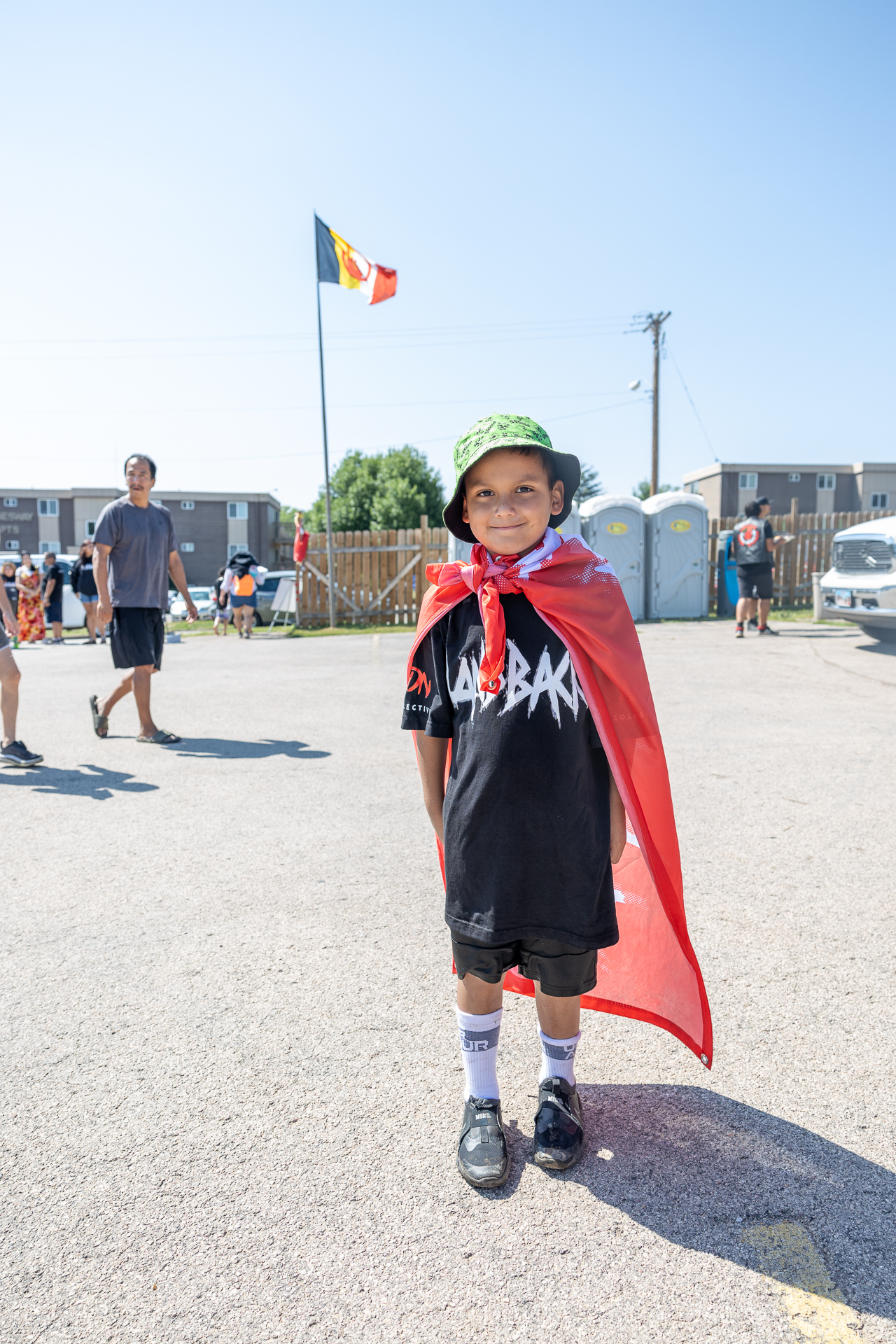 "This is what we're about. We're about community. We're about bringing unity, bringing love, compassion and meeting the needs of our people," he said. "We are taking up the responsibility to roll up our sleeves and create a better way for our communities and for our people, to show what is possible. I think that's what you're seeing here today. This is the movement showing up for the community."
Watch the Full NDN Livestream of the Annual Back Pack Giveaway in Rapid City, SD
Related Stories:
Blog | Honoring Youth And Families: NDN Collective 3rd Annual Backpack Giveaway Provides More Than School Supplies
Blog | Supporting & Honoring Our Youth: NDN Collective 2nd Annual Backpack Giveaway Draws Hundreds