On Tuesday, September 7th, NDN Collective hosted our 2nd Annual Backpack Giveaway event at the Mother Butler Center in Rapid City, SD where parents and excited youth arrived to find backpacks filled with school supplies, tables lined with free stainless steel water bottles and NDN Collective t-shirts and sweatshirts, all in preparation for the onset of the school year.
"Giving away is how we connect; It's how we honor each other," said Amy Sazue, NDN Collective Education Equity Organizer. "The NDN Collective Education Equity Campaign is able to give back to our community and show them that we're here for them."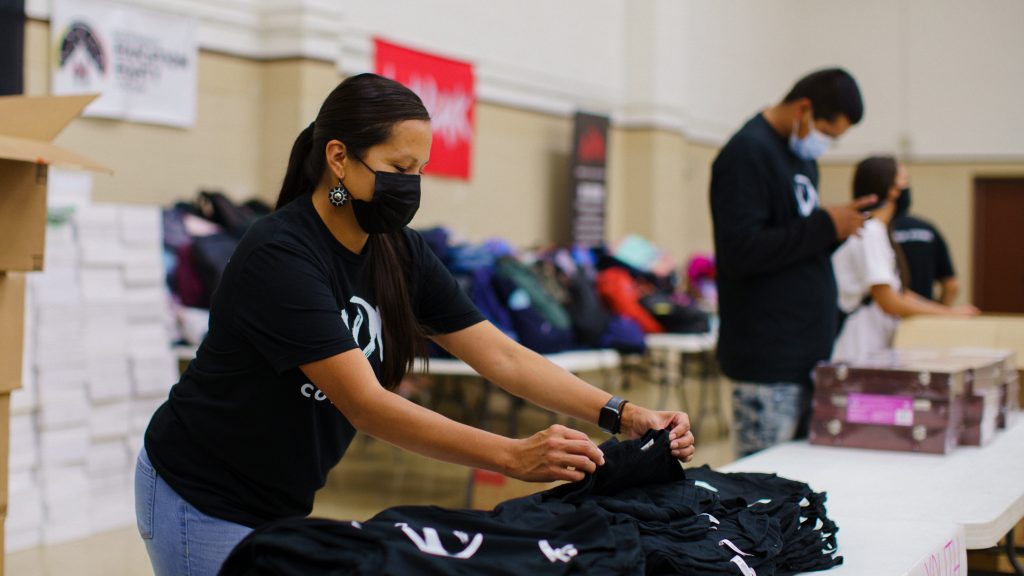 NDN Collective also provided free COVID-19 vaccinations on-site for students with parental consent, working in conjunction with the Oyate Health Center. Vaccinated students were also eligible to receive a $30 gift card from Rural America Initiatives upon showing their vaccination cards.
Several parents and guardians in attendance also took advantage of the opportunity to pre-enroll children entering kindergarten in the Fall of 2022 into the Oceti Sakowin Community Academy, the Indigenous-led school opening next year by NDN Collective in partnership with the NACA Inspired Schools Network (NISN). This endeavor, an effort to provide a safe and culturally responsive space for Indigenous students to see themselves, their culture and traditions represented in the curriculum, is a far cry from the all-too-often erasure of Indigenous Peoples in education.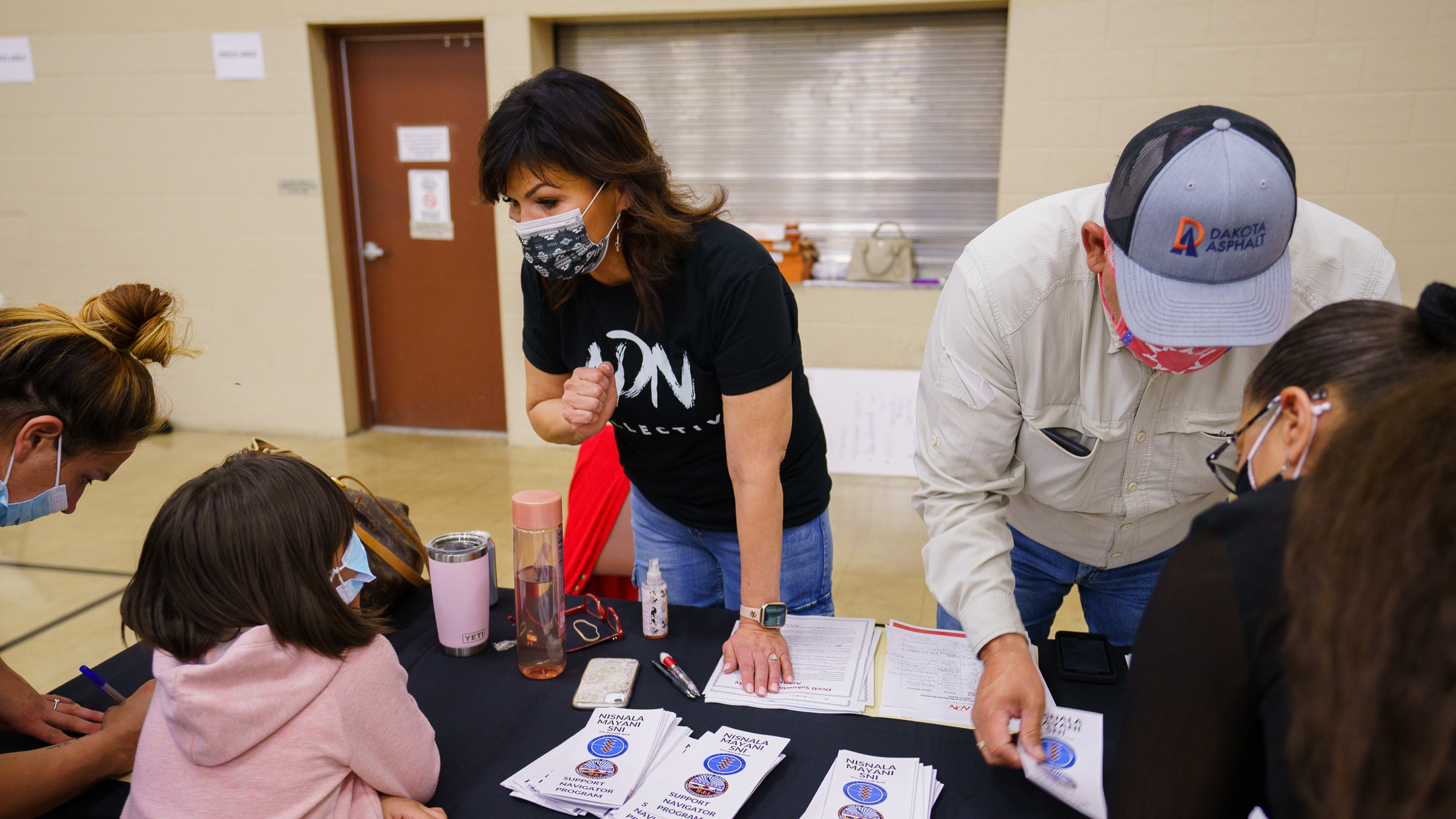 "Since the inception of compulsory education for Indigenous Peoples, it's been very traumatic and violent, where language and culture were taken; This type of educational model puts language and culture back in," said Mary Bowman, NISN Fellow. "It really becomes a type of medicine for our youth to be able to learn who they are and where they come from, and to hear their language."
"Statistically here in South Dakota and in Rapid City, 30 percent of the student population is Indigenous, but they rarely get to see themselves in what they are learning," Bowman continued. "They don't get to see their culture."
As students exited the gym, leaving the event with their backpacks of supplies and smiles on their faces, we received something back in return here at NDN Collective: the pure joy of seeing our youth affirmed, prepared, and hopefully knowing that they are loved and deeply supported.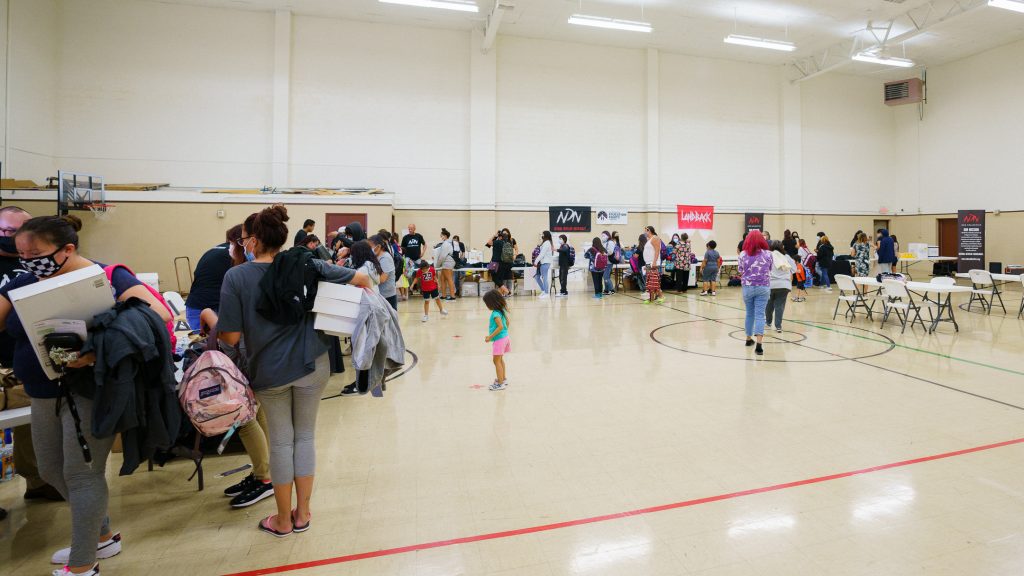 The backpack giveaway event will take place again next year in Rapid City where the NDN Collective headquarters is based.
Meantime, the call to support the ongoing fight for equity for Native youth continues this coming Monday, September 13th, with the Oceti Sakowin March for Our Children in Pierre, SD– an event organized by the NDN Collective Education Equity Campaign and the South Dakota Education Equity Coalition.
This action is in response to the newly proposed South Dakota Department of Education's social studies standards which have removed 12 different mentions of the Oceti Sakowin– otherwise known as the related bands of Lakota, Dakota, and Nakota people who are Indigenous to this region– ultimately contributing to the ongoing erasure of Indigenous people.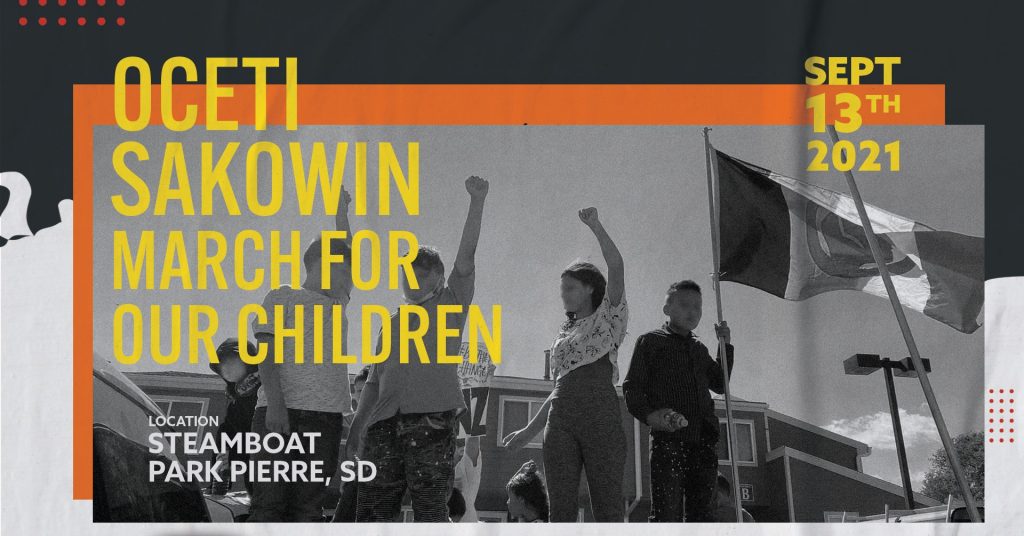 The March will begin at 1pm CST at the Steamboat Park Amphitheater in Pierre, moving past the Capitol and ending at Hilgers Gulch where a rally will ensue at 2pm CST. RSVP for the event HERE.
NDN Collective will be livestreaming the march on Monday on our Facebook, YouTube, and Twitter accounts. Learn more about the march and read the NDN Collective Education Equity campaign demands for the State Department of Education here.
---
watch the full-length Livestream of the Back Pack Giveaway Event:
Photos by Willi White for NDN Collective
RELATED STORY ON THE NDN BLOG: "NDN Collective Responds to Blatant Erasure of Indigenous people in South Dakota Education Standards"