On Monday, July 6, NDN Collective President and CEO Nick Tilsen was released from Pennington County Jail in Rapid City after being arrested during a protest on July 3 in the Black Hills and detained over the Fourth of July weekend. This, after protesting President Donald Trump's visit to Mount Rushmore in Ȟesápa, the sacred Black Hills, along with nearly 200 other Land Defenders. Twenty of them were arrested and now face criminal charges.

In the lead up to Trump's visit, NDN Collective called for the closure of Mount Rushmore as a national monument and for the Black Hills to be returned to Lakota people.
This is the statement that Nick gave at the NDN Collective headquarters upon his release from Pennington County Jail.
(Speech transcription follows)
Háu mitákuyepi, Nick Tilsen emáčiyapi. Čhaŋtéwašte napéčhiyúzape ló.
My name is Nick Tilsen. I am Oglála Lakȟóta. I work for NDN. I am a father of four.
I just got out of jail and I want to give a special thank you to everybody that was supportive over the past few days and especially to everybody who participated in the action that we took to defend the sacred Ȟesápa (Black Hills).

It was a powerful day to be there amongst our Black Hills and amongst our land for our people, at this time in history. It was a feeling of empowerment and liberation. And any of you that were there, you felt that, you got to feel that feeling. And there are not many times that we get an opportunity to feel that, to feel that sense of power and that sense of liberation. And I think it was because we were in the Ȟesápa, in the Black Hills and we were amongst our ancestors.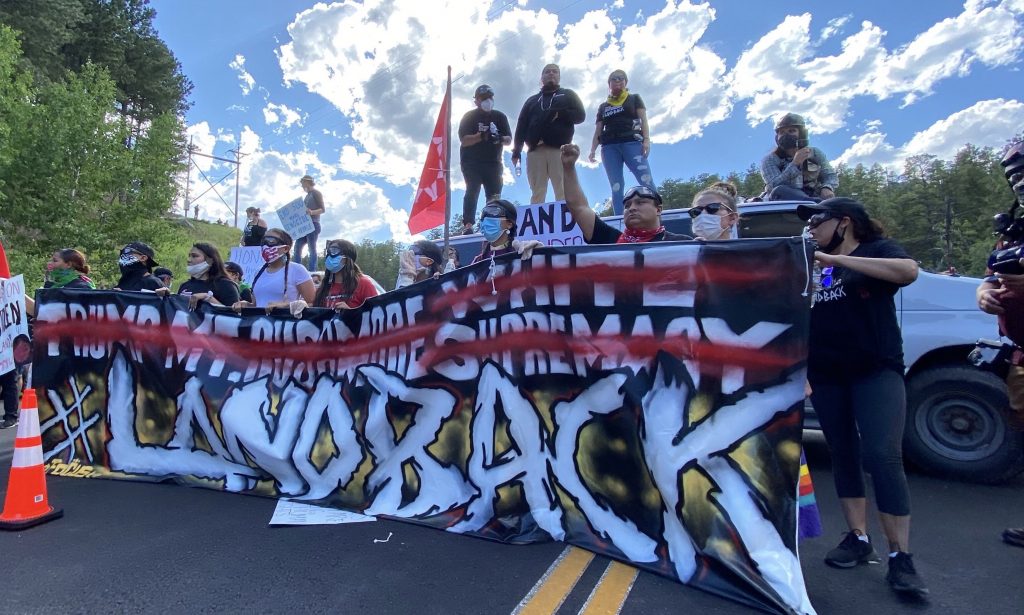 As far as I'm concerned it was a successful demonstration of our voice. We let the world know and reminded the world who the rightful owners of the Black Hills are– the Očhéthi Šakówiŋ. We made it clear that the President of the United States was not welcome in our territory, without the free prior and informed consent of our People and of our Tribal leaders.

Everything that took place that day was a powerful experience and it instilled pride and hope and courage in myself. I got to see that same thing in all of my people's eyes that were there. And all of you that were listening and following on social media, I want to thank you because we felt that strength and we felt that courage and that felt that each and everyone of you was there to support us.

Even when I was in jail, I am just now learning, I just got out in the last half hour, and just learning about the outpouring of support for myself and all the brothers and sisters who took this action and this risk, and just want to thank each and every one of you out there. I also wanted to acknowledge that whenever you do something like this, you risk a lot. I spent all of my time in (jail) praying for my children; because I am doing this for my people, but there is a responsibility I have as a father to be there for my kids and that is my number one concern. And I know that things are going to work out how they are supposed to and I believe that's because everything I've ever done, I've done for my kids, for my people and for my land and that's what this was all about.
I want to thank the brothers and sisters who made a commitment, who made a commitment to stay to the very end. Each and everyone one of you, you know who you are. The commitment you made, and that you followed through on, and when we do something as Lakȟóta or as Indigenous people, we make a commitment; It's a sacred vow, a commitment and we follow through on that. I saw that and felt that, and it was an honor to be a part of doing that. So, I just wanted to thank everybody.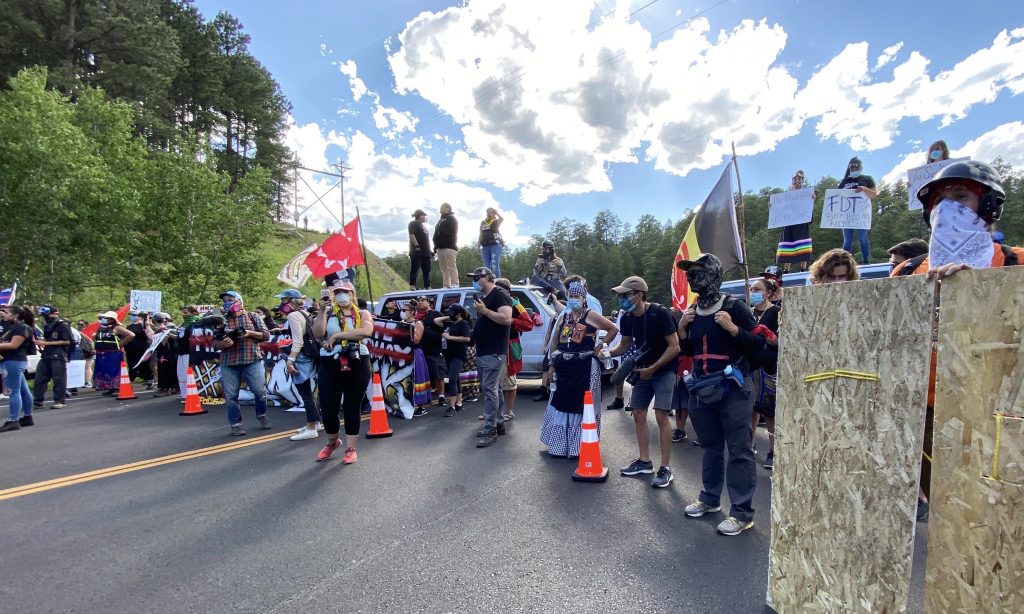 You know, there are all these charges now. There's all these charges (from) the white man's court that they say that I have. But before I say anything about these, I want to say that this justice system is a construct of white supremacy itself. The very system that we are trying to tear down (are) these systems of white supremacy that continue to perpetuate racism and injustice. And I wasn't surprised when I came out and they read all these charges against me, because I know that they are trying to use this court system against those of us that are fighting for freedom, justice, and liberation. And I want to say before I read this, that I am not afraid of the courts. I'm not afraid of the system of white supremacy.
We have to act in courage and in bravery. Our risk is required if we are going to tear down white supremacy. Our risk of our very freedom is required if we are going to tear this system of white supremacy and injustice. I thought alot about what it meant and what I've been saying, while I was in there. In this tearing down of white supremacy and racial injustice, there is a role for everybody. There's a role for everybody.
We need to shift decision making power back into Indigenous and Black-led organizations and movements to transform this world.
Also, we don't need allies. We need accomplices. We need people that are going to be accomplices with us in the dismantling of white supremacy. And so our white brothers and sisters, they are our brothers and sisters, they are in this with us. And I ask those who are in the ally column to come over to the accomplice column because we need to do this together. It's going to take a generation to make this possible, but it's possible.
I also want to say that even in this moment, it's easy to talk about what we are fighting for as just resistance but we are not just fighting against a system– We are building a new one. We are building a new system and a new world that is just and fair for everybody. And that is our goal here. We want to transform the education system. We want to transform the economic system. We want to transform all these systems of oppression to put the decision-making power back into the hands of the people who that power has been taken from over time.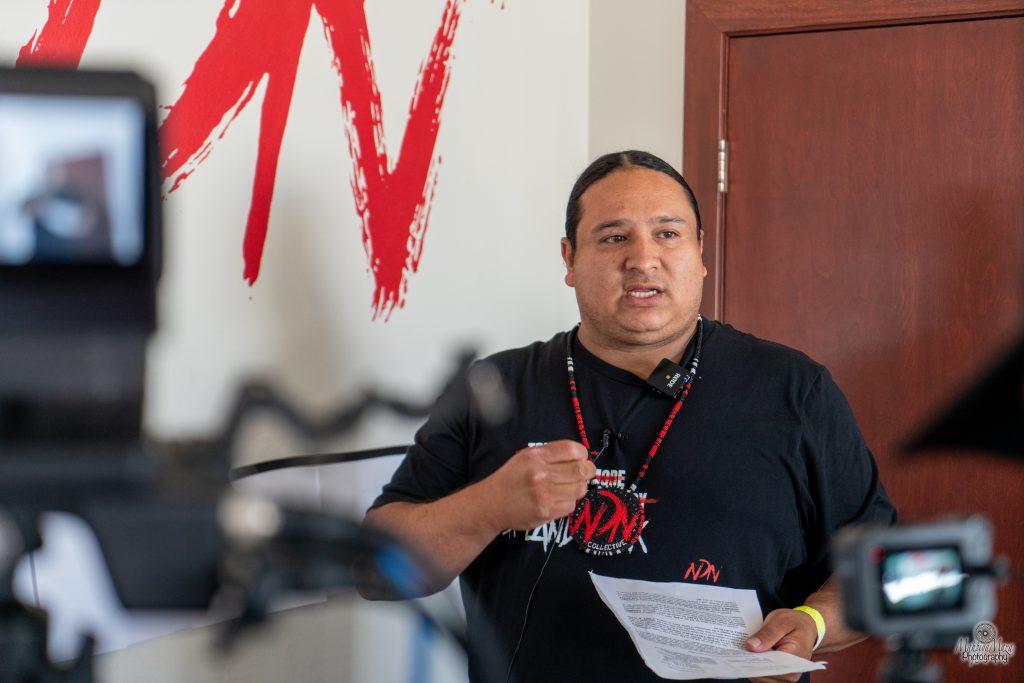 So just resisting isn't good enough; It's the beginning. It's a catalyst for us to radically imagine the future that we want to live in. Because we don't want to just tear things down. We want to tear things down and build them back up; build them back up so that our children, our families, our communities and our people will actually have a chance in society. So in the spirit of that, the work that I have committed my life to– to defend, develop, decolonize in the effort of building Indigenous power– it's an honor to be in this moment.
I want to give a special message to the Movement for Black Lives and Black Lives Matter, that this moment in history was catalyzed by your leadership and there is an opportunity that sits before us to actually build towards collective liberation of our communities and our people through collective movement building. I want to say to the leaders out there, some of you who I know, and some of you who I don't know, that we are game.
The common enemy is white supremacy. The common enemy is systematic racism. And we are game to dismantle; So if you are in for that, then we are in it with you. And we are in it with all the people of color movements throughout this nation to do this work together for our communities and for our people.
I'm not going to comment in any detail about the legal matters. I've been advised by lawyers to not disclose any details of the events that took place. But I will take this moment to describe the bullshit (charges I am facing) for standing up for my land and standing up for my people. I don't 100% understand every single one of (the charges): one of them was second degree robbery, which is a felony. One of them, account two, was an assault on a law officer, impeding a highway, unlawful assembly, and disorderly conduct. And (what) all of that means to me is that these are just a bunch of lies. Because, how could it be possible that these things are breaking the law when all I was doing was standing with my people on our own land that was rightfully ours in the first place.
And when we stood on our land, that is rightfully ours in the first place, we were greeted with aggression. We were greeted with escalation. We were greeted with racism, and we were greeted with excessive use (of force) by these police officers.That's what I wanted to say about these legal matters before us.
I also want to say that a commitment here, one of the primary reasons that we did this, that I did this, that me and my relatives did this, was that Mt. Rushmore is an international symbol of white supremacy and injustice. When you have the faces of four white men carved into our sacred land, and those white men were responsible for some of the biggest mass murders of Indigenous Peoples, for us that is a system of injustice that we are trying to dismantle. And the fight to close Mount Rushmore has just begun.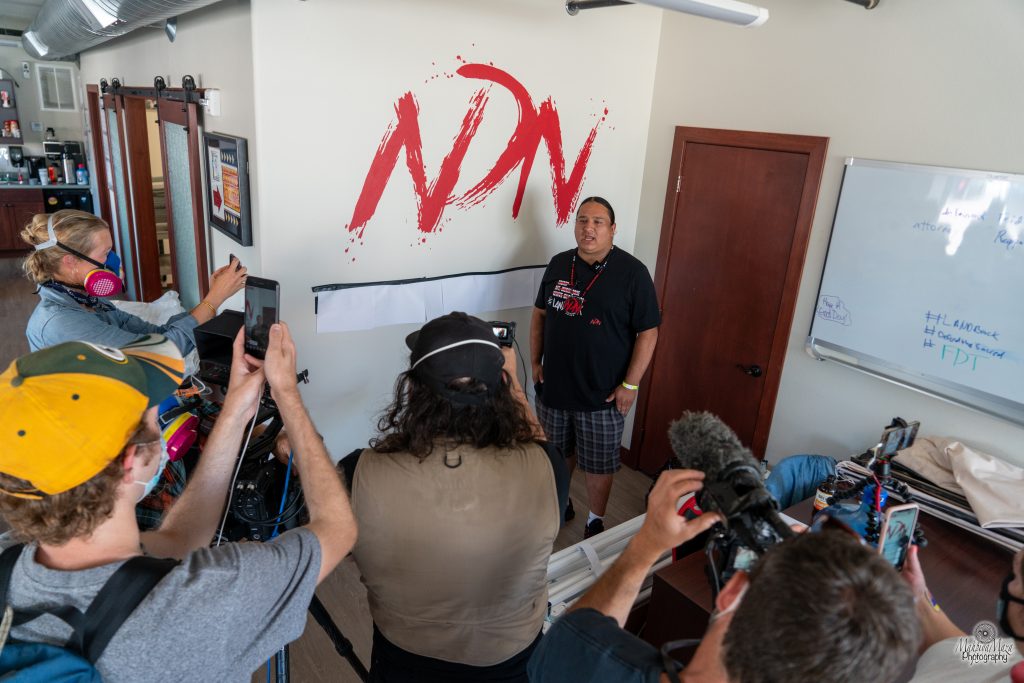 This is a fight that we can win, especially at this moment in history. And don't get me wrong, we're coming for all of the Black Hills, but we will take Mount Rushmore first, because of its symbolism. And it's not just symbolism for us, it's an international symbol of white supremacy. And so, it might be one of those opportunities for our collective movements to converge on.
I can already think of the 'journalist' in my head, say, "Well, can Indians really manage that if they got it back?" And the first thing I would like to say is that some of the biggest land managers in the entire United States right now is Indigenous people. (Indigenous Peoples) manage, I think, well over 50 million acres currently. And Mount Rushmore is just a little bit of that. Not to mention, that's just in modern times. 
We've been stewards of land for thousands of years, so, damn right, we can manage that land. And so, it's pretty simple to us: Close Mt. Rushmore as a national monument and return that land back to Lakota people and we'll decide what to do with it. That's what we're saying and that's what our demand is. It's very straightforward.
There's a lot I want to keep saying but I just want to say that I really believe that we are in a historic moment in this country. You think about everything that has happened in 2020 alone: We are still in a global pandemic; We are still in this time of social unrest, and we're still heading towards one of the most important elections in the history of this nation. And so there is a lot that everybody can do to make a difference in society today. And that's what we're going to keep doing and what we're going to keep fighting for.
And they're going to continue to try to use these laws to prohibit us, to muzzle us, to tell us we can't do this, that we can't do that, but we've been used to that shit. We've been dealing with that for 500 years and it's time for that to change and that's what we're going to keep fighting for.
I also want to send a message to President Trump and Governor Kristi Noem. President Trump, you got a little bit of what it tastes like to come to the Očhéthi Šakówiŋ. You are not welcome here. And it was our responsibility, as grassroots people, to stand together, because our Tribal Leaders had already told you you aren't welcome here. Don't come back here until you get permission from our Tribal Leaders to come here.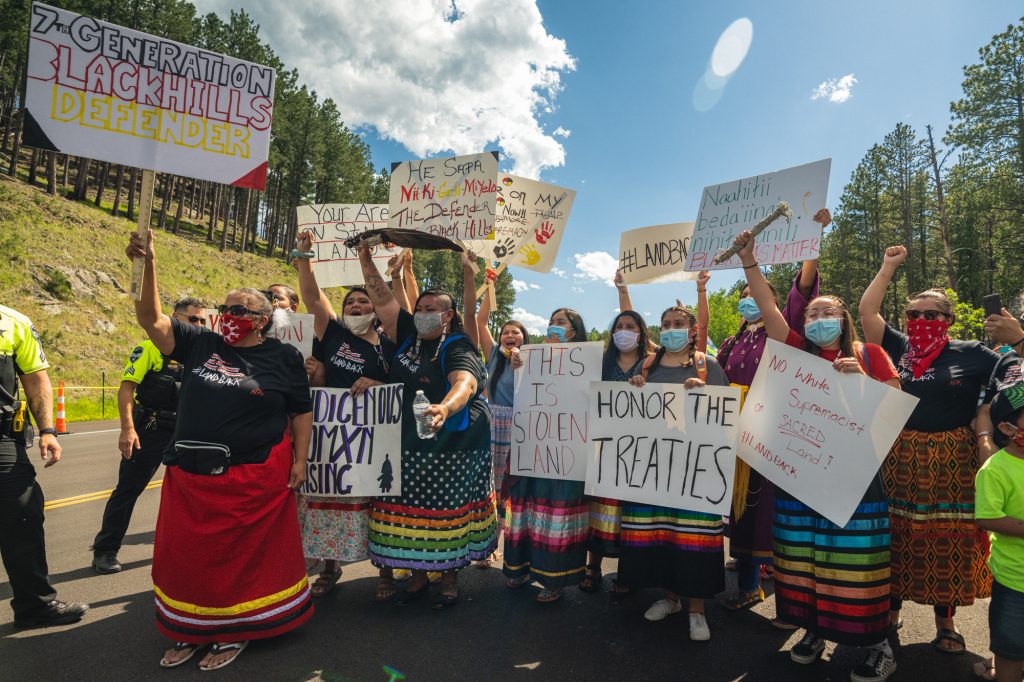 Kristi Noem, you might be the Governor of South Dakota, but South Dakota happens to be within the Očhéthi Šakówiŋ. I know that some of the Tribes have already banned your ability to travel to reservations and I expect more of that come from our Tribal Leaders. In the short time that you've been in office, you have been perpetuating white supremacy and racism, right here in South Dakota. We've seen it first hand. We've seen it when we sued you. We've seen it when we sued you for the riot boosting laws and we won. When you tried to limit our ability to organize and limit our ability to protest and muzzle our rights that are in the constitution. And (it) was found that that was illegal. And you had to pay our lawyers fees on top of that with tax paying dollars. So on top of all of that, in a global pandemic, opening everything throughout the state of South Dakota, trying to prohibit tribes ability to protect their own borders, to threaten tribes to take down their border, which are their sovereign right. These are acts of aggression. This is actually what white supremacy looks like in action. And so Kristi Noem, you better start changing your actions. Otherwise your name is going to be right next to the George Wallace's in the history books as a white supremacist and a racist. And we aren't standing for it anymore. And you know what, there are alot of people in South Dakota who aren't standing for it and it's not just Indian people. People all over this state are against many of the things that you have perpetuated in this community and continue to perpetuate. And I ask those accomplices that are out there, throughout the state to speak up, to stand up. To not just sit on the sidelines. To stand up and do something about it because that's what it takes to change the reality and to make a better future for our children.
Lastly, I just want to say words of encouragement to all of our incarcerated brothers and sisters. I know, right here in South Dakota, we make up 10 percent of the population and 37 percent of the men that are in prison in South Dakota are Native. With women, it's 51 percent. I was in that jail for three days and I never saw a white person the whole time I was in there, except the people that are guards, and that's real. And I saw how our people were treated. I saw how our people were treated in that building right across the street and it's unjust. And many of those young men and women, they're lost and they're just trying to find a way home. They're good people and they have a good heart. I think it's important that we remember them and we fight for them because many of those people don't even have a relative to make a phone call to. They don't have a penny to make a phone call to their people.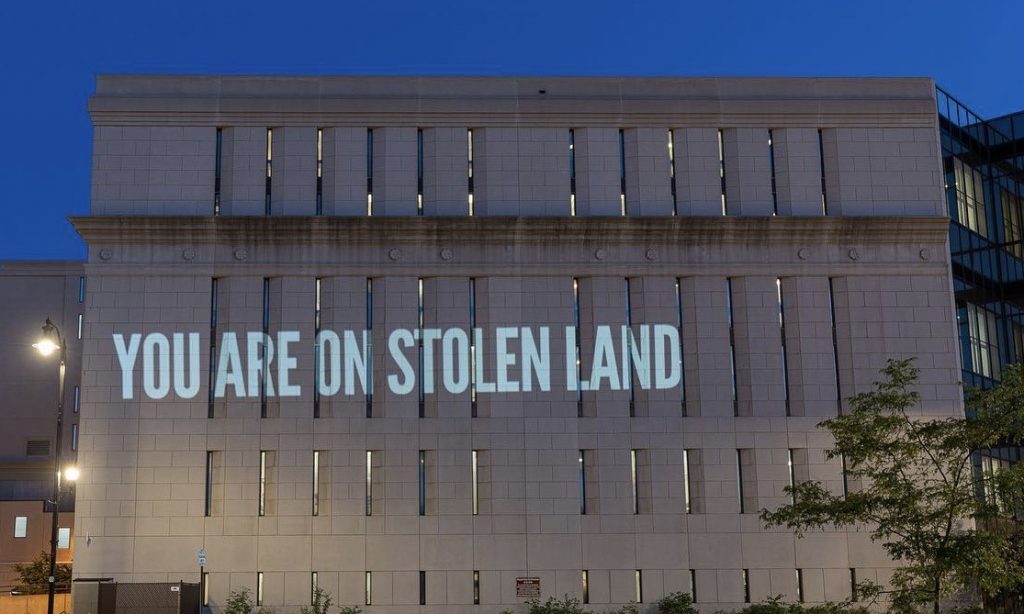 So I want to say to the brothers and sisters that are in these places, keep your spirits up. Those of us that are on the outside, we're going to keep fighting for you. We're going to keep fighting to tear down this system, so that one day there won't be jails like that. There won't be over-policing of our communities and people.
At the end of the day this is about the kids. This is about the children. This is about the next generation and making a new path forward for them. Let's not get it twisted and get it wrong, We're not resisting for resistance sake. We're resisting because we want a better world. A world that works for everybody. And the pathway there is justice and equity, and that will give us an opportunity to really have an impact on society today. 
Thank you.