In 2020, NDN Collective launched the Radical Imagination Grant – an opportunity for Indigenous artists and culture bearers to lean into their radical and enriching visions and breathe life into them. With original plans of providing only six grants, NDN Collective was ultimately able to select ten Indigenous artists from across Turtle Island, ranging from writers and photographers, to architects, filmmakers, podcasters, mixed media artists and more. Over the last eight months these creatives have poured passion into purpose, bringing their visions to life. And now, the time has come to add to that legion of dreamers and doers.
The 2021 Radical Imagination Grant Submission Period is officially open.
Ten Indigenous artists/culture bearers of all traditions, mediums and genres will be awarded grants of $50,000 for the Radical Imagination Grant. They are called upon to bring their words, their stories, their art, their dance, their songs and action to NDN Collective's Radical Imagination. Artists must be based in the United States, Mexico, Canada, or U.S. Territories (American Samoa, Guam, the Northern Mariana Islands, Puerto Rico, the U.S. Virgin Islands).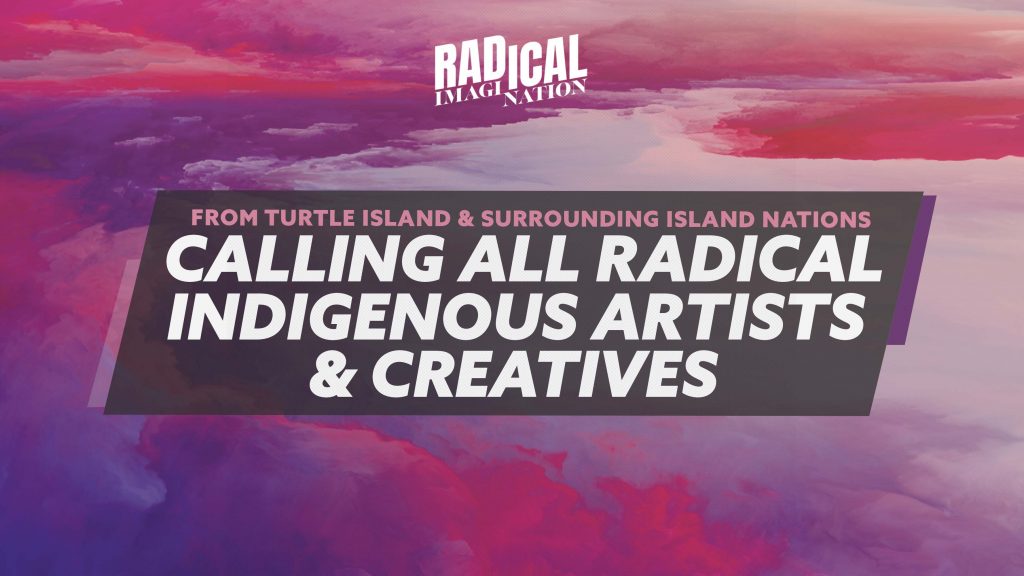 "At NDN Collective, we believe in the power, the creativity, the audacity and the commitment of artists, culture bearers and designers to create and imagine new paths, new futures, and new worlds," says Gaby Strong, Managing Director of NDN Foundation. "We are calling upon Indigenous artists to imagine, design and create projects that propose solutions to our most intractable societal problems– whether it be protecting the health and wellbeing of communities from the COVID-19 Pandemic, clean water, earth-centered economies, Missing & Murdered Indigenous Women, renewable energy or sustainable agriculture, or law enforcement reforms, we invite you to use your art and the Radical Imagination Artist grant as a platform to amplify your work as a viable solution."
Over the course of a year, artists, poets, painters, and storytellers will amplify a new narrative and vision for Indigenous people.
During these revolutionary times on the heels of a global pandemic, racial and social inequities and brutalities have been laid bare, and radical imagination is needed to not only envision a new future, but to build it.
"As we begin to emerge from a global pandemic, artists will lead the way in opening doorways to new forms of interaction, expression, and healing," said Tina Kuckkahn, NDN Collective Director of Grantmaking. "Times of isolation and introspection are nothing new to Indigenous Peoples. Through their work, artists can help illuminate the lessons learned; we can seize the moment to create a better future for all people and the planet."
As part of NDN Collective's mission to Defend, Develop and Decolonize, Radical Imagination Artists and Culture Bearers will, 1) Imagine and practice justice within their communities; and 2) Amplify community voices to counter inequitable government and corporate policies and practices. To learn more about the Radical Imagination Grant and apply, visit the NDN Collective website at http://ndncollective.org/grants-fellowship/radical-imagination-grant/. Letters of Interest and samples of work must be submitted by June 18th at 5pm MST.  
###
NDN Collective is an Indigenous-led organization dedicated to building Indigenous power. Through organizing, activism, philanthropy, grantmaking, capacity-building, and narrative change, we are creating sustainable solutions on Indigenous terms.