For Immediate Release: August 11, 2023
Belen, NM – On Tuesday, the White House Office of Public Engagement hosted an event discussing the impacts of the Inflation Reduction Act (IRA) on the economy and the shift towards clean energy.
Before the event, Jade Begay (Director of Policy and Advocacy at NDN Collective) was able to speak with President Biden, where she expressed gratitude for these historic climate investments into Tribes and Indigenous communities. She encouraged him to ensure these investments are made available to Indigenous organizations in addition to Tribal governments, in order to reach as many Native people and communities as possible. Finally, she brought up the President's designation of the Grand Canyon as a national monument yesterday, and underscored the ongoing fight to return the Black Hills to the Lakota Tribes, asking for his administration's support in this effort.
Today's meeting came on the heels of NDN Collective releasing a video, which can be viewed here, uplifting the Indigenous Peoples' Caucus of COP27 to remind the world that addressing climate change effectively and equitably requires centering Indigenous leadership and their solutions..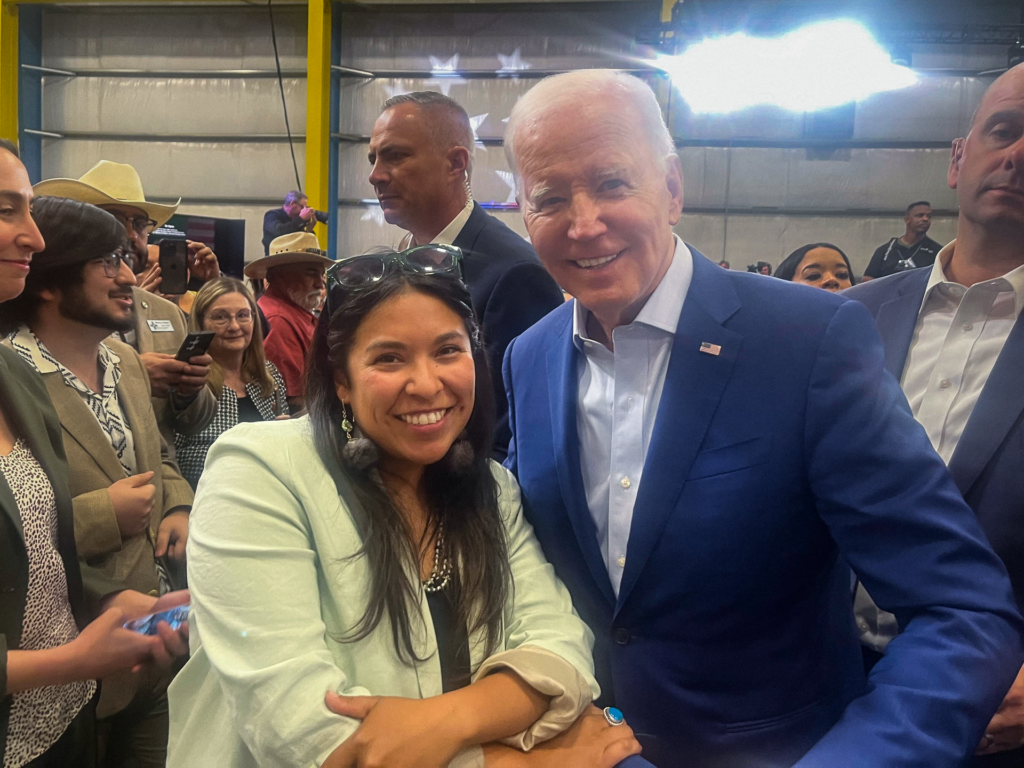 "Indian Country has never seen investments like those coming from the IRA before – and these investments are happening because of the diligence of our movement ancestors and comrades who have been fighting for justice for decades," said Jade Begay. "By resourcing Indigenous communities through the IRA, we can build and develop local and regional climate adaptation models on Indigenous terms. If these dollars are implemented in our communities by our leaders, we could see transformative changes to water infrastructure, reducing pollution, electricity, safe homes that can withstand climate impacts, and so much more."
NDN Collective has been getting the word about the IRA out since day one, having circulated a fact sheet about how the IRA impacts tribal and Indigenous communities before the White House did. The organization has led many webinars to educate Tribes about the IRA programs they are eligible to apply for, connected folks with tech assistance organizations to help with their applications, and has created texting and email tools to ensure Indigenous communities are informed about the IRA and how it could impact their lives. Soon, NDN Collective will be utilizing tools to support homeowners on reservations and Native people living in urban places to take advantage of the IRA tax credits and incentives to make their homes more resilient in the face of increasingly drastic heat waves and freezes.
###
NDN Collective is an Indigenous-led organization dedicated to building Indigenous power. Through organizing, activism, philanthropy, grantmaking, capacity-building, and narrative change, we are creating sustainable solutions on Indigenous terms.
---
Building Global Indigenous Solidarity at the COP27 Indigenous Pavilion
Watch the Full Video Now
Related Articles
Letter | NDN Collective Urges Biden, Schumer and Pelosi to Decouple Fossil Fuels from Renewable Energy Expansion and to Strengthen Racial Equity in the IRA
Press Release | NDN Collective Responds to Manchin's Side Deal Being Pulled From IRA
Press Release | NDN Collective & Rewiring America Release IRA Memo for Tribes & Indigenous Communities