FOR IMMEDIATE RELEASE:
NOVEMBER 27, 2020
Rapid City, SD– NDN Collective, an organization dedicated to building Indigenous power, announces a new cutting-edge show, LANDBACK Now: A livestream show about land, kinship, and collective liberation. This new livestream production is a part of NDN Collective's LANDBACK campaign which launched on Indigenous Peoples' Day of this past year. The show will stream at varied times on NDN Collective's Facebook page with a special episode airing on Hawaiian Independence Day, November 28 at 7 pm CST.
"With each LANDBACK Now episode, we will create a central point of conversation about Indigenous land struggles and provide information that will allow people from across the LANDBACK movement to talk to each other," said Lorenzo Serna, NDN Collective Director of Tactical Media and producer of LANDBACK Now. "The show will be live and at varied times in order to be responsive to the fluidity of the movement actions and events, which are determined by the people on the front-lines."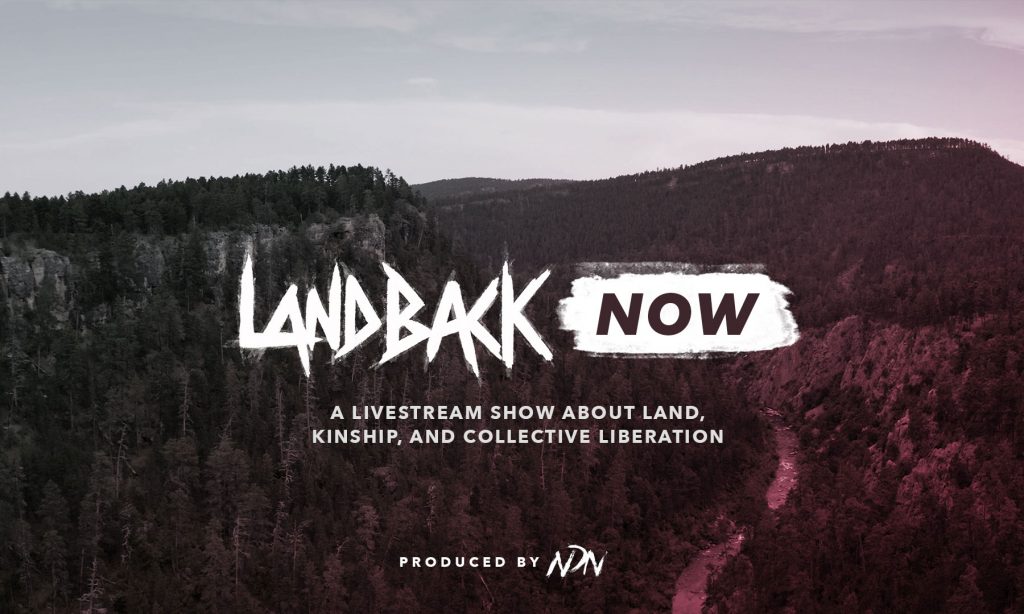 The first episode of LANDBACK Now aired on October 23 during the Klamath Day of Action, featuring Indigenous voices from the Karuk, Yurok, Klamath and Hoopa Valley Tribes who called for Warren Buffet to undamn the Klamath River. Conor Varela Handly, NDN Collective LANDBACK Campaign Organizer, hosted the first episode, and future shows will be hosted by other members of the LANDBACK organizing team in conjunction with the NDN Collective Communications and Narrative team.
Episode 2 of LANDBACK Now will connect the LANDBACK struggle in Turtle Island with land struggles in Hawaii. Guests will include Camille Kalama, NDN Collective Board Member/Hawaiian Unity & Liberation Institute (HULI); Andre Perez, HULI and Maunakea Kiaʻi, organizer and spokesperson; Dr. Jon Osorio, Dean of Hawaiʻinuiākea School of Hawaiian Knowledge, UH Mānoa, Hawaiian history expert; Kahoʻokahi Kanuha, HULI, Maunakea Kiaʻi, organizer and spokesperson; and Shelley Muneoka, KAHEA Community Outreach Lead and Maunakea organizer.

Hosts of LANDBACK Now will lead conversations with guests on topics including Hawaiian sovereignty, liberation and independence, and the ongoing struggle to protect Mauna Kea and other sacred sites. "The mauna shows us how to reach the highest heights — it is the deep, unseen, broad base that starts beneath the sea that supports the summit and everything in between." said Shelley Muneoka.
Each LANDBACK Now episode will provide ways for viewers to take action and support Indigenous LANDBACK struggles across Turtle Island and surrounding island nations. Follow NDN Collective on Facebook to catch the show; And to learn more about the LANDBACK campaign and sign up for updates, visit https://landback.org.
###
About NDN Collective:
NDN Collective is an Indigenous-led organization dedicated to building Indigenous power. Through organizing, activism, philanthropy, grantmaking, capacity-building and narrative change, we are creating sustainable solutions on Indigenous terms. Together, we decolonize and transform systems while providing tools and strategies for Indigenous self-determination and movement-building.