On September 12, hundreds gathered on Piscataway lands in front of the White House to demand executive clemency for Leonard Peltier. A caravan of supporters, family, and loved ones departed after ceremony from Rapid City, South Dakota en route to Washington, D.C.– a 1,600 mile journey that arrived on Monday, September 11.
The action in front of the White House ended in the arrests of 35 Indigenous people and allies. NDN Collective partnered with Amnesty International for the direct action to demand President Joe Biden grant Peltier executive clemency.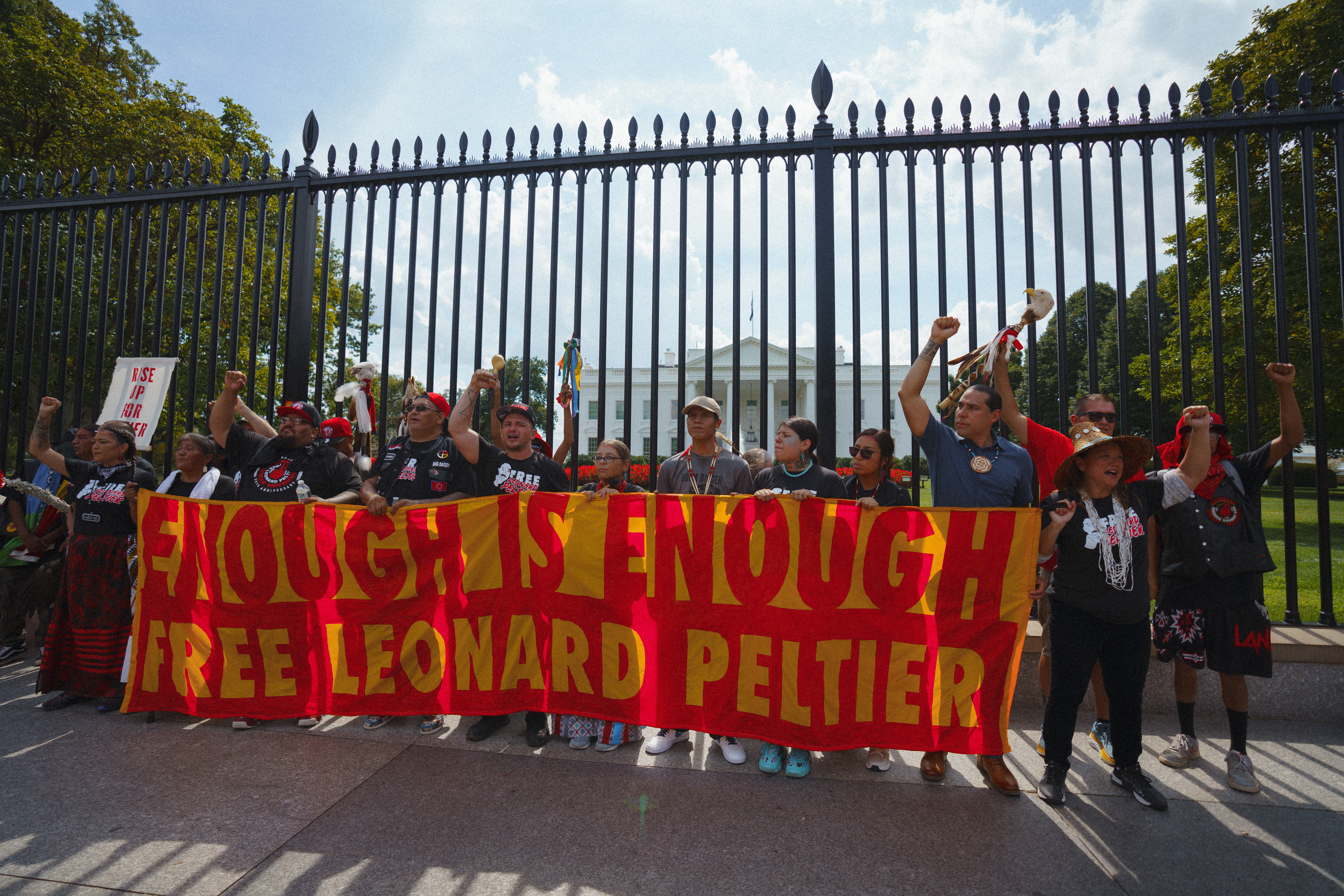 Leonard Peltier has been a political prisoner for 48 years as the result of a flawed and corrupt legal system. Following the death of two FBI agents in a 1975 shoot-out on the Pine Ridge Indian Reservation, Peltier and two other Indigenous men were tried for their murders. While the two co-defendants who were tried in a separate trial before Leonard were acquitted of all charges due to self-defense, Leonard was charged with "aiding and abetting" in a separate trial, and with a juror who publicly admitted to being racist.
"If [Leonard] was tried today, no way he gets convicted," said Kevin Sharp in an ICT interview. Sharp is a former U.S. District Judge and legal counsel for Peltier, and was also present at the rally in front of the White House.
"The violations that law enforcement committed, that the US attorney's office committed at that time, the threats, the intimidations, the constitutional violations– Today, this case gets tossed," said Sharp. "1977 when it was tried, that was a different era. All that time has passed; One of the unfortunate things about the legal system is that it puts a high premium on finality even if we get it wrong, they like to say it's over."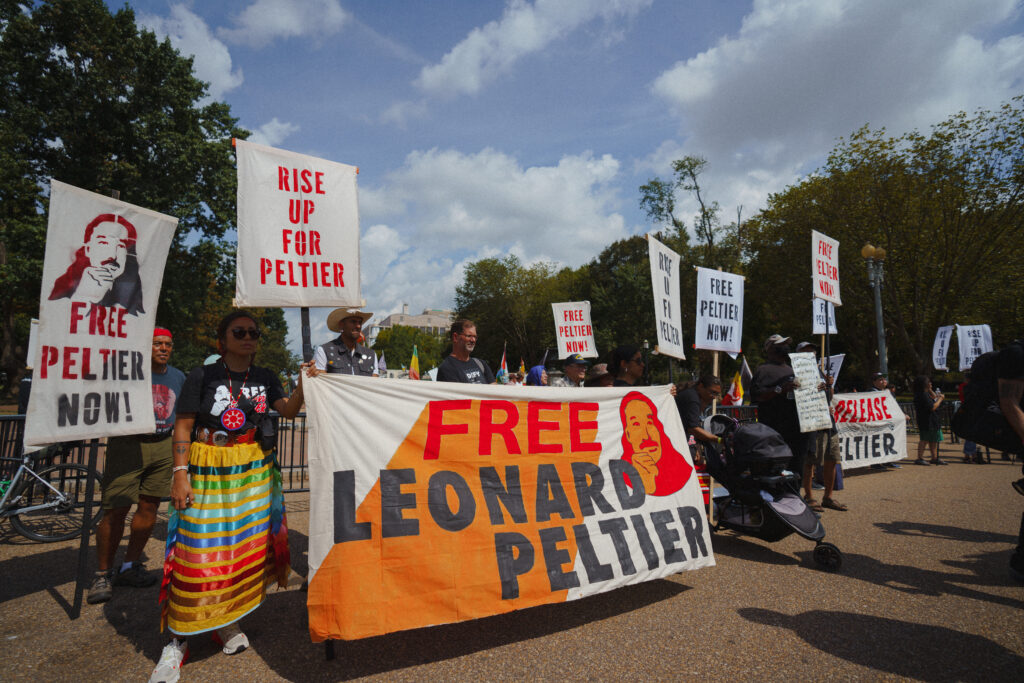 For the past five decades, dozens of human rights organizations–including Amnesty International– and Indigenous communities have called attention to the injustice of Leonard's case and demanded his release.
In a statement shared with Amnesty International and NDN Collective leading up to the rally, Leonard wrote: "Time has twisted one more year out of me. A year that has been a moment. A year that has been a lifetime. For almost five decades I've existed in a cage of concrete and steel."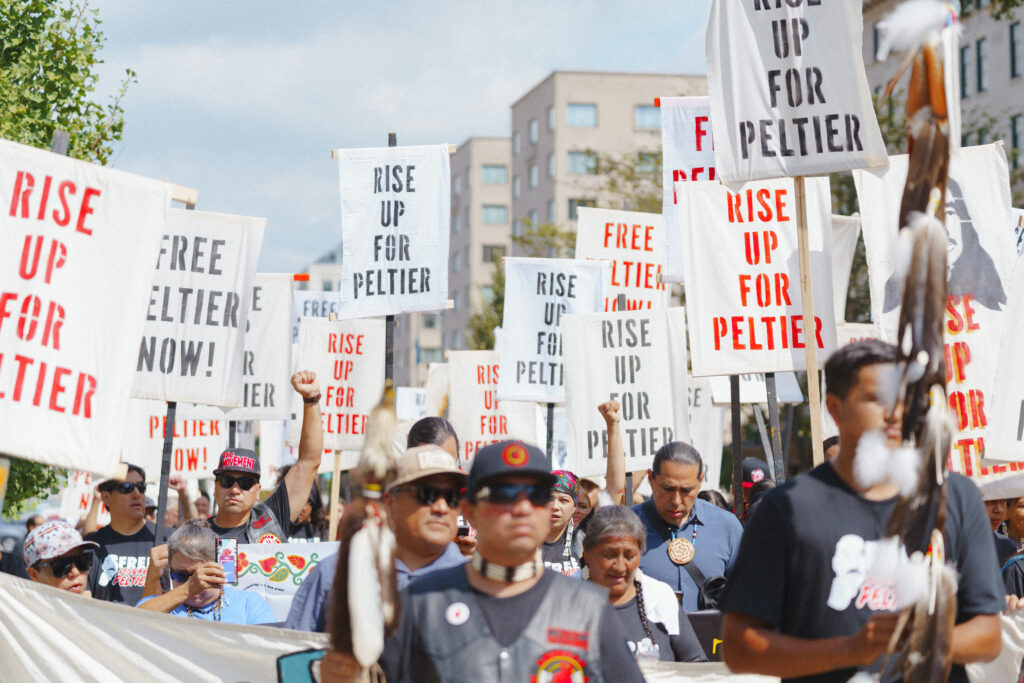 As supporters and relatives rallied together alongside the fence line of the White House, singers and dancers took to the street in front of them. Among those were members of the Kalpulli Yaocenoxti Mexica Aztec group representing the Indigenous Roots Cultural Center from St. Paul, Minnesota.
The Wambli Ska drum group, adorned in "Free Leonard Peltier" and American Indian Movement t-shirts, sang the traditional song of AIM. A 125-foot banner sewn by the NDN Creative Resistance team and volunteers read: PRESIDENT BIDEN: FREE LEONARD PELTIER NOW; another smaller banner read: ENOUGH IS ENOUGH, FREE LEONARD PELTIER.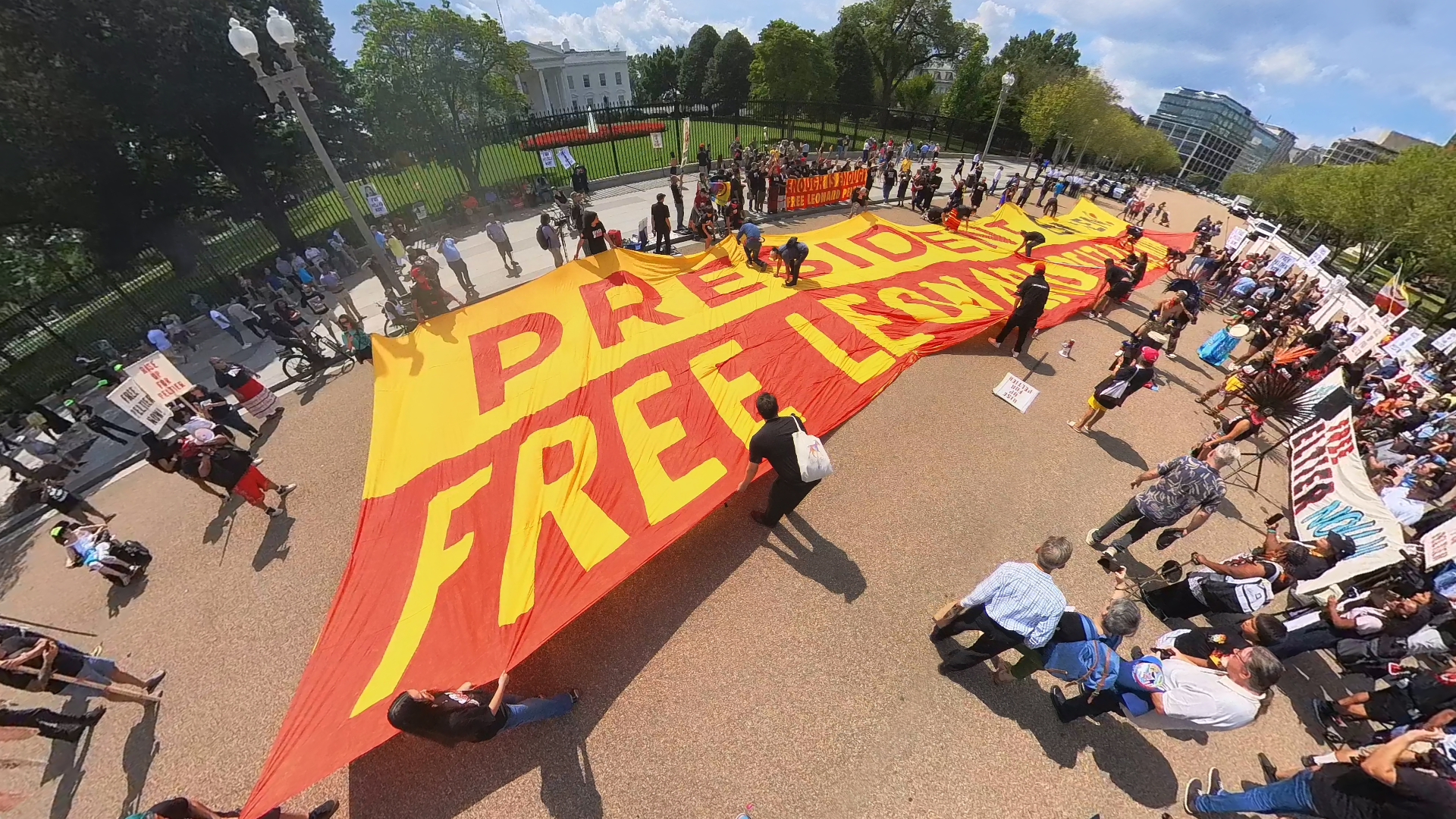 Ongoing police presence including departments from the Secret Service and U.S. Park police had begun moving the crowd into Lafayette Park across the street until only those holding the final banner remained. Yet still, as police separated the crowd with a barrier, supporters and loved ones stayed rooting and singing for those standing along the White House fence line.
Thirty-five people were arrested by the U.S. Park police. Among those arrested were: NDN Collective CEO and President Nick Tilsen; actor and activist Dallas Goldtooth; Fawn Sharp, NCAI President and Vice President of the Quinault Indian Nation; Executive Director of Amnesty International USA, Paul O'Brien; and dozens of Indigenous organizers and allies. All arrestees have since been released.
"Getting arrested today, I'm resisting. I'm dissenting against the 48 years that Leonard Peltier has been illegally incarcerated by the United States government," said Nick Tilsen, CEO and President of NDN Collective. "I'm dissenting against the system, white supremacy, the police state and the system of incarceration and we're doing it in solidarity with Leonard Peltier."
"We're asking Biden for Executive Clemency," Tilsen continued just before his arrest. "We will keep coming back to the White House and we'll be pressuring all parts of the government until we see justice for Leonard Peltier and see him come back with his family, community and people."
Police removed organizers from the White House fence line one-by-one; however, those holding the line continued to bear the banner declaring ENOUGH IS ENOUGH with raised fists.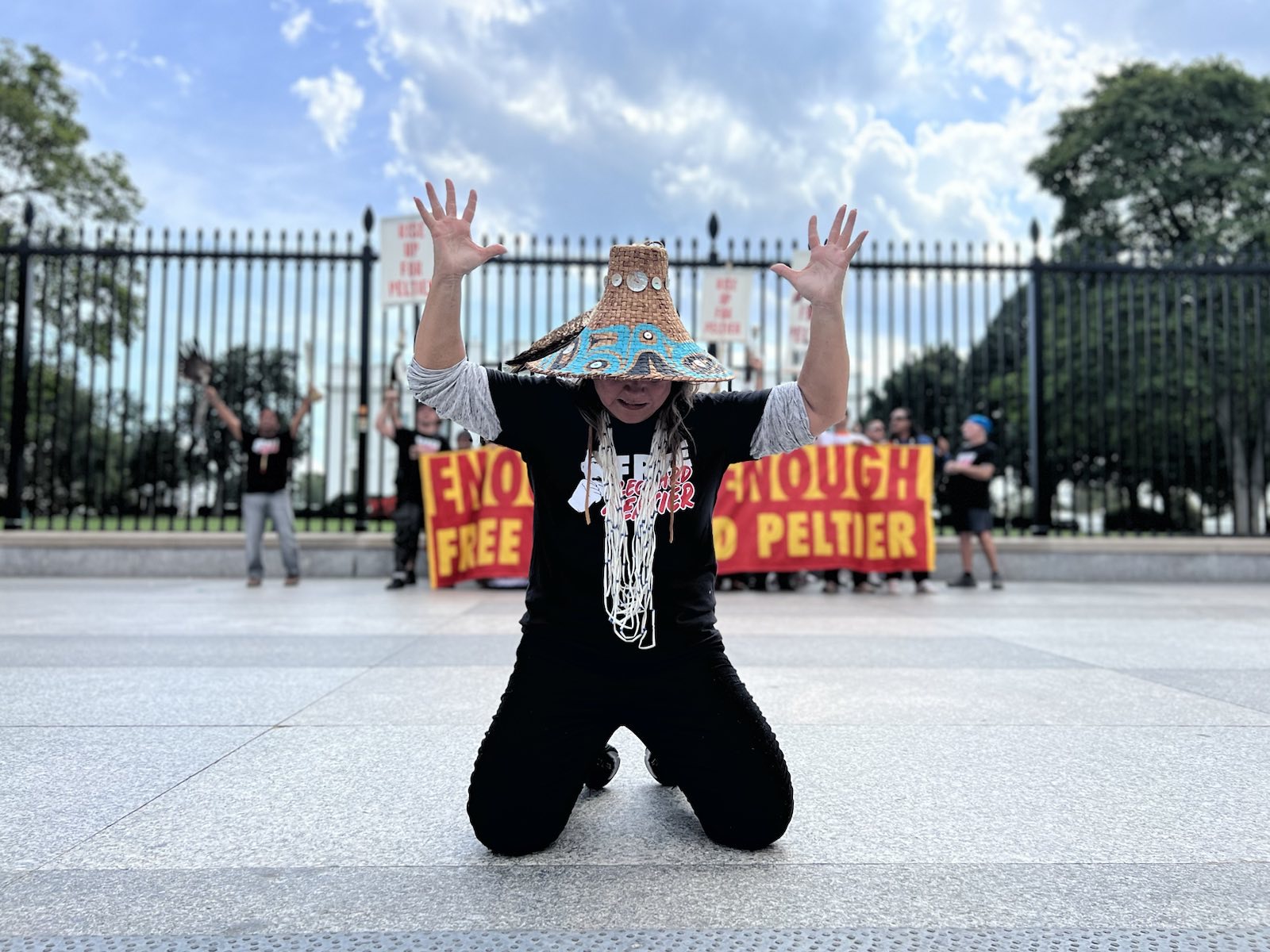 Fawn Sharp, President of the National Congress of American Indians and Vice President of the Quinault Indian Nation, kneeled before the line of Secret Service police with her hands up as fellow demonstrators were pulled away behind her. While those holding the banner were led away, Dallas Goldtooth and Nick Tilsen joined her, kneeling in support. Nick held an eagle staff high above his head.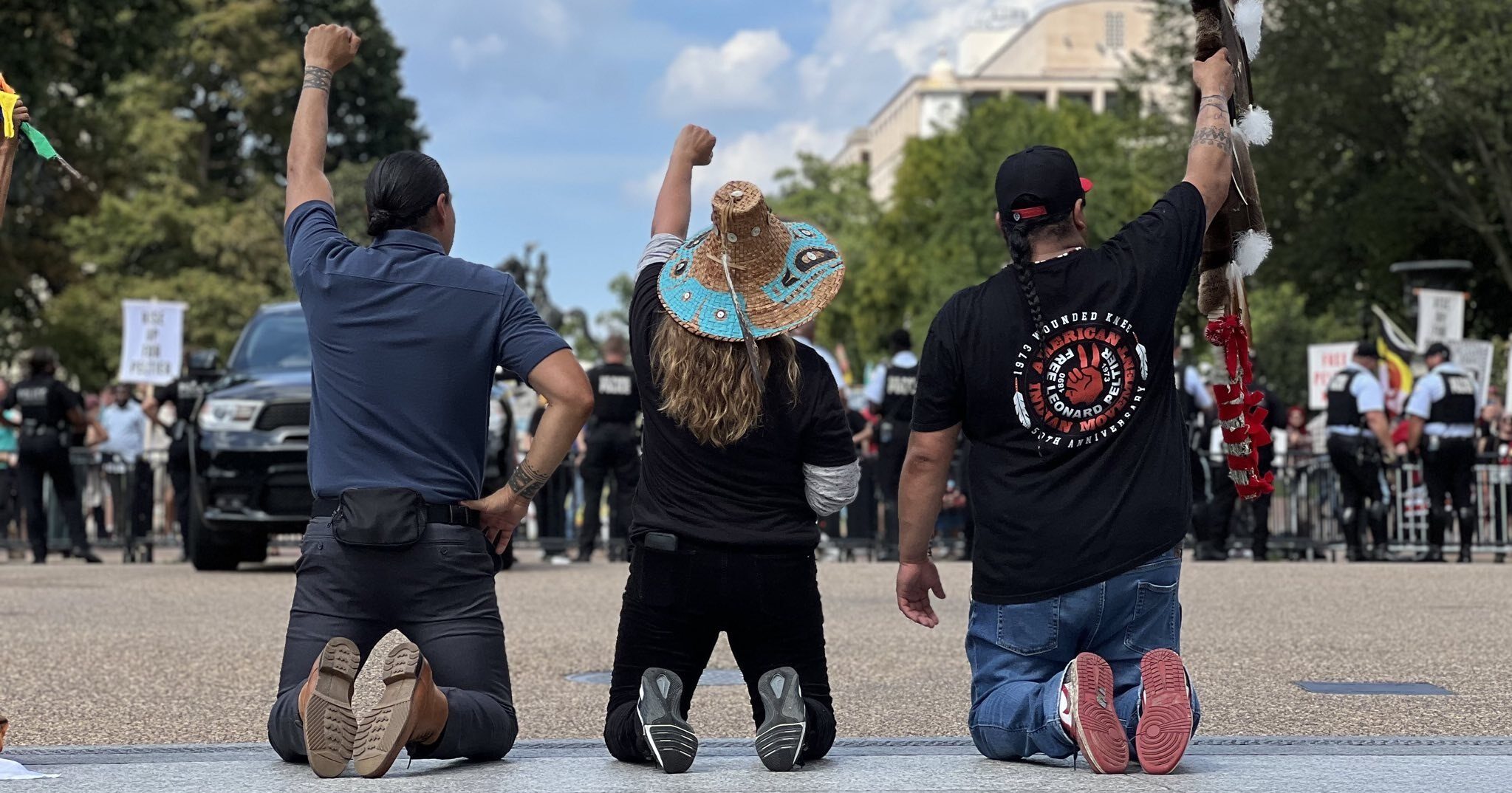 "If there's an injustice, we have a sacred duty to come together and stand united, and I cannot thank you enough for coming from all over the planet to this very moment," Fawn said. "We are here with intention. We are here with purpose and 79 years ago on this very day a warrior was born, and for 79 years this warrior, a relative, our elder walked these lands with purpose, with a fire, with a special calling upon his life and he has galvanized a movement for justice in the United States. So I want to stand here today with you as we celebrate our elder."
Nick, Fawn, and Dallas, were among the last to be escorted away by police.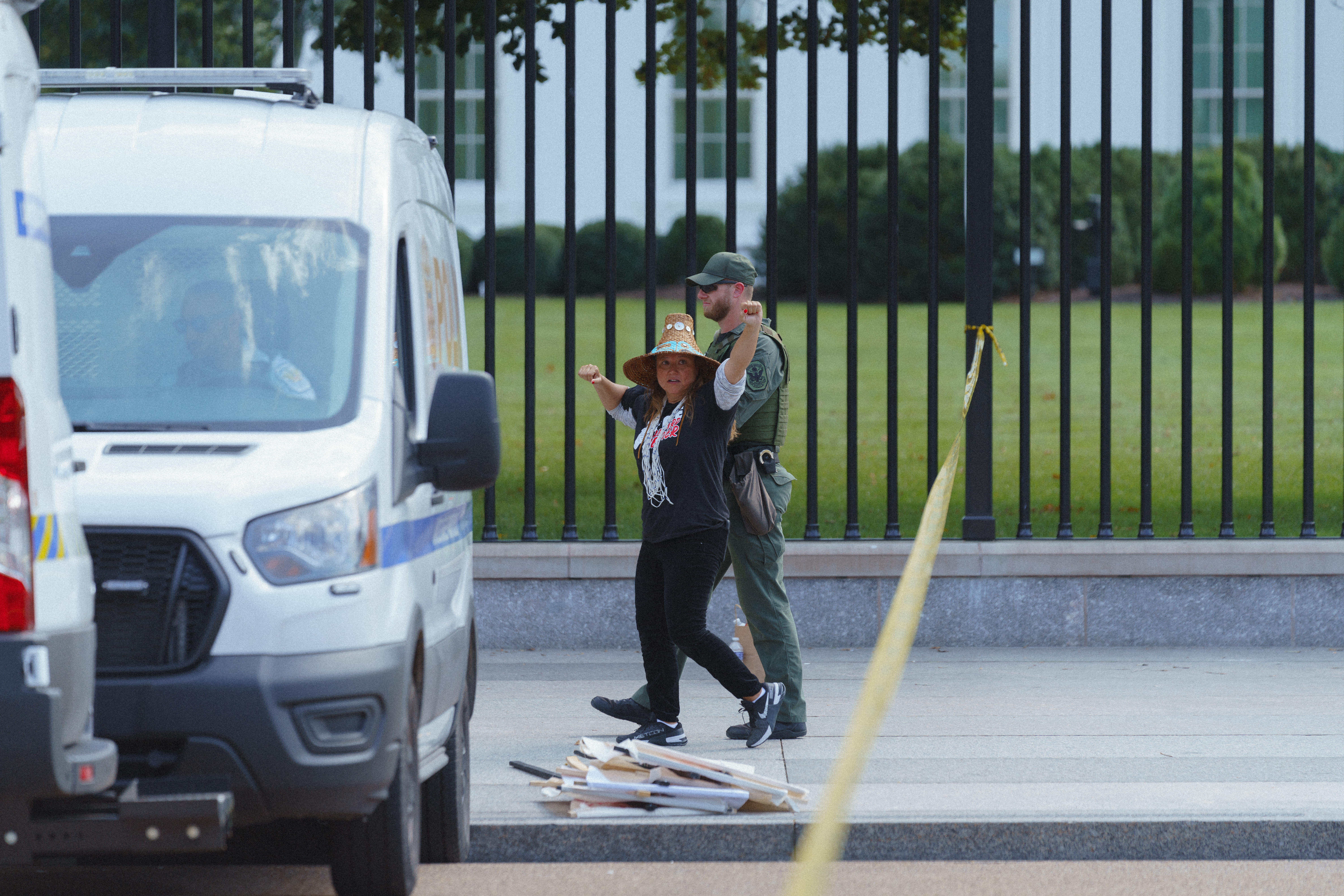 "I was proudly arrested calling for the liberation of Leonard Peltier. His continued incarceration is a stain of injustice that demands action by President Biden," said Dallas, who is a Bdewakantunwan Dakota & Diné organizer and actor.
While there have been many demonstrations held in support of Leonard and demanding his freedom, this was one of the largest efforts made in recent years on his behalf. The caravan moved hundreds of people from South Dakota, North Dakota, and Minnesota all the way to DC where additional organizers waited.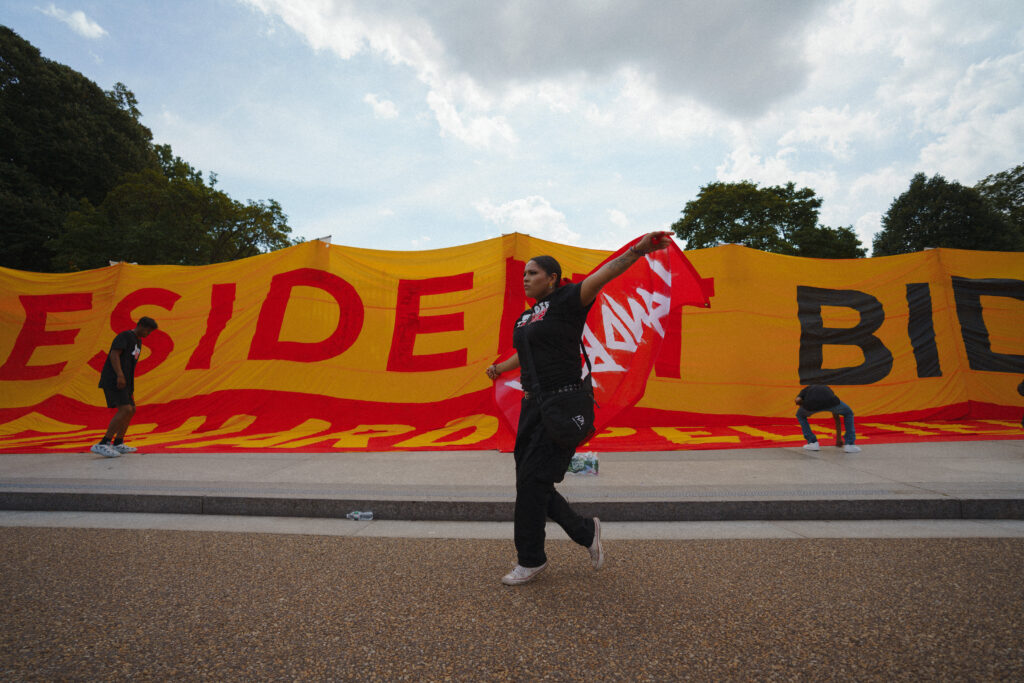 The event on Tuesday garnered hundreds of supporters on the ground and thousands more online. Live streams of the action were shared on NDN Collective's social media platforms where people around the world tuned in.
"The caravan, the letters, the coming together of 'OG' organizers and young people was extremely powerful," said Demetrius Johnson, Diné organizer and member of The Red Nation. "A truly beautiful day to celebrate uncle Leonard's birthday and I hope he knows it." 
The Red Nation is a grassroots Indigenous organization dedicated to the liberation of all Native people, and has organized and participated in several actions calling for the release of Leonard Peltier, also producing several podcast episodes on this topic.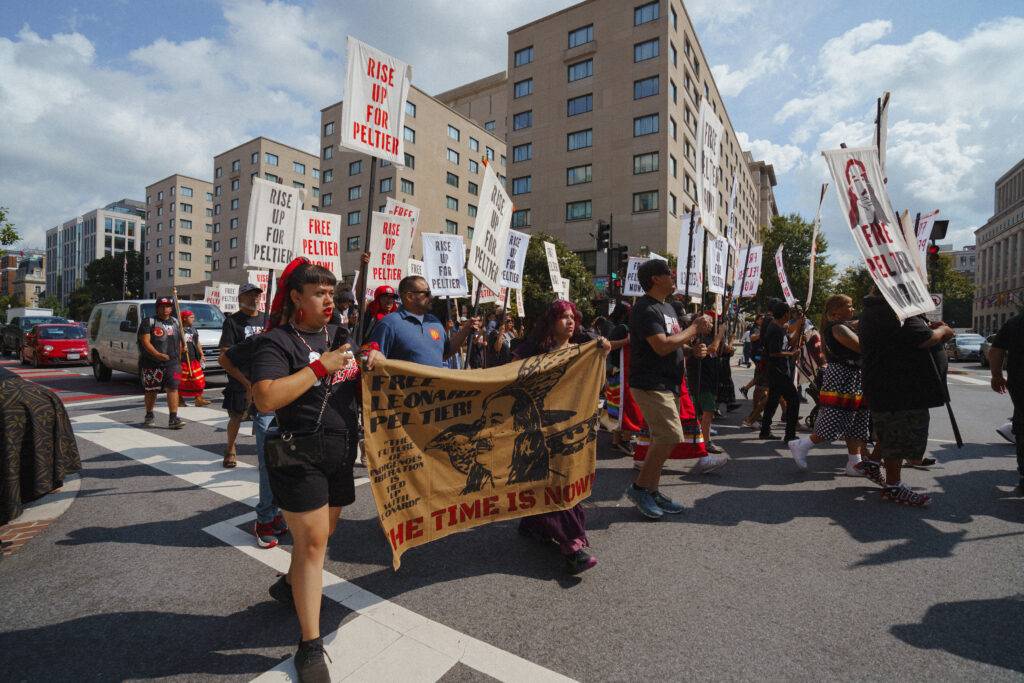 "I've never seen any kind of on the ground action like this before for Leonard Peltier– it's definitely the biggest thing I've seen," said Justine Teba, Tesuque Pueblo and media contributor for the Red Nation and Red Media. "I was there last year with Rachel Thunder and AIM when they did the walk for Leonard Peltier and this is the most people I've ever seen. It was really great and inspiring."
"I feel exhausted right now but it reminds me of how exhausted I am after dancing for feast," said Teba after the hours-long action in front of the White House. "That prayer was there, it was really powerful, and I feel fulfilled because what I came out here to do is now done."
"I know the number one thing I can do is try to spread the word as much as possible. I know there's people out there who remember Leonard and need to be reminded that he's still locked up for something he didn't do," Teba continued. "I feel really hopeful, especially because so many young people were there, that was the defining aspect of this whole thing. NDN Collective, with their media reach, is going to have a huge impact on this."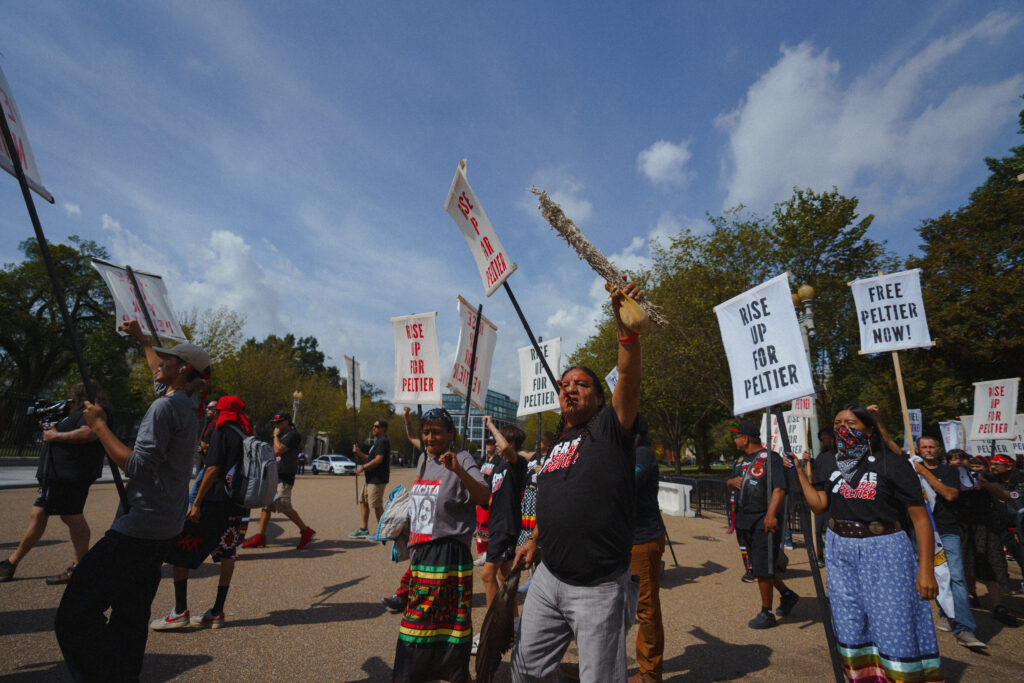 The White House has yet to comment on Tuesday's collective action or on the status of Leonard's freedom. NDN Collective, its partners, and supporters of Leonard will continue the fight for his freedom until he is released. Please stay tuned for updates on his case or join the fight by calling or emailing the White House, writing to representatives and senators, signing the Native Organizers Alliance petition, or writing directly to Leonard himself. All information is below for ways to support the campaign to #FreeLeonardPeltier.
"I know that the spirit warriors coming up behind me have the heart and soul to fight racism and oppression, and to fight the greed that is poisoning our lands, waters, and people. We are still here. Remember who you are, even if they come for your land, your water, your family. We are children of Mother Earth and we owe her and her other children our care."
– Leonard Peltier in his letter to supporters
---
---
Our work isn't over. Now is the time to apply pressure to #FreeLeonardPeltier. Here are the ways you can help:
Call The White House at (202) 456-1111
📧Email The White House at: whitehouse.gov/contact
✍🏽Write your Reps & Senators – ask them to urge @POTUS to #FreeLeonardPeltier: https://ndnco.cc/FindYourRep
📄Sign & Share Native Organizer Alliance's Petition: ndnco.cc/signtofreeleonard
✍🏽 Write to Leonard Peltier: LEONARD PELTIER #89637-132, USP COLEMAN I, P.O. BOX 1033, COLEMAN, FL 33521
👀 Watch and Share: X Spaces conversation featuring @HollyMacarro & @NickTilsen co-hosted with @amnestyusa: https://ndnco.cc/3ONZMdP
Photos by Willi White for NDN Collective and Juan Jimenez for NDN Creative Resistance.
Related Articles & Media:
Blog | "I Am Still Here": Leonard Peltier's Letter to Supporters
Press Release | Indigenous Leaders and Allies Arrested at White House Rally in Support of Clemency for Native American Activist Leonard Peltier
LANDBACK For the People | S1 E6: Free Leonard Peltier
LANDBACK For the People | S1 E5: Creative Resistance
NDN Livestreams: