For Immediate release: October 9, 2023
Albuquerque, NM – Marking Indigenous Peoples' Day, Indigenous groups and supporters are calling for unity and justice for Jacob Johns, an Indigenous activist from Spokane, WA. Jacob was shot and gravely wounded by a domestic terrorist during a peaceful prayer ceremony on September 28, 2023 in Española, New Mexico. 
"This is a hate crime," said Johns' attorney John Day. "It needs to be recognized and prosecuted as such. Jacob's heroism in protecting the lives of innocent people, including children, is important in itself, but there's a larger principle at stake here: we cannot afford to minimize or normalize targeting lawful, peaceful assembly of people with violent crime because they belong to a different group. It threatens anyone's right to peaceably assemble or simply belong to a faith community. It should concern all people, whatever faith or community you belong to."
"Today, as we commemorate Indigenous Peoples Day, we call attention to this hate crime and the continued violence carried out against Indigenous Peoples, even when gathered in peaceful prayer and celebration," said Janene Yazzie, Southwest Regional Director of NDN Collective. "If anyone doubts that Indigenous people aren't safe in this country, this shooting should dispel those doubts. What happened to Jacob is part of the ongoing legacy of colonization and continued threat of white supremacist violence facing Indigenous Peoples across the country. The shooting is another reminder that Indigenous Peoples literally risk their lives simply by gathering in prayer.
"We risk our lives when we call out the white-washing of our history, resist the celebration of symbols of colonialism and genocide, or stand up to protect the land and water through ceremony and non-violence. Violent extremists continue to seek to silence Indigenous voices, but we will not be silent. As Jacob continues to fight for his life, we continue to call for support for him and the Indigenous Peoples who live under threat from white supremacists in New Mexico and across the United States. We call for unity, for all people to recognize and understand this hate crime for what it is: a threat to all peaceful assembly. And we call for justice for Jacob and for all Indigenous People living under this threat."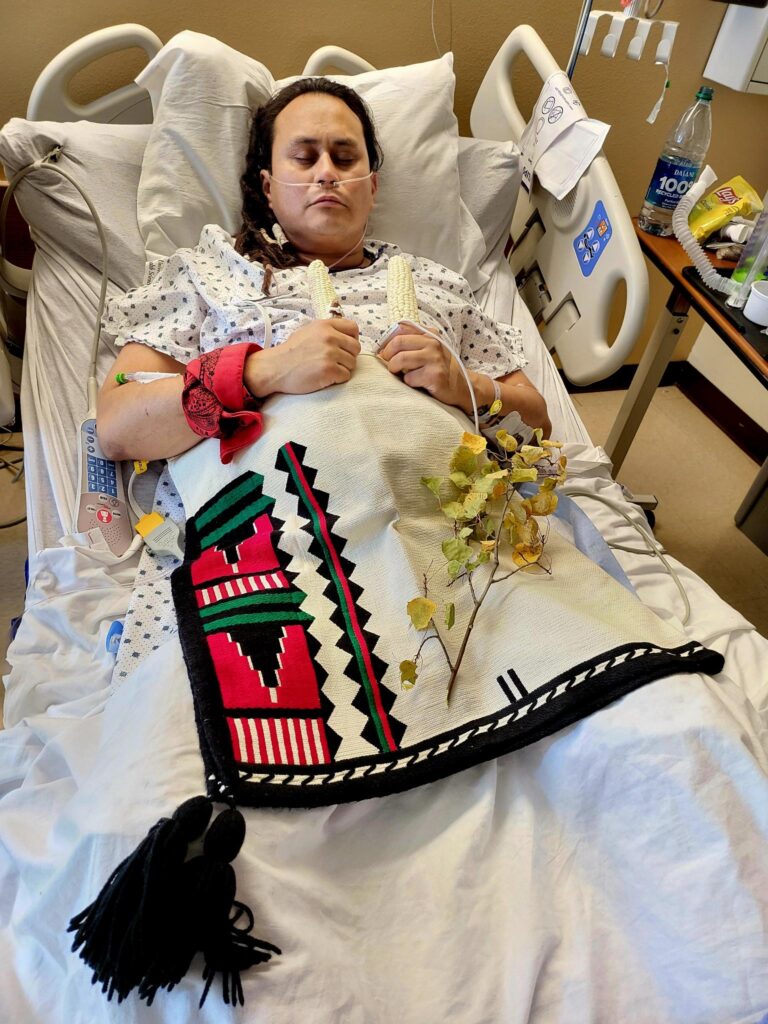 The domestic terrorist who shot Jacob Johns is a self-identified QAnon believer and right-wing extremist. The terrorist attacked unarmed Indigenous women, children, and elders gathered around a prayer altar. They were celebrating the cancelation of a statue commemorating the brutal colonizer Juan de Onate, which was to be reinstalled that day. The Indigenous women, children and elders were gathered in a peaceful manner, sharing songs, prayers and words of hope for healing and moving forward in unity, calling for the protection of tribal sovereignty and respecting the self-determination of Indigenous Peoples.
The shooter and other agitators, wearing MAGA hats and armed with guns and with at least one agitator possessing a knife, had spent the day provoking the crowd. At one point, police asked the domestic terrorist to leave per the request of the Peacekeepers, only to allow him to return to continue to provoke the gathering. The police cited his first amendment right as a reason for letting him return, then they departed.
When the gathering was drawing to a close, the shooter announced to the group of agitators "let's do it" and made his way towards the prayer altar, which was surrounded by Indigenous women and children. Ignoring pleas to leave the altar alone, he charged toward the women and children, prompting Jacob Johns and other Peacekeepers to form a protective body barrier to protect them. When he was prevented from his objective and forced to go back over a stucco wall separating him from the Peacekeepers and the rest of the gathering, the shooter took two steps back, pulled his concealed weapon and yelled obscenities before shooting Jacob in the chest. He then pointed his gun at another person in the gathering but his gun misfired.
Were it not for Johns' action, the shooter's apparently premeditated attack might have taken many lives. There were more bullets in the gun and ammunition in his vehicle. When his gun misfired, the shooter got in his car and raced away with civilians chasing after him on foot, since there were no police on scene.
The police were slow to respond even though the shooting took place right next to the Sheriff's office. Johns' injuries were so serious he was flown by helicopter directly to a hospital in Albuquerque. His heart stopped while in the air, but the medical team was able to resuscitate him. He underwent multiple surgeries resulting in the removal of his spleen as well as parts of his stomach, and repair of his liver and pancreas.
Jacob is currently fighting for his life in an Albuquerque hospital. Due to fluid accumulation in the area where his spleen was previously located he will likely need more surgery, but due to his physical condition it is not certain when the surgery can take place.
Sources quoted in this release and other knowledgeable sources are available for comment and interviews.
For more information, please reach out to:
John Day, Esq.
505-670-5762
and/or
Janene Yazzie
505-399-2967
###
NDN Collective is an Indigenous-led organization dedicated to building Indigenous power. Through organizing, activism, philanthropy, grantmaking, capacity-building, and narrative change, we are creating sustainable solutions on Indigenous terms.