For immediate release: September 15, 2023
NYC – Ahead of the UN Climate Ambition Summit, thousands of climate justice organizers will hit the streets of New York City on Sunday, September 17 to demand President Biden take bold action to end fossil fuels.
Key among those marching will be Indigenous Peoples from frontline communities whose livelihoods are continuously threatened by oil and gas leasing. The U.S. is the largest producer of oil in the world – and despite promising to lead the nation away from fossil fuels, Biden has made moves to expand oil and gas projects through legislation like the Willow Project.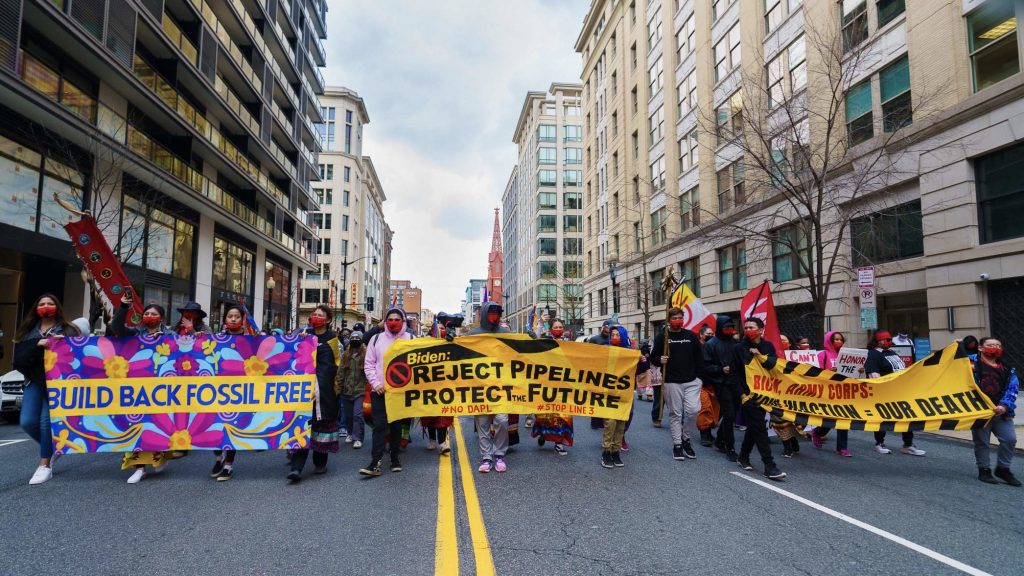 NDN Collective brings a critical perspective to the March, uplifting place-based, Indigenous-led fights against oil and gas and centering calls-to-action identified by frontline communities. After the march, NDN Collective will make special announcements regarding the organization's planned funding for climate solutions and partnerships for COP28.
Last year, NDN Collective released a damning report on the construction and operation of the Dakota Access Pipeline (DAPL), revealing details of co-conspiring between the Army Corps of Engineers and the owners of DAPL and illuminating the level of recklessness both parties are willing to take in the name of profit. Now, DAPL is under review as the draft Environmental Impact Statement has been released.
"Nowhere is the harmful impact of fossil fuels more evident than through DAPL, which continues to illegally funnel 750,000 barrels of crude oil through Standing Rock Sioux tribal land every day," said Nick Tilsen, President and CEO of NDN Collective. "Shutting down all pipelines is critical to addressing the greatest injustices faced by Indigenous people – from our water being poisoned, to our women and two spirit relatives being murdered and disappeared by the underbelly of the temporary fossil fuel industry workforce. We will not rest until all fossil fuels have been replaced by sustainable solutions implemented by Indigenous communities."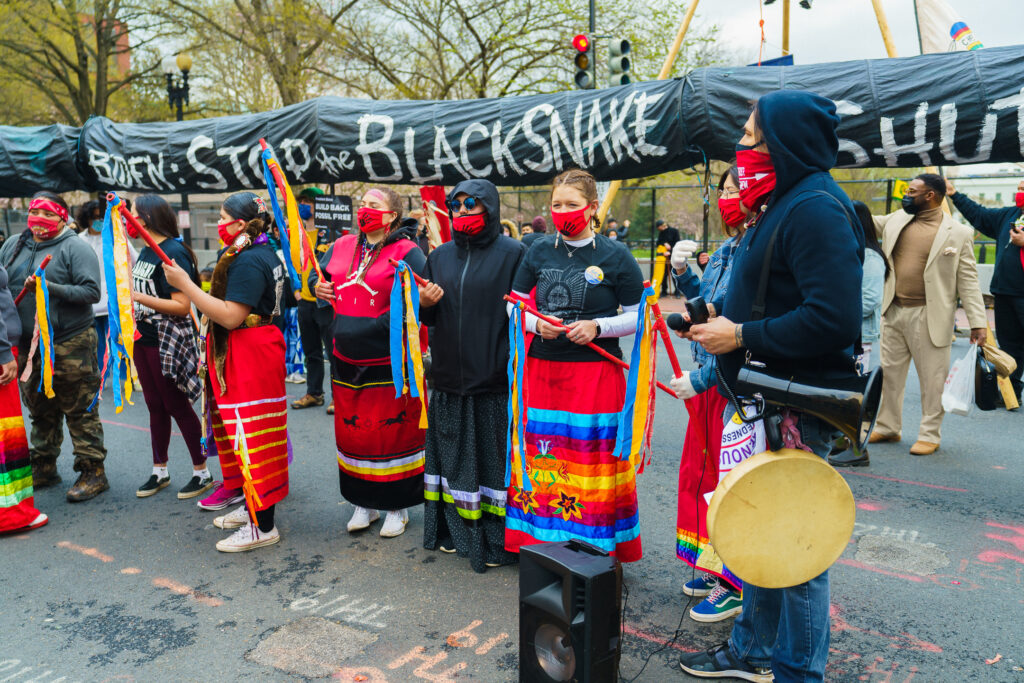 "Fossil fuels not only damage the climate – they wreck the economy by creating climate disasters that cost billions of dollars to recover from," said Jade Begay, Director of Policy and Advocacy at NDN Collective. "The Biden-Harris administration has made major strides to invest in climate solutions, but their simultaneous approval of new oil and gas leases is a slap in the face to those who voted them into office. We need commitments to expand regenerative economies that honor and utilize traditional ecological knowledge. Indigenous and frontline communities are eager to build partnerships between the private and public sectors, and build the infrastructure and capacity needed to end our toxic relationships with extractive industries."
"We're bringing frontline Indigenous warriors from across Turtle Island to NYC, centering place-based solutions that will stop further destruction by extractive industries," said Janene Yazzie, Southwest Regional Director for NDN Collective. "Strengthening Indigenous Peoples' rights is the most effective strategy to combat climate change, foster climate resilience, and build regenerative solutions. We are here to amplify fights like the Biden administration making decisions to protect Chaco Canyon and the Greater Chaco Region – which was only made possible through Diné and Pueblo solidarity. All climate proposals and solutions must be centered in traditional ecological knowledge and be led by Indigenous people if we are to restore right relationship with Mother Earth."
This event will be livestreamed so be sure to follow our Facebook page and subscribe to our Youtube channel to join relatives in the on-going demand of POTUS to #endfossilfuels.
On Friday, September 15th, ahead of the March to End Fossil Fuels, NDN Collective President & CEO, Nick Tilsen, was a panelist on Justice40 from the Frontlines Panel hosted by HBCU Green Fund, Donors of Color, Columbia World Projects, and Columbia University Climate School.
###

NDN Collective is an Indigenous-led organization dedicated to building Indigenous power. Through organizing, activism, philanthropy, grantmaking, capacity-building, and narrative change, we are creating sustainable solutions on Indigenous terms.
TO REQUEST AN INTERVIEW CONTACT
PRESS@NDNCOLLECTIVE.ORG