One of our most dynamic qualities as Indigenous Peoples is that we are survivors. We are fighters, and yet not in the stereotypical sense, but in the manner of deeply cultivated resilience and grit. Over the course of generations, we have developed the tenacity to fight for our communities, to organize under pressure and act.
In 2016, this is precisely what we saw in Standing Rock during the historic fight for water and life in the battle against the Dakota Access pipeline. Today we are seeing a similar energy and mobilization taking place again in the state of North Dakota, this time, to protect the Native American right to vote.
Native Voter Suppression in ND
On October 9, just weeks before critical midterm elections, a North Dakota law was upheld by the Supreme Court which requires all voters provide an ID with a physical address rather than a P.O. box. Though a physical address may seem standard to many Americans, on many rural reservations across the U.S. residential addresses are uncommon and thus many Native Americans instead have a P.O. box address printed on their identification cards.
While North Dakota voters can provide supplemental documentation to indicate a physical address, such as a utility bill, this isn't so straightforward for many Native Americans where there are multiple families and/or adults under one roof, and only one designated head of household on a utility bill. Some Native Americans are essentially considered homeless and therefore cannot provide supplementary documentation to prove a residential address.
This new law not only disproportionately affects Native Americans in North Dakota but can also tip the scales in favor of Republicans where a critical Senate race is on the line. Native Americans nationwide tend to vote for Democrats, and in fact, it was the Native American vote in North Dakota back in 2012 that helped Democratic incumbent Heidi Heitkamp narrowly win the Senate seat over her Republican opponent.
Heitkamp won her Senate seat with a margin of less than 3,000 votes in 2012. In total, there are approximately 20,000 eligible Native American voters in the state of North Dakota today. The Native population, alone, has tremendous power to determine the midterm Senate seat for their state.
For this election, Heitkamp is running against Republican candidate Kevin Cramer, a politician known to scoff at Indigenous Peoples and tribal sovereignty in the deeply conservative state of North Dakota. Political analysts also predict that the North Dakota election could be one of the most critical Senate races in the country as the outcome may determine if the Senate is controlled by the Democrats or Republicans. In turn, this will largely determine American politics for the next two years.
"What North Dakota Republicans did is fire a heat-seeking missile to nuke the Native American vote in their state," Rachel Maddow said recently on her MSNBC show.
Yet notwithstanding legal attempts to suppress the Native vote in North Dakota, tribes have mobilized under great time constraints. Much like they mobilized against the Dakota Access Pipeline, and much like tribes joined in solidarity at the Battle of Little Bighorn, tribes and their allies today have stepped up in force.
Watch Us Organize
Not long after the supreme court upheld the voter ID decision in North Dakota, tribal nations, organizers and allies quickly sprang into action. Here are some of the things they have done to ensure that Native Americans secure their right to vote in the state:
1. Printing Free Tribal IDs with Physical Addresses
All tribes in the state of North Dakota almost immediately began providing free tribal IDs with new physical addresses to their tribal membership. In Turtle Mountain, the tribal chairman signed an executive order making tribal IDs, typically $15, free for a limited time. Demand was so high for the new IDs that their machine overheated and began melting the cards.
2. Issuing Physical Addresses for Those Without
Tribes are also providing tribal members with physical addresses, issued and documented in the form of an affidavit. This method is actually more timely, in fact, than an earlier option suggested by some, which was to call 911 to get a street address issued through their system.
"What North Dakota Republicans did is fire a heat-seeking missile to nuke the Native American vote in their state." @NDNCollective

Tweet
According to Prairie Rose Seminole, a member of the Three Affiliated Tribes and an organizer helping to get out the Native vote, it took her over a year to get a street address issued when attempting the 911 method.
"911 is relatively new in Indian Country," Seminole said in a Facebook Live interview with Dallas Goldtooth. "The advice that went out right away to call 911 to get a street address is more complicated, because it's not always done in the straightforward manner."
3. Providing Rides to the Polls on Election Day
In some parts of North Dakota, a round trip to the polls could be as much as 100 miles, and some tribal members on the reservation may not even have transportation. To address this, organizations like Western Native Voice ND, Four Directions, and tribes themselves are providing transportation to the polls.

4. Online Media and Voting Campaigns
Native Americans in Philanthropy partnered with Mark Ruffalo and Native American comedian Tonia Jo Hall to create the Stand-N-Vote campaign, consisting of video ads encouraging Native Americans to vote. There will also be a Stand-N-Vote benefit concert at the Prairie Knights Casino in Standing Rock on Saturday, October 27, with the Dave Matthews Band headlining along with a line-up of Native American performers.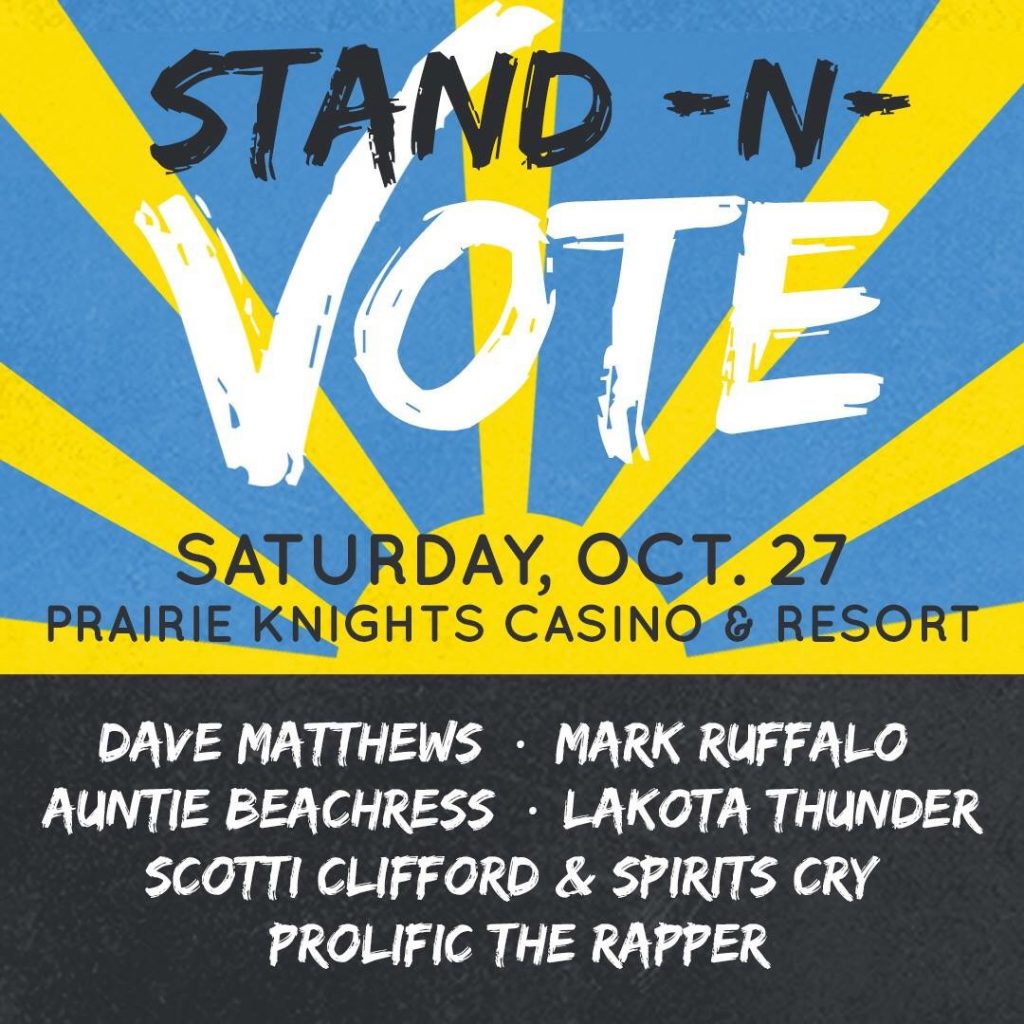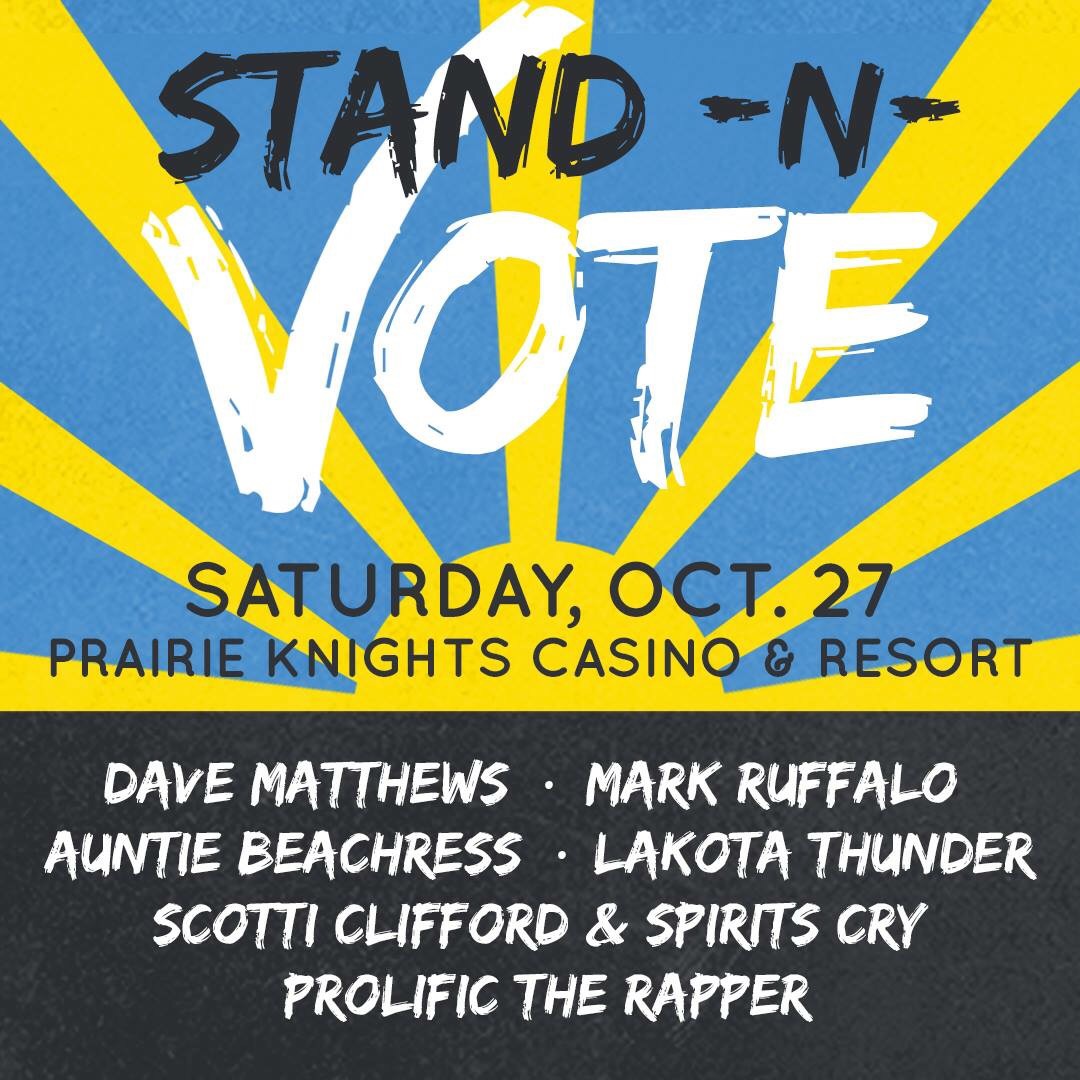 Dallas Goldtooth, Dakota/Diné organizer for the Indigenous Environmental Network, hosted a Facebook livestream conversation with Prairie Rose Seminole on getting out the Native vote. Goldtooth and Seminole discussed topics ranging from Indigenous apprehension to participate in the American political system, to discussing things that organizers are doing today to help Native people get to the polls on November 6.
---
Prairie Rose Seminole, along with many other organizers throughout the state of North Dakota, continues to ready Native American people throughout the state for election day, visiting communities, tribal colleges, and urban areas with large Native American populations, rallying them to use their voice by exercising their right to vote.

The fight is not over, by any means, and this election remains critical.
"Getting people involved at the 11th hour is definitely a task, but we're out here doing what we can," said Seminole. "Nothing can stop us, people. Nothing can stop us."
---