For Immediate Release:
July 18, 2022
Rapid City, SD – Today, in response to recent news that Roe v. Wade was overturned by the Supreme Court of the United States (SCOTUS), NDN Collective released a position paper, The Effects of Overturning Roe v. Wade Through an Indigenous Lens: How Consent, Body Sovereignty, and Self-Determination are the Real Conversation, authored by various NDN Collective staff members across the organization.
The paper provides historical context for the myriad ways in which Indigenous people have had their consent violated through state violence for generations. It outlines the barriers Indigenous people – especially Indigenous LGBTQIA2S+ people – already face in accessing health care including abortion care, and calls for a legal system that ensures individuals have full control over decisions regarding their own bodies.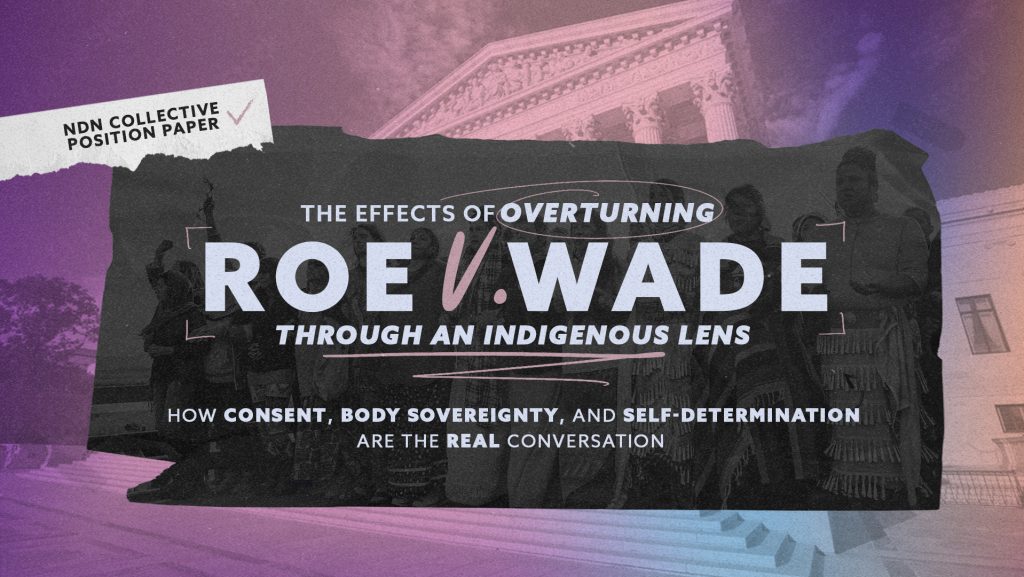 "We live in a country whose governmental values are rooted in theft and control and in our paper, we painfully spell out some of the impacts Indigenous people continue to face due to these immoral practices," said Lycia Maddocks, Political Director at NDN Collective. "From legal sterilization to centuries of rape and unsolved murder, disrespect for our bodies is not a new problem and is one reason why Indigenous people have the highest missing and murdered rates today. Our position is clear: when our right to choose is stolen, it paves the way for those in power to take more and minimize our personhood. This genocidal tactic has always been a top goal of white supremacy. We hope this information educates and empowers people to fight like hell so collectively, we can take back decision making over our bodies."
"We knew this day would come in the current legal and social climates. We have been carefully preparing this position paper, with voices from across our organization weighing in and writing from places of truth, said Kim Pate, Vice President at NDN Collective. "This paper is important because it was designed by our team to deeply explore the potential harmful and intersectional impacts the decision could have across our Indigenous communities. There are unique ways we must come together in power to protect our rights over our bodies and our rights to privacy. The position paper is an important step towards this unity."
"Indigenous Two Spirit and LGBTQIA+ peoples have existed and were highly regarded in our tribal communities since time immemorial, and yet we continue to face colonial violence. This position paper not only outlines the ways in which this harm is perpetuated by the US government and judicial system, but also signifies the urgency for Tribal leaders to utilize their power to protect the rights of gender expansive Indigenous people through our rights to self-govern our Nations and honor our ancestors who fought for these protections pre-colonization, said Steph Viera, Social Media Manager at NDN Collective.
This LIVE discussion features NDN Political Director, Lycia Maddocks, NDN Vice President and Managing Director of NDN Fund, Kim Pate, NDN Social Media Manager, Steph Viera and NDN Senior Communications Associate, Brandi Douglas.
This livestream features coverage of the We Won't Back Down: Bans Off Our Bodies action, occurring on July 19, 2022, in front of the Supreme Court in Washington, D.C. The action demanded access to healthcare in the wake of the overturning of Roe v. Wade.
###
NDN Collective is an Indigenous-led organization dedicated to building Indigenous power. Through organizing, activism, philanthropy, grantmaking, capacity-building, and narrative change, we are creating sustainable solutions on Indigenous terms.
Related Stories:
TO REQUEST AN INTERVIEW CONTACT
CABOT PETOIA,
CLPETOIA@GMAIL.COM