For Immediate Release:
March 30, 2022
Rapid City, SD – Today, on Palestinian Land Day (يوم الأرض), NDN Collective released the Position Paper, "The Right of Return is LANDBACK", authored by NDN Collective's LANDBACK Campaign Team. The paper names NDN Collective's deep commitment to its Palestinian relatives and emphasizes why Indian country should also stand for Palestinian liberation.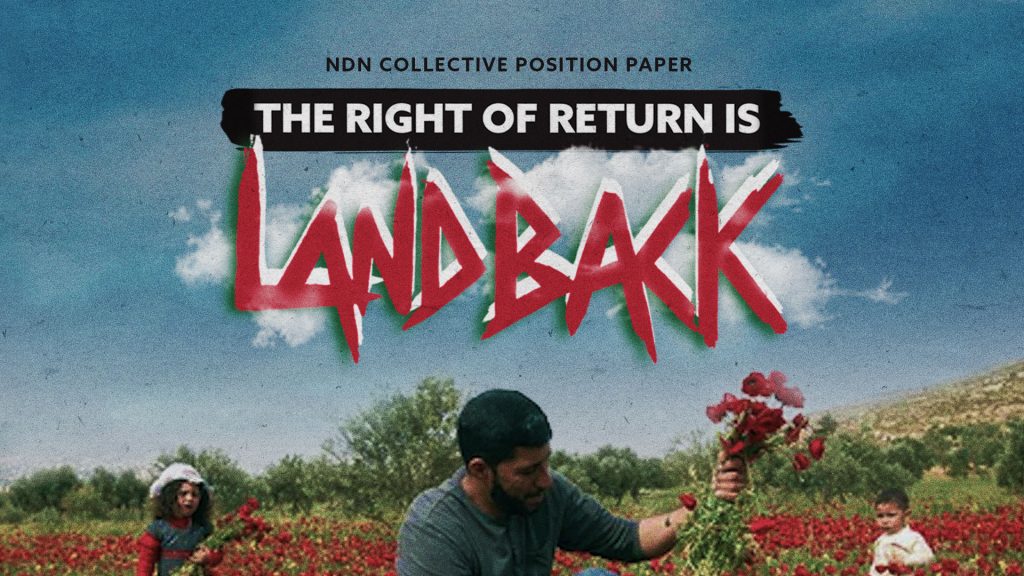 "LANDBACK as a call from the people has existed since the first confrontation with settler colonialism. It is an international call, one that is understood anywhere people are fighting back against ethnic cleansing, dispossession, and domination. LANDBACK is a demand that gets to the heart of colonial violence and it is one that gives us a dignified pathway to freedom. For 74 years, we Palestinians have resisted oppression under a brutal israeli occupation and the zionist movement that targets us inside and outside of our homeland. 74 years since our Catastrophe, our demands have never dwindled: the Right of Return for every Palestinian and full liberation of our homeland. Today on Land Day (يوم الأرض), we uplift the sacrifices that our people have made and continue to make so that we can fight for a liberated future and a dignified present. As Palestinians living in exile on Turtle Island, we have learned so much from our siblings in struggle and are grateful for their inspiring courage in the face of so much adversity. We commit to deepening our relationships and co-resistance against the same oppressive forces that seek to diminish our people power and to building a future together where the land and the people are free," said Nadya Tannous, NDN Collective LANDBACK Organizer.
"Since day 1 of the LANDBACK Campaign, I made it a campaign priority to be in solidarity with our Palestinian Relatives. It was Palestinians who showed up at Standing Rock and selflessly shared how to run a boycott campaign and it was Palestinians who sat with me as I cried, reflecting on how colonization has harmed my People. The moment I heard the stories about the intentional burning of olive trees, much like the killing of our buffalo to break our spiritual connection to our 4 legged relatives and the land, I knew this struggle would be my struggle. We are 500 years into colonization, Palestinians are 74 years in. When they win and return to their homelands, we as Native People are closer to our freedom, liberation and sovereignty," said Krystal Two Bulls, NDN Collective LANDBACK Campaign Director.
"As a Diné person from Ganado, when I first went to Palestine in 2018 and saw the similarities regarding occupation, police and military violence, checkpoints, separation of children, and extraction of resources, all perpetuated by imperialist and colonial forces, it was eye-opening. Due to those experiences it's an honor that we get to write and take stance with our Palestinian relatives to stand in solidarity against settler colonial violence. This paper was created by Indigenous people for our communities to highlight the interconnectedness of our collective experiences around violence and victory," said Demetrius Johnson, NDN Collective LANDBACK Organizer.
Read the Full Paper Here
watch the full Palestinian Land Day livestream discussion
###
NDN Collective is an Indigenous-led organization dedicated to building Indigenous power. Through organizing, activism, philanthropy, grantmaking, capacity-building, and narrative change, we are creating sustainable solutions on Indigenous terms.