For Immediate Release:
July 19, 2022
Washington, DC – This week, NDN Collective staff members are meeting with members of Congress, the White House, and government agencies to uplift Indigenous solutions to our world's most pressing issues. The team has a packed schedule, uplifting urgent policy solutions from a decolonial point of view to the following offices, departments, and Congressional members:
The White House
Members of the Department of Interior
Members of Department Of Energy – Indian Energy Policy & Programs
USDA – U.S. Forest Service, Office of Tribal Relations
Senate Committee on Small Business
Sen. Elizabeth Warren (D-MA)
Cong. Cori Bush (D-MO)
National Park Service
Sen. Alex Padilla (D-CA)
Sen. Mazie Hirono (D-HI)
Sen. Dick Durbin (D-IL)
Cong. Sharice Davids (D-KS)
Sen. Mike Rounds (R-SD)
Cong. Betty McCollum (D-MN)
Sen. John Thune (R-SD)
Sen. Kevin Cramer (R-ND)
Sen. Crapo (R-ID)
Sen. Ben Ray Lujan (D-NM)
Rep.Kelly Armstrong (R-ND)
Sen. Jon Tester (D-MT)
Rep. Jared Neguse (D-CA)
Cong. Tony Cardenas (D-CA)
Rep. Blaine Luetkemeyer (R-MO)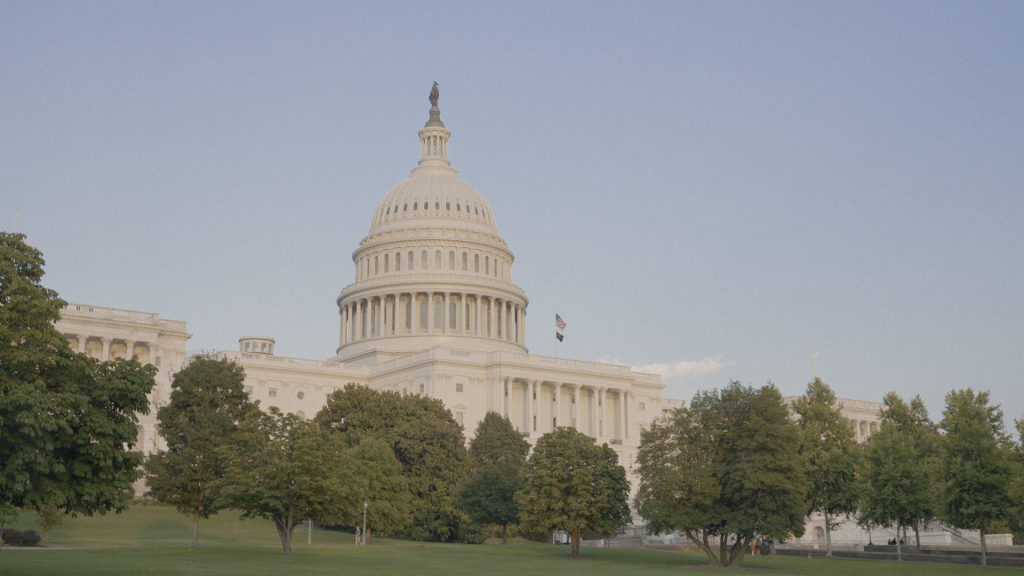 "As an organization guided by three pillars – to defend, develop, decolonize – it's important to meet with elected officials to educate them on how we're building and resourcing Indigenous self-determination. We need elected representatives to understand that we are advocating for a shift from an era of consultation to one of consent, because Indigenous-led solutions are what's best for our communities and our planet," said Janene Yazzie, NDN Collective Southwest Regional Director.
"Every day, members of Congress make laws and decisions that impact the daily lives of Indigenous people and our lands. Federal agencies have been created to implement these laws and mandates. We are here to hold these systems accountable and to bring voice to our struggle, to share what we are fighting to protect, as well as the future we are working towards. We do so unapologetically, rooted in the movements and values we have worked hard to build. As we fight for the return of our lands and to create climate solutions, it's important that these decision makers hear directly from those of us on the ground," said Nick Tilsen, President and CEO of NDN Collective.
"We are here for the first time on Piscataway territory to meet with Senators, Congress people, and representatives. We come here with the understanding that actual change will not happen behind these doors but within our communities, amongst our people and alongside other colonized people, globally. We also come here bearing the responsibility of making demands that reflect the will of the grassroots, and to develop pathways for lawmakers who have inherited harmful policies to change them. Every day, our communities are impacted by laws that serve as barriers on the road to LANDBACK as the full reclamation of land – laws that both criminalize and disempower our people. We recognize advocacy as one tactic in our toolbox, and that policy change, delivered through the wins of daily organizing on the ground, can help change this legal landscape. Our goal is clear and simple: We will get our LANDBACK," said the NDN Collective LANDBACK campaign team.
###
NDN Collective is an Indigenous-led organization dedicated to building Indigenous power. Through organizing, activism, philanthropy, grantmaking, capacity-building, and narrative change, we are creating sustainable solutions on Indigenous terms.
TO REQUEST AN INTERVIEW CONTACT
CABOT PETOIA,
CLPETOIA@GMAIL.COM