FOR IMMEDIATE RELEASE:
DECEMBER 17, 2020
Nationwide — Following news that President-elect Joe Biden has appointed Congresswoman Deb Haaland as the Secretary of the Department of the Interior, NDN Collective extends their congratulations. Earlier this month in a joint letter to the Biden-Harris transition team, NDN Collective and a coalition of 131 national organizations urged the Biden Administration to nominate Representative Deb. Haaland to lead the Department.
Today NDN Collective issued the following statement:
"We congratulate Rep. Haaland on this historic appointment. Today is more than history making. Haaland's appointment gives us a voice in a Department that has long been responsible for our exploitation. As Secretary of the Department of the Interior, she will have the power to stand up to the corporations who have been influencing the Department for generations and causing the destruction of Indigenous lands," said Nick Tilsen, President and CEO of NDN Collective. "We are excited by Rep. Haaland's appointment and look forward to having a representative who has insight into Indigenous issues and priorities, so Land Back organizers can uplift our policy solutions and help fuel systematic change that benefits all people and the planet."
"We wholeheartedly support this historic nomination of Rep. Deb Haaland. Representation means progress, and it is important to see people in these roles that look like us, share our lived experience, and who honor Indigenous self-determination. Even more importantly, it is essential that progress also translates into power," said Korina Barry, NDN Action Managing Director. "Our movement has been hurt by the Trump administration and its policies, and we want to ensure our agenda is heard by the new administration. We expect to see Haaland lead on issues that are important to us, such as returning land back to our people, combating the climate crisis, and tackling the epidemic of missing and murdered Indigenous women. We look forward to her bringing a breadth of experience to this appointment by elevating these issues to the forefront of our national discourse."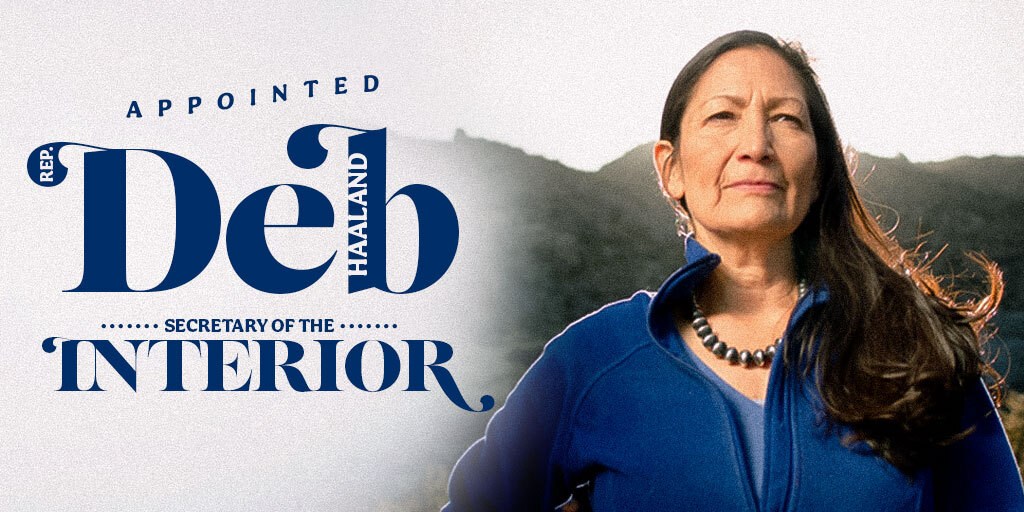 "Deb Haaland is the right person in this pivotal moment to lead the Department of the Interior," said Julian Brave NoiseCat, Senior Media Fellow, "She has both lived and worked in Indian Country, with experience serving Native communities as a tribal administrator and working as an organizer for tribal voting rights, and has key relationships with tribal governments, environmental organizations, and other key DOI stakeholders. She is one of the most well-respected Native leaders in the country, is uniquely qualified for the position, and has attracted broad and bipartisan support. We celebrate this moment today and look forward to seeing her progress in her new role."
"Today proves that representation matters. We send our congrats to Rep. Deb Haaland. Not only is this appointment symbolically important, it represents the future possibilities and seismic change," said Jade Begay, Climate Justice Director of NDN Collective. "She walks into a big job. Under the Trump administration, environmental laws were significantly weakened over the last four years. Not only do we hope to see Haaland reverse some of these decisions, we know she will champion protecting public lands, addressing the climate crisis, and serving the needs of Indigenous communities — all while ensuring that Native voices are front and center throughout the department."
###
About NDN Collective
NDN Collective is an Indigenous-led organization dedicated to building Indigenous power. Through organizing, activism, philanthropy, grantmaking, capacity-building, and narrative change, we are creating sustainable solutions on Indigenous terms.