For Immediate Release:
June 14, 2022
Rapid City, SD – NDN Collective, an Indigenous-led organization dedicated to building Indigenous power, announces the second year of its open application period for the Community Self-Determination Grant offered to Indigenous communities throughout Turtle Island, also known as North America. This includes Tribes, First Nations, Inuit, Metis and Indigenous-led nonprofit organizations across the post-colonial borders of the continental U.S., Canada, Mexico, Islands of Hawaii, Puerto Rico, American Samoa, Guam, the Northern Mariana Islands, and the U.S. Virgin Islands. Community Self-Determination Grants are intended to support community-based and community-driven sustainable solutions in all three of NDN Collective's core strategies to Defend, Develop and Decolonize.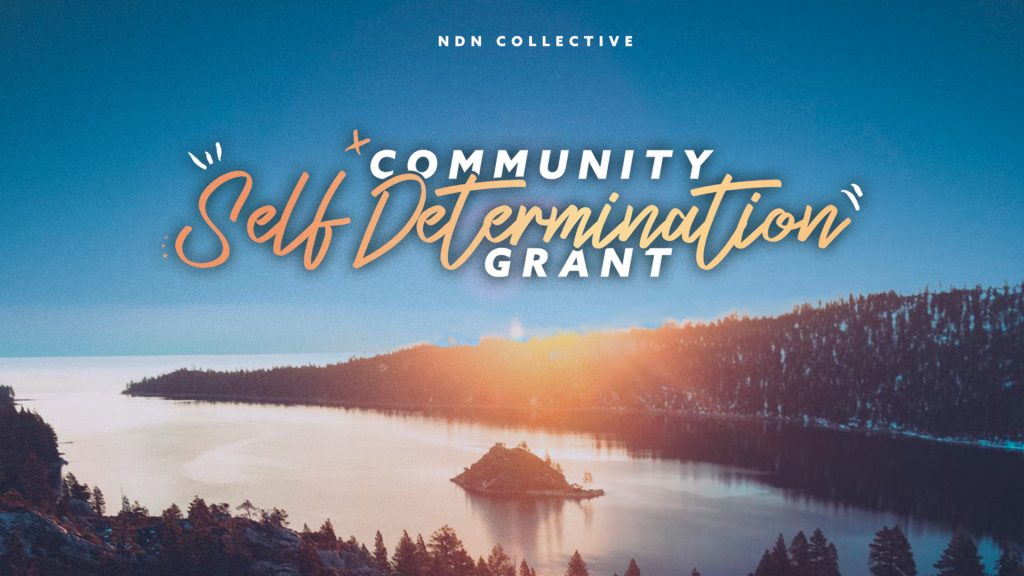 Whether it's protecting land and water, developing sustainable food systems or revitalizing Indigenous languages and lifeways, Community Self-Determination Grants support community priorities on community terms. "We were able to visit some of the 2021 grantee partners, and the impact we witnessed in communities was extraordinary" said Tina Kuckkahn, NDN Collective Director of Grantmaking. "We visited the Keres Children's Learning Center at Cochiti Pueblo in May. Elders were teaching the children how to plant traditional corn in a prayerful way as a regular part of their school day. Hearing preschoolers speak in their own language, with first-language teachers within their ancestral homelands, affirmed one of our guiding concepts at NDN: 'what if our best days are ahead of us?'"
Significant, flexible, multi-year funding will include the infusion of general operating support, power and capacity building, capital and holistic support for comprehensive initiatives, specific programs and community development based on regenerative principles. Grants of up to $100,000 per year, with commitments up to two years, are available to Indigenous-led organizations working in the defense, development, or decolonization of Indigenous Peoples and the planet. The maximum grant award is $200,000 over two years.
"Community self-determination calls on all of us to think creatively and innovatively, to address root causes of our struggles and design solutions that are shaped by and embraced by our own people, our own communities," said Gaby Strong, NDN Foundation Managing Director. "It's an honor to resource our people in this way. This is just the beginning."
To apply, applicants must first complete a letter of interest (LOI) which can be accessed on the NDN Grants & Fellowship page on the NDN Collective website. $4 million in funding is available, and while national organizations are eligible to apply, NDN prioritizes community-based efforts.
Letters of Interest (LOIs) are due by 5pm CST on Tuesday, August 1, 2022.
---
For more information and to apply, visit:
For English-speaking locations, contact Janet Maylen, NDN Foundation Program Officer at [email protected] or Kami-Rae James, NDN Foundation Program Officers at [email protected].
For French-speaking locations, contact Dr. PennElys Droz, NDN Foundation Program Officer at [email protected] (For residents of Canada and French-speaking Applicants)
For Spanish-speaking locations, contact Nicole Yanes, NDN Foundation Program Officer at [email protected].
For general grant information, contact Tina Kuckkahn, NDN Foundation Director of Grantmaking at [email protected]
For Technical Support contact Tiana Begay at [email protected]; Billie White at [email protected]; or Crystal Standing Bear at [email protected].
For capacity building support, contact Dakotah Jim at [email protected].
###
NDN Collective is an Indigenous-led organization dedicated to building Indigenous power. Through organizing, activism, philanthropy, grantmaking, capacity-building, and narrative change, we are creating sustainable solutions on Indigenous terms.