for immediate release:
May 17, 2021
Rapid City, SD — In response to the escalation of lethal force used by the Israeli government in Palestine, NDN Collective released the following statements:
NDN Collective calls upon the Biden Administration to pull U.S. support for the Israeli policies of apartheid and occupation that are strategically violent and ultimately uphold Israeli aspirations of complete colonization of Palestine. We also call upon Congress to object to this Administration's approval of the sale of $735 million in arms to Israel, thus fueling the continued genocide of our Palestinian relatives.
"My thoughts, energy and prayers are with my Palestinian Siblings and Relatives. As Indigenous Peoples of Turtle Island, we must continue to stand together to call this what it is: genocide and zionist settler colonialism, for which ethnic cleansing, apartheid and land theft are key," said Krystal Two Bulls, NDN Collective's LANDBACK Campaign Director. "We know all too well the impacts that colonialism, genocide and land theft had on our families, communities and Nations, and the U.S. is complicit in this."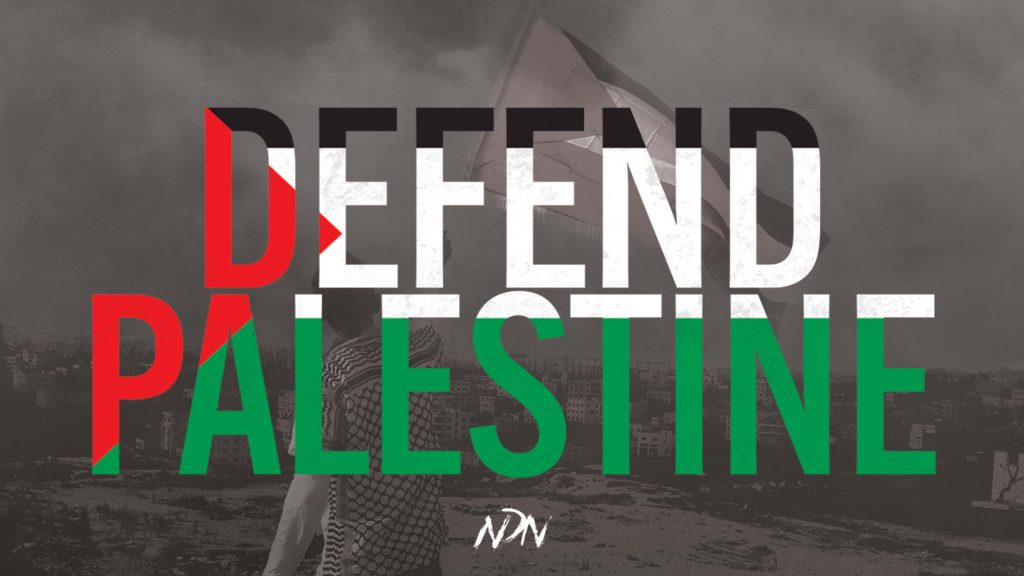 "We must demand that our government stop providing military aid and funding to so-called Israel. We must continue to speak our support aloud in public and support the civil society call for boycott, divestment and sanctions (BDS)," said Two Bulls. "We must continue to stand shoulder-to-shoulder with our Palestinian Relatives in the streets and on every organizing front there is. Palestinians showed up for us when we first started approaching the United Nations. They showed up for us at Standing Rock. Palestinian Aunties have taught me and guided me. So, I will continue to carry their struggles as my own and fight for their return to the land. From the River to the Sea, Palestine will be free."
"We at NDN Collective recognize how utterly important it is to stand with our Palestinian relatives as they face forced removal, continued violence and genocide at the hands of the Israeli Government. These long-standing acts of erasure are blatant examples of the violent effects of zionist settler colonialism," said Nick Tilsen, NDN Collective President and CEO. Tilsen, Oglala Lakota, is also Jewish from his father's side of the family. "From one Indigenous Peoples to another, the fight for land back, self-determination and sovereignty will always be embraced as a collective struggle, wherein we continue to leverage our power as people who live within these colonial borders, existing despite them."
"I was born in the West Bank, where Palestinian neighbors took care of my mother and me with great care and kindness. My heart hurts for the loss of life and homes of our Palestinian relatives. We want them to know they are not alone, that we are putting our prayers into action by demanding that the policies of apartheid and occupation be eradicated," said Princess Daazhraii Johnson, Filmmaker and NDN Collective Board Member.
As of today, Congress still has three days to object within the expedited 15-day window it is afforded to do so. NDN Collective joins the popular demand of the US government to terminate its military aid to Israel at $3.8 billion a year and we amplify the call to divest in violence abroad and invest in justice for our communities.
###
NDN Collective is an Indigenous-led organization dedicated to building Indigenous power. Through organizing, activism, philanthropy, grantmaking, capacity-building, and narrative change, we are creating sustainable solutions on Indigenous terms.
Contact: Cabot Petoia, clpetoia@gmail.com, 828-899-9239