For immediate release: April 17, 2023
Rapid City, SD – Today, NDN Collective announces the open online grant portal for the Community Action Fund (CAF) which will provide modest, urgent response funding to direct action and frontline organizing across Turtle Island (North America) and related Island Nations, which includes the United States, Mexico, Canada, Borikén/Puerto Rico and the U.S. "Territories": American Samoa, Guam, the Northern Mariana Islands and the U.S. Virgin Islands.
NDN is deeply committed and connected to the Indigenous movement space and what is happening on the ground for Indigenous activists. The Community Action Fund (CAF) will help further Indigenous Peoples' mobilization strategies as it relates to the defense, development, and decolonization of our peoples and the planet. $500,000 is available to support such efforts in 2023 with grants averaging $15,000 and ranging up to $30,000.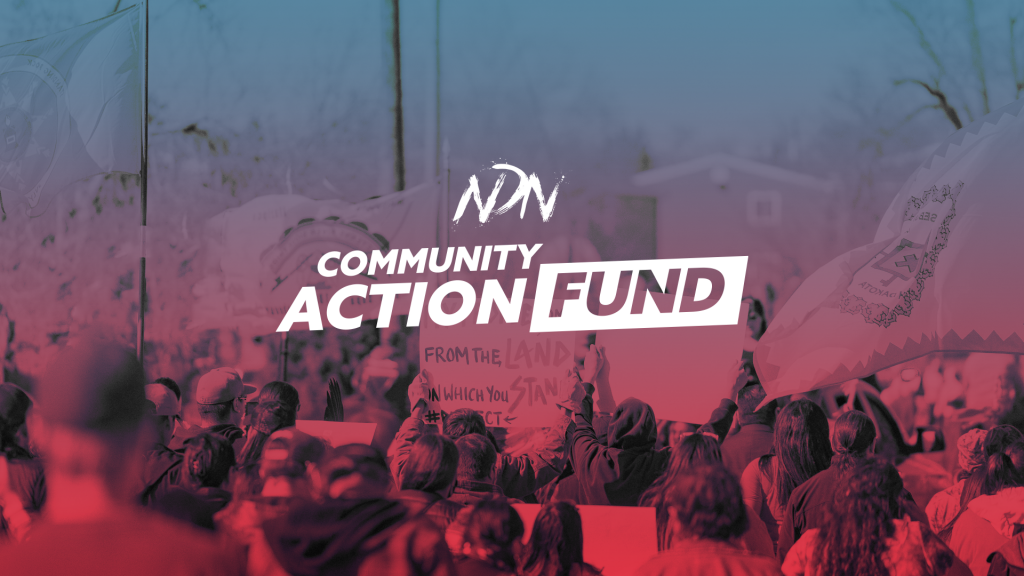 "The Community Action Fund provides grants to groups and individuals most impacted by local challenges, ensuring that resources and decision-making ability lies with those most affected by the results, and most equipped to solve pressing challenges and address imminent threats," said Gaby Strong, NDN Foundation Managing Director. "We prioritize frontline, grassroots and community-based efforts that defend our people, communities and Nations against negative resource extraction that poisons our people, pollutes our water, destroys our lands, contributes to climate change and violates our human rights."
"It is important to build Indigenous Power by supporting organizing and movement building work through Community Action Fund because resources are limited or non-existent in traditional grantmaking when it comes to defending Indigenous Peoples, communities, and Nations on the frontlines. We need to uplift the amazing and powerful work that frontline grassroots organizers are doing if we want to continue to shift these colonial systems," said Kami-Rae James, NDN Foundation Program Officer.
CAF will support efforts that include community organizing, amplification of community voices, and a wide variety of tactics imperative to shifting the political and financial systems that are impacting Indigenous communities. This might include climate justice and racial equity efforts, challenging the extractive industry, accelerating the just energy transition in Indigenous communities, healing justice work within the movement, and training the next generation of community organizers.
The Community Action Fund grant is available on an ongoing basis, as funds are available, April 17 – October 31st 5:00p.m. CT.
###
NDN Collective is an Indigenous-led organization dedicated to building Indigenous power. Through organizing, activism, philanthropy, grantmaking, capacity-building, and narrative change, we are creating sustainable solutions on Indigenous terms.
TO REQUEST AN INTERVIEW CONTACT:
Related stories:
Blog | NDN Collective Announces Community Action Fund Grant Partners | 12.15.22
Blog | NDN Collective Announces "Community Action Fund" for Indigenous Frontline Organizers | 4.22.22