Celebrating Native CDFIs Advancing Financial Recovery of Local Economies
Oweesta Corporation (Oweesta) and NDN Collective continue to stand in solidarity with Indigenous communities who remain uniquely affected by the COVID-19 pandemic. Together as an Indigenous-led partnership, we are awarding a combined $1,250,000 in grants to 25 Native CDFIs through our COVID-19 Grant Program. These Native CDFIs will further their roles as the economic engines for financial sovereignty in Indian Country through the COVID-19 Grant Program.
These organizations have been integral in the sustaining of Indigenous businesses across the United States, from Alaska to Hawaii to Maine. When stay-at-home orders and closures were first issued, Native CDFIs quickly adapted to the emerging needs in their communities; they provided emergency relief capital, supported local businesses adapt to unforeseen supply chain issues, and offered refinancing terms for new and outstanding loans. Knowing that sustaining is not enough, they are also pivoting their business operations and policies to help their communities flourish for a new and better normal.
What's a Native cdfi, and what are they doing during the COVID-19 Pandemic?
Learn more in the video below:
NACDC Financial Services based in Montana is one such CDFI who has creatively worked with their 600+ clients to ensure no business has had to close. Tourism is a main source of income for several businesses on the Blackfeet Reservation, one of the seven reservations NACDCFS services. Following the closure of the East Glacier Park, many businesses, also clients of NACDCFS, experienced significant financial loss. NACDCFS worked with their clients individually to determine repayment plans and terms and connected them with additional capital resources. They will soon move their technical assistance and trainings virtually in order to help small businesses, agriculture, and homeownership clients succeed.
Hopi Credit in Arizona, similarly, saw many self-employed Tribal members, like artists and food vendors, financially suffer from the cancellation of the Santa Fe Indian market, powwows, and other events, and realized the products and services they traditionally offered weren't enough for the community. They offered a small business emergency loan and worked with new and existing clients to defer loans payments. Hopi Credit will use the funds to hire more staff to begin realizing their long-term vision of developing much-needed economic infrastructure on the reservation in an effort to keep money circulating within the community.
Overall, the grantees will be essential to the financial recovery of local economies. Oweesta and NDN Collective's joint commitment to long-term community resilience and sustainability will be furthered by the work and dedication of Native CDFIs.
Use this interactive map to learn more about our grantees.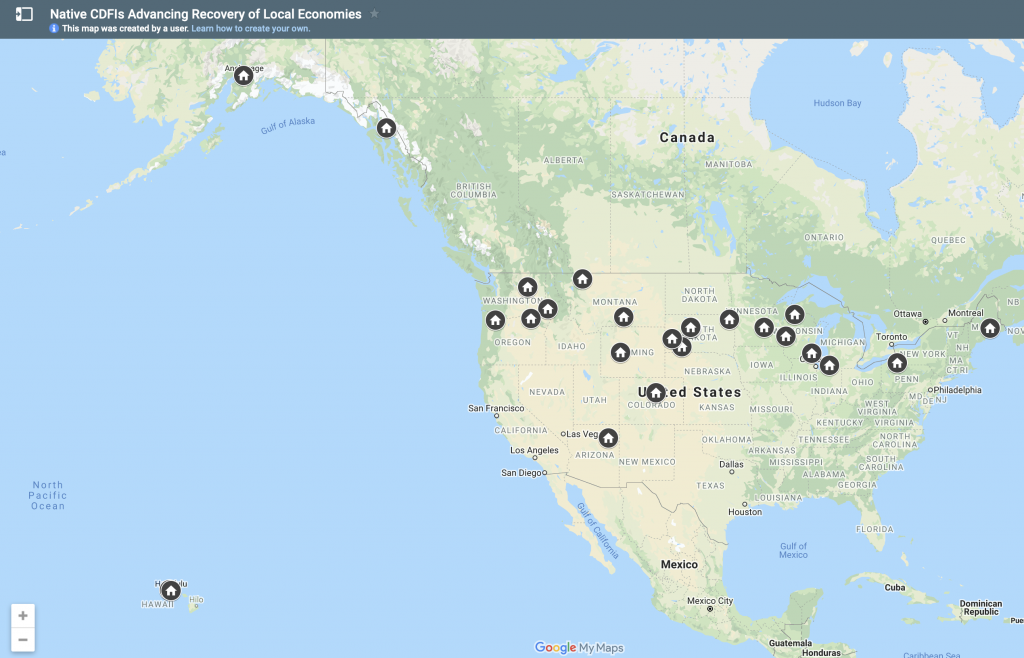 Here is a complete list of all 25 CDFI Grantees
Cook Inlet Lending Center
Council for Native Hawaiian Advancement
First American Capital Corporation (FACC)
First Nations Community Financial (FNCF)
Four Bands Community Fund
Four Directions Development Corporation
Homestead Community Development Corporation
Hopi Credit Association
Lakota Funds
Mni Sota Fund
NACDC Financial Services, Inc
Native American Bank
Native American Development Corporation
Nimiipuu Community Development Fund
Nixyáawii Community Financial Services
Northwest Native Development Fund
Affiliated Tribes of Northwest Indians Economic Development Corporation
Seneca Nation of Indians Economic Development Company
Sisseton Wahpeton Federal Credit Union
Spruce Root, Inc.
Akiptan, Inc
Wind River Development Fund
Wisconsin Native Loan Fund
Black Hills Community Loan Fund
Chi Ishobak, Inc
This COVID-19 CDFI Grant Program is part of NDN Collective's NDN COVID-19 Response Project. Another announcement will be forthcoming on NDN's final round of COVID-19 Transition & Resilience Grantees.