A message from Krystal Two Bulls, LandBack Campaign Director
Greetings Relatives,
I hope this email finds you in good health and spirits. We, the LANDBACK team, have so much gratitude for all your support on Indigenous Peoples' Day and the launch of the LANDBACK Campaign.
Thank you to everyone who joined us in person or virtually as we gathered and shared a meal at Memorial Park, then marched through Downtown Rapid City, SD. Together we stopped at the Pennington County Jail and prayed for our incarcerated Relatives.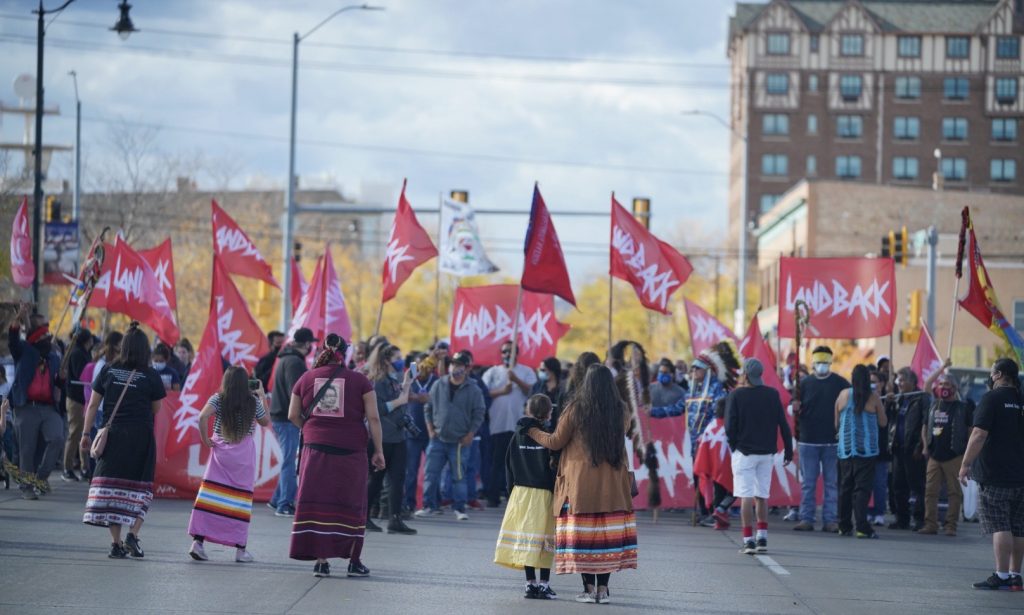 After the march we rallied and listened to speakers, Remi Bald Eagle, Lafawn Janais, Philip Whiteman Jr, Mark Tilsen, The Cheyenne River Grassroots Collective, Chase Iron Eyes, Chante Heart, Peri Pourier, Ernest Weston, and our remote guest Ashley McCray who shared how their current work aligns with LANDBACK.
We hope everyone enjoyed the concert and teaser to the LANDBACK Album! The artists invested so much love, energy and time into this project and we can't wait until we can release the entire album in November for Native American Heritage Month.
If you missed the live stream, you can still watch and join the power of the day

here

.
In NDN Collective's LANDBACK manifesto we acknowledged that LANDBACK "is a long legacy of warriors and leaders." Before our campaign's launch to connect, amplify and resource LANDBACK actions, Indigenous people have risked their lives, faced arrest and have been arrested in defense of the land.
In the last months along the so-called United States/Mexico border, people from the Kumeyaay Nation have prayed as federal agents built barricades against them, and have faced attacks by white supremacists as they defended their territories from the destruction of the border wall.
While we marched in Rapid City on Indigenous Peoples' Day, our Oo'dam relatives were tear gassed and shot with rubber bullets by United States federal forces. In their press release before there action, the O'odham Anti Border Collective told the world that they blocked the border patrol check point in peace and prayer and said, "Everyday is Indigenous People's Day, and we are here to remind the world that this is, was, and always will be Indigenous O'oodham land, and we will do what is necessary to protect it."
In the time since Indigenous Peoples' Day, in so-called Canada, the Mi'kmaq people are being attacked by colonizers who are destroying their property, and livelihoods. Junngirldecolonized, who's at the frontlines of this struggle, tells us:
"They[commercial fishermen] are doing anything to try to stop Mi'kmaq fishers who've been fishing and traveling the bay for thousands of years. They've set a boat on fire. They set a car on fire, they trapped 2 Mi'kmaq fishermen inside the pound, threw rocks at their vehicles. They've been saying racial slurs, gathering in angry mobs and harrassing Mi'kmaq people. Literally saying the most disgusting things. They've been nailing boards with the intention of popping our tires."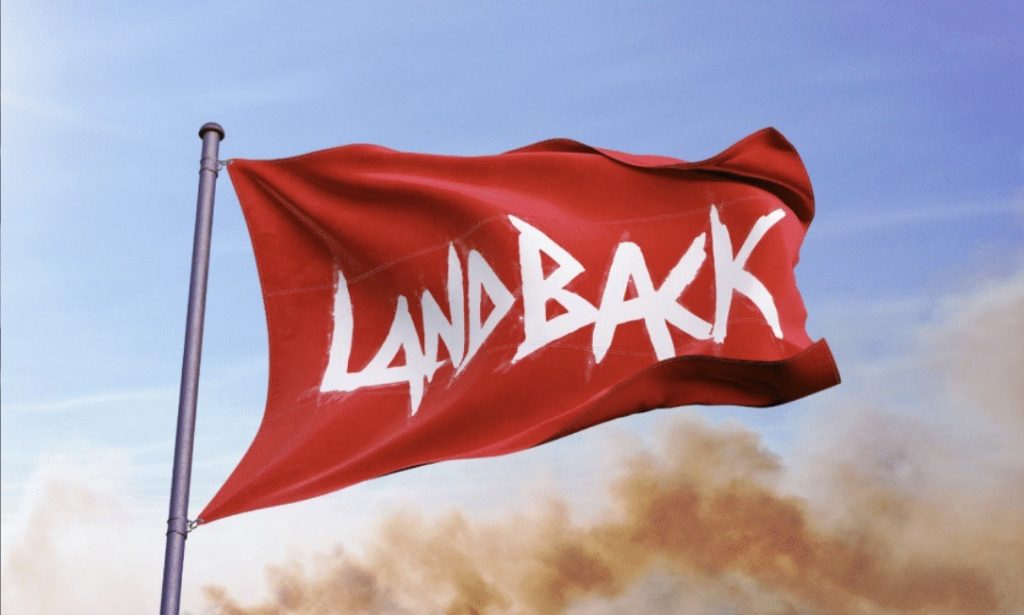 While the Mi'kmaq continue to practice their traditional ways in the face of constant settler violence, in Rapid City, South Dakota, Camp Mni Luzahan has been established by Indigenous volunteers who've been patrolling Mni Luzahan creek to support unhoused relatives. They set the camp under the banner "#LANDBACK for our unsheltered relatives.
These are only a few of the actions that our relatives have taken and are currently taking.
LANDBACK is happening and it is an honor to step into a long legacy of organizing and sacrifice with the LANDBACK Campaign as a mechanism to connect, amplify and resource the LANDBACK movement and the communities that have been fighting to reclaim stewardship of the land.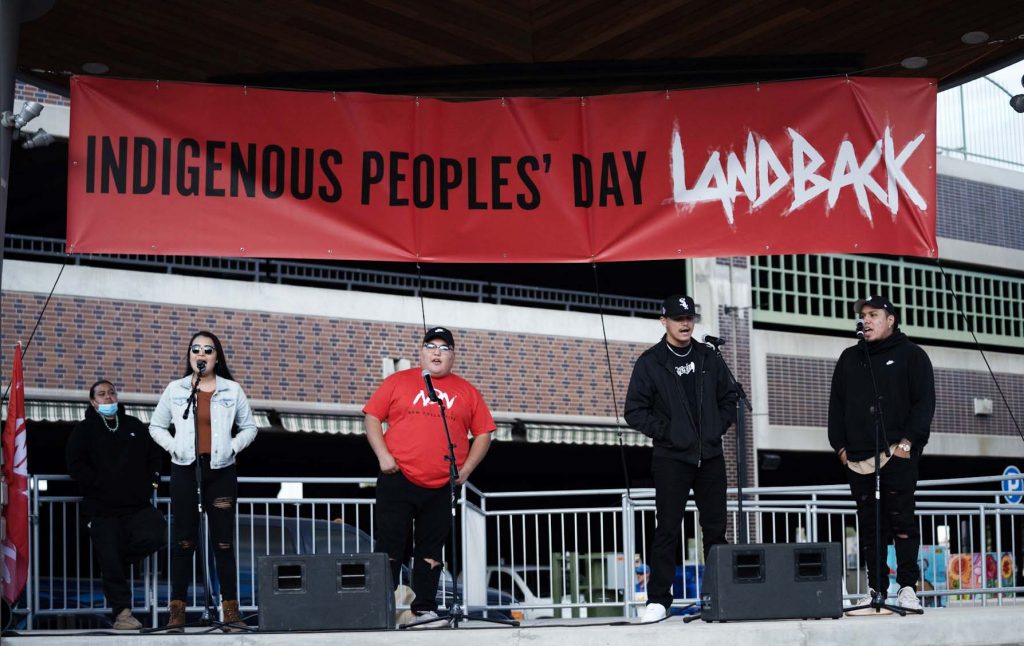 LANDBACK is also a political framework that allows us to deepen our relationships across the field of organizing movements working towards true collective liberation. It allows us to envision a world where Black, Indigenous and POC liberation co-exists. LANDBACK is our political, organizing and narrative framework.
4 LANDBACK Campaign demands:
Dismantle white supremacy structures that forcefully removed us from our Lands and continue to keep our Peoples in oppression.

Bureau of Land Management, National Parks Service

Defund white supremacy and the mechanisms and systems that enforce it and disconnect us from stewardship of the Land.

Police, military industrial complex, Border Patrol, ICE

Return- All public lands back into Indigenous hands.
Consent -Moving us out of an era of consultation and into a new era of policy around Free and Prior Informed Consent.
Follow the NDN Collective for upcoming LANDBACK updates.
Please continue to support in these ways:
Again, we thank you for your continued support and send our gratitude to you.
Néa'eše / Pilamaya (Thank you),

Krystal Two Bulls, Northern Cheyenne & Oglala Lakota
Director of the LANDBACK Campaign