There is a heaviness that is painfully indescribable among First Nations people and Indigenous communities across Turtle Island– This, after news quickly spread on the horrific discovery of a mass grave of 215 Indigenous children at Kamloops Indian Residential School in British Columbia.
The discovered bodies of 215 children should alarm anybody, and yet, when those bodies are of Indigenous children in a hidden mass grave at an Indian boarding school, the pain, the aguish, and even anger among Indigenous communities is so palpable, so thick, that an appropriate response seems to allow that pain to exist, be present with it, and grieve deeply.
For Indigenous people who continue to endure active erasure in our own lands, and as children and grandchildren of Indigenous parents, grandparents and ancestors who attended and survived Indian boarding and residential schools, this most recent news of yet another slice of hidden genocide cuts deep. Our rage is dignified and our continued calls for justice, beyond righteous.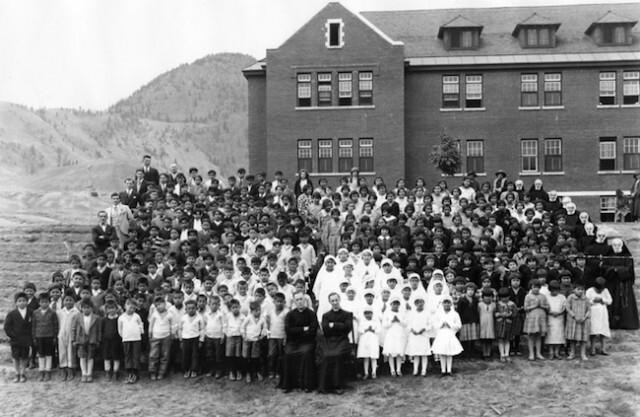 To our relatives north of the medicine line, or the imaginary colonial boundary separating the so-called United States and Canada, our hearts grieve deeply with you. We are relatives in this struggle against the ongoing colonization of our lands, our people, and amid an ongoing struggle to surface the atrocities of our people so that we can collectively heal.
We hold space for the pain in remembrance of all of the babies who were deprived of so much more than a proper burial– they were deprived of love, of justice, of basic human dignity, and their families, deprived of ever knowing the fate of their beloved children. Those 215 babies and countless others were all of our babies, and at the same time, they were our grandmothers and grandfathers. They were our ancestors.
As hidden atrocities continue to inevitably surface in the brutal settler states of Canada and the United States, the grieving often feels constant among our communities. Sometimes, the truth of our hidden genocide surfaces, and at the behest of your own Indigenous people calling for our histories and lived realities to be seen. And other times, the brutal details of unknown or lesser known atrocities emerge without much warning, stopping us in our tracks, commanding our attention and commanding our tears.
Surviving genocide does something to your spirit– As survivors and descendants of survivors, we grieve, and then we organize forward, carrying with us the hopes and dreams of our ancestors. We push forward and in a way that deeply honors our past, embraces the present, and cultivates hope for a liberated future.
We often speak of walking with the courage of our fiercest warriors and matriarchs. More and more, we recognize the medicine of walking with the tenacity and gentle courage of even the smallest children who endured heartbreak and pains unimagined, and many who never survived. Their lives were not in vain. Their heartbeats, all 215 of them, beat within all of us. May their spirits enjoy even the slightest bit of liberation, happiness and joy as we remember them and fight for continued justice in their honor.
Read NDN Collective's Statement in Response to the 215 Children found in Kamloops.