Life amid the COVID-19 pandemic has challenged us all in unprecedented ways, and even still, we are coming together in strength and community. During these extraordinary times, Indigenous people throughout Turtle Island have had no choice but to draw upon our ancestral resilience and mobilize for the sake of our communities, our Nations, and the collective future of humanity.
The Native Americans & COVID-19 Town Hall was organized to bring us all together in this same fashion, to continue drawing strength from each other, and to provide time and space to put our minds together in order to envision a vibrant, transformative future even during these challenging times. This town hall was part of IllumiNative's #WarriorUp campaign which works to shine a light on the impacts and needs resulting from COVID-19 in Indian Country.
Organized by IllumiNative and co-hosted by the NDN Collective and Indian Country Today, this event brought together a powerful line-up of Indigenous leaders, professionals, and organizers who have long had their boots-on-the-ground in Indigenous communities, not just during these challenging pandemic times, but long before that. From Congressional Representatives Deb Haaland and Sharice Davids, to Navajo Nation President Jonathon Nez, to NDN Collective's own President and CEO Nick Tilsen, leaders from all corners of Indian Country came together in solidarity during the town hall.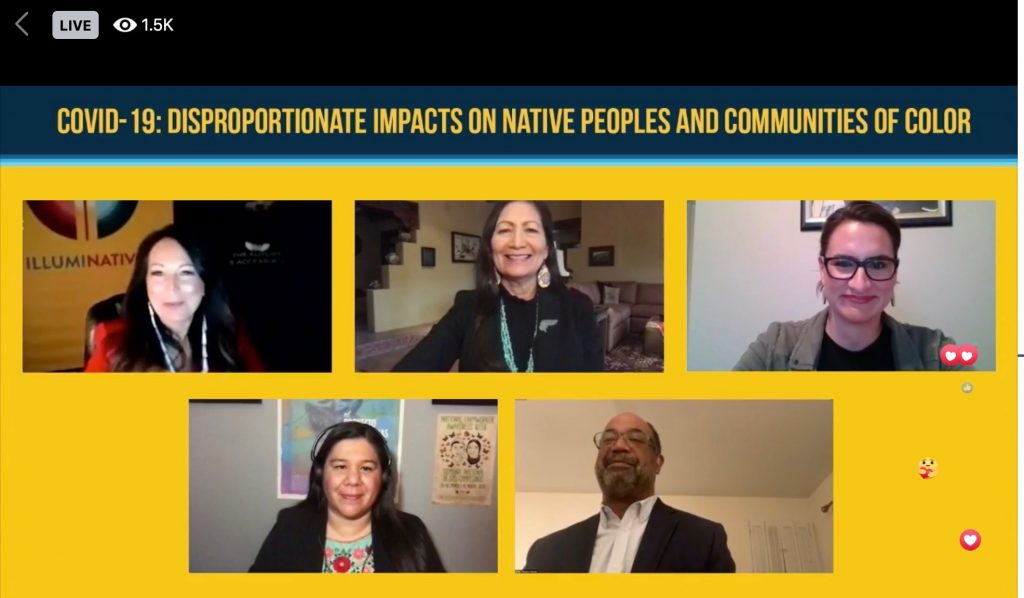 A special line-up of celebrity guests also joined the town hall, including Taboo of the Black Eyed Peas, country musician Billy Ray Cyrus, and actress Piper Perabo. Taboo opened up the town hall with a message of hope and resilience, and the event was also live-streamed on his YouTube channel. During the town hall, Cyrus announced that he was donating 20,000 masks to Indigenous communities to protect against further transmission of COVID-19.

Crystal Echohawk of IllumiNative and Mark Trahant of Indian Country Today moderated each of the panels.
"Our values and our ancestral teachings are so relevant right now," said Jodi Archambault of the Wend Collective during the town hall. "Communities are planting gardens, children are learning songs, and they're learning languages. Without audiences, people are just doing it because it makes their hearts sing."

Five different panels were featured during the town hall:
COVID-19 Health Impact on Indian Country
Panelists:
President Jonathon Nez, Navajo Nation
Abigail Echo-Hawk, Urban Indian Health Institute
Donald Warne, Associate Dean of Diversity, Equity and Inclusion and Indians into Medicine, University of North Dakota
Dr. Dakota Lane, Lummi Tribe
COVID-19 Impact on Tribal Government and Economies in Indian Country & Beyond
Panelists:
Chief Sneed, Eastern Band Cherokee
Representative Sharice Davids, U.S. House of Representatives
Fawn Sharp, President, National Congress of American Indians
COVID-19 Disproportionate Impacts on Native Peoples and Communities of Color
Panelists:
Dwayne Proctor, Robert Wood Johnson Foundation
Representative Deb Haaland, U.S. House of Representatives
Minnesota Lt. Governor Peggy Flanagan
Monica Ramirez, The Latin-X House
Resilience and Community Building in the Time of COVID-19
Panelists:
Nick Tilsen, President and CEO of NDN Collective
Allie Young, Protecting the Sacred
Notah Begay III, NB3 Foundation
Piper Perabo, Actress
Billy Ray Cyrus, Musician
We Are All Related: Pathways Forward for Resilience, Health and Transformative Change
Panelists:
Judith LeBlanc, Native Organizers Alliance
Jodi Archambault, Wend Collective
Nick Tilsen, NDN Collective
Crystal Echohawk, IllumiNative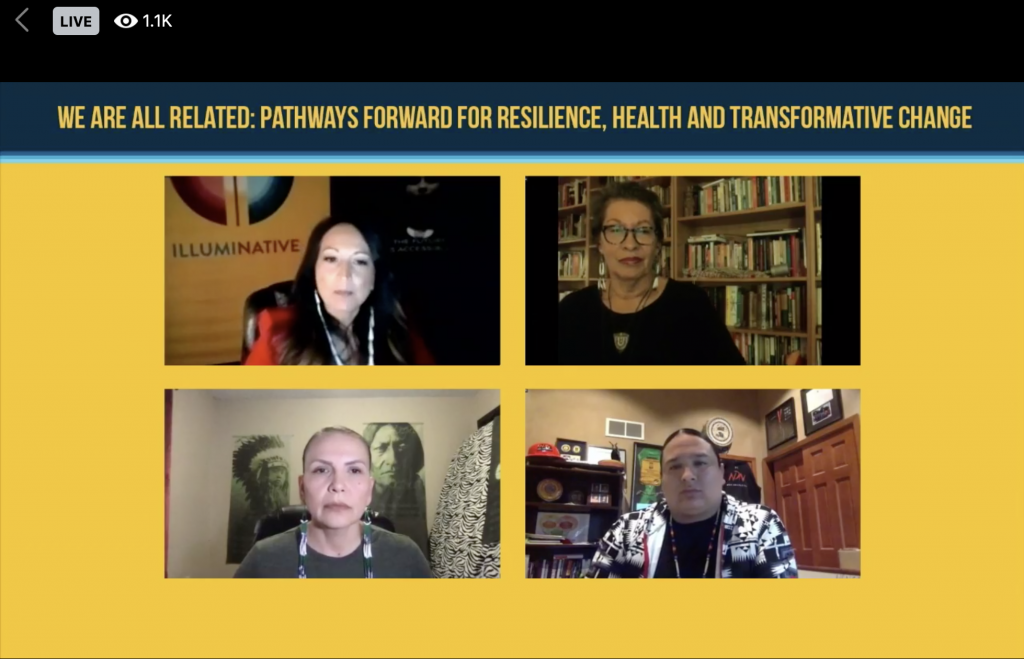 "It's wonderful to be together, even though we're apart," said Judith LeBlanc of Native Organizers Alliance, during the closing panel. LeBlanc called in from Brooklyn, New York, where she joins a large community of urban Indians impacted by COVID-19.
"If we double down on our values and remember to lead always with the fact that we are all related, we are all a part of this larger circle of people, and that what we do every day matters and has an impact on us immediately, for our future descendants and for people all across the world, that's the lesson," said LeBlanc. "Double down on our values, build upon them, lift them up and keep them alive, because that's where the solutions will come from."
The town hall was live streamed from Taboo's YouTube channel where it can still be viewed, and also on the Facebook pages of IllumiNative, NDN Collective, Indian Country Today, and Now This News. More than 216,000 people have viewed the Town Hall so far on Facebook.
Thank you to all who tuned in to the livestream, and a special thanks to our partners at IllumiNative, Indian Country Today, and to all of our panelists and guests.

Learn More About IllumiNative's Warrior Up Campaign here.