For Immediate Release: September 27, 2023
WHAT
CALL TO ACTION: PRAYERFUL PROTEST, IN PERSON SUPPORT FOR SAFETY IN NUMBERS
WHERE/WHEN
SEPTEMBER 28, 2023 AT 10AM MT
TEWA TERRITORY – ESPAÑOLA, NM
RIO ARRIBA COUNTY ANNEX BUILDING – 1122 INDUSTRIAL PARK RD, ESPAÑOLA, NM 87532
WHO
LOCAL COMMUNITY MEMBERS, ORGANIZATIONS OF NORTHERN NEW MEXICO, AND INDIGENOUS-LED ORGANIZATIONS INCLUDING THE RED NATION, THREE SISTERS COLLECTIVE, COALITION TO STOP VIOLENCE AGAINST NATIVE WOMEN, AND NDN COLLECTIVE INVITE THE PUBLIC TO PRAYERFULLY PROTEST THE REDEDICATION OF WAR CRIMINAL JUAN DE OÑATE'S STATUE IN FRONT OF THE RIO ARRIBA COUNTY ANNEX BUILDING.
WHY
Rio Arriba County Commissioner Alex Naranjo and county manager Jeremy Maestes plan to resurrect a statue of colonizer Juan de Oñate at 10AM on Thursday, September 28. The statue was removed from its Alcalde, NM location on June 15, 2020 after Indigenous people and organizations demanded an end to racist monuments across New Mexico. Join us at 10AM on September 28 to prayerfully protest the County's blatant disregard for the will of the people. We call this a prayerful protest because our prayers are the liberation of our relatives, human and non-human, from the systems that continue to destroy and kill us.
Rio Arriba County is spending more than $100,000 to move the statue out of storage and display it in front of the county offices, in the midst of a fentanyl and houselessness epidemic in the county. This is not about a statue; this is about the settler colonial system that allows racist politicians like Alex Naranjo to do as they please on stolen land. Alex Naranjo is using this as an opportunity to shift heat away from his long history of political corruption. There will be a petition released on Thursday to remove Alex Naranjo as chairman of the Rio Arriba County Commission.
The list of atrocities by colonizer Juan De Oñate to Indigenous, and Chicano communities is endless. Oñate is most known for the atrocities committed against Acoma people in particular. Oñate was disgraced by the Spanish crown and exiled by the Catholic Church. The modern day colonizers who want to erect the statue do not realize that this is not a Native vs. Hispaño issue. The people of the Española valley have a long history of working in solidarity with each other to defend and care for the land, as seen with the Battle of Chimayo and the Taos rebellion, where Pueblos, Nuevomexicanos, and Genízaros resisted settler colonial violence from US occupiers and the ruling elites. This is about glorifying ongoing colonialism that is manifesting itself as the corruption we are seeing in the Rio Arriba county commission.
With $100,000, we could give people adequate housing instead of displacing them; provide treatment for addiction instead of letting the fentanyl epidemic rip through our communities; and provide services to prevent Missing and Murdered Indigenous Women and Relatives (MMIWR) instead of dealing with the uptick in human trafficking that disproportionately affects women, children and lgbtq relatives. Rio Arriba County officials are simply exacerbating bordertown violence and present day colonization.
Let us remember that all of these ills affecting us today are a continuation of the legacy of genocider and rapist Juan de Oñate.
Join us to show Rio Arriba County officials that no monuments celebrating violent colonialism will ever rise again!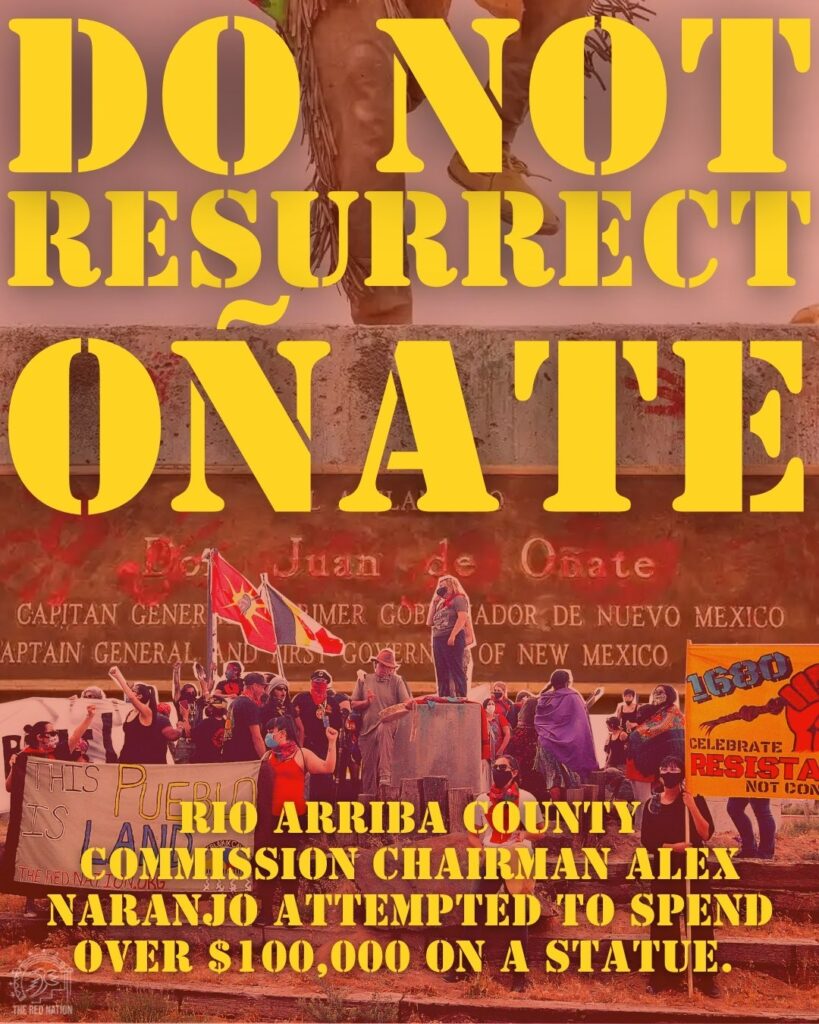 WE DEMAND
RESPECT FOR TRIBAL SOVEREIGNTY!
We demand that Native Nations be treated as NATIONS, with authority and jurisdiction that predates the existence of the settlement of Española and US occupation of Native lands.
ACCESSIBLE HOUSING
Tenants of the Santa Clara apartments were thrown onto the streets, overwhelming local underfunded shelters by mandate of the Española city government. This is just one example of blatant lack of care for their own people. We demand that everyone have access to safe and affordable housing!
END THE FENTANYL EPIDEMIC
Española is dubbed "The heroin capital of the world" despite this resources for those battling addiction have been scarce while addicts are continually criminalized and policed instead of being offered treatment and rehabilitation services. Today we have seen an unprecedented spike in overdose deaths related to the abundance of fentanyl in the drug trade. We demand compassionate treatment, healthcare, counseling and healthcare for our relatives battling addiction.
END MMIWR
Northern New Mexico's economies are historically based on the sex trafficking of Pueblo, Dinè, Apache, Ute, and Genízaro women. Bolstering and expanding the sex trade was famously Oñate's forte, and today the local sex trade exists as an appendage of these historical networks of violence. We demand an end to the trafficking of women, children, and lgbtq relatives. We demand an end to ALL heteropatriarchal violence!
END BORDERTOWN VIOLENCE
The Española valley is the site of multiple massacres of Tewa people. Today, Native people still face racist violence in Española from vigilantes and police. On many occasions these incidents are not taken seriously, and get very little attention. We demand an end to all anti-Indian violence!
DO NOT RESURRECT OÑATE!!!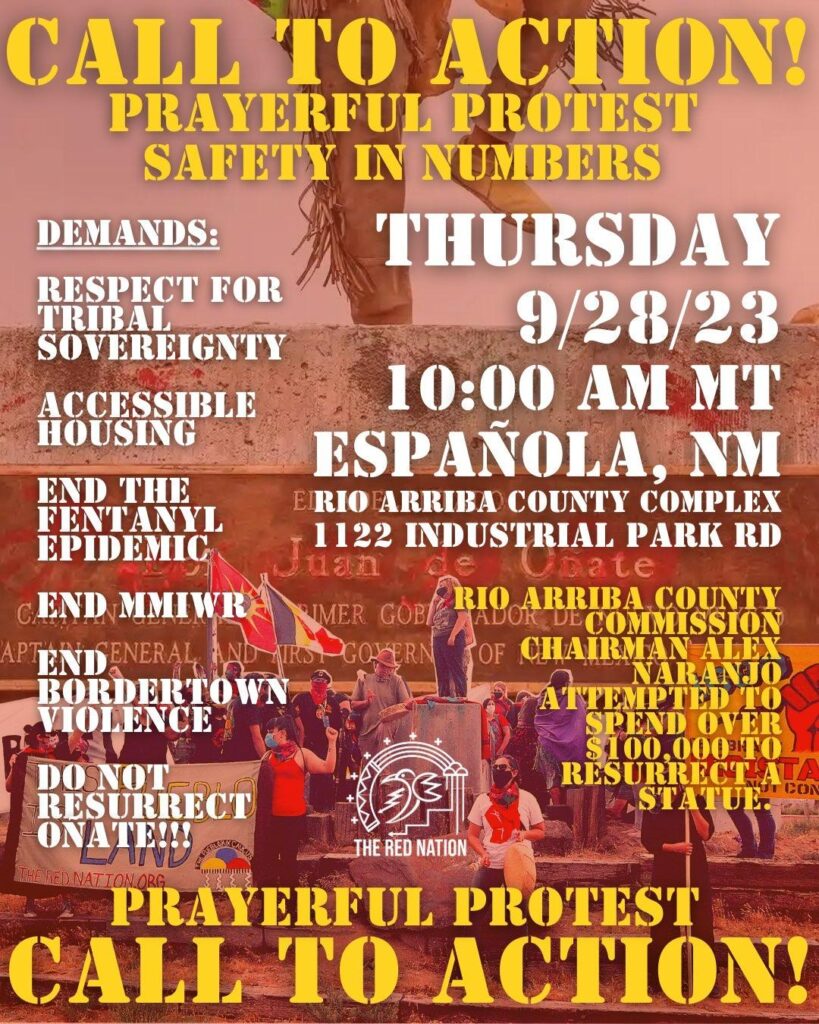 ---
Contact
###
NDN Collective is an Indigenous-led organization dedicated to building Indigenous power. Through organizing, activism, philanthropy, grantmaking, capacity-building, and narrative change, we are creating sustainable solutions on Indigenous terms.