This Climate Week in New York City is particularly important and unique, because on the eve of this week of action, the climate and environmental justice movements aligned on one message to the President of the United States and leaders of this country: END FOSSIL FUELS. This is no longer a question of whether such a decision will be beneficial, but rather a certainty that fossil fuels will not carry us into the future safely or sustainably.
The message is further enlivened by the multitude of fossil fuel-related projects that continue to forge forward, impacting Indigenous communities, suppressing our treaty rights and tribal sovereignty and bypassing the process enabling us to provide free, prior and informed consent.
The following four fossil fuel projects are without a doubt, human rights atrocities and need to be stopped along with all new fossil fuel-related developments that will inevitably harm all peoples, the climate and biodiversity.
(Note: Caption for SEO image: Climate activists stand in solidarity in front of Wells Fargo during the November 26, 2021, LA Defund Climate Chaos event. Photo by Steph Viera for NDN Collective.)
Dakota Access Pipeline (DAPL)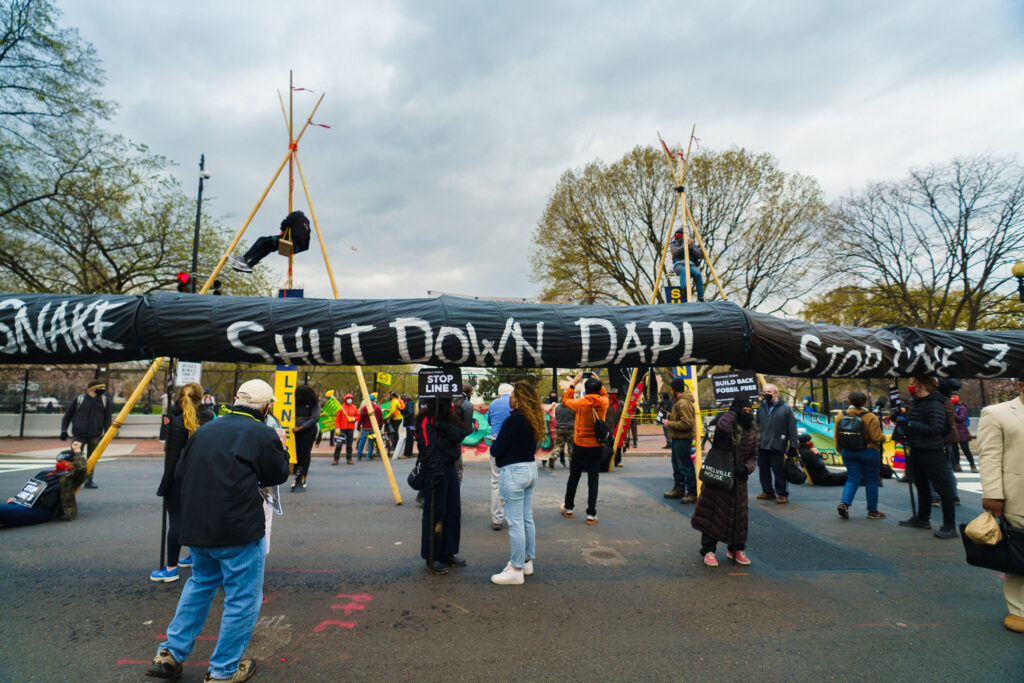 The Dakota Access Pipeline runs through the homelands of the Standing Rock Sioux Tribe and, despite the dismissal of Standing Rock Sioux Tribe et al. v. United States Army Corps of Engineersin June 2021, continues to operate illegally without proper permits and is a blatant suppression of treaty rights.
In July 2021, Standing Rock, Cheyenne River, and Oglala Sioux received a preliminary Draft EIS (PDEIS), of which they rejected due to it's uncanny similarity to the Environmental Assessment which was utilized by the Army Corp to approve their permit approvals for DAPL in 2016.
In March 2022, NDN Collective released the only special report on DAPL, Faulty Infrastructure and the Impacts of the Dakota Access Pipeline. The report shows the depth and details of co-conspiring between the Army Corps of Engineers and the owners of DAPL, and illuminates the level of recklessness both parties are willing to take in the name of profit.
On September 8, 2023 the U.S. Army Corp of Engineers officially announced that they were seeking public comment on DAPL Draft Environmental Impact.
Now is the time for our communities to come together once more to demand that the Biden Administration take action to stop DAPL!
The public commenting period is now open and comments will be received until November 13th.
Comments on the DAPL EIS, can be mailed to:
Attn: Brent Cossette
U.S. Army Corps of Engineers
CENWO-ODT-N
1616 Capitol Avenue
Omaha, NE 68102
Comments can be emailed to: NWO-DAPL-EIS@usace.army.mil
Willow Project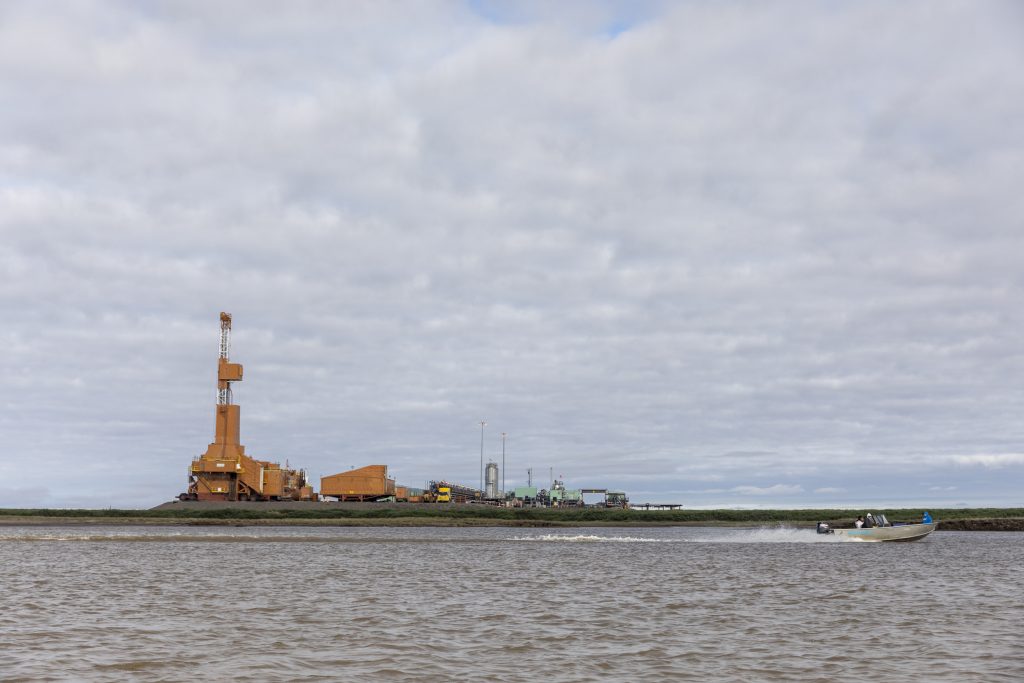 The ConocoPhillips' proposed Willow oil drilling project is a development approved by President Biden and the Department of Interior which entails hundreds of oil wells, 400 miles of roads and pipelines in National Petroleum Reserve-Alaska (Reserve), directly impacting the ancestral homelands of the Inupiat. The Willow project is one of the largest and most dangerous new oil operations in the world.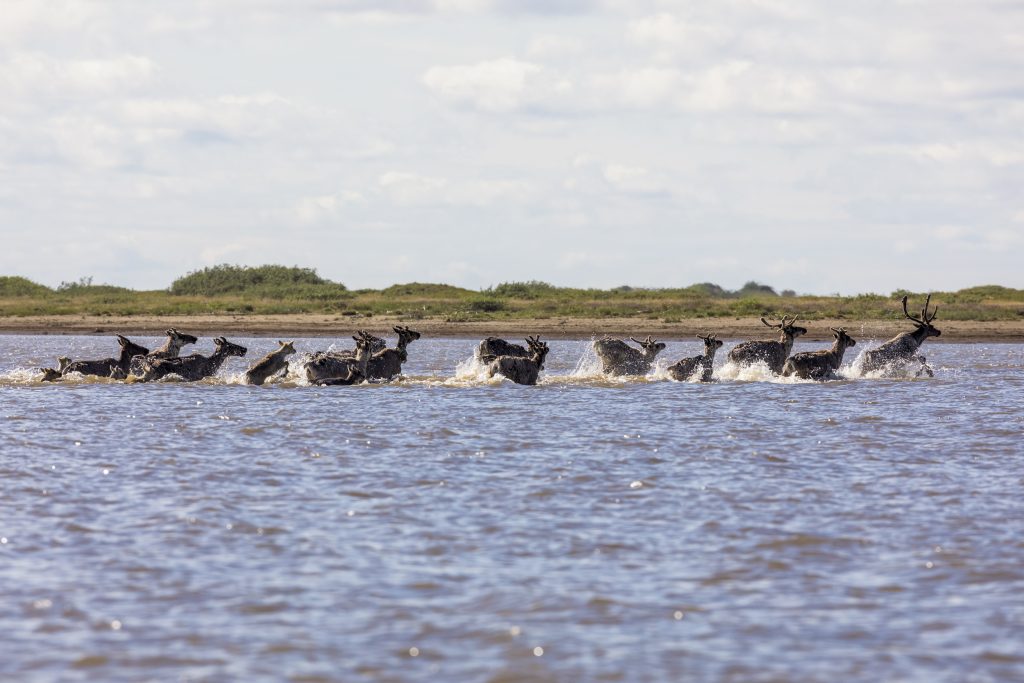 In March of this year, Naqsragmiut Tribal Council President, Charlie Sollie Hugo, issued a letter to U.S. Department of Interior, Deb Haaland and the Alaska State Director of the U.S. Bureau of Land Management, Steve Cohn, requesting government-to-government consultation to discuss the harm that such a project would impart on their community. A prominent concern being the project's impact on traditional caribou hunting, directly effecting the caribou's traditional migration paths. Caribou has been a part the primary diet of the Nunamiut people since time immemorial as well as an essential resource for clothing, tools and sinew.
We must continue to demand that the Biden Administration stop the Willow Project and recognize the harm it imposes on the Inupiat peoples, traditions and the biodiversity of the region. In addition, we call on this Administration to stop all new oil and gas lease developments!
Fracking Near Chaco Canyon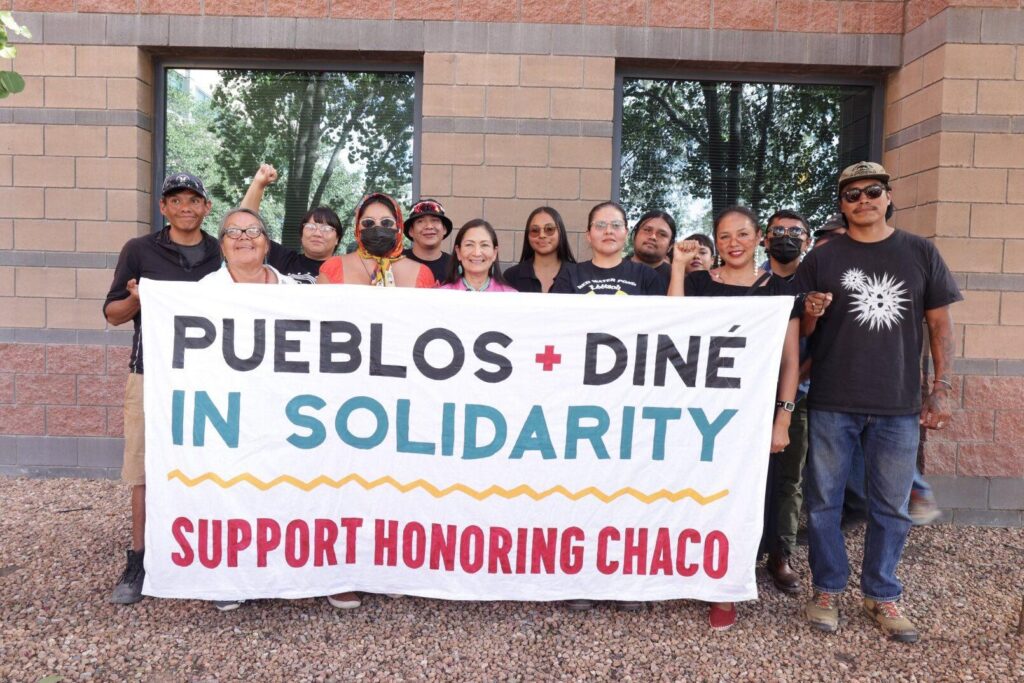 The Greater Chaco Canyon, located in the ancestral homelands of the Diné and Pueblo peoples in so-called New Mexico, has been ravaged by fracking and further exploitation by oil, gas and mining companies for decades. These pursuits pose threats to ancestral tribal and public lands, clean air and water, and community health.
In June of this year, the Biden Administration decided to withdraw public lands from new mineral development and establish a 10-mile buffer zone surrounding the Chaco Culture National Historical Park. However, concerns for those living outside the buffer zone continue to exist.
In July, just one month after Biden's withdrawal decision, H.R. 4374 was proposed, threatening to nullify the recent Chaco Canyon win. In response, the Greater Chaco Coalition issued a compelling open letter, signed by 111 organizations, urging Interior Secretary Deb Haaland to reinforce her commitment to the Honoring Chaco Initiative.
Although the order does not violate the Tribal Sovereignty rights of the Navajo Nation or Navajo allottees, we still have work to do.
Act now! Stand with Pueblo leaders and other Tribes and urge Congress to oppose H.R. 4374, a bill that would nullify the 20-year ban on new oil and gas development on public lands in Greater Chaco. Tell them to #ProtectChaco! https://protectchaco.org/
Mountain Valley Pipeline
The Mountain Valley Pipeline is a project that directly impacts the ancestral lands of the Occaneechi, the Monacan Indian Nation and other Tribes of the region. According to Grist, the 300-mile long pipeline, originating in Virginia, will deliver 2 billion cubic feet of natural gas per day and has garnered over 300 violations of environmental law.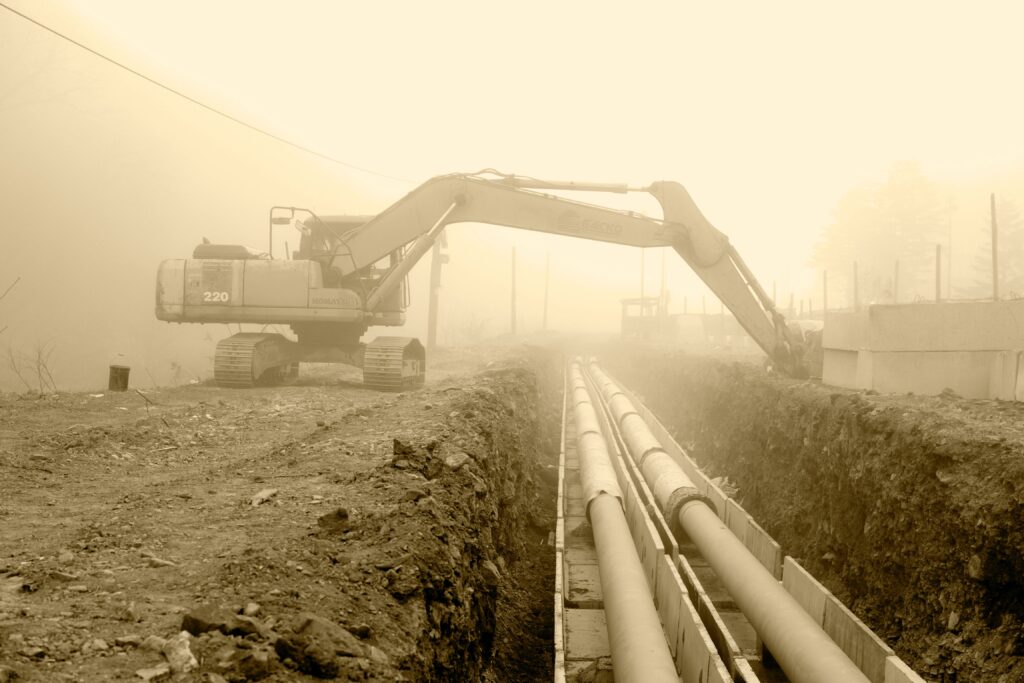 The project had a deadline for completion in October 2022, but in August 2022 the Federal Energy Regulatory Commission (FERC) extended that deadline to the year 2026.
Despite numerous permit denials, in 2023, during debt ceiling negotiations and an opportune time for Republicans, the pipeline permit was finally approved. The approval did not consider the free, prior and informed consent from the Occaneechi, the Monacan Indian Nation and other Tribal communities. As this project continues to power forward it will wreak havoc on the biodiversity and this community's water supply and is an outright violation of human rights.
We call on the Biden Administration to halt this destructive project and all new oil and gas lease developments NOW!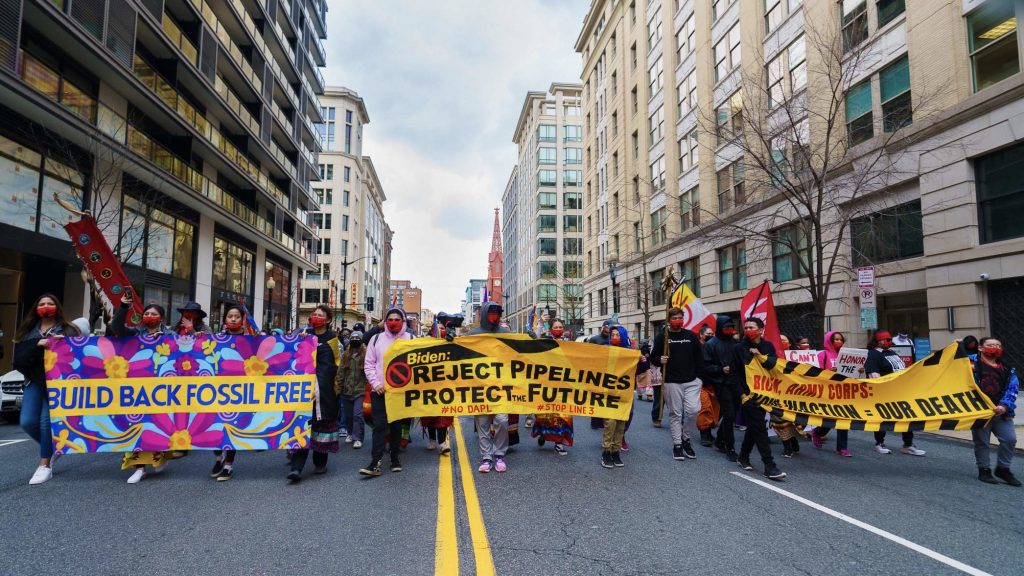 Although this is not an exhaustive list of fossil fuel projects that continue to ignore the interests, safety and human rights of Indigenous Peoples, we want to continue shedding light on them and demanding action. At the same time hold our hands up to the communities and nations across Mother Earth who continue to fight and demand change and stand with them.
Yesterday, September 17th, the March to End Fossil Fuels occurred – the largest climate march since the pandemic, and thousands joined together in New York City to demand President Biden take bold action to End Fossil Fuels.
NDN Collective was LIVE at the March on the ground alongside Indigenous relatives and allies to remind POTUS that a rapid and just transition is required to protect all people, the climate, and biodiversity. Stay tuned for a more in-depth blog on NDN's participation on this powerful day.