A collaborative art project that has been in the works for a few years, the 'Defend' mural, is now available for travelers and locals to view on the front of the NDN Collective Headquarters at 408 Knollwood Drive in Rapid City. The mural was first designed by artist Votan Henriquez in 2019 in collaboration with the NDN Collective team, with plans of featuring the mural on the NDN Collective headquarters and also on a blanket design in collaboration with Eighth Generation, an Indigenous-owned and operated lifestyle brand.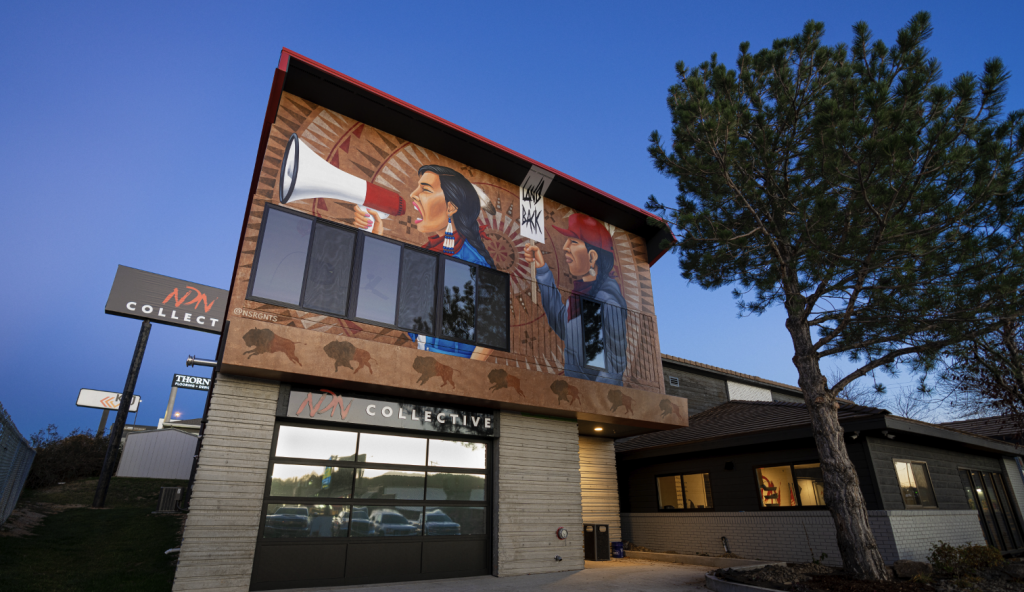 The 'Defend' blanket was first to debut on International Women's Day of 2021, and after much anticipation, the mural was finally completed at the new NDN Collective headquarters late in November. The 'Defend' mural features an Indigenous woman and an Indigenous man protesting, led by a woman speaking into a bullhorn, followed by a man proudly holding a sign that reads 'LANDBACK'.
"The woman pictured represents the global shift of power towards the feminine," says Votan. "The bullhorn is symbolic of amplifying Native voices and the winter count design in the background connects Native people to ancestral Indigenous traditions."
Artist, activist, and co-creator of NSRGNTS, Votan travels Indian Country with his team of artists, creating murals that depict powerful and bold messages relating to identity, community, and lived realities impacting Indigenous Peoples. Each mural created by the NSRGNTS team is often built in collaboration with Indigenous organizations across Turtle Island.
NDN Collective is honored to feature one of Votan's powerful designs with the debut of the 'Defend' Mural. The 'Defend' blanket can still be purchased at the NDN Collective store here.
Follow NSRGNTs on Social Media
Watch More About NDN Collective's Collaboration with Votan: