TARGET: PRESIDENT BIDEN AND ARMY CORPS OF ENGINEERS
🔔 The next court hearing on the Standing Rock Sioux Tribe's litigation against the Dakota Access Pipeline will take place on April 9, 2021.
Please join us in putting pressure on the Biden Administration by amplifying the call to Shut Down DAPL.
We call on President Biden to exercise his presidential powers to issue an Executive Order and to permanently shut down DAPL. By doing so this administration is following through with their commitment to "restore tribal lands, address climate change, and safeguard natural and cultural resources" as articulated in the Biden – Harris Plan for Tribal Nations. This administration has committed to strengthening the relationship between the United States and Tribal Nations and we need to hold them accountable.
When Tribes Say "No", We Mean "No"
Shutting down DAPL is a key step in respecting the word of the Standing Rock Sioux Tribe who consistently resisted the construction of the pipeline. Supporting and listening to their "no" is moving from five decades of failed federal agency consultation with Tribes to acknowledging Indigenous human rights by following the global principles established under the UN's Declaration on the Rights of Indigenous Peoples (UNDRIP) for Free Prior and Informed Consent (FPIC). FPIC honors Tribal Nations' rights to self determination and is key in centering Indigenous sovereignty. A culture of consent needs to extend to Tribal Nations when their land is sought out by industry or other development. Meaning that unless a Tribe expresses a clear intent to work with industry, that their "no" must be listened to and respected. Additionally bringing in industry like pipelines is a direct attack on Mother Earth and leads to an increase in sexual violence and substance abuse in the impacted community due to an influx in transient industry workers. We say "no" to the continued raping of our Mother Earth and to our relatives' bodies.
On January 15th, 2021, Standing Rock Sioux Tribe, Cheyenne River Sioux Tribe, Oglala Sioux Tribe, and Yankton Sioux Tribe wrote the Biden Administration requesting quick, decisive action on shutting down the Dakota Access Pipeline within the first ten days of the new Administration. This request has yet to be acknowledged or honored.
Moving into a consensual relationship with tribes means respecting their word as well as recognizing the best international practices as described in UNDRIP. Saying no to DAPL will also send a resounding message to industry that tribal sovereignty must be respected and that we will no longer put profit or "so called energy independence" over people and the environment.
---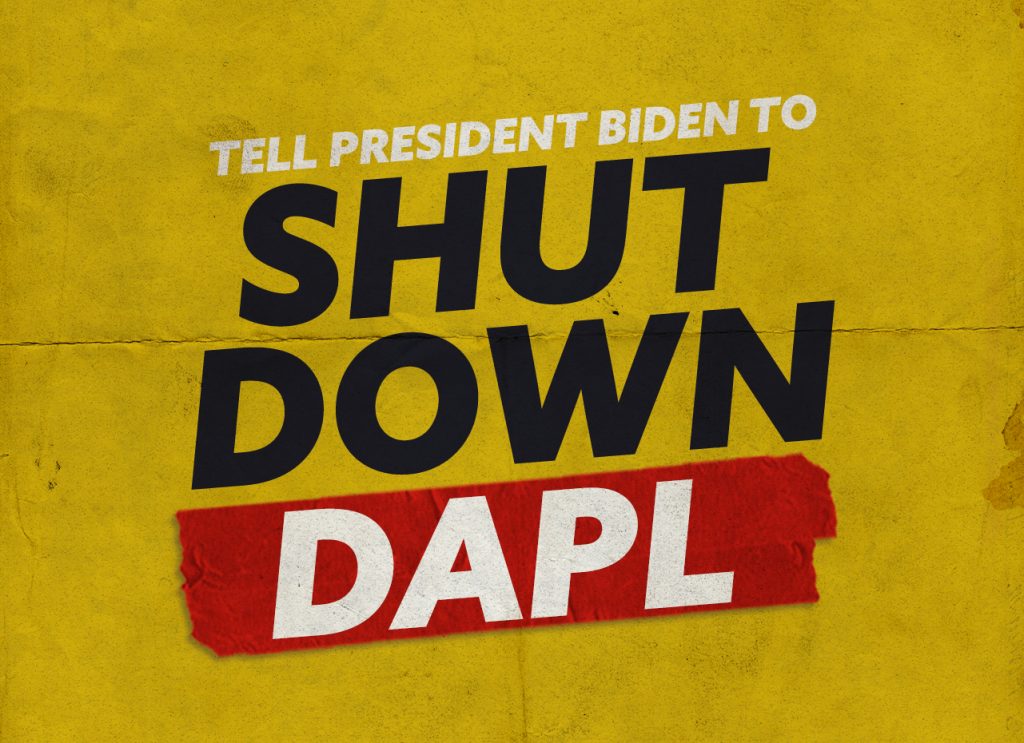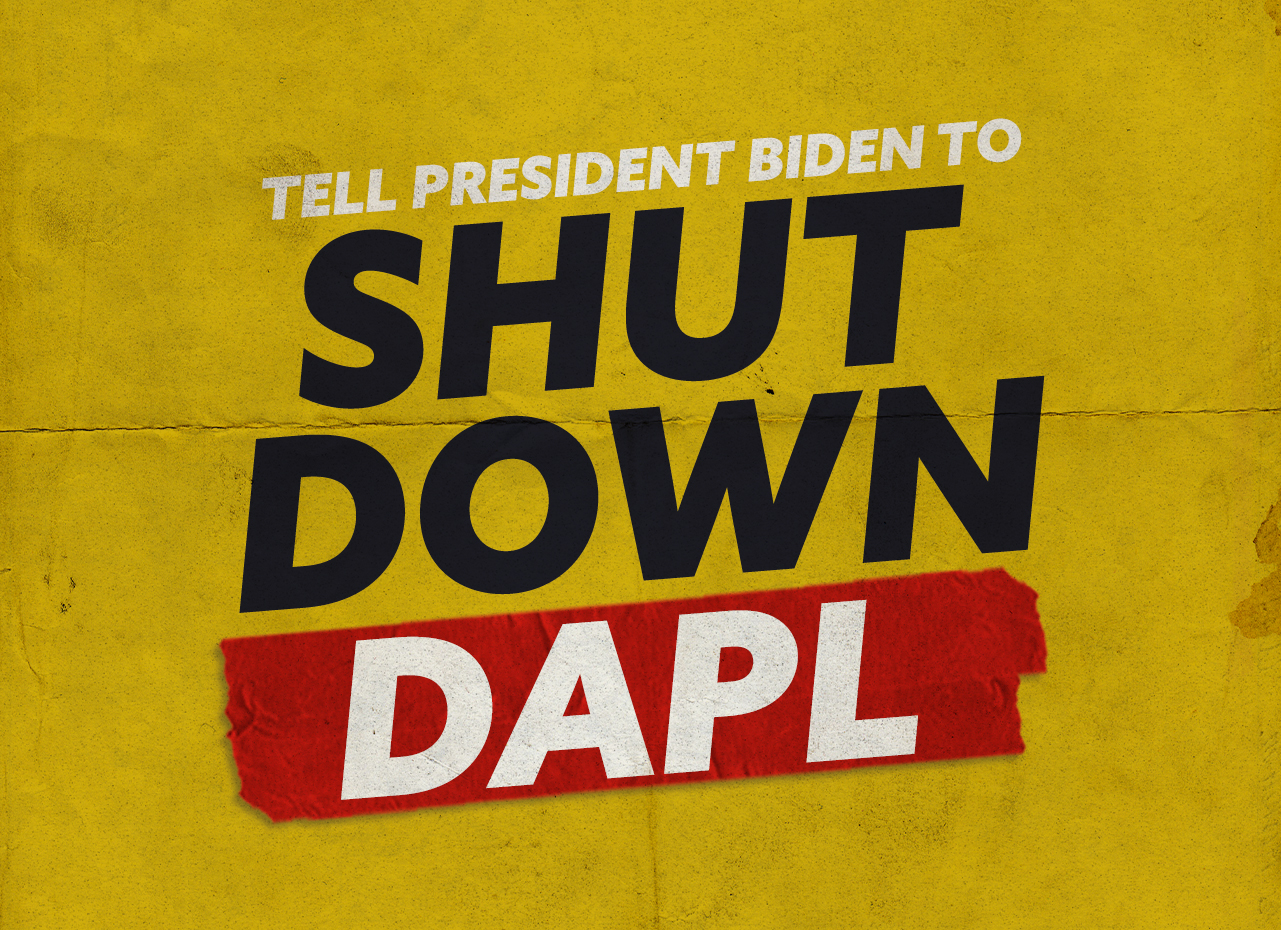 Shutting down DAPL is Respecting and Honoring Tribal Sovereignty
Key Facts about DAPL
The Army Corps of Engineers permit was given in 2016.
It was then revoked in 2020 because it was allowed under Permit 11 which was wholesale revoked.
The oil is still illegally flowing.
The pathway of the pipeline violates tribal treaty rights as well as crosses through farms and sensitive natural areas. This includes the habitat of at least nine threatened species. #SHUTDOWNDAPL

Tweet
The pipeline directly threatens the Standing Rock Sioux Tribe's sole source of drinking water.
The Dakota Access Pipeline currently carries 5% of the nation's oil.
Faulty Infrastructure
As of May 2020, Energy Transfer's Sunoco subsidiary ranks eighth-worst for volume spilled per mile for the last three years on pipelines carrying hazardous liquids such as crude oil, which DAPL transports.
It's had 38 accidents that have harmed people or the environment, more than any other operator in the last five years, and it has one of the largest pipeline systems.
The Dakota Access Pipeline had 5 REPORTED (to Pipeline Hazardous Materials Safety Administration) spills in the first six months of operation.
Up to 75 percent of potential leaks might be undetectable including where the pipeline runs under Lake Oahe.
White Supremacy & DAPL
In the construction of DAPL, sacred sites and culturally significant places have been destroyed. This is a violation of the National Historic Preservation Act (NHPA) and contributes to the continued cultural and historical trauma suffered by Indigenous People due to infrastructure projects. Not to fail to mention was the abusive physical treatment that water protectors received in 2016 from the National Guard and other law enforcement, which were clear examples of state-sanctioned environmental violence. By not shutting down DAPL Biden is perpetuating a colonial mentality and staying complicit in the face of systemic racism.
Free, Prior and Informed Consent
Free, Prior and Informed Consent (FPIC) is one of the most important principles that Indigenous Peoples believe can protect their right to participation. It is embedded in the right to self-determination.
There is Only One Choice
If the Biden Administration wishes to keep its commitment towards Tribes as well as their Climate Plan, which clearly states that we are transitioning towards a 100% clean energy economy and net-zero emissions no later than 2050, then there is really only one choice.
We reject the false narrative that this is a decision between jobs and the environment. If the Biden Administration was to invest deeply in stopping climate change, they could create the potential for millions of quality jobs across the country.
Resource: Declaration on the Rights of Indigenous Peoples, United Nations
---
#ShutDownDAPL #NoDAPL #WaterIsLife #StandingRock2.0 #DefendTheSacred #StandWithStandingRock #ByeDenDAPL