What if the best days of Indigenous people are ahead of us? This is the message behind a new billboard that debuted last week in Rapid City, South Dakota, powered by NDN Collective's Racial Equity Campaign in collaboration with artist Chad Yellowjohn, affectionately known as "Little Coyote."
As of Wednesday, November 17, city-goers and travelers alike have the opportunity to view the inspiring billboard exhibition on Lacrosse Street. This is the first design in the series of billboards powered by NDN Collective to be rotated throughout the Rapid City area within the next five weeks.
The billboard design features five Indigenous people of all ages, with one person holding up a wrapped bundle of burning sage, as the four people behind him peer up with hopeful eyes. A message at the bottom of the billboard reads, "We are a beautiful & powerful People. Our best days are ahead of us!" Sunny Red Bear, NDN Collective Director of Racial Equity, says the billboard was designed, "in hopes of reminding our community to lean into the future with a hopeful heart and believe that good things are coming."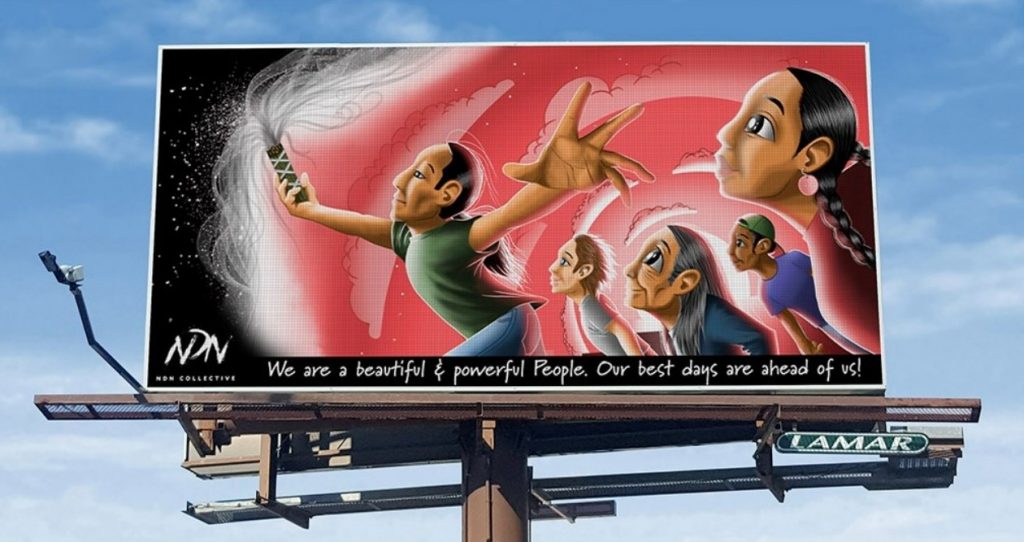 "We also wanted to hint at some exciting projects NDN Collective is actively working on here in our local community," Red Bear continued. "With the goal of making a path for our healing, our reconnection, and the reclamation of all things Indigenous! Lastly, we hope this art sparks conversations with your children and family about what you envision for the future. We are all visionaries in our own ways and we wanted to remind our relatives and neighbors of that brilliance within all of us as we work towards creating a beautiful future together."
Billboard artist Chad "Little Coyote" Yellowjohn comes from Shoshone-Bannock and Spokane Nations and was raised in Lone, Washington. Chad's imaginative artistry and expression is captured in the visual beauty of the billboard, which weaves elements of culture and kinship that exist within the Indigenous community.
Chad's first design for the billboard series will be available to view at the Lacrosse Street location until November 26. After that, the billboard series will shift locations throughout the Rapid City area, changing designs to highlight additional Indigenous artists who have also partnered with the Racial Equity Campaign.
If you are located within the area and have the opportunity to see these beautifully created billboards, snap a picture and tag NDN Collective on Facebook, Instagram and Twitter @NDNCollective.
To learn more about Little Coyote and see more of his work, check out his website and social media page: