For immediate Release:
October 28, 2021
Rapid City, SD — On Wednesday, October 27, the judge for Nick Tilsen's evidentiary hearing took his legal team's request for discovery items and motions filed against the Pennington County State's Attorney's Office to dismiss Tilsen's case– which cited prosecutorial misconduct and violations of his rights to a speedy trial and free speech– under advisement. The judge said a decision will be delivered in a timely manner, which Tilsen interprets as within a week or two.
In Response, NDN Collective President and CEO Nick Tilsen shared the following statement:
"In today's evidentiary hearing, we were able to give arguments supporting our motion to dismiss all of my charges on the basis of vindictive persecution, prosecutorial misconduct, and denying my right to a speedy trial and my right to freedom of speech. We had the opportunity to put Mark Vargo of the Pennington County Prosecutor's Office on the stand, and he had to answer for his conduct in this process. It is our hope that if the judge sees any merit in Vargo's mistreatment of my case, that all of my charges would be dismissed.
The judge also acknowledged today that the Pennington County Prosecutor's Office and Pennington County Jail are actually recipients of a grant from the McArthur Foundation for the purpose of reducing the over incarceration of Native people. Vargo is the co-chair of that work, and yet I'm being overly prosecuted as a Native man by Vargo, facing 17 years in prison. The injustice here is clear, and my case is just one of many where Native people are vindictively persecuted for being who we are.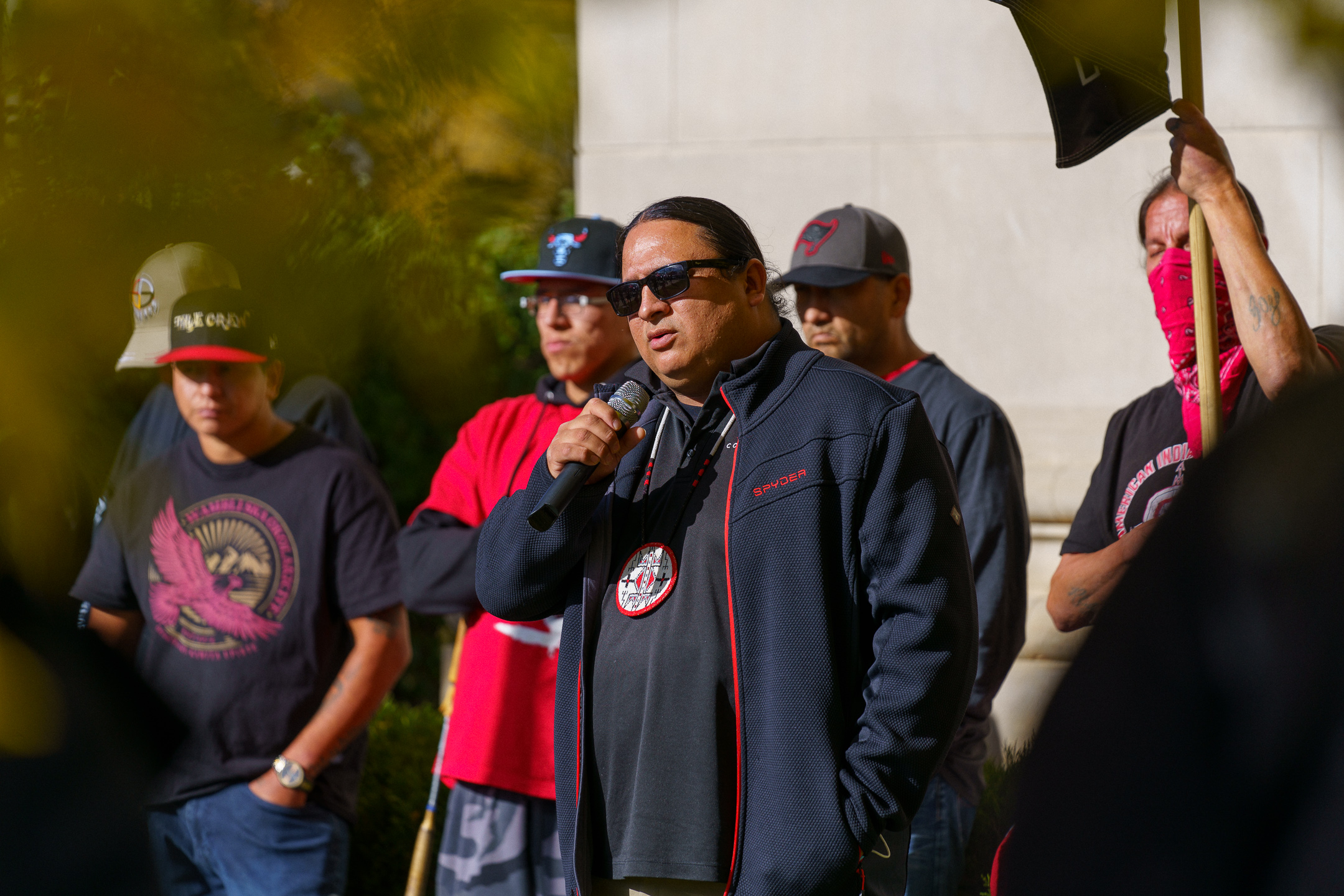 "Regardless of what the judge decides after taking the decision under advisement, a magnifying glass was put on the system today. White supremacy was put on trial, and racism was put on trial. And when these unjust systems put us on trial, at NDN Collective and as Indigenous people, we are going to stand up and speak truth to power.
Today while in the courtroom, my heart and mind was also with all our Native people in the so-called justice system, who don't have the same access to legal support or resources, who don't have lawyers or other people to stand up for them and fight for them. While this was heavy on my mind and my heart, it is also fuel to keep fighting this system that impacts and harms our lives as Indigenous people. This is a fight for our land, for the Black Hills and for our people. We have no choice but to keep standing up and rising up."
###
Timeline of Nick Tilsen's Case:
NDN Collective is an Indigenous-led organization dedicated to building Indigenous power. Through organizing, activism, philanthropy, grantmaking, capacity-building, and narrative change, we are creating sustainable solutions on Indigenous terms.