For Immediate Release:
September 24, 2021
Rapid City, SD — Today at New York Climate Week, where global leaders are coming together to discuss the urgent need for action around the changing environment, NDN Collective officially launched sales of the organization's first book, Required Reading: Climate Justice, Adaptation + Investing in Indigenous Power.

NDN Collective will also be hosting a panel on Friday, September 24 in NYC that features some authors of the book, highlighting liberatory solutions to the climate crisis. The panel will be livestreamed on NDN Collective's Facebook, YouTube, and Twitter accounts.
Required Reading: Climate Justice, Adaptation + Investing in Indigenous Power was curated by the NDN Climate Justice Campaign, and acts as a practical guide for seasoned politicians and grassroots advocates alike to establish equitable and meaningful solutions to the climate catastrophe.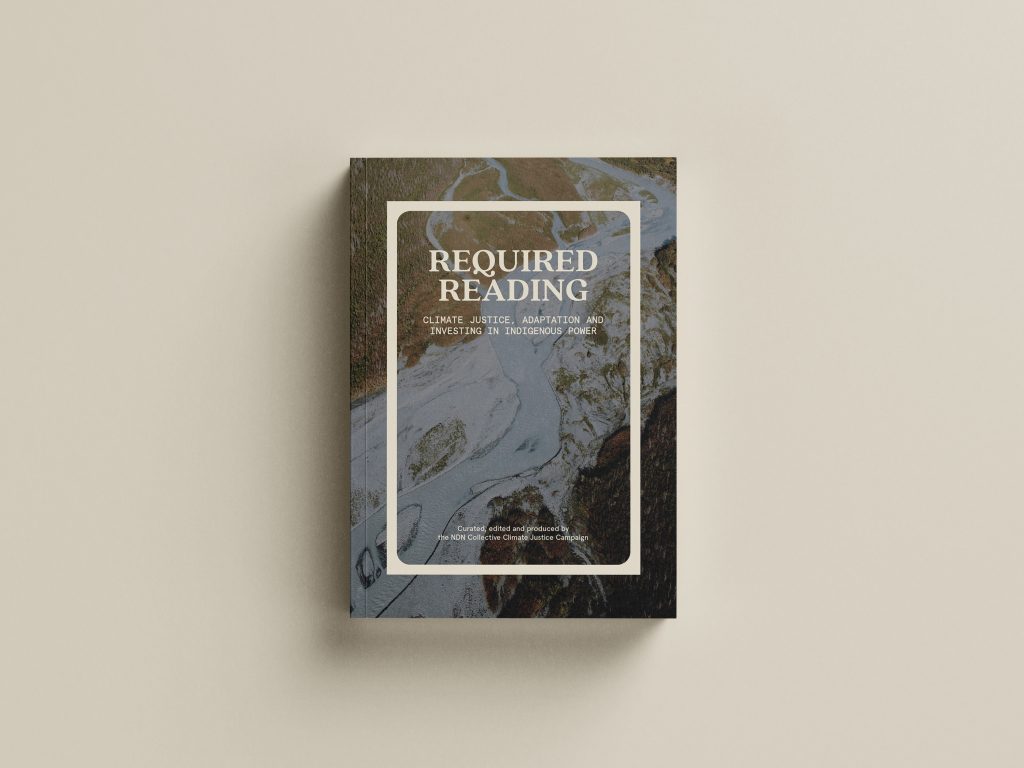 The book features in-depth essays from climate experts around the world, presenting personal stories and analyses on subjects ranging from the continued U.S. military occupation of Hawaiʻi, to the fight for food sovereignty on the Yukon River, to the growing Land Back movement, to the link between the climate and MMIWR+ crises, to the devastating effects of mining for lithium in the Salar de Atacama, and much more.
Copies of Required Reading: Climate Justice, Adaptation + Investing in Indigenous Power will be presented to U.S. governmental officials, policymakers, and world leaders at both New York Climate Week and the 2021 United Nations Climate Change Conference (COP26) this fall.
"Despite countless efforts by colonial structures to erase our cultures and ancestral knowledge, Indigenous people are still here — and we hold the key to reversing the devastating impacts of manmade climate change," said Kailea Frederick, NDN Collective Climate Justice organizer and editor of Required Reading. "Our voices must be centered for any of us to survive the catastrophe created by extraction from and exploitation of the planet and people."
"Now more than ever, we need bold action around climate change — Indigenous people both hold the knowledge necessary to save our planet, and are unafraid of rejecting the status quo," said Jade Begay, Director of Climate Justice for NDN Collective. "We need leaders — from those running climate organizations, to government officials, and more — to heed our words and implement our solutions before it's too late."
###
NDN Collective is an Indigenous-led organization dedicated to building Indigenous power. Through organizing, activism, philanthropy, grantmaking, capacity-building, and narrative change, we are creating sustainable solutions on Indigenous terms.