For Immediate Release:
October 8, 2021
Rapid City, SD — Today, President Biden officially signed proclamations fully restoring two monuments of cultural and spiritual significance to Southwestern Tribal Nations. The monuments, Bears Ears and Grand Staircase-Escalante, cover more than 2 million acres of land where the Hopi Tribe, Pueblo of Zuni, Ute Mountain Ute Tribe, Navajo Nation, and Ute Indian Tribe have historic and current cultural and spiritual connections. In response to this long awaited restoration, NDN Collective released the following statements:
"Today's announcement of the full restoration of Bears Ears and Grand Staircase Escalante is an exciting step towards listening to and honoring the demands of Indigenous Peoples and Tribal Nations. As a Diné and Pueblo person who was raised with stories about this sacred place, I am grateful and relieved to know protections are now in place. That said, the work to ensure that these lands and waters thrive for future generations continues. I am eager to see more equity in the management of public lands and how the US government will work with Indigenous Peoples and Tribes to protect and steward places like Bears Ears." – Jade Begay, Climate Justice Campaign Director, NDN Collective.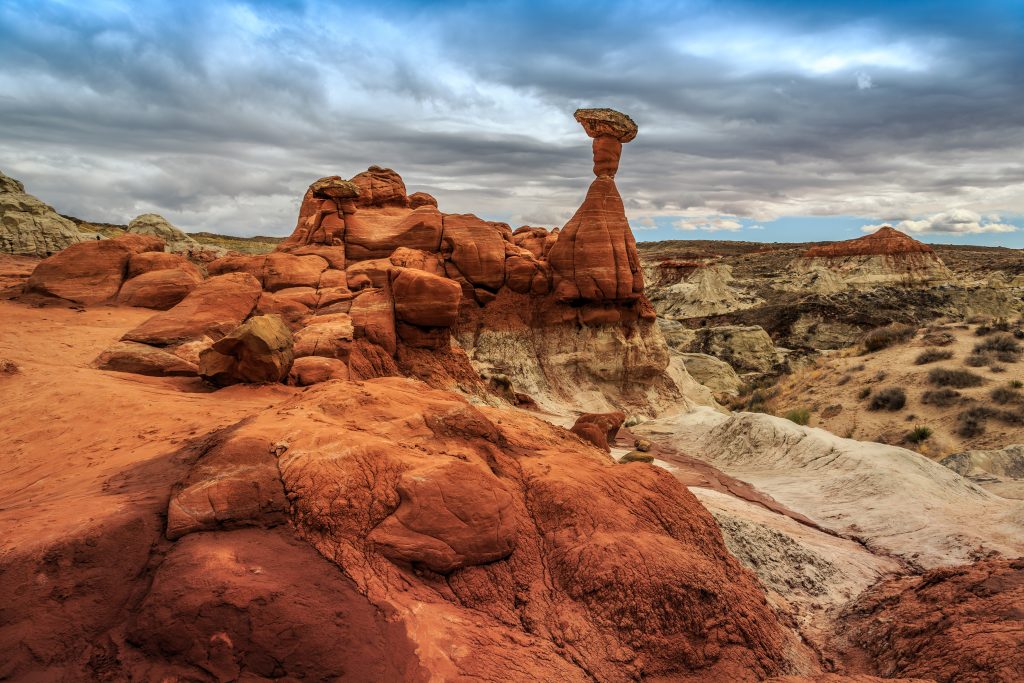 "The news that the Biden Administration is expanding Shash Jaa' (Bears Ears) National Monument and the Grand Staircase-Escalante is a bittersweet one. First, there is thanks to be given to the Indigenous women, youth, LGBTQ2+ relatives, and tribal coalitions who have been the backbone for the advocacy, protection, and resistance efforts. Secondly, it is good to hear that some of the damage done by the Trump administration to shrink the National Monument is being undone. However, it is important to remember that the ultimate goal is not for Shash Jaa' to be a National Monument, no matter how big or small the area is. The goal is for this sacred site to many different peoples, including my own, to be returned and managed by us — the people who have cultural and ancestral ties to this land. Public land is stolen land, and LANDBACK will always be at the forefront of our demands until our human and non-human relatives can live dignified lives." –Demetrius Johnson, Diné, LANDBACK Organizer, NDN Collective.
"In July, members of NDN Collective joined the Red Road to DC, where Indigenous land protectors from across Turtle Island presented a 25 foot totem pole to President Biden. The journey highlighted the urgency of protecting sacred sites through legislation like the RESPECT Act, which would install specific requirements for the U.S. government to meaningfully consult tribal nations in decision making around Indigenous land, water, and natural and cultural resources. Today's restoration proclamation is a promising step toward respect for Indigenous people, our connection to and the sovereignty we have over our land, and is a necessary step toward building a better nation-to-nation relationship with tribal governments in the U.S. There is still so much more work to do. We challenge legislators to find ways to more meaningfully engage with tribal nations, and we encourage advocates and allies to continue using your voice to advocate together for more of these kinds of lands and resource protections. This partnership and collaboration shows Indian Country that we are heading in the direction of true equity for Indigenous people." – Lycia Maddocks, Political Director, NDN Collective.
"Tó Nizhóní Ání is grateful to hear of the recent news of restoring the Bears Ears National Monument. All of this nation's citizens, not just the Indigenous people, win when we work to protect and preserve this nation's cultural and Indigenous resources and healing spaces. It's time to follow the lead of movements that are working to ensure that sacred sites are protected." – Adrian Herder, Media Organizer, Tó Nizhóní Ání.
###
NDN Collective is an Indigenous-led organization dedicated to building Indigenous power. Through organizing, activism, philanthropy, grantmaking, capacity-building, and narrative change, we are creating sustainable solutions on Indigenous terms.