For Immediate Release:
October 22, 2021
Rapid City, SD — Today, members of NDN Collective attended the Wolakota Buffalo Release Celebration on the Rosebud Sioux Reservation, where close to 100 people gathered, including local students, National Parks Service and Fish and Wildlife Service representatives, members of Native organizations including the Rosebud Tribal Council, the Rosebud Sioux Tribal Land Enterprise, the World Wildlife Fund, the Nature Conservancy, and more.
2 of 60 Buffalo that were released onto Sicangu Tribal Lands. Pictured: Duane Hollow Horn Bear, Sicangu Spiritual Leader and Jillian Waln, Community Engagement Coordinator for REDCO and Sicangu CDC. Photo by @sicangucdc Team
"Not long ago, settlers attempted to kill off the buffalo as a mechanism to steal our land, and they tried to steal our land as a mechanism to colonize our people and assimilate and destroy us– but they couldn't," said Nick Tilsen, President and CEO of NDN Collective. "Now, coming full circle, we have reclaimed these lands and we've put the tatanka (buffalo) back on the land."
The group gathered to speak about Rosebud's land usage and regeneration efforts, the Tribal bison restoration effort that began last year, and the spiritual and cultural significance of Wolakota (to live the Lakota way of life). Today, 60 buffalo from Wind Cave National Park were released onto the land, joining an existing herd on the Wolakota Buffalo Range and Wildlife Sanctuary.
"It's a momentous day and an honor to witness the buffalo return to Sicangu Lakota lands," said Tilsen. "Our ancestors dreamed of moments like this for us. So today, we're fulfilling a dream and a vision."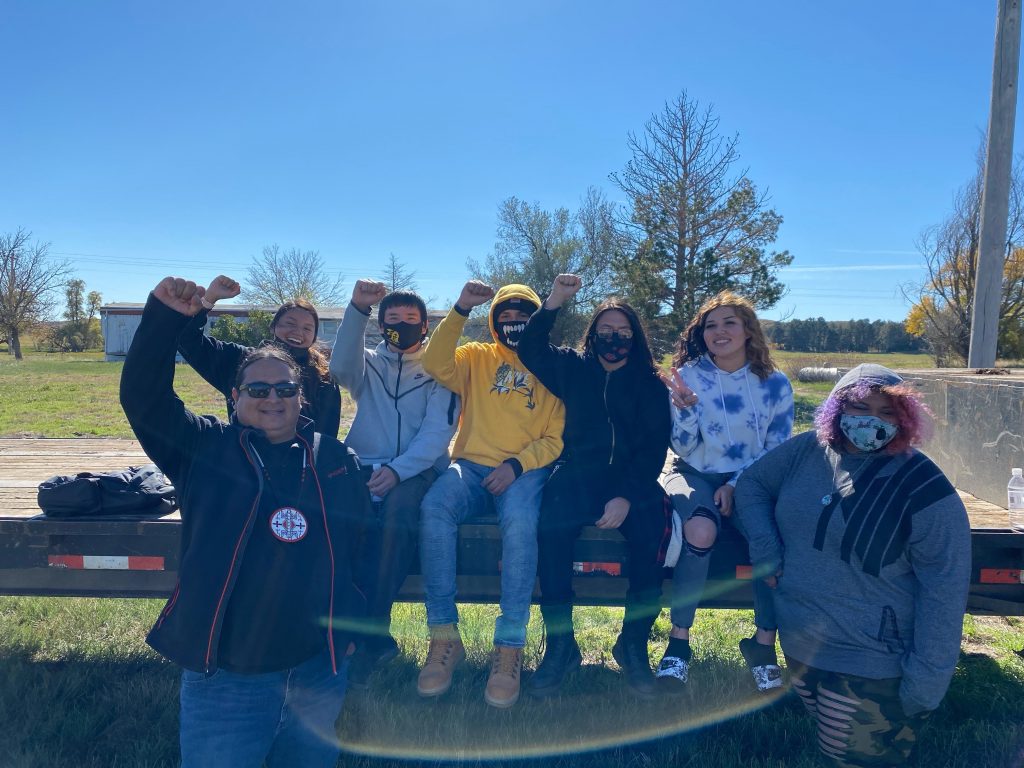 The Wolakota Buffalo Range, a project of the Rosebud Economic Development Corporation (REDCO), the economic development arm of the Rosebud Sioux Tribe, is the largest Native owned and managed buffalo range in the world. After the range is fully stocked in 5 years, buffalo will be sold wholesale to provide working capital and jobs, pay leases on the land, and reclaim the link between the Tribe's identity and the health of buffalo living on their territory.
"Our ancestors roamed this area and it had everything we needed. But it wasn't just our land, it was also the buffalo's land," said Wizipan Little Elk of the Rosebud Sioux Tribe during the event.
"They were here before us, and they will be here after us," said Little Elk. "We do this partly for ourselves, and partly for them. The Tatanka Oyate (Buffalo Nation), we wouldn't exist without them. We come from them. We are the same people. They looked after us for thousands of years, and right now, it's our turn to look after them."
NDN Collective supported the Wolakota Regenerative Buffalo Range and Wildlife sanctuary with a combination of grants and loans. NDN Foundation provided a total of $200,000 in funding to REDCO over the past two years in three different funding streams: a Community Renewable Energy Grant, a Community Action Grant, and a COVID Phase 2 Transition and Resilience Grant.
"Being here today was so much more than being a funding partner, but as a Dakota, to hear that thundering sound of the Buffalo as they ran past us onto the lands and the new home made for them, that was powerful," said Gaby Strong, Managing Director of NDN Foundation. "They're back and we're all coming back with them. That's the generational work we're supporting."
NDN Fund is providing financing for Wolakota through the Moving Beyond Covid Small Business and SEEDing Infrastructure loan programs. "The Wolakota Regenerative Buffalo Range is a model for resilient regeneration done right," said Kim Pate, Vice President of NDN Collective.
"This didn't happen overnight," said Pate. "First the financing was obtained, then the land was purchased, and finally the buffalo were sourced and brought here. We are catching a glimpse into the future of Native Nations that promote healthy food systems and permanent job creation for a thriving community. This model will spread across the land and many more will be able to adapt it to their people, places and programs." 

The buffalo herd is now approximately 375 strong, and expected to be up to 900 by January. By the spring of 2022 and after calving season, the herd is expected to be over 1,000, making it the largest Tribally managed buffalo herd in the world.
Learn more about the Wolakota Regenerative Buffalo Range and Wildlife Sanctuary on their website and donate here.
###
NDN Collective is an Indigenous-led organization dedicated to building Indigenous power. Through organizing, activism, philanthropy, grantmaking, capacity-building, and narrative change, we are creating sustainable solutions on Indigenous terms.