Rapid City, SD – Hoy, NDN Collective anunció los beneficiarios de la Subvención de Autodeterminación Comunitaria, una oportunidad de subvención sin precedentes que apoyará e invertirá en las visiones, prioridades y construcción de poder a largo plazo de las naciones, comunidades y pueblos indígenas.
Los 65 beneficiarios, que recibirán subvenciones de hasta $ 100,000 anuales por hasta dos años, son organizaciones lideradas por indígenas de toda la Isla Tortuga que trabajan en la defensa, desarrollo y / o descolonización de los pueblos indígenas y las familias.
"Esta generación de socios beneficiarios representa algunos de los trabajos más impactantes que ocurren en la Isla de la Tortuga: defender el aire, la tierra y el agua; desarrollar economías indígenas basadas en principios regenerativos; y revitalizar nuestros idiomas, culturas y ceremonias de manera que iluminen el camino para las próximas generaciones", dijo Tina Kuckkahn (Ojibwe), Directora de Subvenciones de NDN Collective.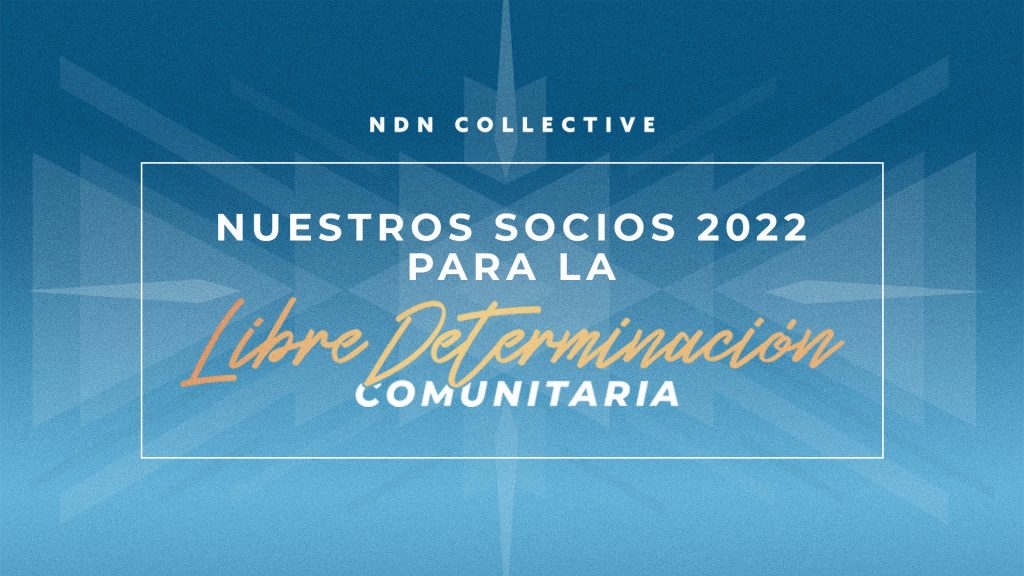 "La Fundación NDN, como el brazo de concesión de subvenciones del Colectivo NDN, ha dotado a Pueblos Indígenas de una cantidad de fondos sin precedentes de varias maneras significativas desde su creación", dijo Gaby Strong, Directora General de la Fundación NDN. "Con poco más de cinco años de antigüedad, NDN Collective ha distribuido más de $ 32 millones en subvenciones a más de 600 organizaciones, individuos, tribus y Primeras Naciones dirigidas por indígenas en la Isla de la Tortuga (también conocida como América del Norte) y las naciones insulares circundantes. Se ha convertido en el mayor fondo dirigido por indígenas en la historia, dirigido por mujeres indígenas y matriarcas".
"Continuamos enfocándonos en los esfuerzos de base, basados en la comunidad y liderados por indígenas que a menudo se pasan por alto, carecen de recursos y son subestimados dentro de los ámbitos de financiamiento convencionales", continuó Strong. "Es un honor proporcionar recursos a nuestras naciones y organizaciones tribales, y esta última ronda de subvenciones para 2022 refleja el trabajo diverso y las prioridades de nuestra gente".
Beneficiarios de Autodeterminación Comunitaria 2022:
TIKOSO centro cultural educativo
Mother Nation
Oceti Sakowin Community Academy
Lakota Communications, Inc.
Sisseton Wahpeton College
He Sapa Otipi
The Niyake Yuza Teen Center
Cega'Kin Nakoda Nation/Carry The Kettle First Nation
CultureWorks Greater Philadelphia como patrocinador fiscal de We Are the Seeds of Culture Trust
Northern Ontario Permaculture Research Institute como patrocinador fiscal de Cultural Seeds
Mushkegowuk Council
The MICA Group como patrocinador fiscal de Phillip Deere Roundhouse
UNIÓN DE COMUNIDADES INDÍGENAS DE LA ZONA NORTE DEL ISTMO, A.C.
MakeWay Charitable Society como patrocinador fiscal de Qanak Collective
Wozu Inc
Lumbee Land Development, Inc.
Schaghticoke First Nations
EARTH CARE International como patrocinador fiscal de Nihi Ké' Baa-Diné
Missing and Murdered Diné Relatives
Coalition to Stop Violence Against Native Women
Santa Fe Community Foundation como patrocinador fiscal de San Juan Collaborative for Health Equity
New Mexico Community Capital
Changing Woman Initiative
NAVA Education Project
Ciencia Social al Servicio de los Pueblos Originarios A.C. como patrocinador fiscal de Congreso Nacional Indígena
Mahchiwminahnahtik Chippewa and Cree Language Revitalization
Northern Cheyenne Tribe
Confederated Salish and Kootenai Tribes
Manidoo Ogitigaan
Ka Pa O Lonopuha
Aloha Kuamoʻo ʻĀina
Kumano I Ke Ala
New Venture Fund como patrocinador fiscal de Alaska Native Birthworkers Community
Indian Cultural Organization como patrocinador fiscal de Sawalmem
Sierra Health Foundation Center For Health Program Management como patrocinador fiscal de Sacred Places Institute for Indigenous Peoples
Tzicatl Community Development Corporation
Tribal Ecorestoration Alliance
Omote Aniasakane Rio Yaqui Health Project
Igiugig Village
ASAMBLEA DE LOS PUEBLOS INDÍGENAS POR LA SOBERANÍA ALIMENTARIA
Great Plains Tribal Water Alliance
Cahokia PHX
Community Partners como patrocinador fiscal de California Native Vote Project
Coordinadora Paz Para La Mujer como patrocinador fiscal de Organizacion del Pueblo Indigena Canjibaro de Boriken
Duk Duk Goose (Nihi We Are Guåhan – Project Name)
Endazhi-Nitaawiging Charter School
First Nations Development Institute como patrocinador fiscal de The People of the Sacred Land
Hopi Utilities Corporation
Indian Township Enterprise of the Passamaquoddy Tribe
Indigenous Environmental Network como patrocinador fiscal de Cheyenne River Grassroots Collective
Lac Du Flambeau Public School como patrocinador fiscal de Waaswaaganing Institute of Indigenous Teaching & Learning
NACA Inspired Schools Network como patrocinador fiscal de South Dakota Education Equity Coalition
Native Movement (Always Indigenous Media)
Native Peoples Action Community Fund
New Mexico Community Capital como patrocinador fiscal de Native Women Lead
Nueva Organización San Salvador Huehuetla SC
Rosebud Economic Development Corp
Seventh Generation Fund for Indigenous Peoples, Inc como patrocinador fiscal de SAGE Development Authority
Texas Tribal Buffalo Project
TRIBU LIPAN APACHE DE TEXAS EN NOGALES SONORA MEXICO A.C Y LA como patrocinador fiscal de Comunitaria e Indígena Pa Ipai
Utah Dine Bikeyah (Bears Ears/Land Defense)
Waking Women Healing Institute
Wiyot Tribe
Seventh Generation Fund for Indigenous People's, Inc. como patrocinador fiscal de Secwepmc Language Society
Xijuika S.P.R. de R.L.
¡FELICIDADES A TODOS NUESTROS EXTRAORDINARIOS SOCIOS DE SUBVENCIONES PARA LA LIBRE DETERMINACIÓN!
PARA OBTENER MÁS INFORMACIÓN SOBRE LAS OPORTUNIDADES DE SUBVENCIONES Y BECAS DEL COLECTIVO NDN, VISITE:
###
NDN Collective es una organización liderada por indígenas dedicada a construir el poder indígena. A través de la organización, el activismo, la filantropía, la concesión de subvenciones, el desarrollo de capacidades y el cambio narrativo, estamos creando soluciones sostenibles en términos indígenas.
Para solicitar una entrevista, póngase en contacto con:
Related stories:
Blog | NDN Collective Launches 2022 Community Self-Determination Grant: A Power Building Opportunity for Indigenous Communities
Blog | NDN Collective Selects 2021 Community Self-Determination Partner Grantees
Blog | NDN Collective Launches Community Self-Determination Grant: An Unprecedented Opportunity for Indigenous Communities