For Immediate Release:
November 25, 2021
Rapid City, SD — Today, NDN Collective released "LANDBACK," a rap album featuring ten Indigeous artists, led by Nataanii Means and Antoine Edwards, and executive produced by NDN Collective's LANDBACK Campaign team. The compilation album features MCs, rappers and vocal artists including Gunner Jules, B3ar MC, Rollie Raps, Ekichetu, Lady Midnight, Liv the Artist, Jibri, and rapper and writer Tufawon. The collaboration highlights a dialogue between emergent and prominent Indigenous voices, spirited from the experiences on the frontlines, protecting land, air, and water.
Join today's livestream performances of album tracks hosted by Krystal Two Bulls, Director of the LANDBACK Campaign, and artists from the LANDBACK Album. The performance will be streamed on NDN Collective's Facebook, YouTube, and Twitter accounts at 2:00pm MST. The LANDBACK Album will be available after the live today on Bandcamp, hitting all other streaming platforms December 2021.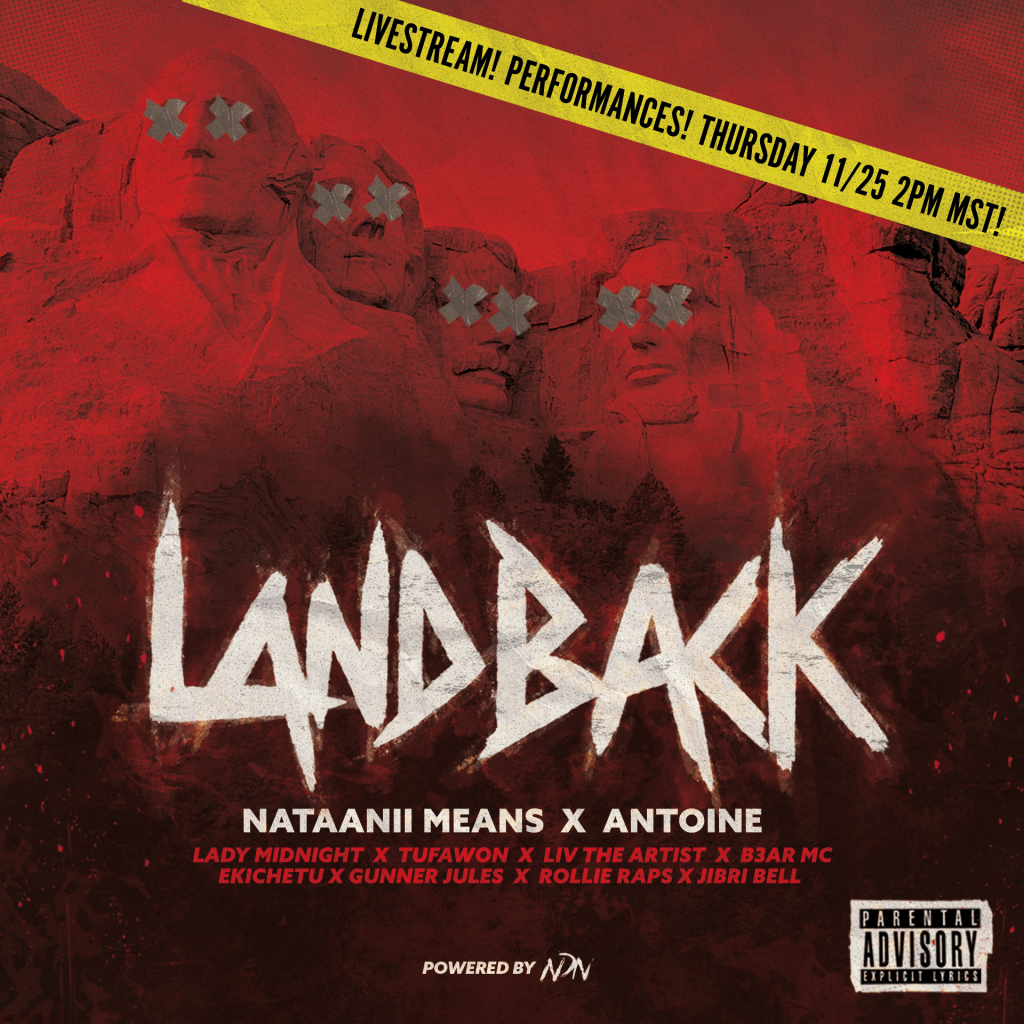 The NDN Collective LANDBACK Team released the following statement:
This album is rooted in action, woven through storytelling, and fortified by the longstanding demand for LANDBACK in all of its forms.
Thankstaking represents a long history of erasure and invisibility of the Original caretakers from whom the land was stolen. The story around so-called thanksgiving is a false narrative that continues to prioritize the founding myth of America over its original peoples. By releasing the album on this day, the album is retelling the story of Indigneous resilience and resistance; it is a battle cry for the people to carry on the struggle and for all in support of LANDBACK to be bold in delivering its message.
We are reimagining a future where those false narratives no longer exist. Refusing the narrative of thanksgiving is something that we all must take responsibility for to engage in these conversations in our own homes and around our own kitchen tables. While the lyrics and stories contained within this album are broad, multidimensional, and complex, the message is clear. Give the LANDBACK.
Women MCs & Artists, Liv the Artist, Lady Midnight & B3ar MC are the backbone of this album, coming in with haunting vocals and powerhouse lyricism. In the likeness of their matriarchal ancestors, they boldly forge a new era of Indigenous storytelling through music. Art, especially music, is timeless; it is something that connects past, present and future in one moment. The release of this album will create a ripple effect that will reach generations to come.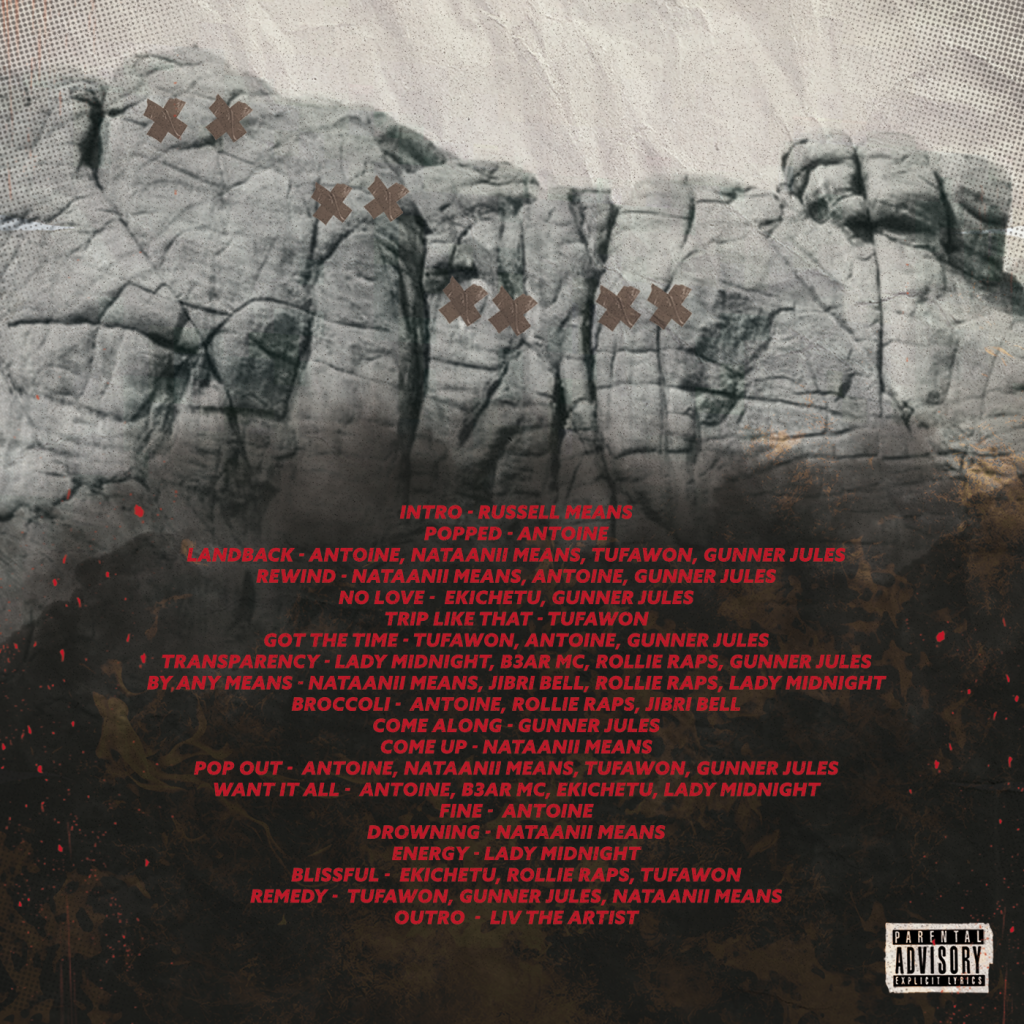 NDN Collective and the artists shared the following statements:
"The LANDBACK Album represents a step towards something so much bigger, an unrestrained vision of an Indigenous future. This is particularly true for not only how we reclaim our land but what we will do when we reclaim our land. It is always our artists that see the future and use their creative skill to portray it. These artists, who poured their heart and soul into this album, represent what is possible. To be part of this project has been really humbling and it's been an honor to share space."-Krystal Two Bulls, LANDBACK Campaign Director
"Every revolution needs a soundtrack… needs an anthem. Our people have amazing artists that not only do traditional music, but are in the contemporary scene as well, making major waves. It only makes sense for us to have our peoples back like this with a really dope album that can inspire the people to step up, stand with us and keep fighting."– Nataanii Means, Artist
"There is uprising and a reckoning that is underway throughout the Indigenous world. LandBack is a movement that is catalyzing radical change. The tracks on this album are a war cry for the liberation of Indigenous people and our lands. We are supporting the artists to release this album because this music will speak strength into the next generation and lift up the spirits of the people on the frontlines, everywhere."– Nick Tilsen, NDN Collective President and CEO
"The trauma connected to the land is a gaping wound and devastating sickness that is killing our earth and connection to it. Music is a powerful medicine and a force that shakes and empowers the soul, even at its most weary. As an artist I have an opportunity to reflect the times, and the times show the urgency of collective liberation. This album is a call-to-action, a crying out of spirit, and non-negotiable manifestation of freedom. Now is the time to restore the land back to its Indigenous stewards to begin the process of healing and harmony, not tomorrow."– Lady Midnight, featured artist
"A crew of Natives got together and made an album about what LANDBACK means to us. Using our songs as a form of protest to convey our message, amplifying our voices so that the masses will hear what we have fought so hard to reclaim. Our demand is clear, and our fight strengthens with every lyric."– Tufawon, featured artist & writer
*The opinions expressed within the LANDBACK Album content are solely the artist(s) and do not reflect the opinions and beliefs of NDN Collective, Inc. or its affiliates.*
###
NDN Collective is an Indigenous-led organization dedicated to building Indigenous power. Through organizing, activism, philanthropy, grantmaking, capacity-building, and narrative change, we are creating sustainable solutions on Indigenous terms.
To request An Interview Contact