I am an Indigenous woman. Newé mogo'ni, like my mother, and her mother, and her grandmother and great grandmothers. My waist is broad, my hands are strong, and my cheekbones rise like mountains. I am built hardy, body and spirit, like ancestors.
The first woman I ever knew was my mother. A teacher, a gentle woman who steeped our growing spirits in love. In some of my earliest memories I remember her setting out dough to rise in the warmth of the sun. I remember her gentleness, and I remember the fight in her as a first-generation college student struggling to make class deadlines while a mother to four.
I was five years old attending college classes with my mom, rushing with her to make it on time, sitting quietly in college geometry, tracing half circles with a protractor.
My tzo'o, my great grandmother, was probably the next woman I knew. My tzo'o was blind. While at boarding school she suffered an eye-infection and then was sent to the infirmary where she was treated with blue iodine in both eyes, only to become blind not long after. Blind by the age of fifteen.
As a four-year-old, I was my tzo'o's helper. I washed her back while she bathed modestly in a slip undergarment. I watched her pray in the water. Speaking to water spirit, she touched her hands to water, water to body, over and over again, speaking Numu yaduan- words that I don't think I understood and yet I understood. I understand now.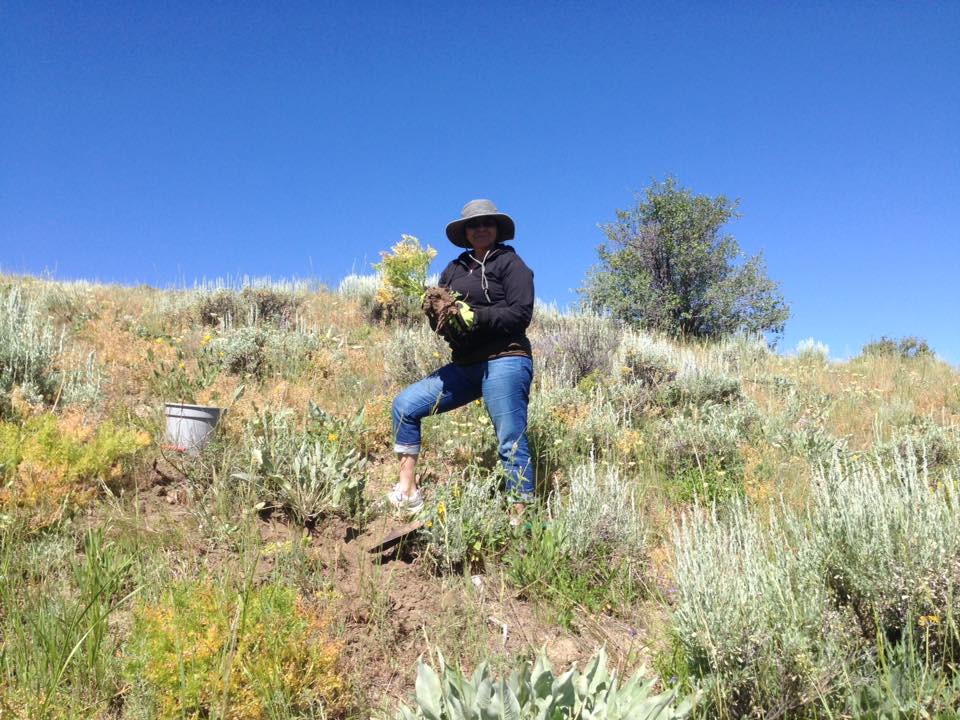 I watched my big sisters become women. Girls becoming much like our own mother. Like our aunties. Turning reservation childhoods into strong and rooted womanhoods. Turning skinned knees into toughened bodies and deepened spirits. Turning tragedy into unsuspecting beauty, blossoming over and over again.
I learned from aunties who drove tractors and rode horse, who beaded beautiful designs. Aunties who were ballplayers and fancy shawl dancers, who turned commodities into mouthwatering meals to feed extended families. Women who knew how to fight back. Women who know how to cry and love.

All Newé momogo'ni are hardy, body and spirit, like ancestors.

I am a Newé mogo'ni who now lives away from my homelands. Away from rugged mountains and deep-rooted sagebrush. I often reflect on what it means to be a diasporic Indigenous woman, one who descends from grit and perseverance, from colonization and survival, from beauty and uniqueness that is not romantic like new-agers envision us to be.
I am a single mother to a son whose father watches over us in the spirit world. A son who is legally blind and yet still partly sighted- a congenital condition. My blessing boy, who constantly teaches me a new depth of my soul, he, too, has been a teacher, ever strengthening the woman I become.
What does it mean to be a woman, a Newé mogo'ni, an Indigenous woman of the Earth, living in this time and space? I am continually finding out, learning my mother's story, my sisters' stories, and my grandmothers' stories, weaving my own story into durable designs with the stories of the vibrant matriarchs who came before me and stand beside me.
I am an Indigenous woman shaped by generations. A woman of many women, with deep, expansive roots like sagebrush, blossoming across mountains and valleys, over and over again.
---