In honor of National Read A Book Day our NDN Collective team has compiled a list of the books that have helped to inspire and guide us all in building Indigenous Power. Each of these books have connected with us in ways that are reflective of the struggles that we as Indigenous Peoples have encountered within our history and at present. Stories that have helped us look at the bigger picture as well as provide a means of grounding the parts of our spirits that have felt unsteady.
While reflecting on our lived experiences as Indigenous People, these books have encouraged us to question and strategize the many ways that we can bring life to our vision of a brighter future for our families, communities, and Nations. It is our hope that this list, and accompanying testimonial from our NDN Staff, inspire you: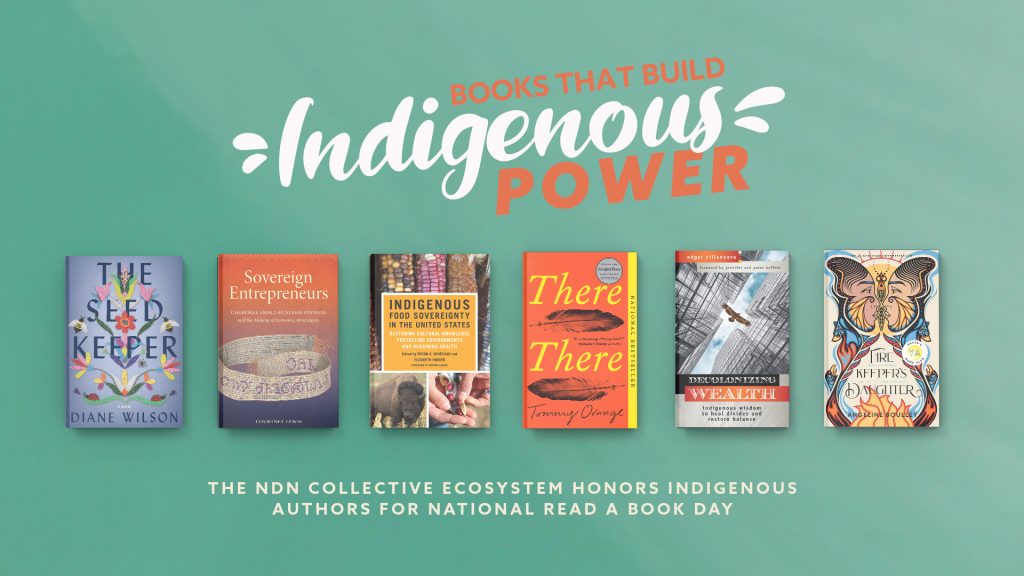 1.
Braiding SweetGrass
by
Robin Wall Kimmerer (Potawatomi Nation)
"Books have fed my adventurous spirit for as long as I can remember. I fall in love with a book when it connects to my spirit, heart, and mind. Authors who speak from lived experience and have something to offer the world create the best stories. Being a Diné Asdzáá, I always feel a deeper connection with an Indigenous author.
It's no surprise that Robin Wall Kimmerer's book, Braiding Sweetgrass, is a favorite among Indigenous readers because she speaks of the relationship we have with the land, plants, and animals. She reminded me that those relationships need nurturing and love everyday. So, don't hesitate to greet them with their sacred names and introduce yourself."
-Dakotah Jim,
NDN Foundation Capacity Building Coordinator
2. Sovereign Entrepreneurs By Courtney Lewis (Cherokee)
"This book is a read in progress for me, but as an entrepreneur working within Indian Country and knowing the power of small business in aiding in self-determination efforts of both communities and individual members, it has helped me feel heard more than anything. Often-times we defer to Tribal entities as the sole means of economic development, but we have community members who have the skills and drive to bolster our economies just the same and they deserve support.
Lewis does well to amplify this message, but also examines the intricacies of navigating as an Indigenous entrepreneur, perceptions surrounding it, and even implements a section in the book that opens the discussion around a one-industry reliant tribal economy. We need to be talking about this more. I'm so excited to dive further into this book, and invite others to crack open this text and read along as well."
-Brandi Douglas, NDN Senior Communications Associate
3. Power and Place: Indian Education in America
By Vine Deloria, Jr. and Daniel R. Wildcat
(Standing Rock Sioux Tribe, Muscogee Nation of Oklahoma)
"This book forces its readers to think differently about science and education by beginning with metaphysics. Metaphysics is a concept of the natural systems around us as well as a thought process of using a holistic approach. This means that existence and welfare analysis should also involve looking at our environment (plants, animals, planetary systems) as more than just objects that we, as people, control. if we become more versed in the natural patterns, the powerful energies, and the way we should be working with our surroundings, the more harmonious we will live.
Reading this book gave me a new understanding about the educational systems in the U.S. and how much more value Indigenous perspectives can add to a more comprehensive view of the world. I learned about how one-sided science can be when it comes to trying to understand our surroundings. This book helps to uncover different ways to think about politics, science, religion, the environment and how they are all intertwined."
-Lycia Maddocks, NDN Political Director
4. The Seed Keeper: A Novel
By Diane Wilson (MDewakanton Descendant)
"The Seed Keeper is a deeply touching story speaking to the struggles of Native Women and the quest for identity and cultural reconnection in the face of racism and trauma. Based in the 1970s readers follow the journey of, Rosalie Iron Wing, and her awakening as she returns back to her homelands and the memories of her late Father. This book is a story of healing and reconnection following Rosalie's journey as she unpacks the events of her past.
I walked away from this book with a sentiment to those relatives who are healing. I had a deeper understanding for the social conditions that existed for our parents and grandparents especially in border towns where racism against Native Peoples is unfortunately the reality. This book left me with a lasting imprint that our People remain deeply wounded from our collective past but looking back to our cultural teachings will help us reconnect and find solace just like Rosalie found the ancestors in the seeds."
– Brandy Calabaza, NDN Communications Associate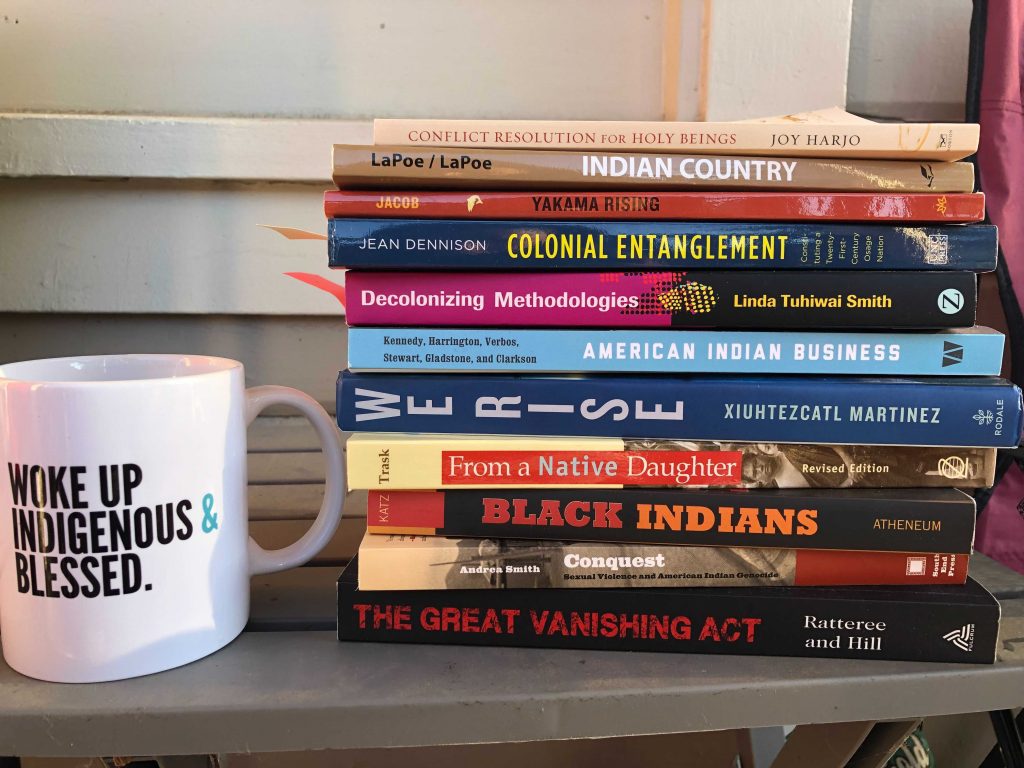 5. Firekeeper's Daughter
by Angeline Boulley
(Saulte Ste Marie Tribe of Chippewa Indians)
"This book pulled at both my heart and spirit. It is always powerful to access books and materials that include our traditional languages, and for me it was the use of Anishinaabemowin in this story. I really loved how the author would scatter Anishinaabe words throughout the conversation and storytelling taking place. I felt at home reading some of our common Anishinaabe-slang words and references, as if I was sitting, visiting with my cousins and aunties.
Daunis' is the main character in the book and parts of her story felt as if I was reading about my own family and my own lived experience. A story highlighting a community with powerful cultural roots and their complex realities. In a world where we continue to fight for Indigenous representation in all things and in all ways, I felt seen and heard reading this book. I appreciate Indigenous authors for the way they bring us, our people, our languages, and our stories to the page."
– Korina Barry, Managing Director of NDN Action
6. Heart Berries
by Terese Marie Mailhot (Nlaka'pamux)
"Whenever I think about the book Heart Berries, every part of me has an emotional response. The deep levels of honesty and holding of trauma, pain, process, healing, and love that Mailhot shares within her story made me feel called to do the same.
Indigenous authors have the ability to center the sacredness and beautiful complexities of our Indigenous identities, no matter the genre or platform in which they choose to write. They weave moments we can relate to, experiences or thoughts on the cusp of our understanding, and glimpses of what could be almost seamlessly. The first thing I do when reading something written by an Indigenous author is mentally thank them for being brave, to engage with publishing companies that have historically ignored Indigenous work and to uplift their own voices and visions while creating pathways for the next generation of storytellers."
– Sherrie Anne Andre, NDN Fiscal Sponsor Coordinator
7. There, there
By Tommy Orange
(Cheyenne and Arapaho Tribes of Oklahoma)
"There were so many tears shed after I read this book by Tommy Orange. For the first time as an Indigenous reader I felt that the urban native experience was commemorated in a good way – There There is multilayered, complex, and unique in that it shines a light on the relatives we know, but aren't used to reading about in modern literature.
I appreciate Indigenous Authors for writing their truths and Indigenizing the world of literature that many communities never thought they'd see themselves in. As a reader and aspiring writer, I am deeply encouraged to carve more space for us through the craft of storytelling."
– Steph Viera, NDN Social Media Manager
8. Indigenous Food Sovereignty in the United States: Restoring Cultural Knowledge, Protecting Environments, And Regaining Health
Edited By Devon A. Muhesuah and Elizabeth Hoover (Choctaw Nation, Mohawk/Mi'kmaq)
"This book is a collection of knowledge about restoring traditional food systems. Each chapter is a testimony to the benefits returning to our cultural foods can have on our bodies, minds, and health. With a foreword from Winona LaDuke, this book is a compilation containing the origins of disruption in our food systems, how to go about reclaiming those systems, and advice in maintaining them in longevity.
I walked away from this book inspired to decolonize my perception of foods. It educated me by guiding me through the entire story of how our relationship to food was greatly disrupted, replaced with the dominance and convenience of processed foods. The knowledge contained within this book shows me that return to a healthy and traditional relationship with food is an act of decolonizing and necessary with the realities of climate change presently unfolding"
– Brandy Calabaza, NDN Communications Associate
A book is more than a physical entity; it is a spiritual and emotional journey that keeps us connected and engaged until the very last page. When all is read and done, we're often left with different or life-altering perspectives and the inspiration to start or continue living unapologetically Indigenous.
We encourage you to continue immersing yourself in books that build Indigenous power, uplifting the vast array of literature that exists by Indigenous authors which honors our communities, rich narratives and existence.
---
Looking to add to your collection of Indigenous titles, but not sure where to look?
A Native woman-owned subscription-based service rooted out of Canada. With available subscriptions catering to both adults and children, boxes contain literature that explore Indigenous culture and history. Founder and CEO of Raven Reads, Nicole McLaren, is a multi-award-winning Métis entrepreneur from British Columbia and Saskatchewan, whose inspiration for Raven Reads, "…was born from a desire to educate others about the devastating impact residential schools had on Indigenous people in Canada." Subscription boxes are available for shipment in both Canada and internationally.
*This is not a Paid Advertisement